When Casio engineer Kikuo Ibe introduced the G-shock in 1983, his aim was to build some of the world's strongest watches. And after 200 tries, he got the brand to a point where it pretty much lives up to its "Absolute Toughness" slogan, with some models resisting up to 200 meters of water and boasting a ten-year life battery.
Enduring everything from sports recreation, mountain hiking, warfare applications, and even space flights, G-shock watches are durable and innovative. Complementing the harsh conditions the hardware is designed to endure are built-in software applications, like compasses, atmospheric pressure and tidal wave readings, moon phase displays, and even smartwatch functionality for fitness and health tracking and phone notifications. Needless to say, as the brand has evolved in durability, so has its model range for different preferences and needs. With that in mind, here are some of the best G-Shock watches on the market, starting with a great introductory model, the G-Shock GQM5610-1.
Best G-Shock Watches: Our top picks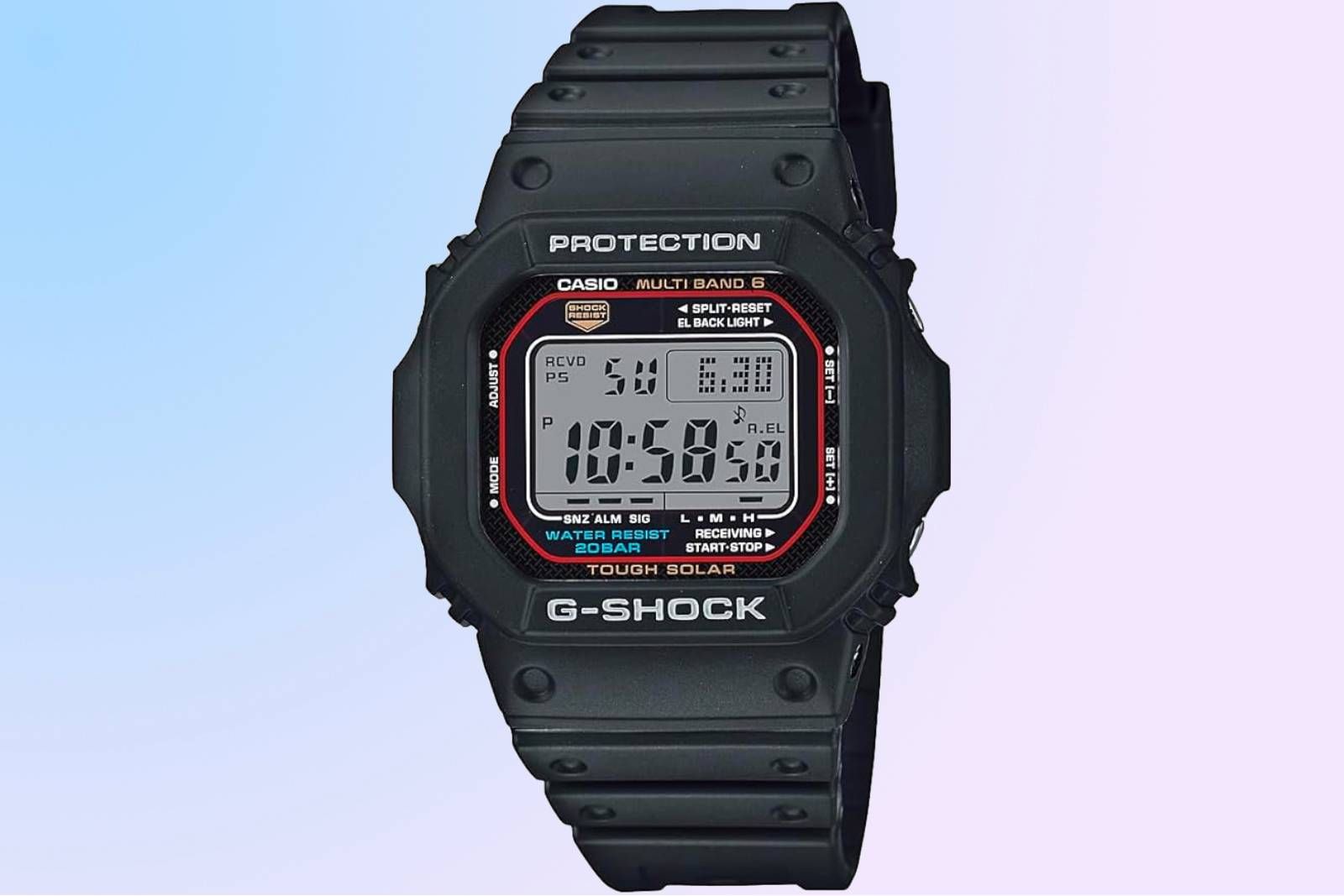 Casio G-SHOCK GWM5610-1
1. Best G-Shock watch overall
The well-rounded introductory G-shock
$99 $150 Save $51
The G-Shock GWM5610-1 offers a well-rounded watch that shows the best in what G-Shock has to offer.
Pros
Entry level G-shock under $100
Solar powered
Multi-band 6
Cons
Hard to press small buttons
The GWM5610 is the best G-Shock watch available due to it being a direct descendant of the first G-Shock watch (the DW-5000C). It builds off its progenitor with enhanced features like a strong and resilient durability, crafted comfort, and futuristic solar-powered rechargeable battery. If you're new to the world of G-shock and want a sweet introduction or are familiar and love the quality and fun, this is the one.
You don't have to manually set the time with GWM5610, either. This G-shock watch has built-in radio synchronization with its Multiband 6 feature that receives signals from one of the atomic timekeeping stations in the world that serve to produce the most accurate representations of how humans measure time. That means, wherever you are in the world, your watch will automatically set itself to the correct date and time zone of that place on a daily basis.
The GWM5610 weighs 1.83 ounces (for reference, that's less than two slices of sandwich bread) and has a lug (where the strap connects) diameter of 4.6 centimeters, making it accommodating for both small and large wrist sizes to ensure a featherweight and cozy fit. Arched flaps below where the strap meets the bezel conform and hug the wrist, so it rests easy. Even the metal case backing adds a subtle touch of cool comfort.
On a full charge, and without further light exposure, the GWM5610's battery will last up to 10 months. Its digital display face comes equipped with a teal colored backlight that can be activated with a button press or will automatically light up when you tilt the watch at a 45-degree angle to make it easier for reading. If you're not using the radio sync to set the time, you can switch between the already built-in time zones of 48 different cities from JST of Tokyo to PST of San Francisco- it'll tell you. Additionally, you can set five different alarms throughout the day and see a countdown and stopwatch interface to compare verious times and speeds.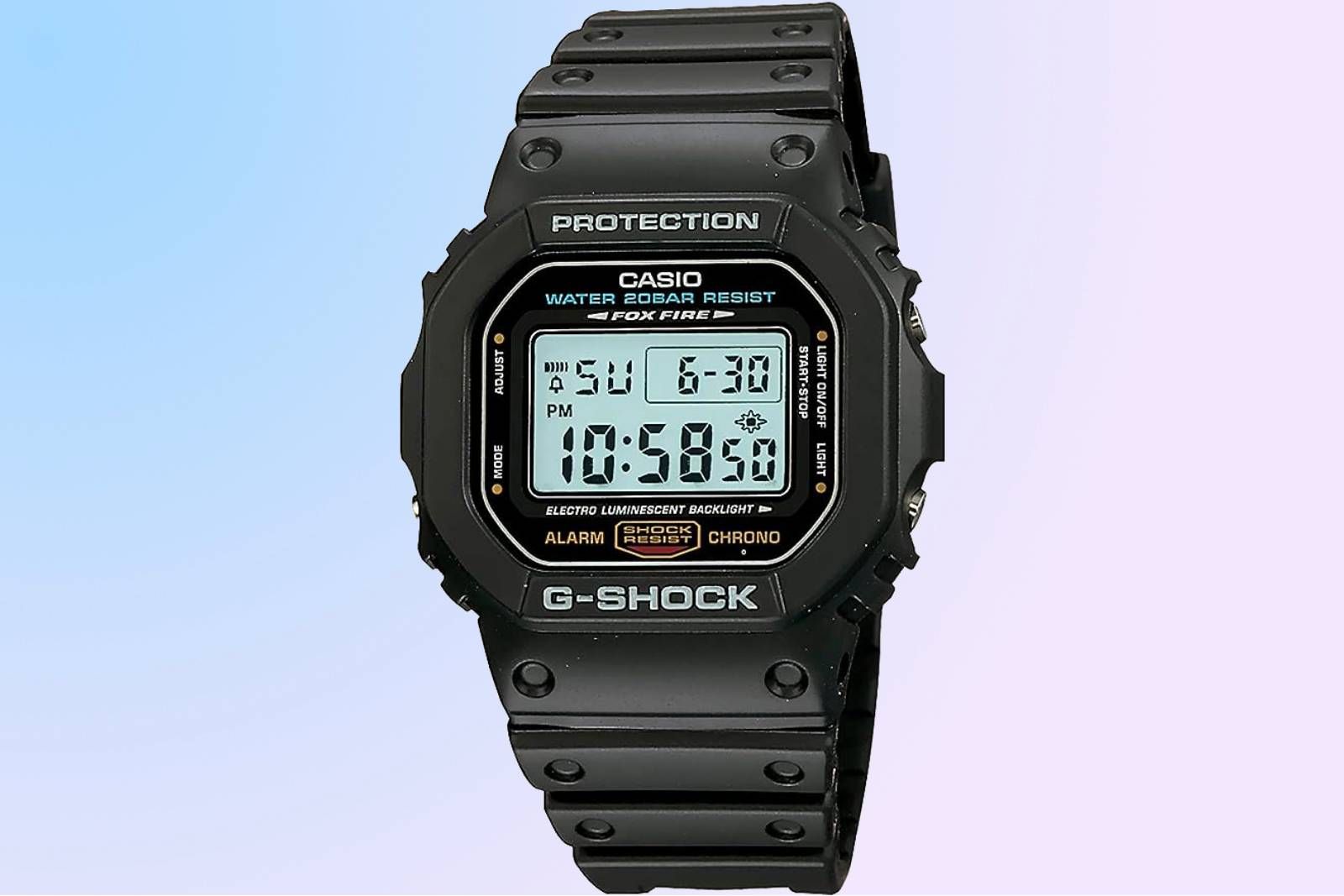 Casio / Pocket-lint
Casio G-SHOCK DW5600E-1V
2. Best Rugged G-Shock watch
Unbelievable toughness
$49 $75 Save $26
The G-Shock DW5600-E-1V is the ultimate G-Shock that matches price affordability with quality.
Pros
Great entry level G-Shock watch
Under $50
Holds a Guinness World Record
Cons
Hard to press buttons
2-year battery life
Less features
The entry level, yet popular, DW5600 is one of the few G-Shock watches available priced below $50 that still upholds G-shock's extraordinary durability. Where the original build standards of a G-Shock only meant it needed to handle a 10-metre drop, the DW5600 goes to extreme measures. In fact, in 2017, a 24.9 ton (roughly 55,000 pounds) truck ran over a G-Shock DW5600-E1 and nothing happened to it. Casio earned the DW5600 a Guinness World Record for the heaviest vehicle to drive over a watch and has, to this date, been the first and only company to do it. The DW5600 is also the third most worn watch in space.
With all this, you still get the built-in features of a stopwatch, a calendar with day and date, a countdown clock, a teal electro-illuminance backlight, and a water resistance of up to 200 meters. The DW5600 is so iconic James Gandolfini wore it, and it's the third most worn watch in space.
The DW5600 is also quite personable and fun. The watch is moldable, allowing you to be able to swap out straps that fit or feel more comfortable for you. Additionally, the DW5600, comes in multiple colors and designs and limited edition versions.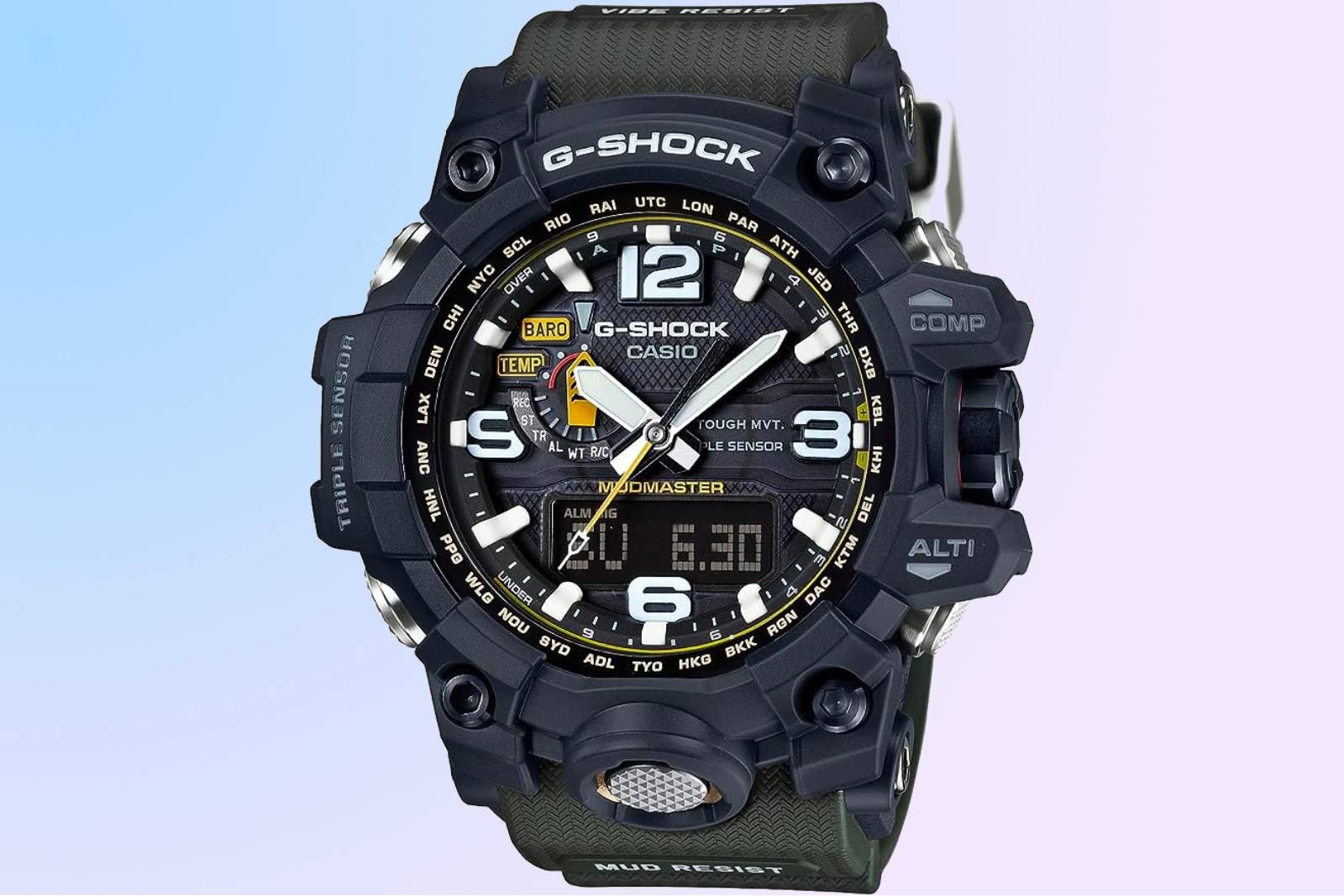 Casio / Pocket-lint
Casio G-SHOCK MUDMASTER GWG-1000-1A3
3. Best G-Shock for harsh condition
Bear the weather
The G-Shock Mudmaster GWG-1000-1A3 is a G-Shock watch is built tough to handle the harshest conditions.
Pros
Comfortable ergonomic fit
Shock, mud, and water-resistant
Robust features
Cons
Relatively
Large for some wrists
The amount of elemental resistances the GWG-2000-1A3 Mudmaster is capable of making it the best G-Shock watch for harsh conditions. Like all G-Shock watches it's both shock and water-resistant (up to 200 meters), but it gets its "Mudmaster" name for the watch's ability to resist mud and dust. In fact, the Mudmaster participated in the 2022 Dakar Rally, where it was strapped to a Toyota rally car driving through thousands of kilometers of remote desert and still kept on ticking afterward.
The GWG-2000-1A3 Mudmaster feels like a watch designed to help you survive. Lights outs? The hands, hours, and dial glow in the dark. Lights on? Charge the watch's battery with real or artificial light. Got lost? The watch can turn into a compass. Don't know how high the mountain you're on is? Use the altimeter to check how high you are from sea level. Don't want to go any higher? It can alert you if you reach a certain threshold. You can even check the Earth's atmospheric pressure using its barometer that helps you with weather forecasting (higher pressure = higher chance of better weather) and storm detection plus check the temperature.
The GWG-2000-1A3 is made with Casio's Carbon Core Guard Structure. This is designed for strength using carbon fiber reinforced materials (normally found in aircraft) that also make it lightweight and protect its internal components from shocks and vibrations. The face's case is even protected by sapphire glass, making it highly scratch and heat-resistant. The watch has metal buttons knurled for easier operation and a textured band made with no slip rubber grips, so it stays securely fashioned.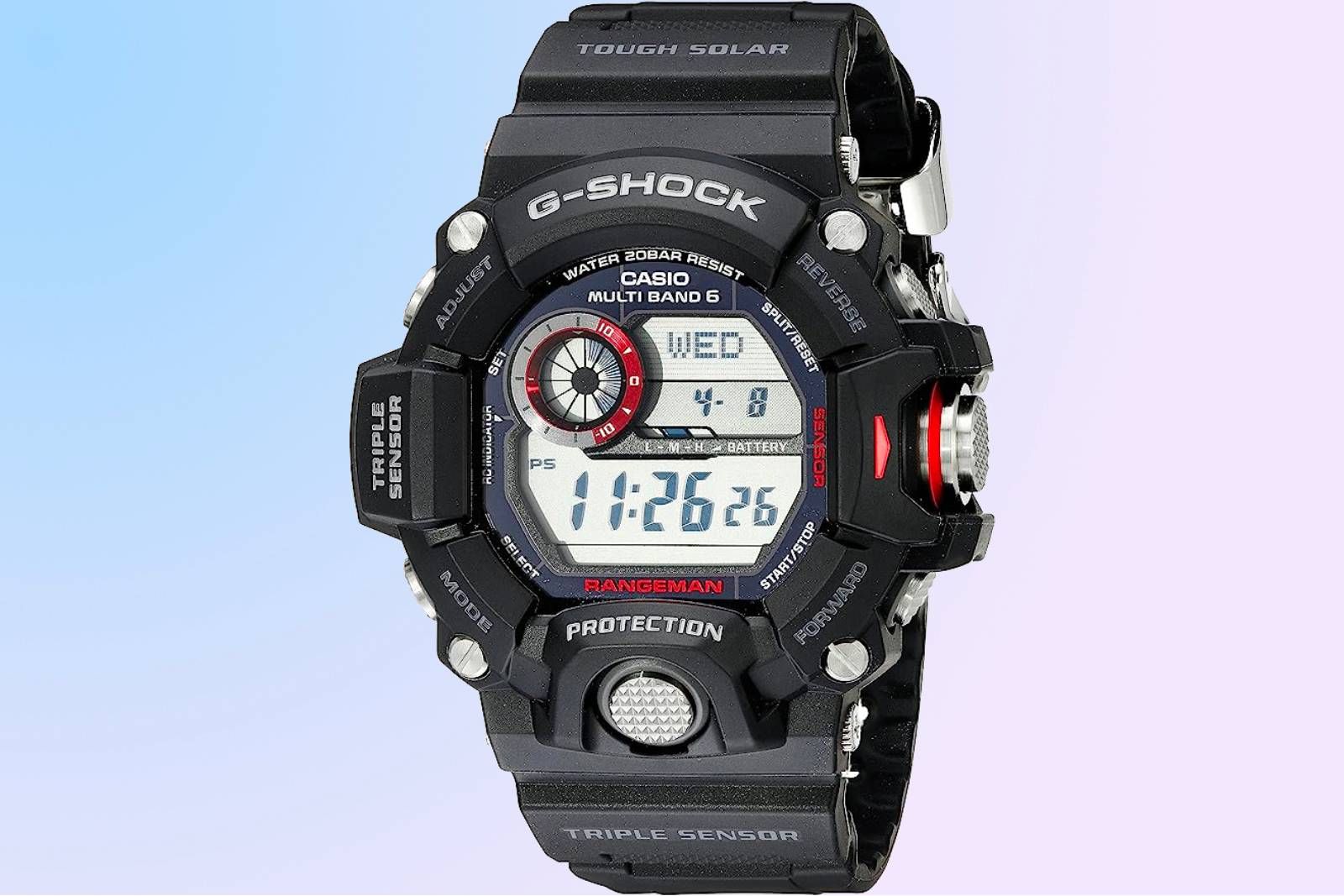 Casio / Pocket-lint
Casio G-SHOCK RANGEMAN GW-9400-1CR
4. Best G-Shock for outdoor adventures
An outdoor travel companion
For the ultimate functionality, the G-Shock Rangeman GW-9400-1CR gives an unparalleled experience for G-Shock watches
Pros
Feature rich
Solar-powered
Easy to press buttons
Cons
Harder to read
Advanced features are hard to use
Search and rescue missions are accompanied by reliable watches like the Casio Rangeman GW-9400-1CR due to its versatile outdoor applications. This G-Shock watch is built for utility with adventures like camping, hiking, and backpacking, not only bearing the conditions these activities bring, but making sense of them.
The GW-9400-1CR is an ABC watch: it has an altimeter, barometer, compass (and thermometer.) The altimeter mode can tell you the current altitude on the big display as well as the difference between your current altitude and the altitude when you first started tracking. You can even switch the altimeter to a time series chart that shows a line of peaks and bounds throughout the time you walked. When in compass mode, you can see the degrees and direction within the mini eye display to show directions, even allowing you to save bearings to refer to without having to remember them. The barometer displays a line of the atmospheric pressure that can help forecast sudden weather conditions, even beeping you with an alert if there are sudden changes.
Important for time sensitive situations, the GW-9400-1CR has a recall mode. This allows you to remember a specific date and time you can recall later, in case an important event happened. The lower right button of the watch allows you to activate the stopwatch immediately without having to navigate to the screen first either making for a dynamic functionality that starts counting time as soon as anything happens.
You can charge the GW-9400-1CR using the Tough Solar feature; the watch has a solar cell built in its face that keeps the battery charged via light. As long as you expose the watch to light every few weeks, it'll continue to keep on ticking for years without the need of a battery change. The watch will even tell you the sunrise and sunset times based on your location.
Like the GWM5610, the Rangeman GW-9400-1CR has Multi Band 6 functionality that can receive atomic time information to synchronize your watch to the right time all the time. Protective ridges hold the case in place creating a kind of concave divot to protect its display and both the case and strap are made of a thick resin with double metal bucks tongues and loop for a firm fit.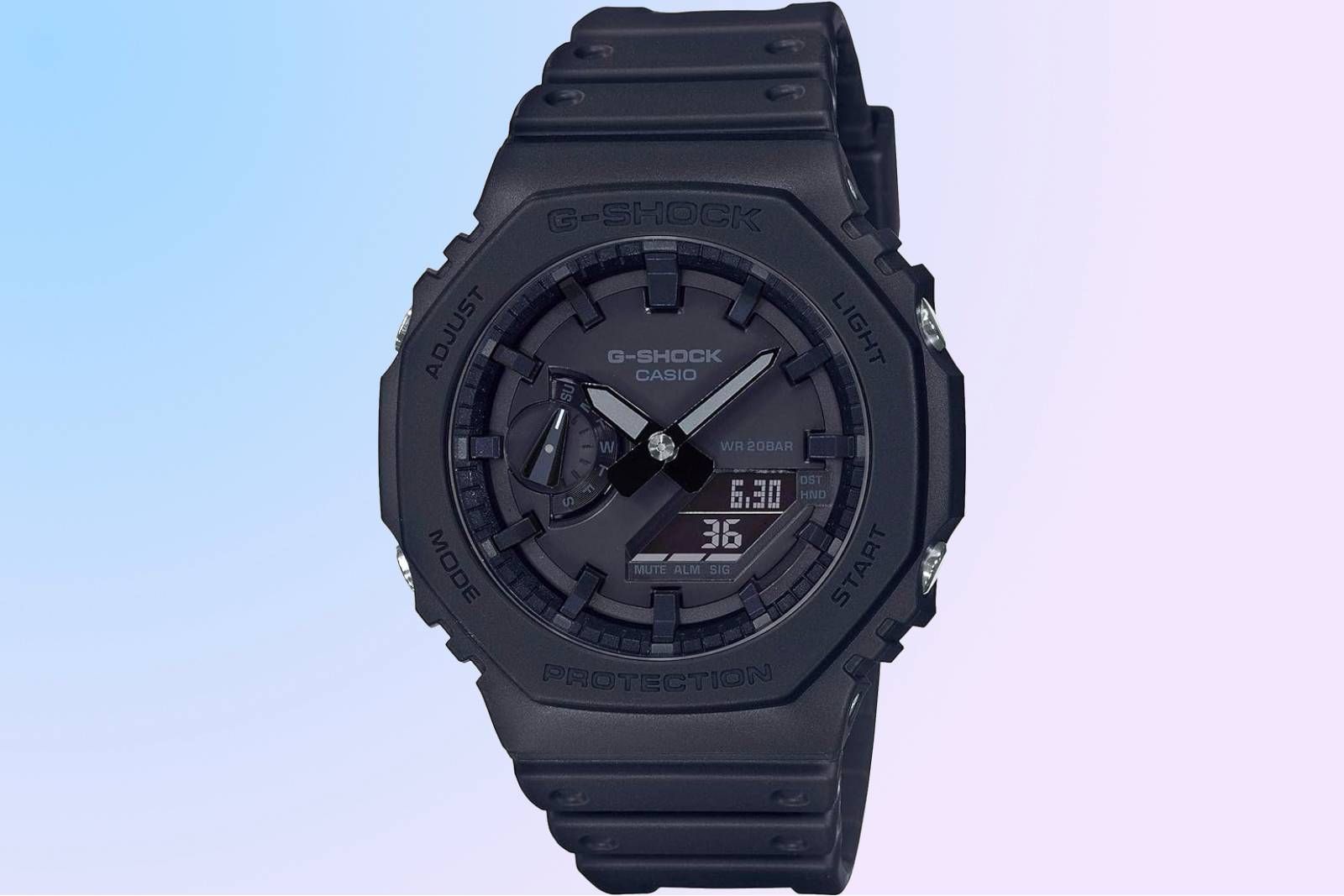 G-shock/Pocket-lint 
Casio G-SHOCK GA-2100-1A1
5. Best G-Shock for fashion
Well suited and stylish
The G-Shock GA-2100-1A1 is belt for style, a G-Shock watch that matches with formal dresswear.
Pros
Under $100
Thin and lightweight
Various colourful varieties
It might just be the most fashionable G-Shock on the market. After all, the GA-2100 (also referred to as the CasiOak is Europe's top-selling G-Shock watch and, at one point, it struggled to keep up with high demand. This is the dressed up G-Shock watch that complements fancy dressed up dinner parties with a sleek thin minimalist design and analog display to give it that timepiece look.
The G-Shock GA-2100 explores new dimensions of G-Shock watch style. It sports an eight sided bezel design with a much thinner profile than other G-Shock watches with an 1.18 centimeters thickness and 1.8 ounce weight. Hints of G-Shock style touches can be seen throughout, between the bulk of the bezel, the indented metal buttons, and even, in the corner of the watch, a small digital time display.
Casio knows the GA-2100 is a popular pick because of its incredible amount of color variations. You can find a plethora of color styles and profiles from minute changes to huge differences with various colors for dials, hour markers, frame, and straps. Some of them even offer Bluetooth and solar charging, making them extremely versatile.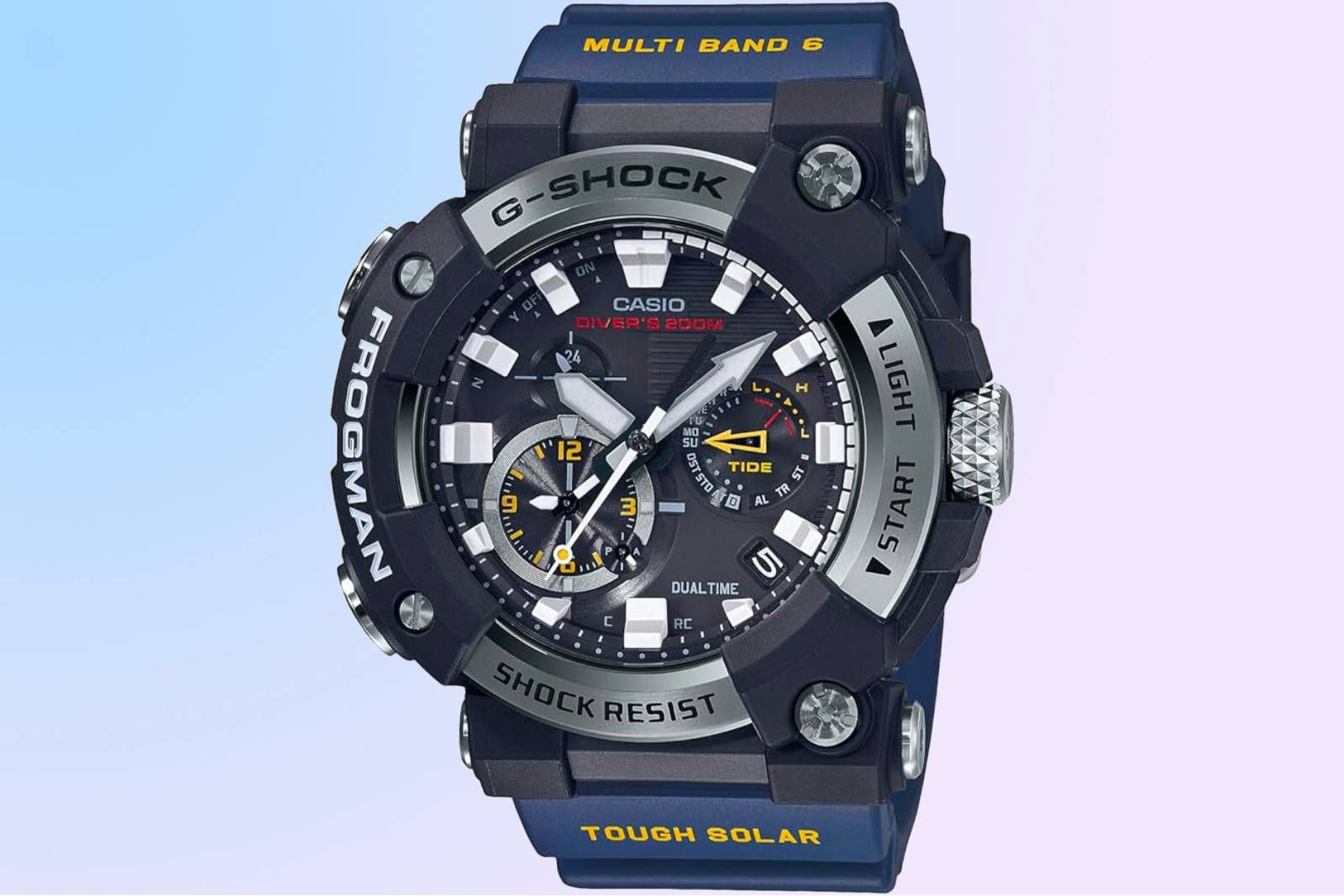 Casio / Pocket-lint
Casio G-SHOCK FROGMAN GWF-A1000-1A2JF
6. Best G-shock for diving
A watch for the deep sea
The G-Shock Frogman GWF-A1000-1A2JF gives divers a watch with multiple sensory readings and salt water resistance.
Pros
Water-resistant up to 200 meters
Multiple diving sensors
Automatic LED backlight
The G-shock Frogman series is named after "Frogmen" –- a title for military units who are experts in underwater combat and reconnaissance missions. The G-shock Frogman GWF-A1000 is designed for professional divers seeking a watch companion that can not only bear the pressures of the sea, but help tell you more about it.
The G-Shock Frogman GWF-A1000 features an analog face with bright illuminating markers and an LED light that makes it easier to read underwater, and a body coated with a fluoro-elastomer that resists both saltwater and corrosion. It features a tide indicator that provides visual representations of tidal patterns, high and low tide times, and current tide levels so you can monitor changes as you're deep under the sea up to 200 meters. Its Dive Mode feature conserves battery life while automatically recording your dive time, surface interval, and location information.
Once you're out of water, you can activate the surface interval of the watch, which will tell you the amount of time you were out of the water and times between each dive. Every feature on the watch can be adjusted and set wirelessly on your smartphone through the G-shock connected app like world time, alarms, and timers.
Where standard diver's watches usually need battery changes every two years, the GWF-A100 includes Tough Solar technology on its front bezel, which is a solar panel that charges the watch's battery using either artificial or natural light.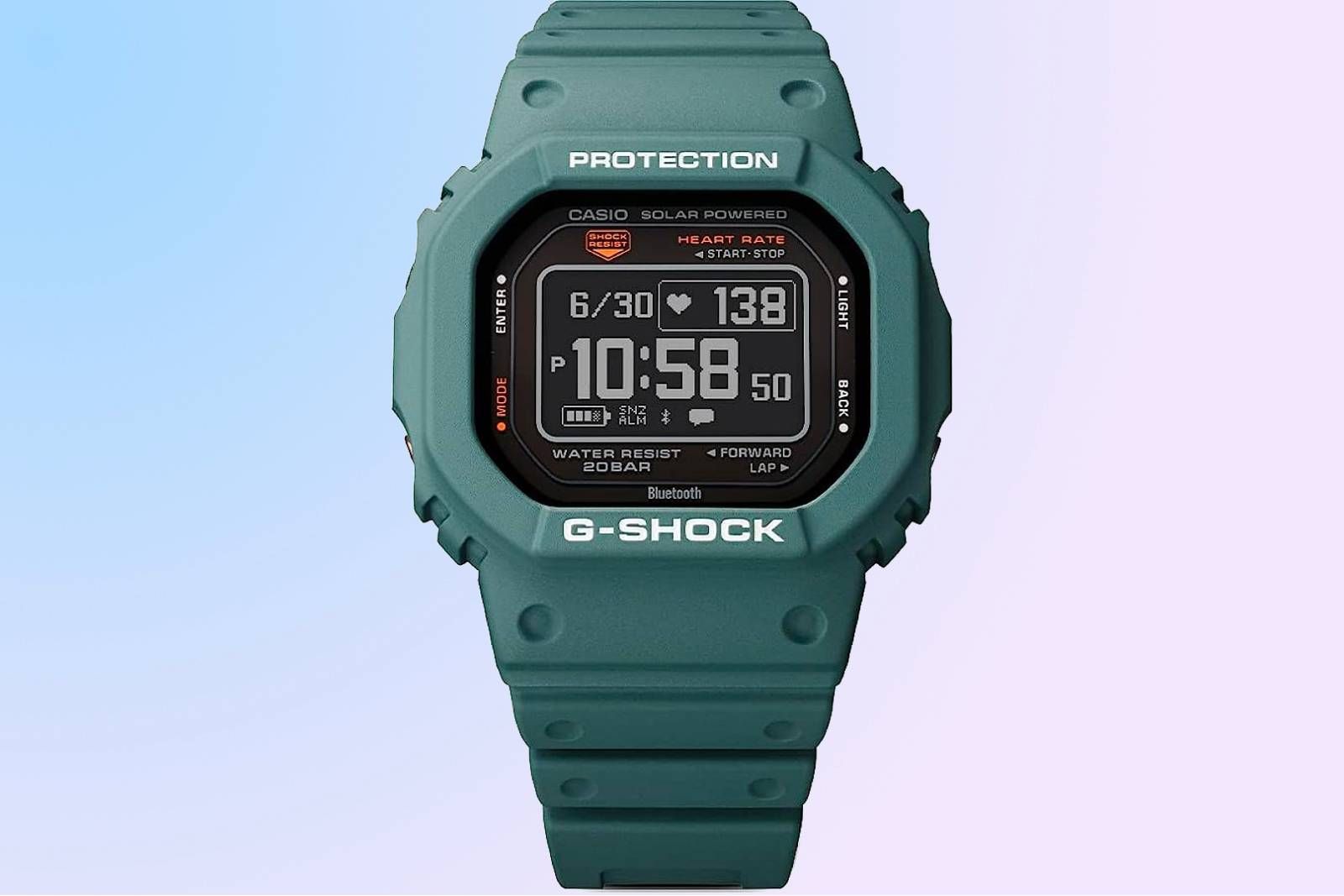 Casio / Pocket-lint
Casio G-SHOCK MOVE DW-H5600
7. Best G-Shock for fitness tracking
G-Shock smartwatch
G-Shock's answer to smartwatches and fitness trackers is its G-Shock Move DW-H5600
Pros
Built-in workout applications
Bold clear digital display
Solar assisted charging
Cons
Proprietary app software
No third party integrations
Exercises logged manually
G-Shock kept up with the moving market of popular smartwatches and fitness trackers with its G-Shock Move DW-H5600. Connected to your smartphone, this G-Shock can give you several advantages with everything from custom watch faces and notification alerts to its fitness tracking integrations and storing and analyzing your activity data.
The G-Shock Move DW-H5600 flips the old school look of a G-shock and modernizes it with a crisp MIP (Memory in Pixel) display, unique to its design model. The watch connects via Bluetooth to your smartphone using the free G-Shock Move app. Its fitness tracker includes sports workouts including running, walking, gym workout, and an interval timer. You can even customize the display based on the workout you selected, and set notifications for a specific targeted heart rate range, as well as time, distance, and energy targets that you can be alerted about during your workout.
The G-Shock Move DW-H5600's widgets let you see your blood oxygen, heart rate, stopwatch, step counting, breathing exercise, timer, cardio status, and a nightly recharge to tell you more information about your sleep like measuring REM and deep sleep time. You'll be able to set auto laps with up to five interval timers with ten sets for your workouts and exercises too.
Unlike some other smartwatches, the G-Shock Move DW-H5600 stands out with a rechargeable battery that can gain energy from its solar panel display. With continuous use and heart rate function enabled, your battery life will go for about 14 hours. Without training functions enabled, it'll last 19 hours.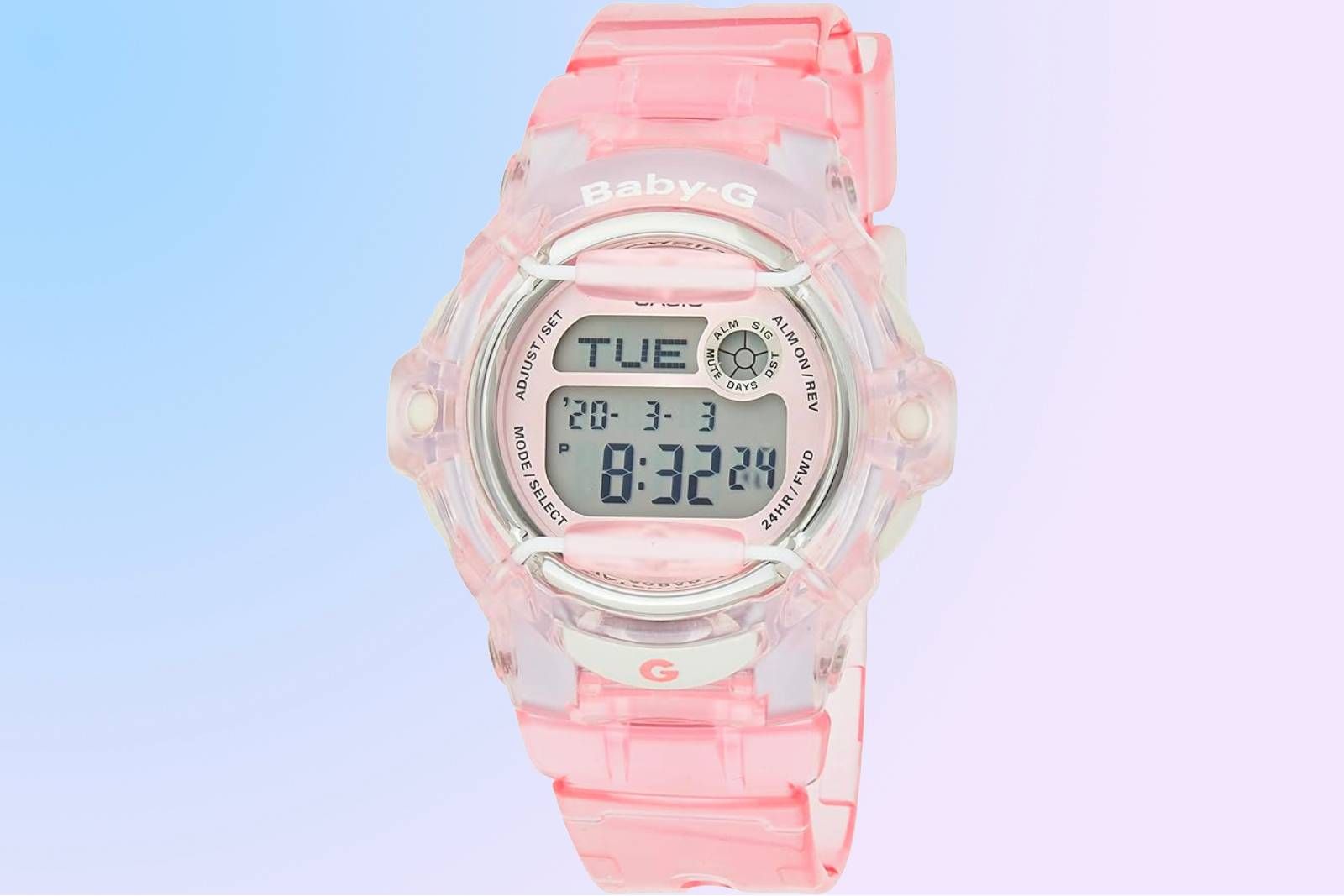 Casio / Pocket-lint
Casio G-SHOCK BABY-G BG169R-4
8. Best G-Shock for compact size and comfort
Powerful and small
$59 $79 Save $20
The G-Shock Baby-G BG169R-4 gives a softer and lighter weight option for G-Shock watches.
Pros
Adjustable cozy strap
Lighter weight
Measures sleep and heart rate
Cons
Low backlight level
Alarms are not loud
Don't let the size or name fool you, the G-Shock Baby-G BG169R is a G-shock watch that not only packs a punch with its durability and features, but has a more compact and lightweight comfort than usual. At just 1.58 ounces it's one of the lightest G-shock watches available with a unique ergonomic design using a softer rubber strap.
Unique to the G-Shock Baby-G BG169R is a built-in databank memory capacity. You can save up to 25 sets of data including names (up to eight characters) and telephone numbers (12 digits) when you want to take a quick note on the sport. You can even auto-sort the data set to find information easier. The watch has a world time of 29 different time zones with city codes, a countdown day timer, 1/100 second stopwatch with different measuring modes, and five daily alarms.
The durability of the G-SHOCK Baby-G BG169R goes beyond the usual G-shock watch. Unique to its design is its double buckle closure feature – two mini bars with bumpers above and below the case that wraps around the face to protect it from falls. The rubber strap is designed to where, if you drop the watch, it'll absorb and minimize the impact to the case. Water resistance is up to 200 meters, and the battery will last you about three years.
Comes in a variety of beautiful colors coordinations and versions like a rare Haribo gummy bear edition, teal, clear, black, pink champagne, and so many more.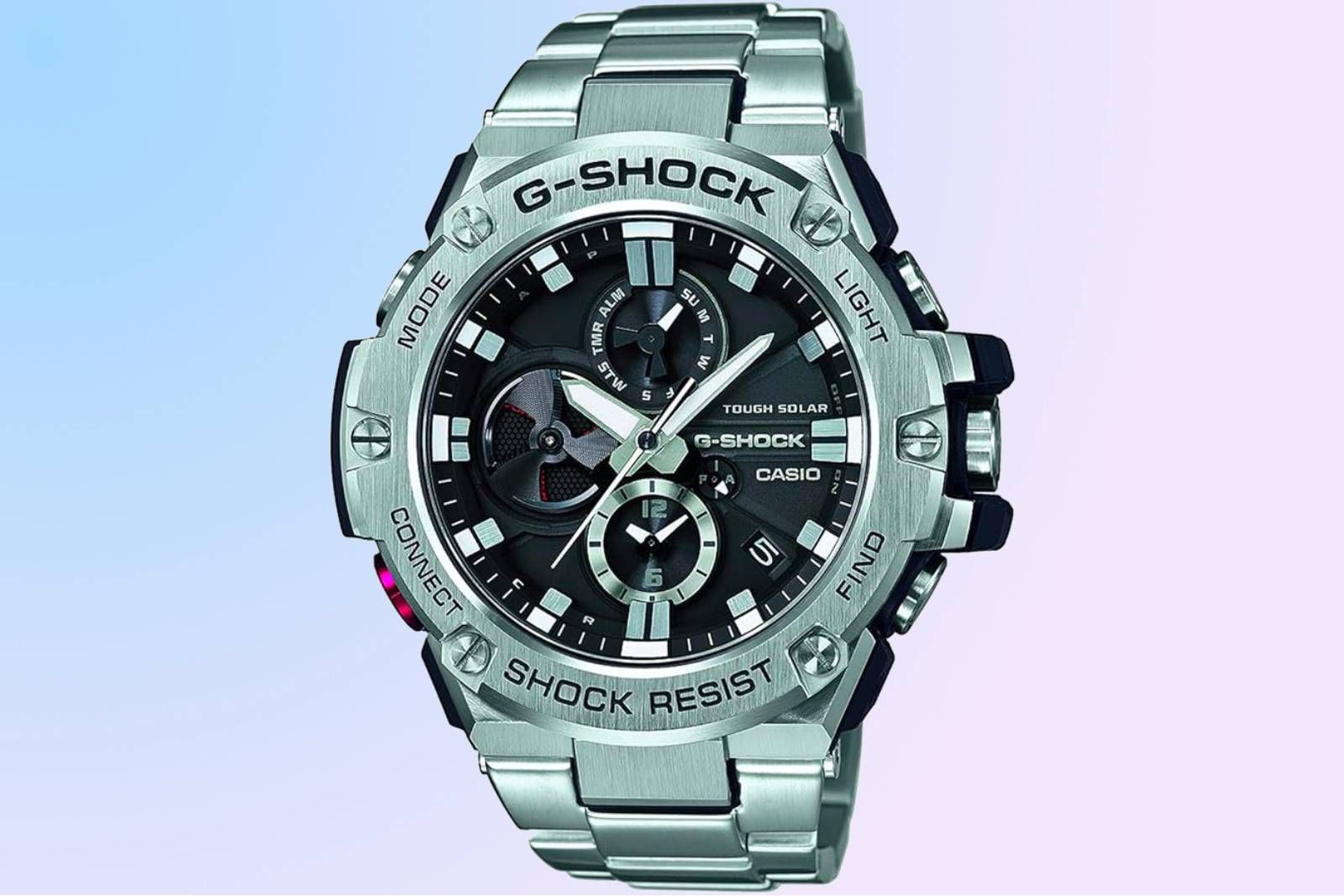 Casio / Pocket-lint
Casio G-SHOCK GST-B100D-1AER
9. Best metal-finish G-Shock
Titanium tough
The G-Shock GST-B100D-1AER gives a timeless metal look for G-Shock watches.
Pros
Stainless steel build
Layered guard protection
Smartphone connectivity
Cons
Low battery charging
App connectivity issues
Heavier and big
The G-Steel GST-B100D is made of metal titanium, differentiating from the traditional G-Shock's high-impact resin polymers plus square digital face. For watch lovers who love that sleek metal look of a watch, the GST-B100D offers a more refined finished style and a quartz moving analog display, part of G-shock G-Steel series line.
The stainless steel casing and band of the GST-B100D adds not only more durability to the overall strength of the G-Shock watch but gives it a sleek and sophisticated finish. As part of the G-Steel model designs, the watch has a New Layered Guard Structure, where resin cushioning parts are integrated into the case that adds an extra layer of shock resistance and stability. The metal band has a one touch 3-fold clasp like traditional metal bands do, feeling cool on the wrist when it locks. There are still markings of G-shock traits on the watch's case, its exposed screws and overall rugged look.
The GST-B100D also includes all the features you'd find in their top-end models. Features include Casio's Tough Solar feature, allowing you to charge the watch's internal battery by just exposing it to light. The watch will even conserve power and power down (while keeping the time externally) so it saves on battery life. You can even link the watch to your smartphone, so you can make all the same adjustments to the watch like you would with its crown.
The GST-B100D has a multifunctional analog dial with three separate sub-dials on its face. Its top dial gives you the mode settings like timer, stopwatch and alarm. A side dial that looks like a turbine, showing your battery life, and a bottom dial to show you other times. Its Bluetooth Connectivity allows you to adjust all dials and other settings via the G-Shock app.
The bottom line: What is the best G-shock watch?
It was very difficult making this list. Casio just makes some of the strongest and most functional consumer watches on the market, period. The company continues to update features and work on their G-shock line every year, so they always improve upon old and make new watches that not just tell time, but aim to outlast it.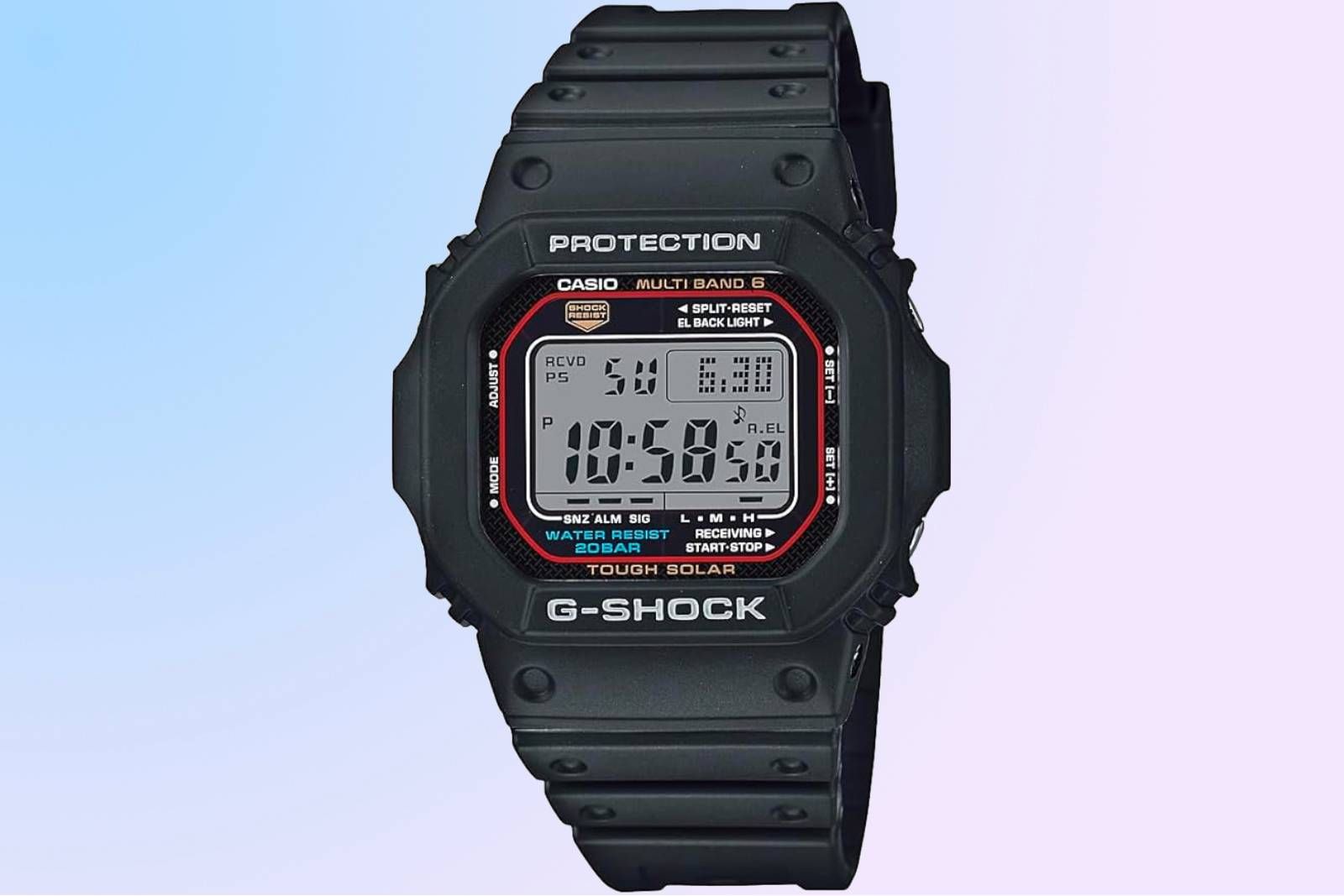 Casio G-SHOCK GWM5610-1
Editor's Choice
$100 $150 Save $50
The GWM5610 is a general introduction of a well-rounded G-Shock watch, and it's the best choice because of that. It keeps the digital display square face classic look of the original G-shock that made history, plus includes updated features that make it as futuristic of a watch as it was when the first G-Shock was initially released.
With it, you have a solar-powered battery watch, that can go underwater up to 200 meters, can handle being thrown at a wall, has five daily alarms, an LED full backlight, automatic time setting, and is under $100. That's hard to outmatch not just for G-Shock watches, but any.
Which Casio G-Shock Watch is best for me?
Think about your year. What do you like doing? If you're the type that often hikes or goes camping, something like the Rangeman GW-9400-1CR is going to be your best pick based on its adaptability and dynamic features that assist in your adventures. If you want a stylish watch that'll do its best in complementing your dress style and give a more gentle and elegant look, the Casio G-Shock GA-2100 will impress. Or, if you just want to spend the least amount of money with a watch that you can use in construction zones, roller derbies, or even wrestling, then the virtually invincible DW5600-E is going to be your choice based off how well it can handle the elements your trekking through.
Trending Products

.