The internet is buzzing with images of tiny mummified bodies with three fingers and an elongated head, the alleged corpses of extraterrestrial life. A congressional hearing held in Mexico on UFOs is the latest to join a string of recent headlines on aliens, but are we any closer to finding out the truth of whether we are alone in the universe?
Apple Unveils Its iPhone 15 and Apple Watch Series 9
During Mexico's first congressional event on Unidentified Anomalous Phenomena (UAP) on Tuesday, journalist and UFO conspiracy nut Jaime Maussan presented lawmakers with what he claims to be two ancient corpses of non-human origins.
The very small, doll-like bodies were allegedly recovered in Peru near the ancient Nazca Lines in 2017 and date back to 1,000 years ago. Maussan claimed that the mummified bodies were analyzed through a carbon dating process by Mexico's National Autonomous University (UNAM) and were shown to have no relation to human beings, Reuters reported.
"I think there is a clear demonstration that we are dealing with non-human specimens that are not related to any other species in our world and that all possibilities are open for any scientific institution… to investigate it," Maussan is quoted as saying. "We are not alone."
This isn't the first time Maussan has made this claim. In 2018, he released a video through the sites gaia.com and the-alien-project.com that showed five mummified bodies that were also claimed to have alien origins. Researchers from Peru condemned the claims, and said that the mummies from the video were likely put together by looting real human remains from the Nazca people that were manipulated by forgers, Live Science reported at the time.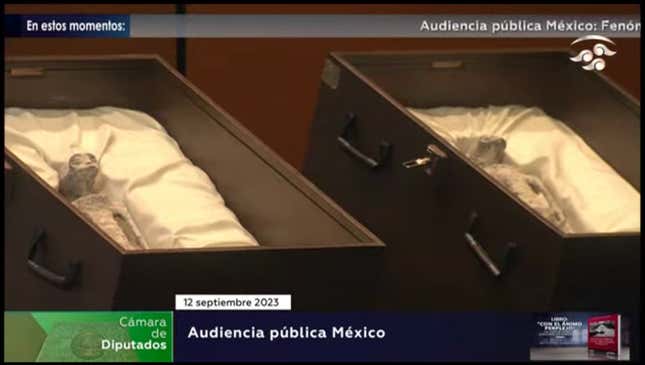 Maussan has a huge following in the UFO community, with nearly one million subscribers on his YouTube channel. Although his previous claims of alien life have been alleged to be falsified, Tuesday's hearing was celebrated by alien enthusiasts as ground breaking and made several headlines across the world.
While NASA is already engaged in discussions about UAPs, the space agency unexpectedly became entangled in the Mexican alien controversy. NASA formed a team in June to probe recent sightings and unveiled its comprehensive report today.
"We don't know the nature of those samples that were shown," David Spergel, president of the Simons Foundation and chair of NASA's UAP independent study team, said during a press conference on Thursday. "My recommendation to the Mexican government is, if you have something strange, make samples available to the world's scientific community and we'll see what's there."
Despite recent efforts to shift the conversation around UAPs from sensationalized conspiracy to science, it's still hard to have a serious conversation about alien life and unidentified phenomenon, and harder still to separate the two. In late July, U.S. congress held a hearing on UAPs in which so-called whistleblowers claimed that the government has been concealing alien technology and non-human "biologics" in an attempt to cover up the truth.
Those are rather big claims with little to no evidence backing them up. It's bewildering to think about how these conspiracy theories, and mummified alien bodies, have found their way into congressional hearings recently, and what the government intends to do with them. Maybe it's going to be a matter of time before we can discuss alien life in a scientific, non-spooky way, but it certainly doesn't help when extraterrestrial corpses show up in congress.
Trending Products

.