Indoor cycling continues to grow and there's little indication that this trend is going to change anytime soon. Previously the preserve of a dedicated few in the depths of winter, indoor riding is now a year-round venture that most sports cyclists will take part in in some way – and increasingly all year round.
Some may use one of the best turbo trainers to save money, but for those lucky enough to have the space and the spare cash for the next n+1, a stationary bike is a great option as it's all set up and ready to go at a moment's notice. Enter the Kickr Bike Shift, Wahoo's second-tier stationary bike that sits under the Kickr Bike in its hierarchy, costing $1,000/£800 less than its bigger brother. I've been testing it out, here's how I got on.
.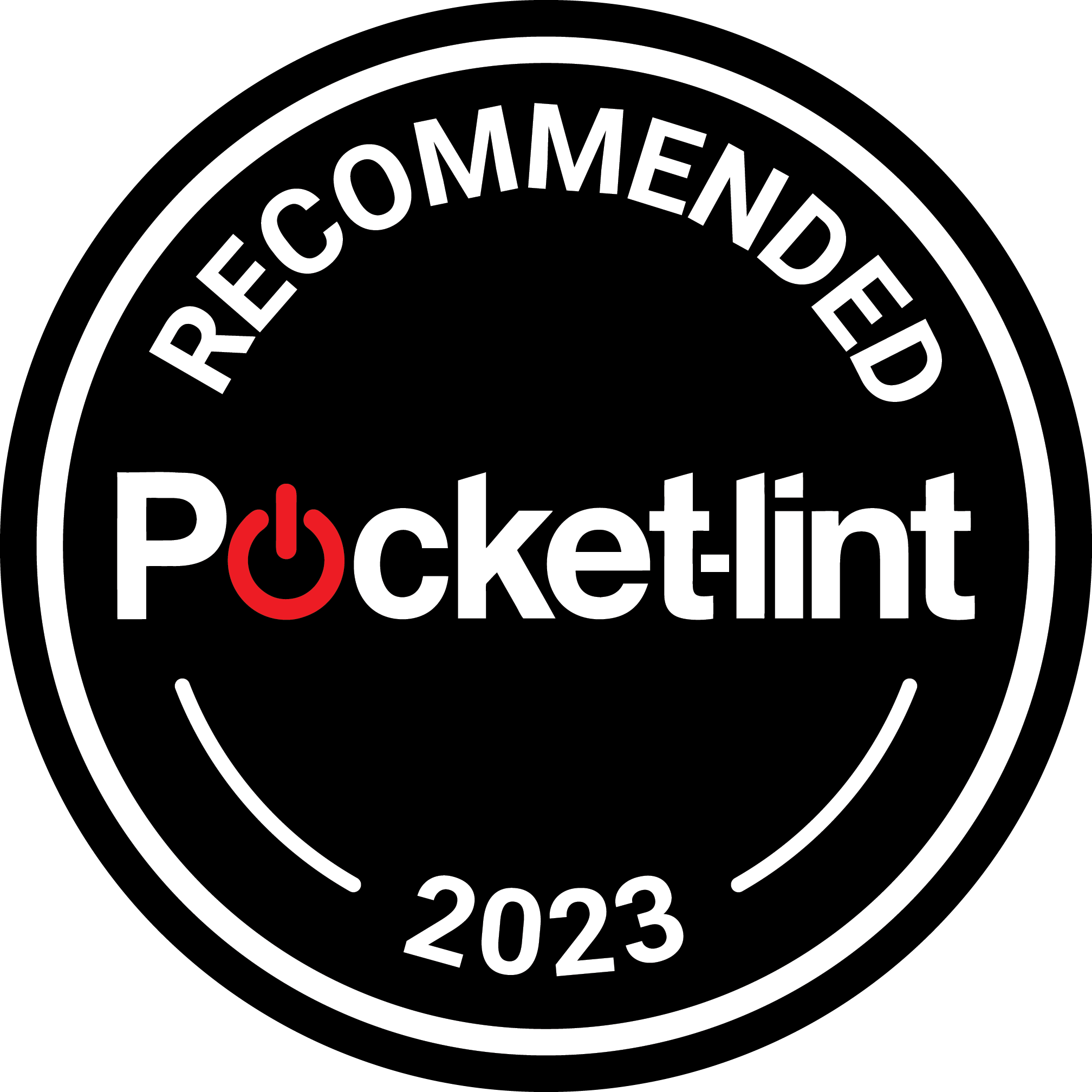 Wahoo Kickr Bike Shift
Recommended
The Kickr Bike Shift isn't just a good training bike, it's an excellent one. Sure, it doesn't have every feature of the full-fat Kickr Bike or the downhill simulation, but it isn't any the poorer for it. In fact, with its pared back simplicity it just gets on and does everything that Wahoo says it will really, really well.
Pros
Near silent operation
Excellent adjustability
Accurate power measuring
Some compliance in frame for comfort
Cons
No way to see gear selection on the bike
No 'Race Mode' for faster data transfer when racing
Getting it set up
The Kickr Bike Shift comes in a surprisingly large and heavy (35kg+) box, so it's best to limber up before taking delivery. Wahoo recommends you find a friend to help with the initial set up, which is essentially just a case of bolting the legs on and righting it, which I found it perfectly possible to do alone with a little due care.
Wahoo provides a handy video to walk you through the process as part of their new unboxing experience, if manuals aren't your thing, and with the exception of a pair of pedals you've got everything you need to hop on the bike straight away.
You will need to dial the fit first, of course, and Wahoo direct you to one of three ways to do this via their app. You can either enter the measurements that you've got from a professional bike fit, take a photo of your bike, tap on a few key points and enter the wheelbase measurement, or tell Wahoo your height and inseam measurement.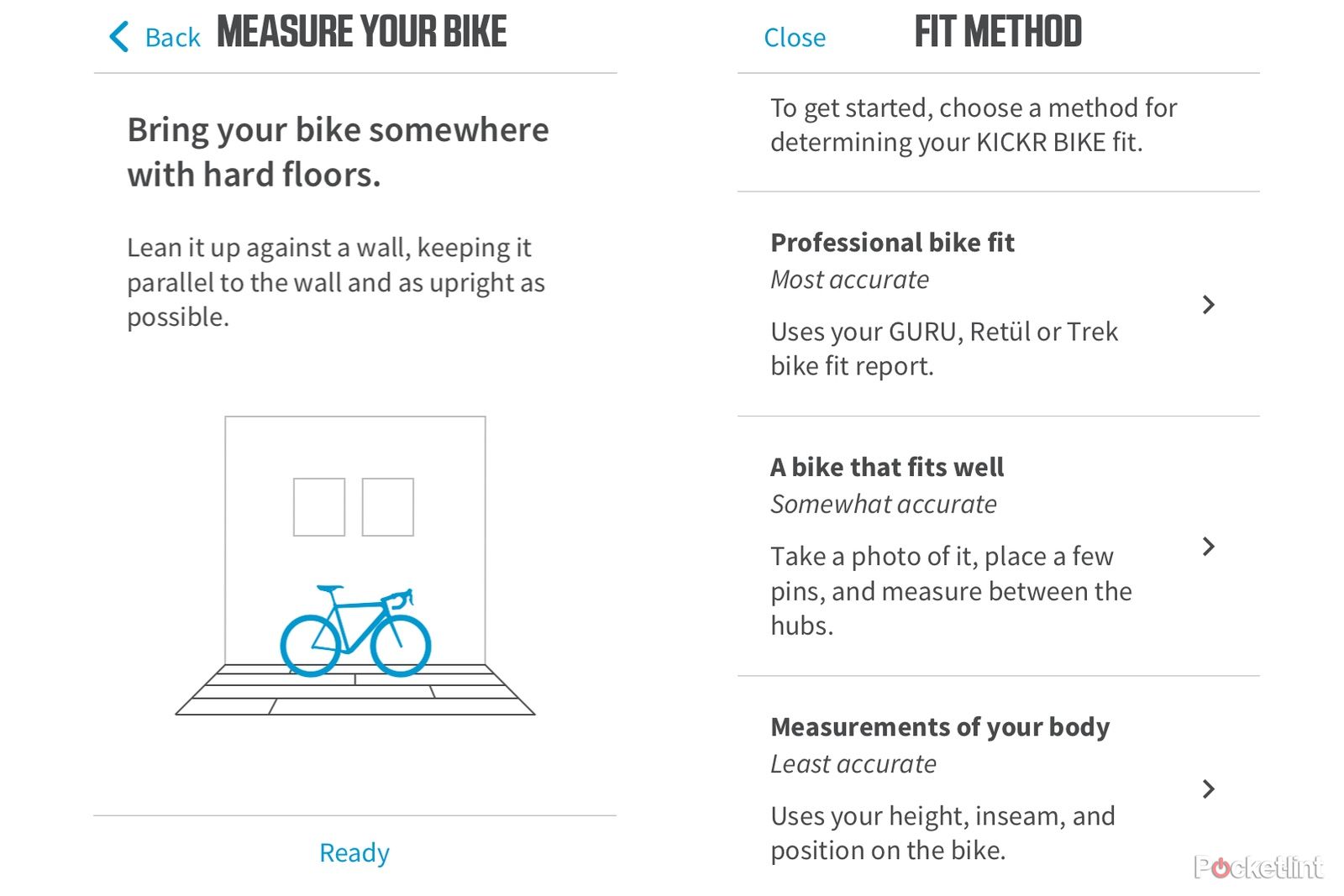 In each case the app will then tell you the setting that you need for each of the five adjustable parts, for setback, stand over height, stack, reach and seat height. Unsurprisingly the professional bike fit will make your setup an exact match to your road bike, whereas the height and inseam option will give you an approximate set up – more a starting point from which you can make further tweaks. I used the 'photograph your road bike' option and found that, though not perfect, it got me pretty close to the fit I wanted.
Finally, you can add your own pedals into your desired crank length between 165-175mm and voila, the physical set up is complete. Back inside the app you can choose whether you'd like the gearing to mimic a Shimano, Sram or Campy set up, either as mechanical or electronic, and you can customise the chainset and cassette to pretty much any combination you might need.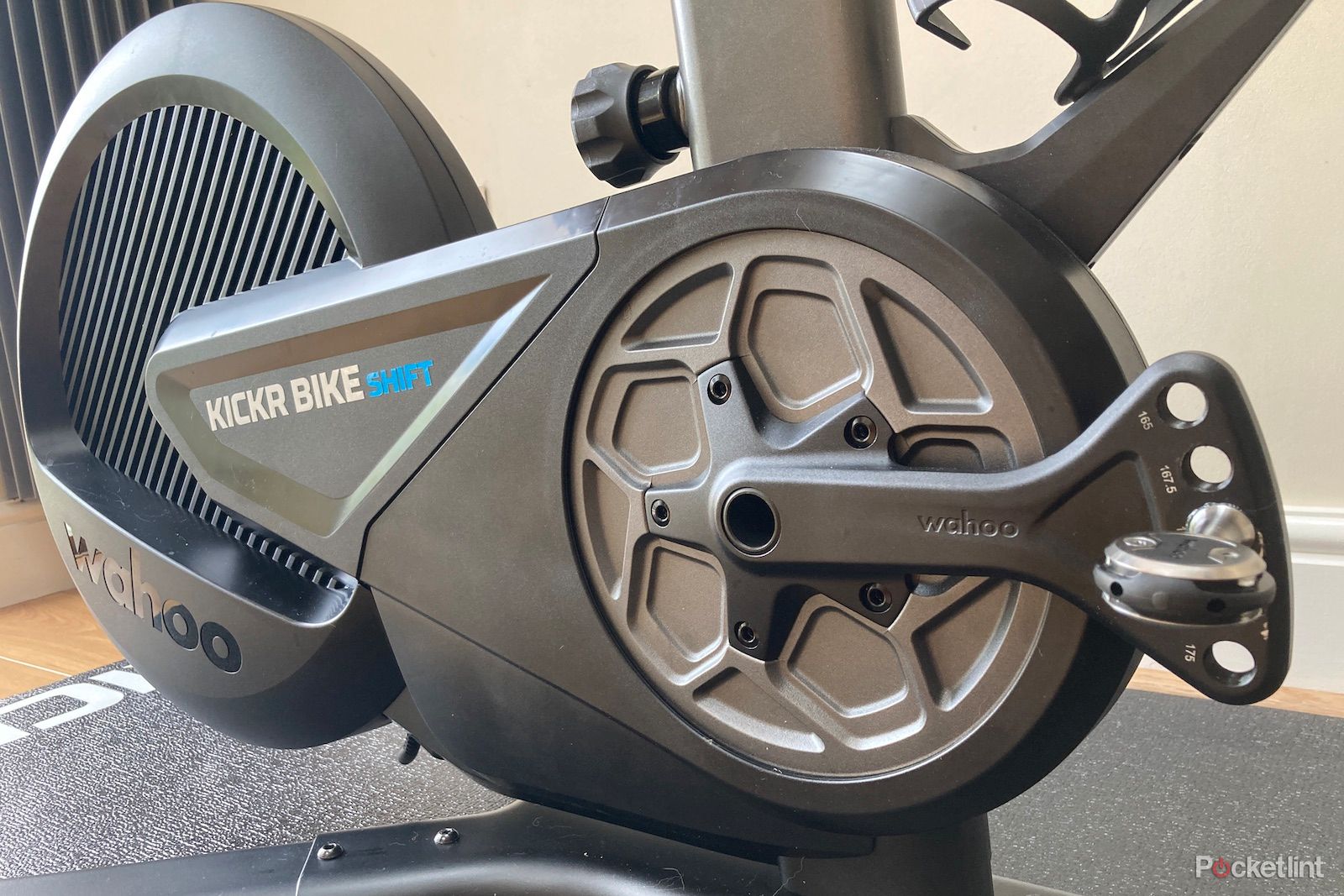 Once I had everything dialled in, the Kickr Bike Shift was as close a replica to my road bike as could be for fit and gearing.
Design
The Kickr Bike Shift is a well-designed and good-looking bit of kit. Sure, beauty is in the eye of the beholder and it isn't exactly a work of art, but it looks purposeful and like something I'd want to ride – an important motivator when it comes to working out.
Once you add extras like Wahoo's trainer mat and Headwind fan into the visual equation then the set up starts to bring form and function together.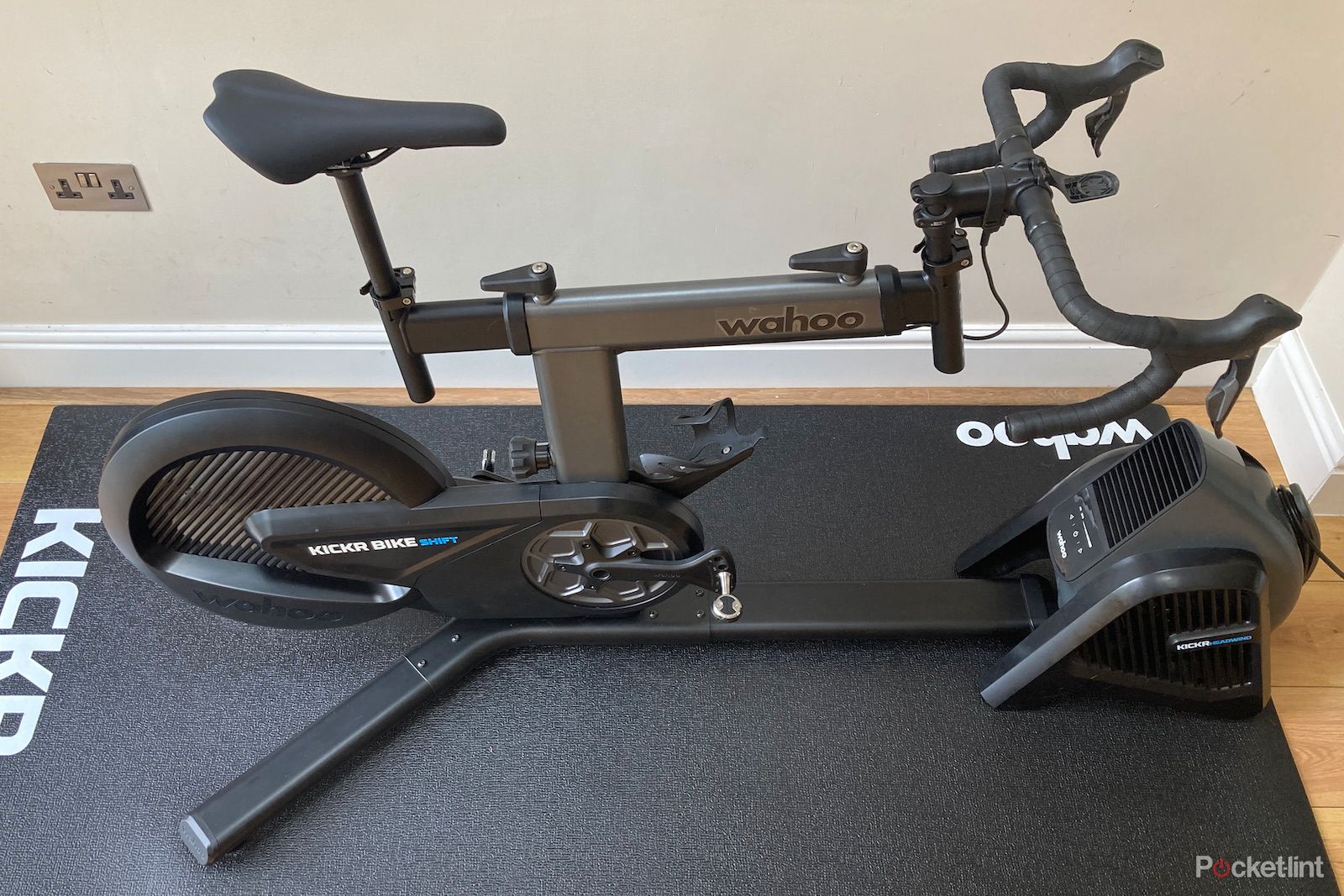 The bike frame itself is a mix – angular in profile yet thinner and sleeker as you look down on to the top tube. It feels solid in its construction, with the oversized tightening levers gripping everything firmly into place. The saddle is functional, but won't be to everyone's taste and may well be something that you'd want to upgrade sooner rather than later.
Performance
On the bike, it's hard to find fault with the Kickr Bike Shift. Yes, from a standing start a stationary bike or trainer feels different to being on the road, and this is no different, but once you spin up a little speed the electronically controlled resistance gives a realistic enough road feel. It's also super quiet – quieter than even the quietest of drivetrains could ever dream of being.
There's a little bit of very welcome flex in the Kickr Shift frame that helps the ride feel and also means that fatigue doesn't set in as quickly as it can on the rear-numbingly rigid set up that some training bikes offer. Still, in a full-on sprint when I was pulling hard on the handlebars, I never had any concerns around stability with the Kickr Shift feeling firmly planted.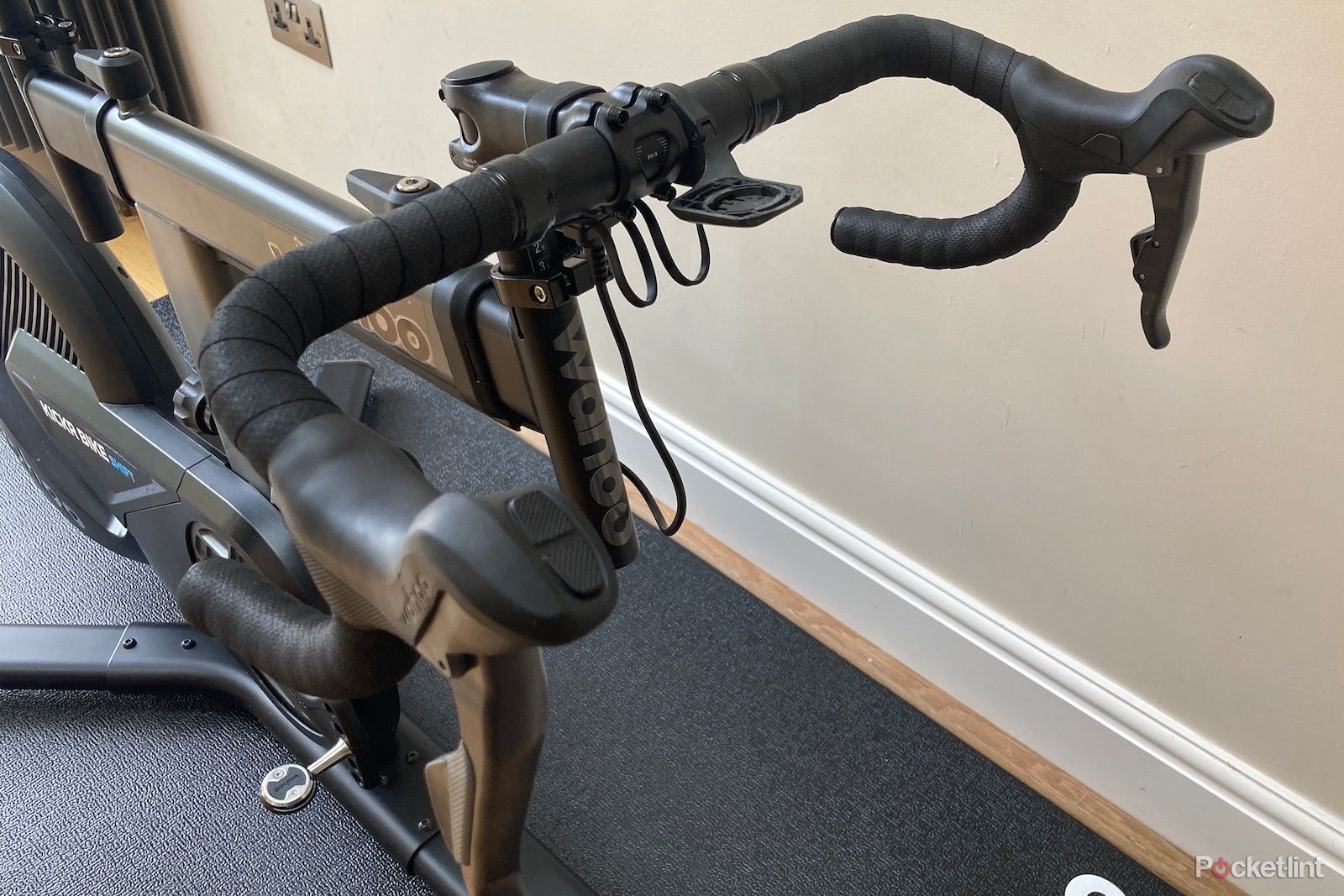 When I tested it out in Zwift and Wahoo's own Systm app, the Kickr Shift was immediately discovered over Wi-Fi (I also tested it out over Bluetooth) and the connection was rock solid, so I didn't experience any drop outs at all during my time riding and racing. When performing structured workouts the changes in power demands were smooth and most importantly, when I compared the power readings to my power meter pedals, everything was extremely accurate too.
On the hoods there are two sets of buttons that can be programmed to work as developers wish in their software. In Wahoo's own RGT and Zwift the buttons that sit under your thumbs allow you to steer, while the ones on top allow you to turn around, wave or see your avatar from a different angle.
I've put a good few hundred kilometres of testing in and I have to say, the Kickr Bike Shift is pretty impressive. However, there are some downsides.
Some are solvable. For example, there's no physical indicator of what gear you're in, but this can be overcome by using your bike computer to show this, or by riding with Wahoo's RGT where it's shown on screen (and I'd expect Zwift to follow suit soon too). There's also no tilting incline/decline feature and the simulated downhill that you'll find on the pricier Kickr Bike, which are both nice to have, but not core requirements in my book.
The biggest miss will be for more dedicated indoor racers who may have become used to the Kickr's Race Mode, which updates your power input up to 10 times faster than standard, allowing you to react faster to other riders trying to breakaway. It isn't included here, but the fact that this is only just currently being added to the pricier Kickr Bike's armoury via a firmware update does give hope that this might be added later down the line – but I wouldn't buy the Shift expecting it anytime soon.
Verdict
The Kickr Bike Shift may have just entered the indoor bike race, but it's manoeuvred itself straight to the front of the bunch and is pushing the competition in terms of value for money and features.
It's slightly pared back compared to the Kickr Bike, as is its price, but the only major loss in my book is the 'Race Mode' – and that's only just being added to the Kickr Bike now.
In apps like Zwift and RGT it works exactly as you want it to, and with its muscular design alongside the always-ready ease of a dedicated training bike that's dialled in to your race fit, it's a superb indoor bike that makes you want to ride it.
Trending Products

.