Totally Killer Exclusive Clip
The OSIRIS-REx spacecraft had been carrying precious cargo for nearly three years before dropping it off in the Utah desert. As it bid farewell to its rock and dust samples from asteroid Bennu, the spacecraft captured a departing shot of its Earth-bound package as it headed off to another asteroid.
This week, NASA released a black and white sequence of the return capsule as it descended towards its fiery reentry through Earth's atmosphere on September 24. The brief snapshot was captured by TAGCAMS's (Touch-and-Go Sample Acquisition Mechanism) NavCam 1 just moments after the capsule's release from the spacecraft.
The sample return capsule can be seen hurtling its way towards Earth, which appears as a thin crescent at the left edge of the image while the Sun beams its rays at the top of the image sequence. The sequence of images was processed to remove most of the scattered sunlight and bring out the details of the capsule and its release debris cloud while preventing the view of Earth from saturating, according to NASA.
Just 24 hours before its release, OSIRIS-REx's StowCam camera captured the above image of the sample return capsule while it was still attached to the spacecraft's instrument deck on September 23 at 10:37 a.m. ET.
In a dramatic "after" photo, the capsule containing the asteroid sample can be seen completely charred from its journey through Earth's atmosphere. The sample performed a parachute-assisted landing at the Department of Defense's Utah Test and Training Range, where it had to land within a 37-mile by 9-mile ellipse (59 km by 15 km) about an hour and 13 minutes after it was released by the spacecraft.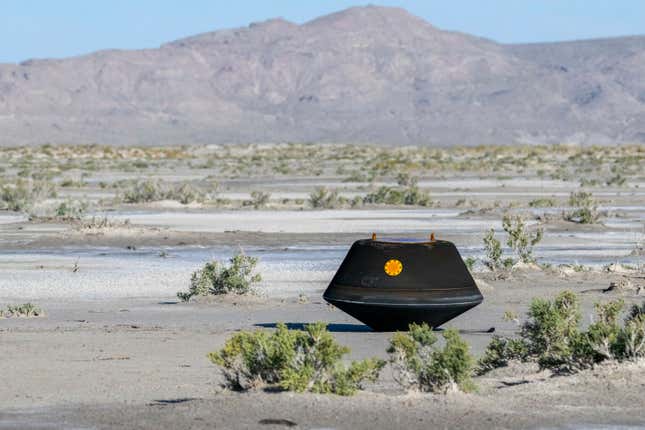 OSIRIS-REx launched in September 2016 and reached asteroid Bennu in December 2018. The spacecraft spent nearly two years observing the space rock before landing on Bennu and snagging a sample from its surface in October 2020. On May 10, 2021, OSIRIS-REx bid farewell to Bennu and began making its way back home to drop off its precious cargo.
It's been a little over a week since the asteroid sample landed on Earth and its journey is already starting to pay off. Scientists disassembling the sample canister found an abundance of debris from the asteroid, suggesting that OSIRIS-REx grabbed more bits from Bennu than anticipated.
The spacecraft itself, on the other hand, is on its way towards its next mission, exploring asteroid Apophis. Accordingly, the mission will be renamed to OSIRIS-APEX (OSIRIS-Apophis Explorer).
 For more spaceflight in your life, follow us on X (formerly Twitter) and bookmark Gizmodo's dedicated Spaceflight page.
Trending Products

.