Google is just about to launch its next-gen Pixel phone, following up on what has been a successful series of devices. Taking ownership of the design and specification of the Pixel family, Google is having an impact on the phone market and there's one thing that has defined the Pixel – the camera.
But before we talk about the camera, let's just put Pixel in context. The smartphone market globally is dominated by Apple and Samsung. In North America, Canalys figures for Q2 2023 suggest that Google has just 2 per cent market share. That's not the whole story, because when you look at annual growth, Google has seen 59 per cent, while Apple and Samsung have seen -20 per cent and -27 per cent respectively. In short, the Pixel is in ascendance, although launch cycles have a part to play here.
While shipments are small, and most customers will choose to pick up an iPhone 15 Pro Max or Samsung Galaxy S23 Ultra, there's everything to play for for the Pixel 8 Pro. That's where the camera comes in. It dominates smartphone launches, it has become the focal point for comparisons, because, for many, it's the only measurable point of differentiation.
Many important phone models have pushed smartphone cameras forward, but the Pixel has had a bigger part to play in that than perhaps Apple and Samsung. Sure, the popularity of the iPhone saw everyone carrying a camera in their pocket, but when it comes to innovation, Google stands out. The open conversation around "computational photography" – turning to AI for image enhancement rather than boasting about hardware specs – has been a hallmark of Pixel launches for the past few years.
Above any other smartphone, I've long maintained that the Google Pixel has been the best phone for just pointing and shooting and getting a great result. You can keep those high-megapixel sensors and all that talk about Bayer filters, pixel binning and all the rest. Point, shoot, share. That is the Pixel mantra.
There's a person in the background? AI will get rid of it. Your face is slightly blurry? AI will fix that too. Want to shoot in the dark? Hello Night Sight. The Pixel camera has been an AI tour de force, pitting user simplicity against photographical complication. For all the talk of Alpha technology in the Sony Xperia phones, which would you pick? It's the Pixel, every time.
It's with some trepidation, then, that I learn that the Google Pixel 8 Pro is going to offer something new: pro controls. This isn't from an official source, it's from Evan Blass, which is as close as you can get to official before a product is actually announced.
I didn't just mention Xperia by chance, because Sony has been the greatest proponent of "pro" controls on its phone cameras over recent years. But pro, or pro-ish, controls are everywhere. Apple's iPhone 15 started talking about 24, 28 and 35mm focal lengths, while its portrait adjustment gives you f-stop values. Newsflash: you can't adjust the aperture – it's all just good 'ol AI – so talking about f values is just adding photography jargon.
But this seems to be where Google is taking its camera. Manual controls have been rather scarce in the Pixel camera in the past. You could adjust the colour temperature, brightness and contrast, you can change the degree of background blurring (notably on a percentage scale rather than f-stop), but manual mode? That's not something the Pixel has done. The Pixel is a phone you point at the stars and it automatically gives you astrophotography mode. Is Google going to expect people to do this themselves?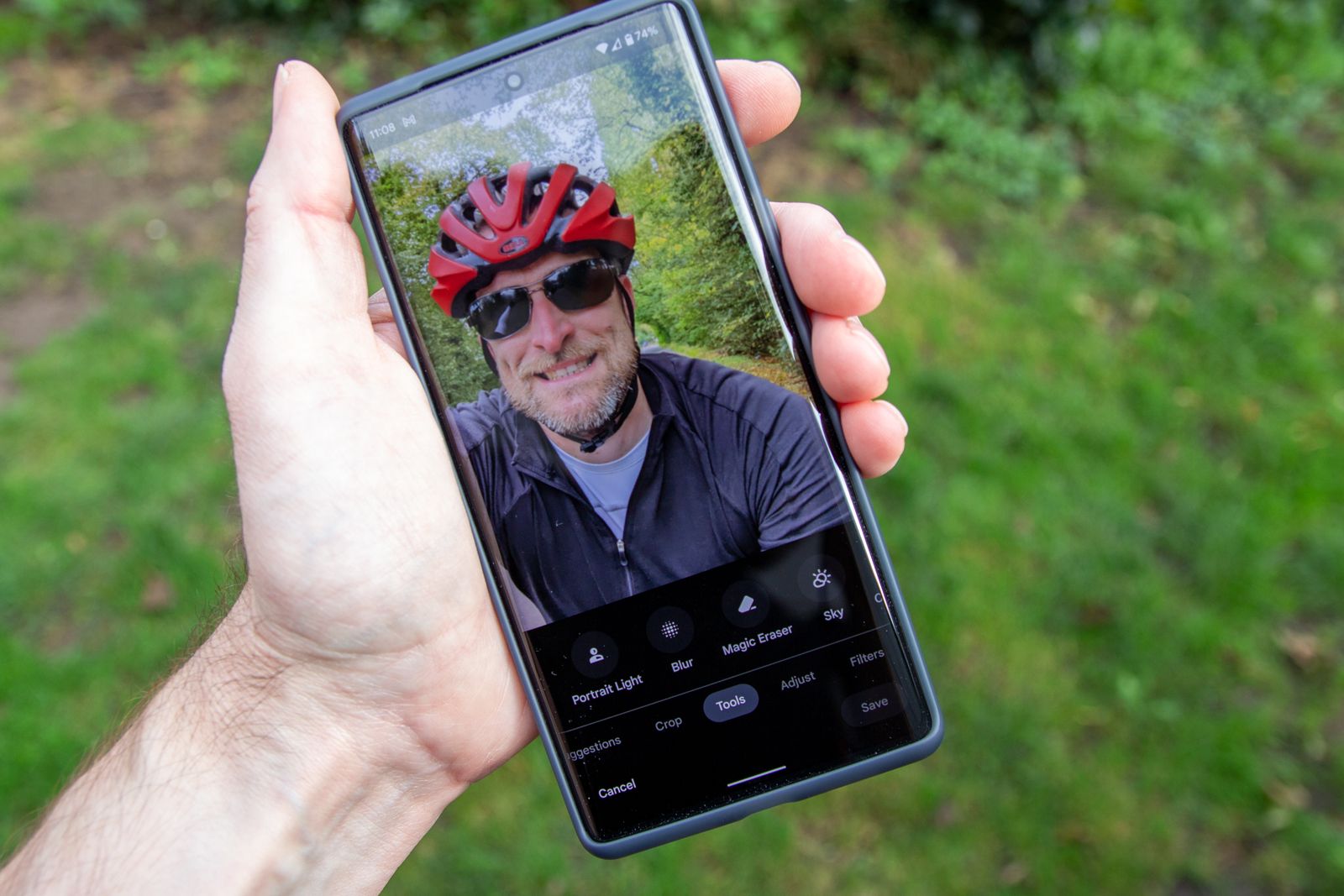 Pocket-lint
The danger here is that in the pursuit of manual control, Pixel users find themselves getting worse results than just letting the AI take control. But I don't think that Google will sacrifice its point-and-shoot prowess – I think we'll get a system that compliments it. You can already get those wide aperture portrait bokeh effects, or those long exposure motion effects out of the Pixel camera, but what if there's one place to go to directly control those AI results rather than skipping between modes? What if the "pro" controls still give you all those results, letting you tweak "settings" but with all the guide rails in place to make sure you still get a great Pixel photo?
This move towards offering pro controls will be lauded by some segments of the community who see it as parity with other manufacturers, but the reality is that Google's rivals have started talking more and more about AI in their cameras. Pro mode on Pixel is the fightback.
It's a way for Google to continue to lead on smartphone photography and perhaps shift that market share needle a little further. What I'm looking for in the Pixel 8 Pro is a redefinition of pro controls, not just more photography jargon.
Trending Products

.