Tom Hardy confirms filming has resumed on Venom 3. Eli Roth digs deep into designing Thanksgiving's villain. Harley Quinn will return to Max for another season. Plus, get a look at Disney's Percy Jackson series. Spoilers, assemble!
Spoilers of the Week | June 17th
The Fantastic Four
In addition to Pedro Pascal's rumored casting as Reed "Mr. Fantastic" Richards, Jeff Sneider now alleges Javier Bardem is Marvel's top choice to play the planet-eating cosmic entity, Galactus in Disney's Fantastic Four.
---
Leap
Deadline reports Moon Knight director Mohamed Diab is attached to direct Leap, "a high concept action thriller with a grounded sci-fi concept at its center" at StudioCanal and The Picture Company. Based on a script by Ben Ripley (Source Code), the story is said to be "set aboard the Eurostar train which runs high-speed between London and Paris" and journeys the "daring rescue mission to save one of the train's passengers, who is trapped onboard in a never-ending time loop."
---
Venom 3
According to a recent Instagram post from Tom Hardy, filming has officially resumed on Venom 3.
---
Thanksgiving
In a new interview with Bloody-Disgusting, Eli Roth discussed his thought process in designing a costume for Thanksgiving's rampage killer, John Carver.
Well, the design process it was interesting because you want that silhouette to be great. It was Jeff Rendell, my writer, who's in the pilgrim outfit in the fake trailer. We just called him The Pilgrim. But when Jeff was doing the research, he said, 'The first governor of New Plymouth Colony was named John Carver. If that's not a slasher movie killer name, I don't know what is.' So when history throws you a softball like that, you better hit it out of the park.

So, we call them John Carver. Then we started looking at the design, and there is one drawing of John Carver. There's one image of him. We took that as the basis for the mask. We said, 'Well, why would there be this mask?' Well, 2020 would be the 400-year anniversary of the founding of Plymouth. It was a big deal. We actually tried to time the movie for it to come out in 2020, but it fell apart, and COVID happened. So we thought, 'Well, what if they made all these masks for the quatercentenary,' which is a word I learned, along with bowsprit, the little pointy thing at the end of a ship, I learned that word too. For the quatercentenary, the 400-year anniversary, the premise is they made all these masks, but the parade would've been canceled because of COVID. So they have all these masks left over.

It's got to be a mask that was given out that everybody in town has that's kind of weird and uncanny of this historical figure, but when they're in your kitchen with an ax, that's when it's terrifying. You know? Seeing it out of context. Once they put on the Captain hat, which is another word we learned for it, the hat with the buckle and the pilgrim outfit. I mean, you think about the Pilgrims murdering the Native Americans. We have a rampaging Pilgrim killing on Thanksgiving. I wanted to make a movie that would be a great fun slasher film, but if some kid wanted to write a paper for high school about the themes in this film, give them a lot to chew on.
---
The First Omen
Bloody-Disgusting additionally has a new image from The First Omen, the upcoming Omen prequel starring Nell Tiger Free.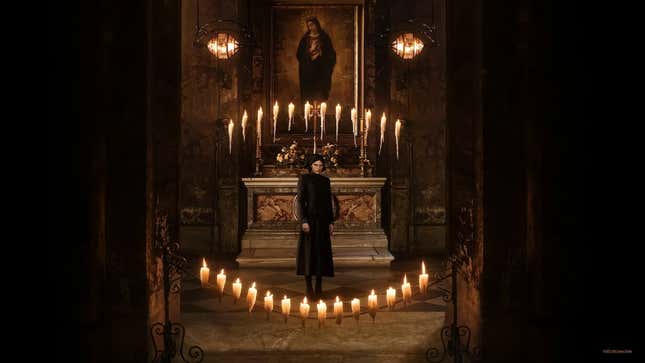 ---
Harley Quinn
According to TV Line, Max has officially renewed Harley Quinn for a fifth season.
---
Shining Vale
Terry's mayoral ambitions become an additional stressor for Pat in the synopsis for "Redemption," the upcoming eighth episode of Shining Vale's second season.
Pat struggles to find someone she can trust; Terry's mayoral ambitions seem to have overwhelmed his loyalty to her; Gaynor struggles with her own fate, and Jake gets a second chance to defend his family.
---
Sand Land: The Series
According to Coming Soon, A TV series based on the 2023 film adaptation of Akira Toriyama's manga, Sand Land, is now in development and will air on Hulu next year.
---
Percy Jackson and the Olympians
Finally, Disney+ has released a trailer for its new Percy Jackson TV series premiering this December 20.
Percy Jackson and the Olympians (Disney+) Trailer HD
---
Want more io9 news? Check out when to expect the latest Marvel, Star Wars, and Star Trek releases, what's next for the DC Universe on film and TV, and everything you need to know about the future of Doctor Who.
Trending Products

.