Savor the richness of a classic sweet potato casserole, complete with a crunchy pecan topping that will be the highlight of any meal.
Welcome to your new holiday tradition: a sweet potato casserole that marries the heartwarming allure of tender, spiced sweet potatoes with a festive pecan streusel topping. This is more than just a dish; it's a celebration in a pan, ready to grace your holiday table with its rich, comforting flavors. Whether you're gathering with family for Thanksgiving, sharing a Christmas feast, or simply bringing people together for a special meal, this casserole promises to be the centerpiece that captures the spirit of the season and leaves everyone reminiscing about it for years to come. Get ready to make some memories—let's bake a casserole that's as joyful and welcoming as the holidays themselves.
Ingredient Breakdown & Substitutions
Understanding the role of each ingredient in your sweet potato casserole can help you make it with confidence and even tailor it to your taste or dietary needs. Here's a breakdown of the key components and some tried-and-true substitutions: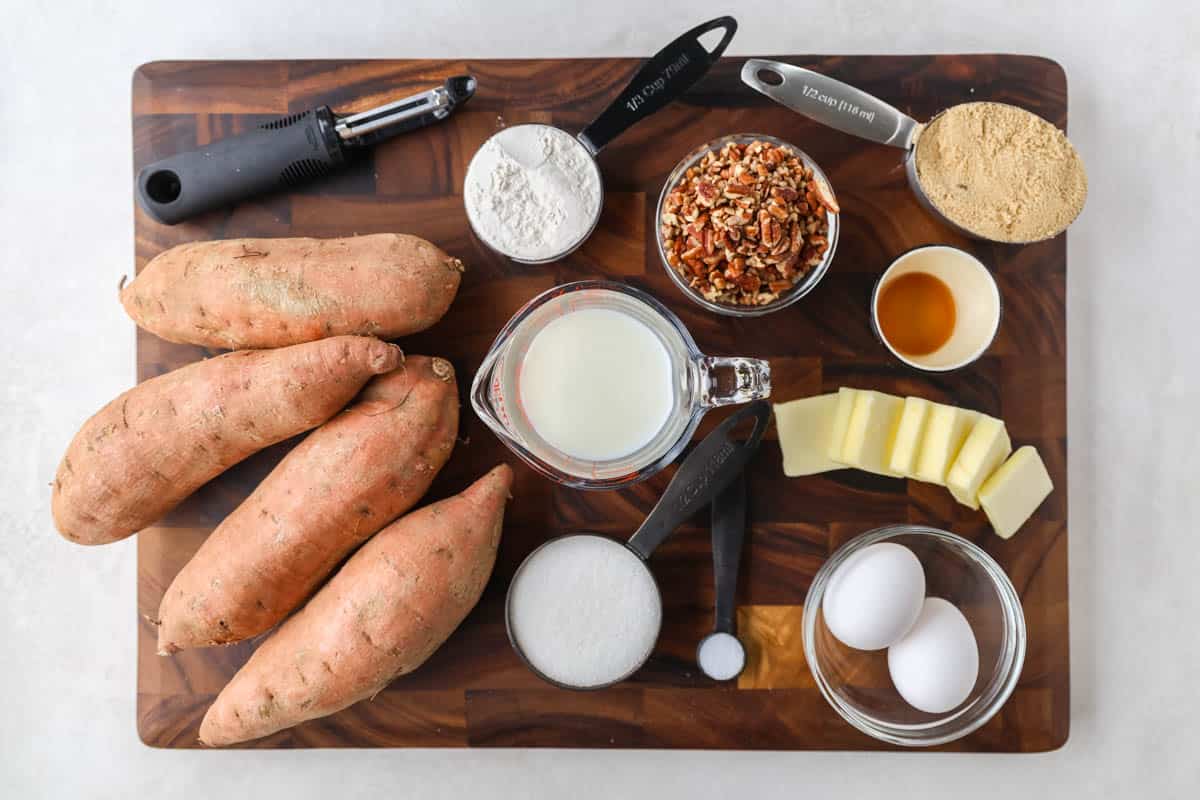 Sweet Potatoes
Function: Sweet potatoes are the star of the show, providing a naturally sweet base and creamy texture.
Substitution: For a different take, butternut squash or pumpkin can be used, giving a similar texture with a slight variation in flavor.
Sugar
Function: White sugar enhances the natural sweetness of the sweet potatoes and balances the savory elements.
Substitution: If you're looking to reduce refined sugars, try using honey, maple syrup, or coconut sugar for a more complex sweetness.
Eggs
Function: Eggs bind the casserole together, giving it structure and a custardy texture.
Substitution: For a plant-based option, flax eggs (flaxseed meal mixed with water) can perform a similar binding function.
Butter
Function: Butter adds richness and helps to create a smooth texture in the sweet potato mixture and a crisp topping.
Substitution: For a dairy-free alternative, try using refined coconut oil or a plant-based butter.
Milk
Function: Milk contributes to the creamy consistency of the casserole filling.
Substitution: Any plant-based milk, like almond, soy, or oat milk, can be used here without compromising the texture.
Frequently Asked Questions
What is the difference between sweet potatoes and yams?
In America the terms u0022Sweet Potatou0022 and u0022Yamu0022 are used interchangeably and refer to that potato looking thing with the red skin and orange flesh. Yet, you have probably seen something else in the grocery store labeled sweet potato with a light yellow skin, while your orange flesh variety is labeled yams. Guess what? Both of them are sweet potatoes!
The kind of sweet potatoes you think of as yams are simply dark skinned sweet potatoes. You won't commonly come across true yams in an American grocery store. True yams have brown or black skin and the flesh is either red, purple, or off white. Crazy, huh? You thought you've been eating yams all these years!
What are the benefits of eating sweet potatoes?
Sweet potatoes can be an excellent source of vitamin and minerals. Not only do they have a ton of Vitamin A, but it is also a good source of manganese, copper, pantothenic acid, vitamin C and Vitamin b6. They also have reasonable amounts of potassium, fiber, and niacin. Overall sweet potatoes can be apart of a well balanced and healthy diet.
Why is my casserole runny?
Overcooking the sweet potatoes or adding too much milk can cause this. Always follow measurements.
Can I make it vegan?
Absolutely! Substitute eggs with a commercial egg replacement or your preferred plant-based egg replacement, and dairy with plant-based alternatives.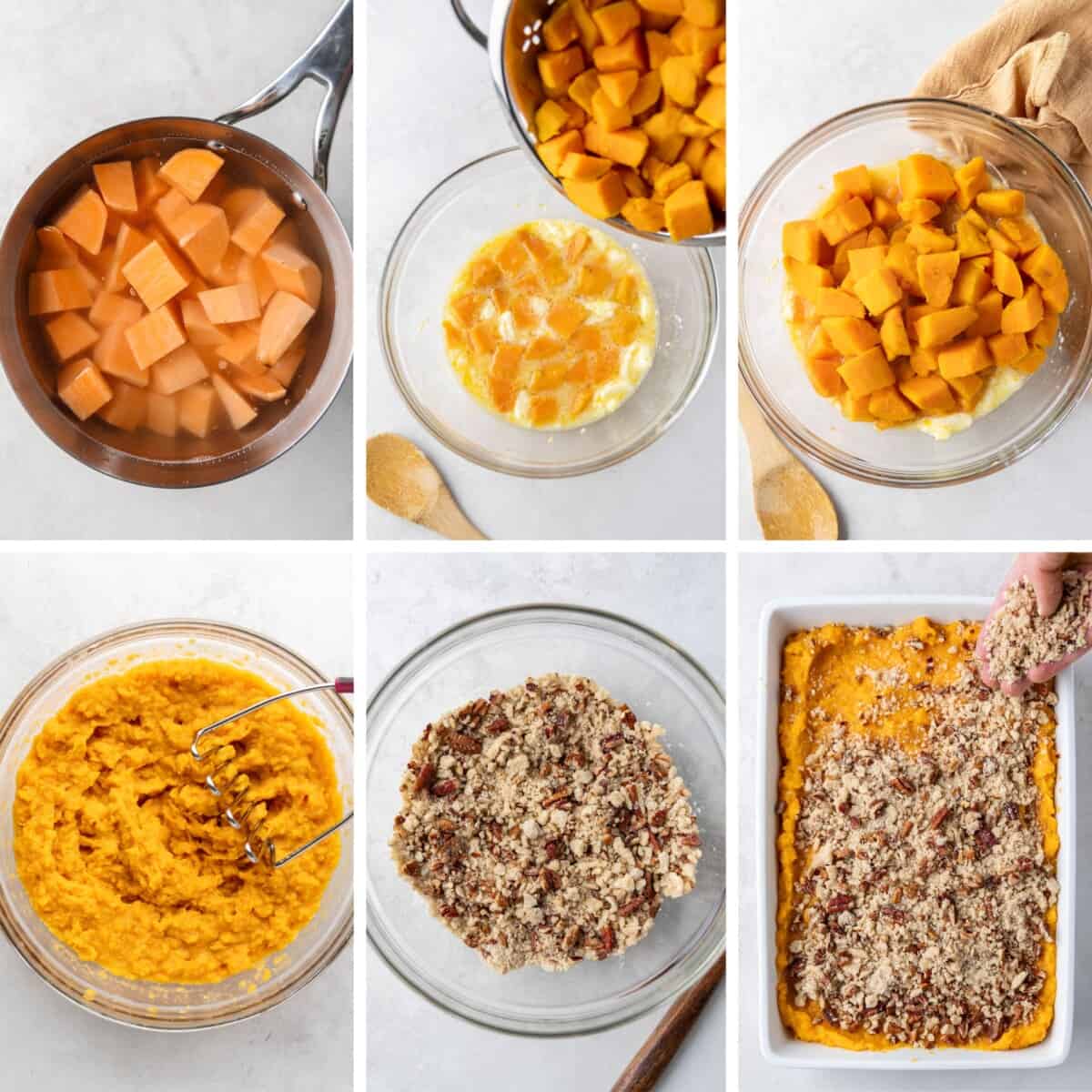 Baking Dish Sizes
9×13-inch Pan: This is the most commonly recommended size for sweet potato casseroles. It's large enough to serve a crowd but also works for a family dinner. The rectangular shape provides a good surface area for a nice streusel topping.
8×8-inch or 9×9-inch Pan: For smaller gatherings, a square pan works well. It's perfect for halving the recipe while still achieving the desired depth and texture of the casserole.
Oval or Round Casserole Dishes: These can be used for a more elegant presentation. They are perfect for smaller batches and can go from oven to table seamlessly.
Topping Variations
If nuts are a concern in your household, there are a variety of delicious nut-free toppings that you can use for a sweet potato casserole to ensure everyone can enjoy it. Here are some alternative options:
Marshmallow Topping: A classic choice, marshmallows melt into a sweet, golden layer on top of the casserole. Simply cover the sweet potato mixture with marshmallows during the last few minutes of baking until they're puffed and golden brown.
Oat Streusel Topping: Combine rolled oats with brown sugar, flour, and butter to create a crumbly texture. This provides a delightful crunch without the nuts and is particularly nice if you add a hint of cinnamon or nutmeg to the mix.
Gingersnap Crumble: Crushed gingersnap cookies mixed with melted butter create a spicy and sweet topping that complements the creamy sweet potato flavor beautifully.
Brown Sugar and Spice Crumble: Mix brown sugar with flour, a pinch of salt, and spices like cinnamon and ginger to create a sweet, spiced topping that mimics the flavor of the pecans without the allergens.
When using any of these alternatives, you'll want to bake the casserole as directed in the recipe, adding the topping towards the end of baking if necessary (as with marshmallows) to avoid burning. These toppings can provide the perfect finish to your sweet potato casserole while keeping it nut-free and safe for everyone to enjoy.
Tips From the Chef
Choose firm sweet potatoes without any discolorations or soft spots.
Over-mixing can make the casserole gummy. Aim for a smooth yet slightly chunky texture.
Always preheat the oven to ensure even cooking.
Storage & Reheating Instructions
Store any leftovers in an airtight container in the refrigerator for up to 4 days. For longer storage, freeze individual portions, and when you're ready to enjoy, thaw overnight in the fridge. To reheat, place in a preheated oven at 325°F until warmed through. This method helps retain the casserole's original texture and flavor.
More Favorite Holiday Sides
Watch the video below where Caytlin will walk you through every step of this recipe. Sometimes it helps to have a visual, and we've always got you covered with our cooking show. You can find the complete collection of recipes on YouTube, Facebook Watch, or our Facebook Page, or right here on our website with their corresponding recipes.
Trending Products

.