Sharing a roundup of my favorite HigherDOSE products, just in time for their Black Friday deal. Starting now, you can use the code FITNESSISTA20 for 20% off sitewide (minus bundles and full-sized saunas).
Hi friends! Happy Monday! I hope you're having a wonderful morning. I just took my first workout class in two weeks – I took 16 days off with being sick/recovering/blah – grabbed a smoothie, and had a wonderful chiropractor appointment. I'm back home getting some work done before it's time to pick up the crew and start the evening routine.
Today, I have some exciting news: HigherDOSE started their Black Friday promo. You guys know that I've been a fan of their products for a few years. I bought the sauna blanket for a Black Friday gift for myself a few years ago, and it's become a wellness staple in my routine.
Today, I'm sharing some of my top picks, and you can use FITNESSISTA20 for 20% off! This is the best promo they have all year, so if you have your eye on anything, now is the time. Please also remember that all of these things are just fun to have, and might be some extra joy, zen, and rejuvenation to your routine.
Sharing the goods here if you feel like treating yourself!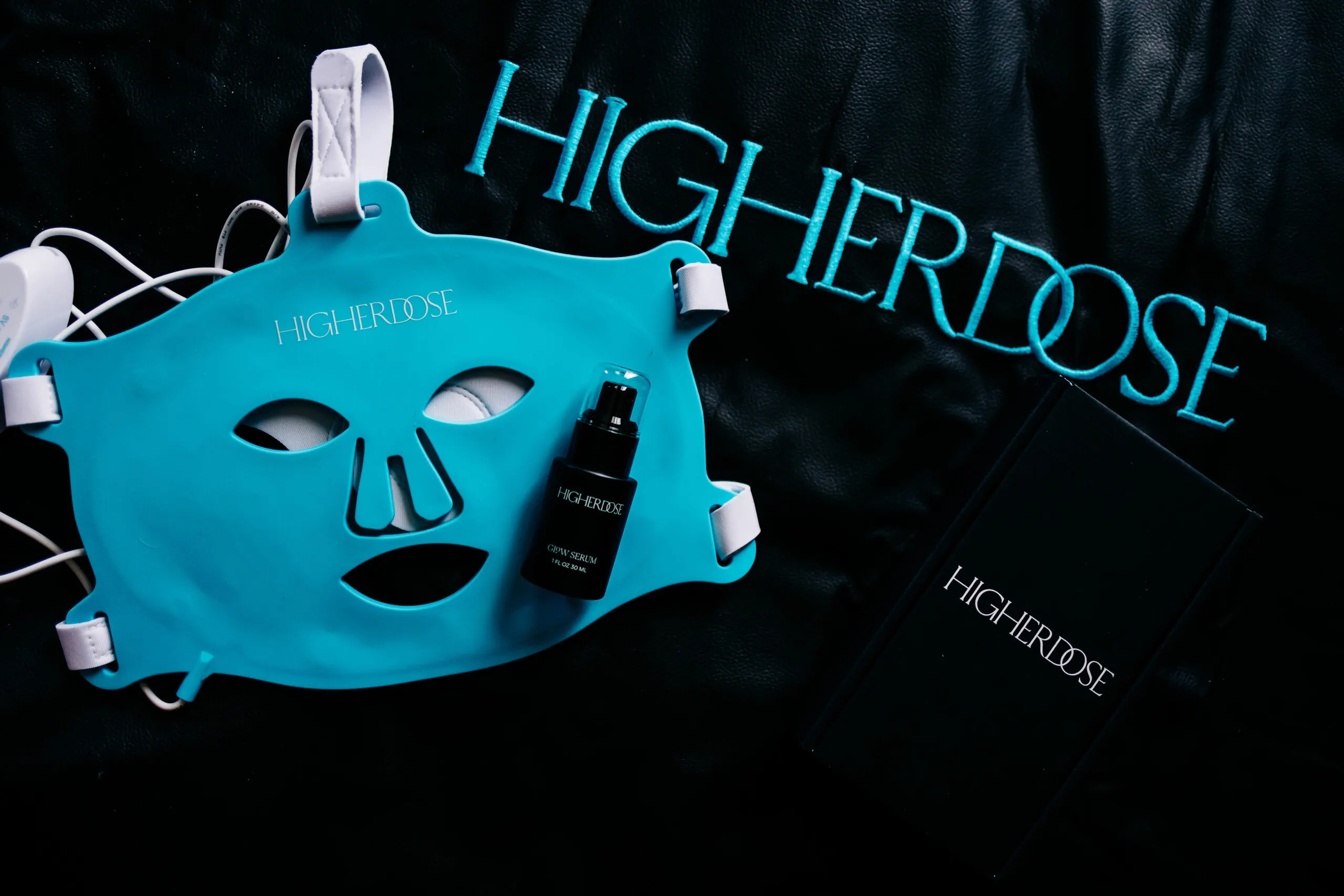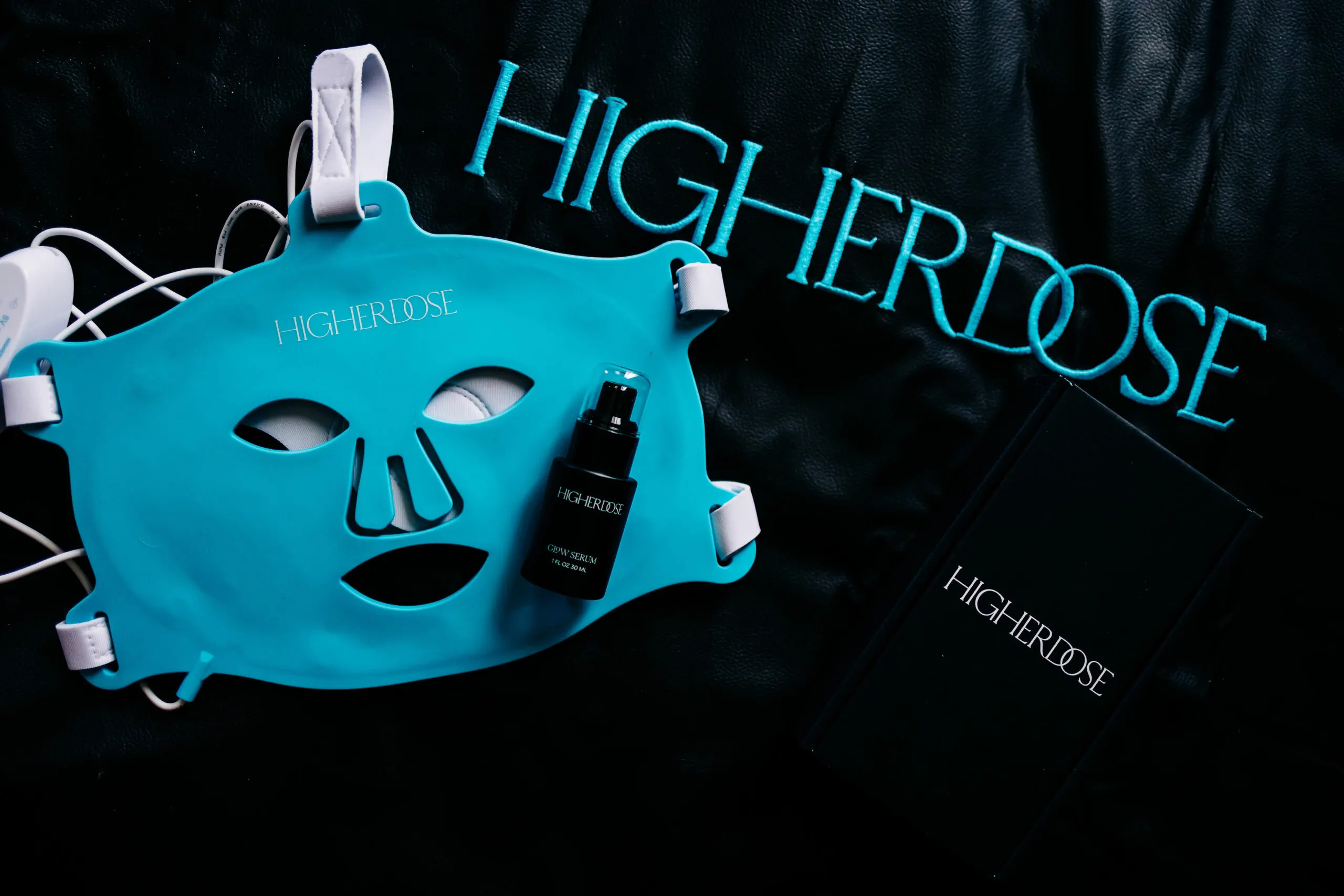 The best HigherDOSE products
The sauna blanket
The HigherDOSE sauna blanket is an at-home and portable version of an infrared sauna. It uses infrared heat (which heats your body from the inside out, not the other way around), along with healing tourmaline crystals, clay, and a charcoal layer (which all generate negative ions). It's made of nontoxic materials and is extremely low EMF, so it's not emitting radiation throughout your body while you're relaxing and sweating.
I use the sauna blanket 3-4 times a week and I sleep so much better, I get an awesome sweat, and it makes my skin glow.
You can check out my full review of the sauna blanket here.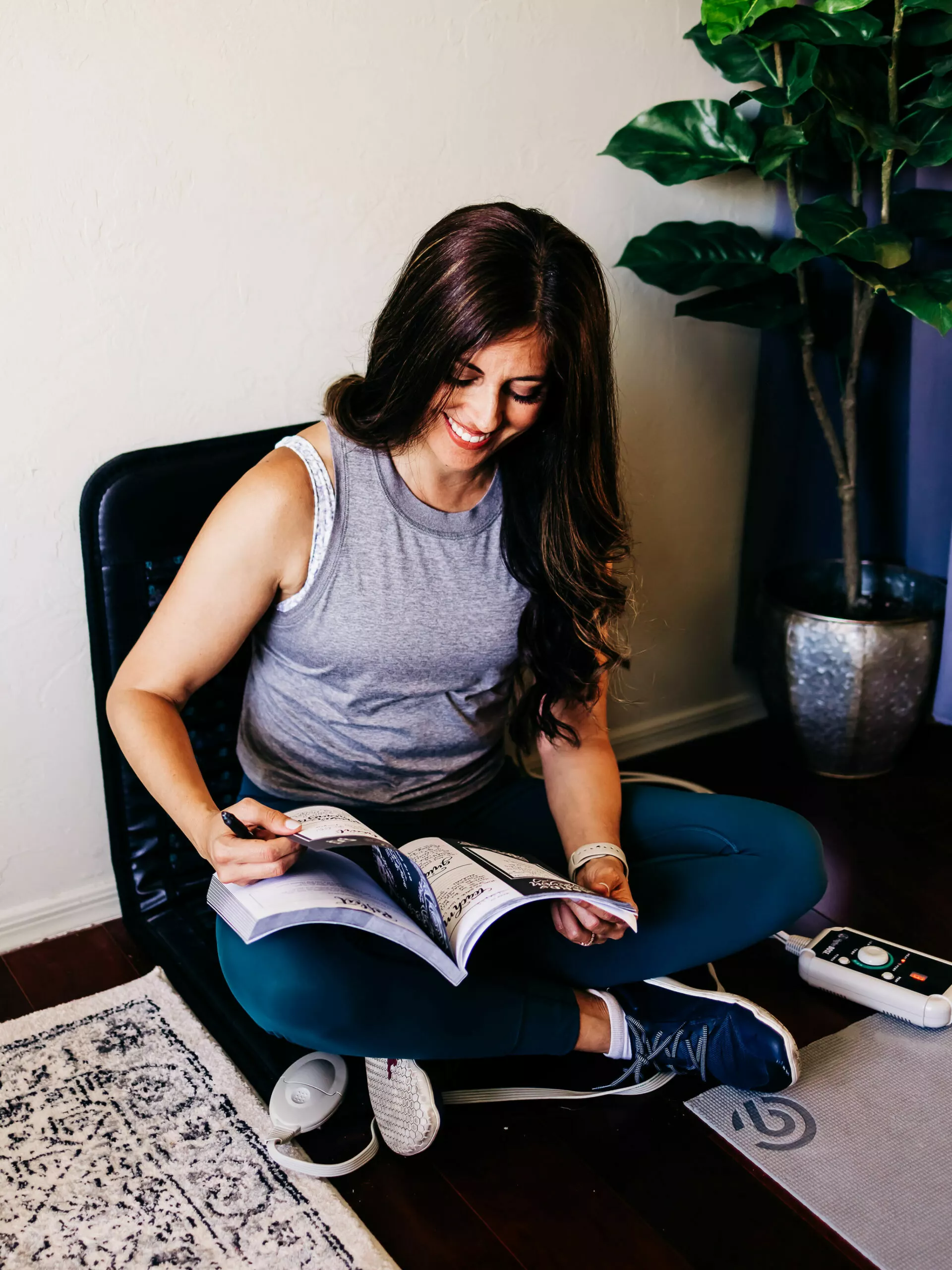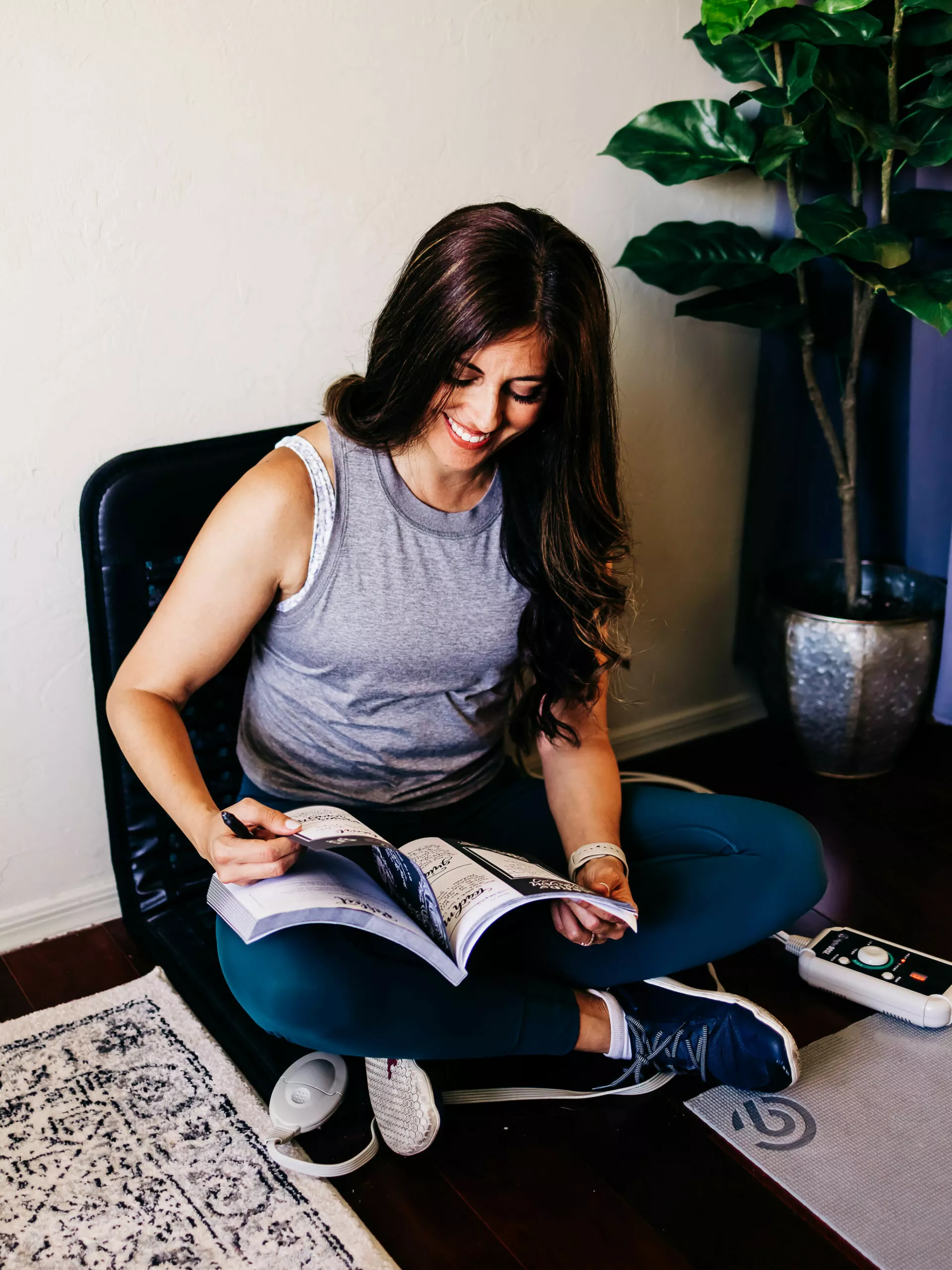 PEMF technology was originally used by NASA to promote health of the astronauts while in space. PEMF stands for Pulsed Electromagnetic Field Therapy, and is designed to mimic the vibrations found in nature. These vibrations interact with our organs and tissues to help promote healing and relaxation. It's been scientifically shown to potentially reduce aches, pains, inflammation, improve circulation, and other ailments. It's been FDA approved for decades and is used in animals as well as humans. You may have seen PEMF used by doctors, surgeons, physical therapists, and chiropractors. Thankfully, they now have lower-cost and portable versions like this, so you can get the benefits at home!
I use the PEMF Go Mat every.single.day at least once in the morning for meditation/prayer, and later if I just need a moment to reset and recharge. It makes me feel relaxed yet energized at the same time, the heat feels great in the morning, and I hope that it's made a difference with some of the inflammatory issues I've been dealing with.
You can check out my full review of the PEMF Go Mat here.
 The HigherDOSE Red Light Face Mask can be used for short-term skin goals or as part of a daily routine. The facemask includes red and near-infrared lights that can help to boost mood, collagen production, and skin healing, and can help to reduce wrinkles and sun spots. It's non-invasive and limits low-level rejuvenating wavelengths that are found in natural sunlight. I notice that it has an instant calming effect and is such a mood booster, especially during the cold winter months.
I use this a few times a week and noticed a difference in my skin as soon as I started implementing it! I also feel like it's very relaxing.
You can check out my full review of the Red Light Face Mask here.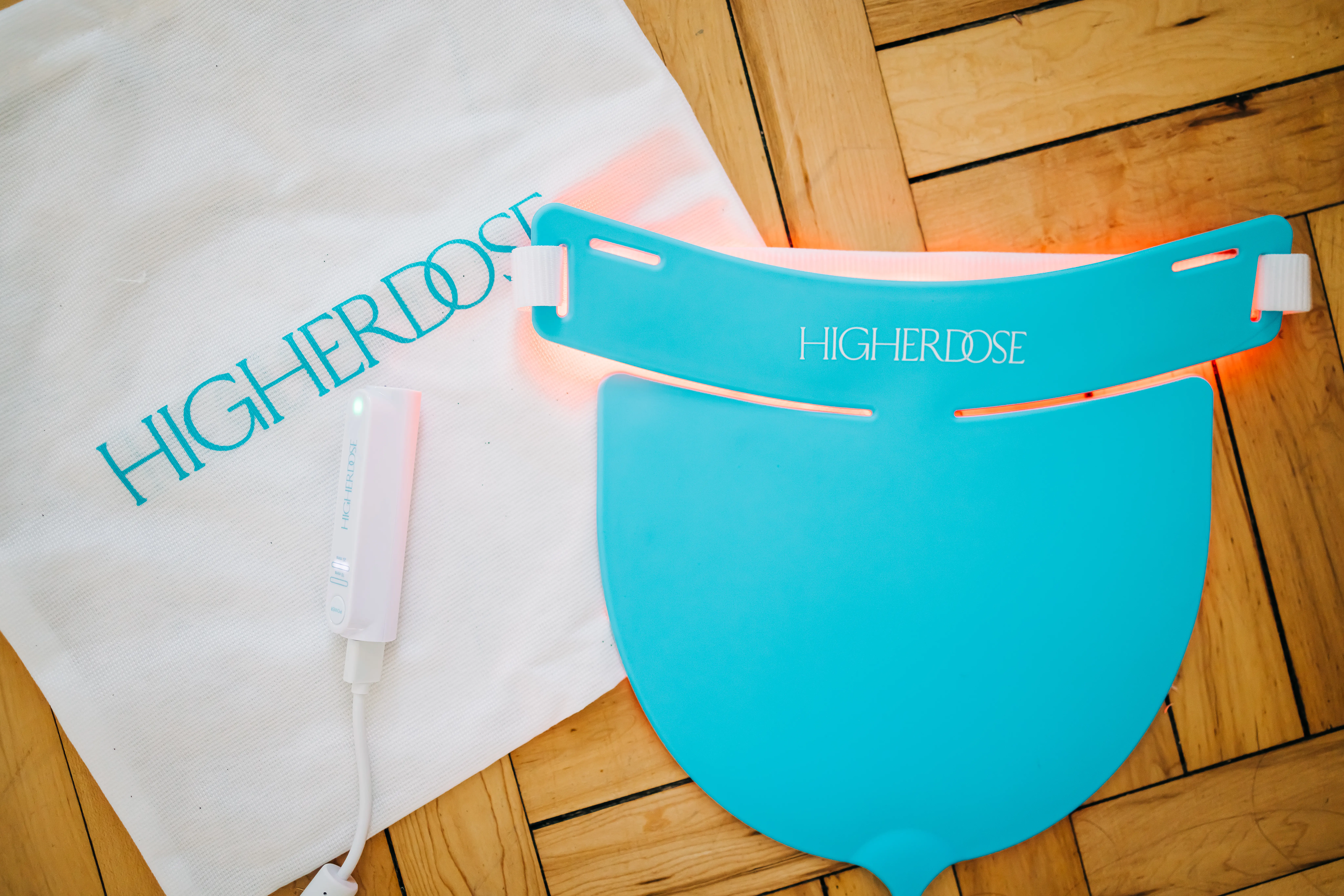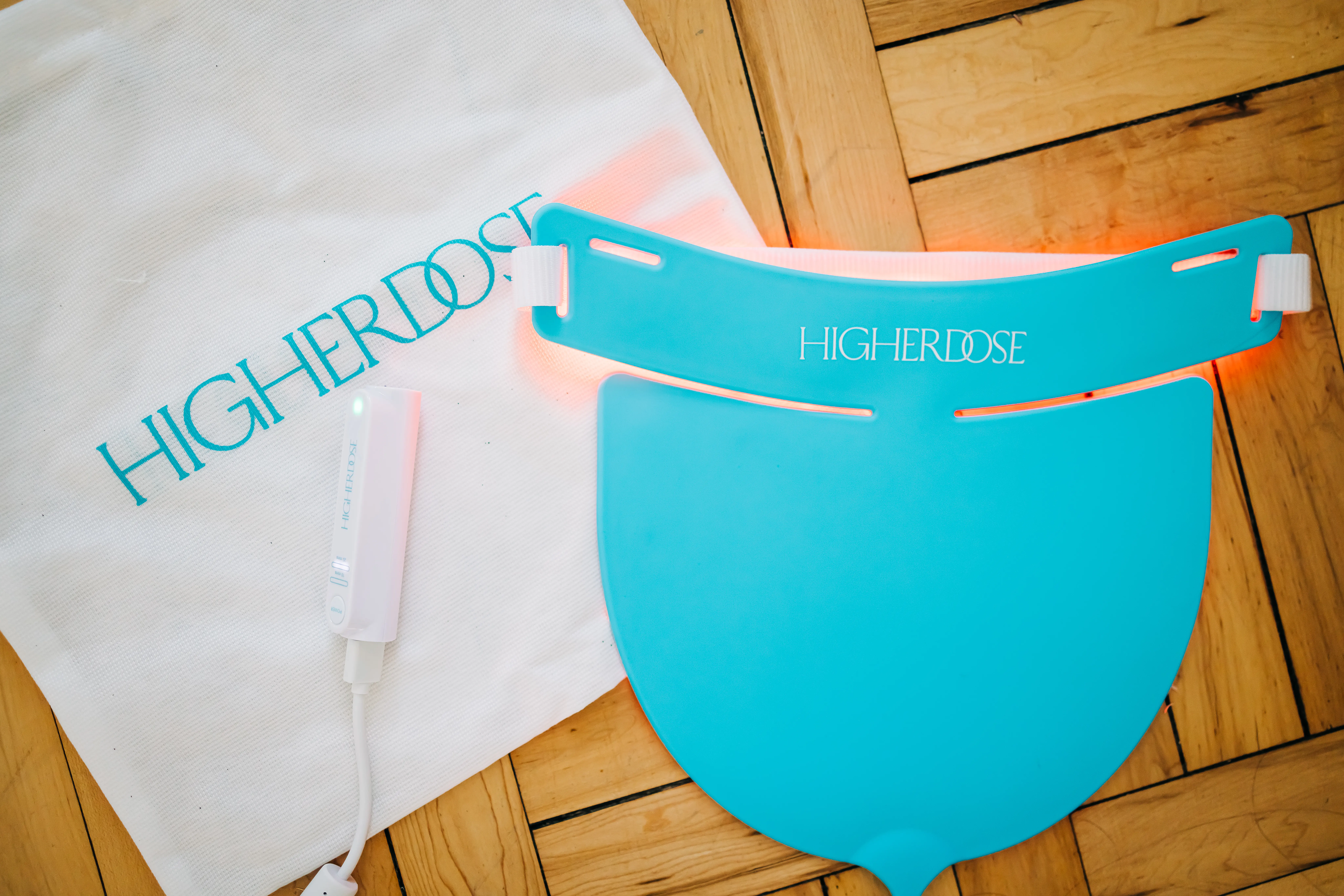 Red Light Therapy, or Low-Level Light Therapy (LLLT), uses low-intensity red or near-infrared light to penetrate the skin.
This non-invasive treatment offers various potential benefits:
Collagen Boost: It can stimulate collagen production, leading to smoother and firmer skin.
Wrinkle Reduction: By increasing collagen, it can reduce fine lines and wrinkles.
Skin Healing: It can accelerate natural healing, making it useful for scars and acne.
Pain Relief: Red Light Therapy can relieve muscle and joint pain.
Improved Complexion: Enhanced blood flow results in healthier, more radiant skin
*You can explore studies relating to these potential benefits on the product page here.
You can check out my full review of the Red Light Neck Enhancer here.
HigherDOSE discount code
If you've been wanting to try HigherDOSE, head to the website and use the code FITNESSISTA20 for 20% off. This Black Friday promo is the best on of the year, so if you've been wanting to try it, this is a great chance!
Do you own any HigherDOSE products? Which one if your fave? What do you have your eye on from the list? I'm ordering the serotonin soak and Get Salty spray. 
xoxo
Gina
Trending Products

.