Smartphone cameras are great, but there are a few situations where they're not ideal. The mostly-glass construction won't take too many hard knocks and while some models offer water resistance, you probably still shouldn't be dropping it in saltwater.
Plus, if you want to mount it to your bike, helmet, drone or chest an action camera is designed with exactly that in mind. GoPro is the originator of the form factor, and it's arguably the best to ever do it.
If you think a GoPro is the right choice for you, there's never been a better time to buy. The brand has recently dropped its prices across the board, doing away with its confusing subscription model pricing, so you can bag a great deal without any long-term commitment.
The question is, which one do you go for? We've ranked and rated all the newest GoPro cameras below, read on.
GoPro Hero 12 Black
1. Best GoPro overall
A host of subtle but smart upgrades make the Hero 12 Black the best GoPro yet.
Pros
Better battery life
Improved stabilisation
HDR video and GP Log profile
The latest GoPro flagship retains the same unique 8:7 sensor as the Hero 11 Black, but this model comes with numerous upgrades that make it the most refined and feature-packed GoPro to date.
The Hero 12 Black offers significantly improved battery life, refined image stabilisation and a user interface that's much easier to navigate. It also has a tripod thread, for the first time ever, so you can mount it to photographic accessories without needing an adapter.
It also introduces the ability to pair with wireless microphones and earbuds for audio recording, as well as triggering voice commands remotely. If you're a pro shooter, you'll love the fact that it can wirelessly sync its timecode with other GoPro cameras and it has a true Log profile for colour grading. The only thing it loses out on is GPS.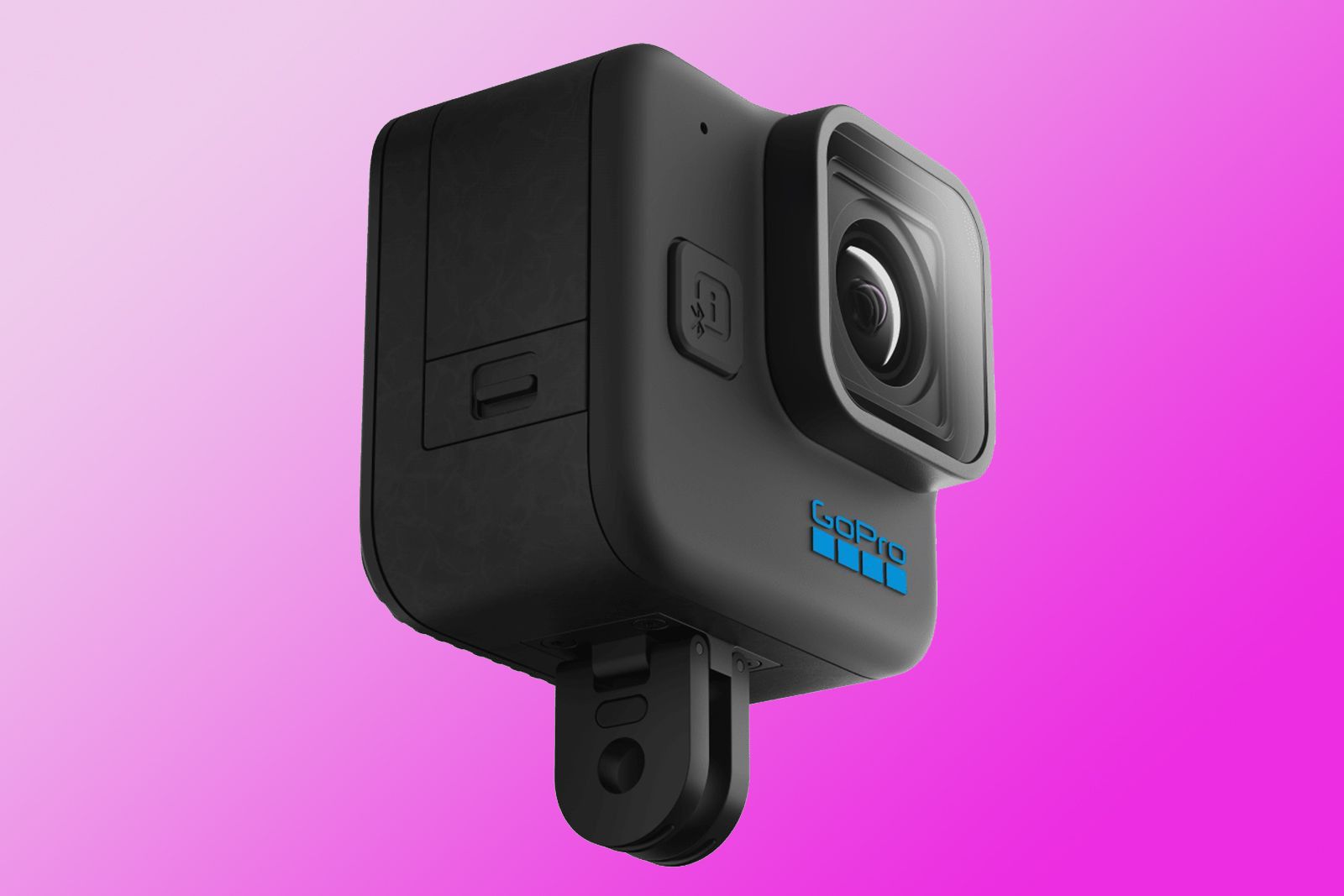 GoPro
GoPro Hero 11 Black Mini
2. Best lightweight GoPro
$260 $400 Save $140
The same great features as the flagship Hero 11 Black in a lightweight rugged package.
Pros
Lightweight and small
Same features as the Hero 11 Black
No screens to break
Cons
Will need to connect to the app for configuration
The Hero 11 Black Mini is a new addition to the lineup. It offers almost all of the same features as the flagship camera, but it's shrunken down into a lightweight package.
This means it's ideal for mounting in tight spots. or in places where weight is a concern, like on a drone or a helmet.
To add to its flexibility, the Mini has an additional set of mounting tabs on the rear, which makes it extremely easy to use with a wide variety of accessories.
There are no screens on this model, aside from a very small Session-style settings display. This is a good and a bad thing. On the plus side, it means that the camera is more durable, but it also means that you'll need to keep a phone handy and use the app to frame your shots.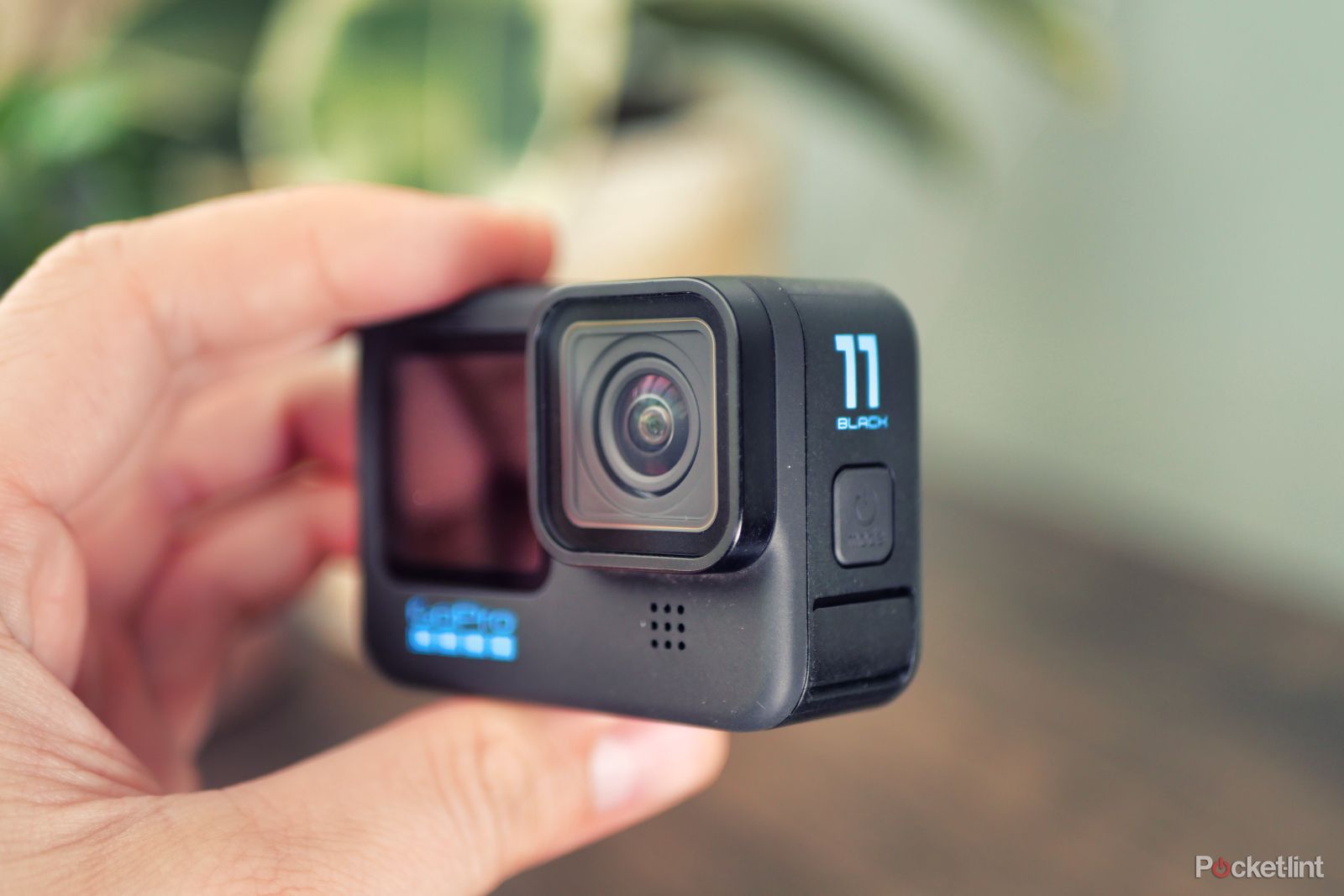 GoPro Hero 11 Black
3. Best value GoPro
$349 $399 Save $50
The Hero 11 Black packs the same sensor and processor as the newer Hero 12, and that means it's capable of the same stunning visuals.
Pros
360-degree hroizon levelling
Hyperview mode
10-bit colour
Cons
Shorter battery life than Hero 12 Black
The GoPro Hero 11 Black has the same sensor as the Hero 12, and it shoots at the same resolutions and frame rates, too. This means you can capture essentially identical footage, and do so for significantly less money – which makes it a great value option.
There's actually a benefit to choosing the cheaper Hero 11 as well, it has an onboard GPS unit, while the newer Hero 12 Black does not. This means you can apply speedometer or altimeter overlays on your footage using this camera, and you can't do that with the newer model.
You may lose out on some of the latest pro-level features, but you can record in 5.3K 60fps with 10-bit colour and industry-leading stabilisation – and that's more than enough for most people. Now that the price has started to fall, we thing the Hero 11 Black is one of the best deals in the action camera market.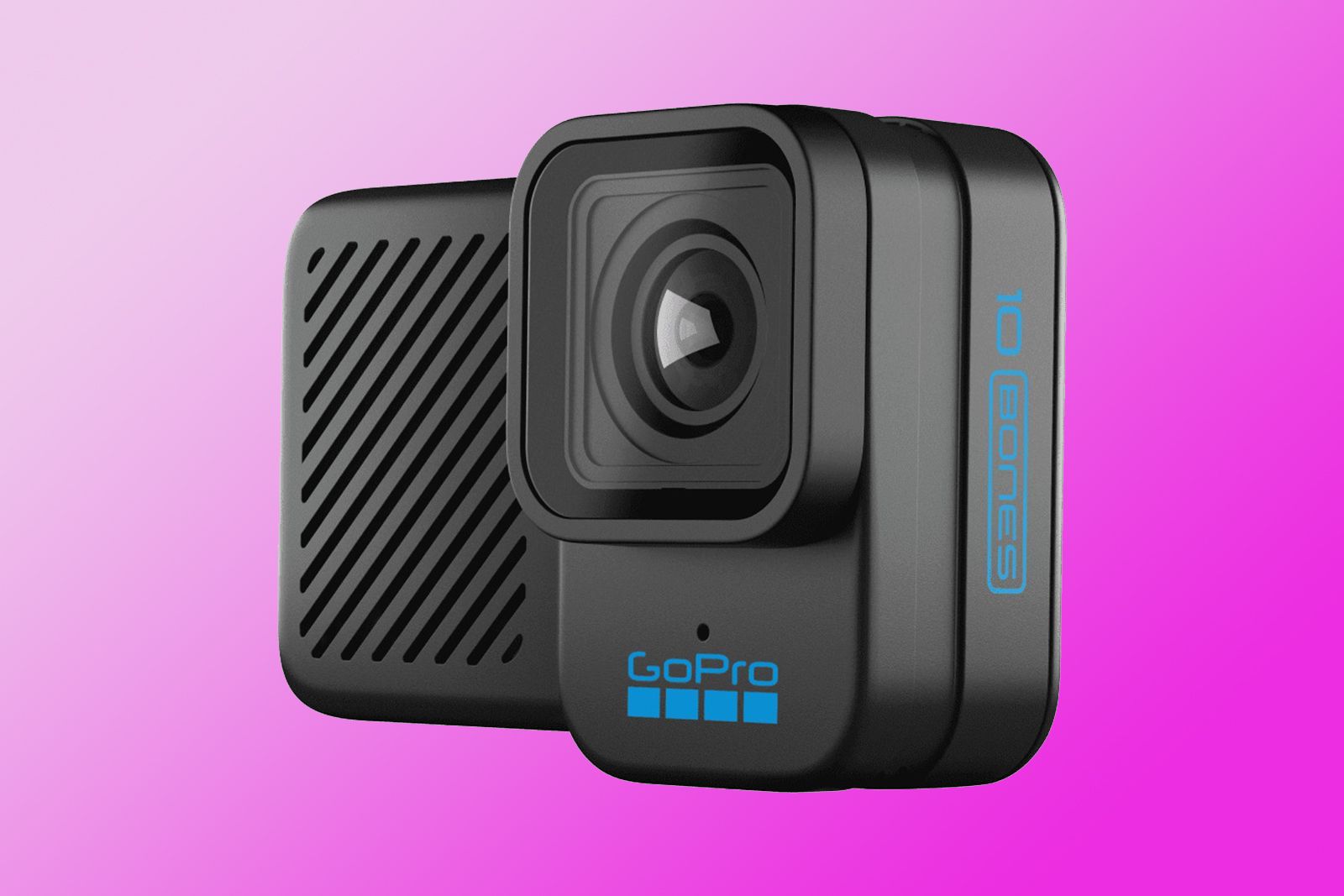 GoPro
GoPro Hero 10 Black Bones
4. Best GoPro for FPV hobbyists
If you're looking for the ultimate lightweight action camera for your FPV drone, you'll want to check out the Bones.
Pros
Extremely lightweight
Designed specifically for FPV drones
The only camera in this class with a protection plan
Cons
Requires soldering expertise
For those seeking something completely different, we have the GoPro Hero 10 Bones. This is designed pretty much exclusively for FPV drone users, and unless you're comfortable wielding a soldering iron, you'll want to steer well clear.
Specs-wise it's identical to the Hero 10, only all the parts unnecessary for use when strapped to a drone are stripped away. That means no screen, no battery and a massive 100-gram weight reduction.
As there's no screen, the camera is configured entirely in the app and since there's no battery, buyers are expected to solder a custom power lead to their drone's PCB – it's not for the faint of heart.
So, why go to all of this trouble? Well, one of the best examples is presented in this video from Red Bull. A lightweight and small FPV drone can capture shots like nothing ever before – and the Hero 10 Bones makes it easier than ever to fly a high-quality camera on a tiny rig.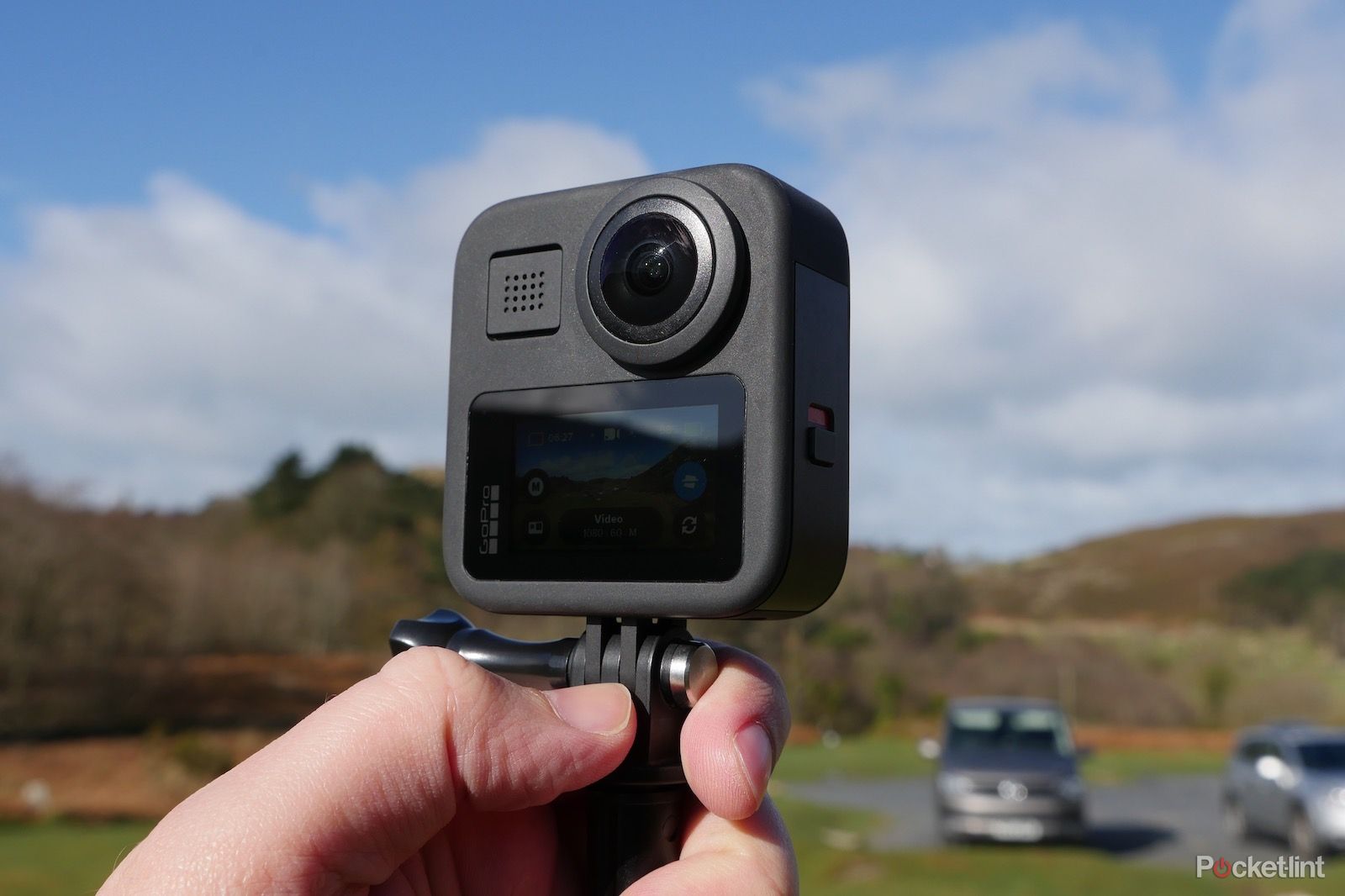 GoPro MAX
5. Best GoPro for 360 recording
A 360 camera that utilises all of GoPro's imaging expertise to deliver stellar results.
Pros
Awesome 360-video capture
Single lens modes
Simplified editing process
Cons
Less durable than a traditional GoPro
GoPro doesn't want you to think of the Max as a reboot of the Fusion, but in a lot of ways, it is. Likewise, in a lot of ways, it isn't. It's a 360-degree camera, that's true, but it's more than that and GoPro has completely changed the way you edit video from it.
You can shoot using either of the two 180-degree cameras on its own, and it features even better stabilisation than the Hero8. As well as using the HyperSmooth technology of the more standard camera, it uses its ultra-wide lenses to automatically level the horizons, so not only does it make all your footage smooth, but it's also always level.
Of course, you can shoot in 360 too, using both cameras, and then you simply use the GoPro mobile app to reframe any of the footage you capture in a way that's much more user-friendly than the method offered by the Fusion. You can also use a TimeWarp feature that lets you speed up and slow down footage while panning around the 360-degree footage.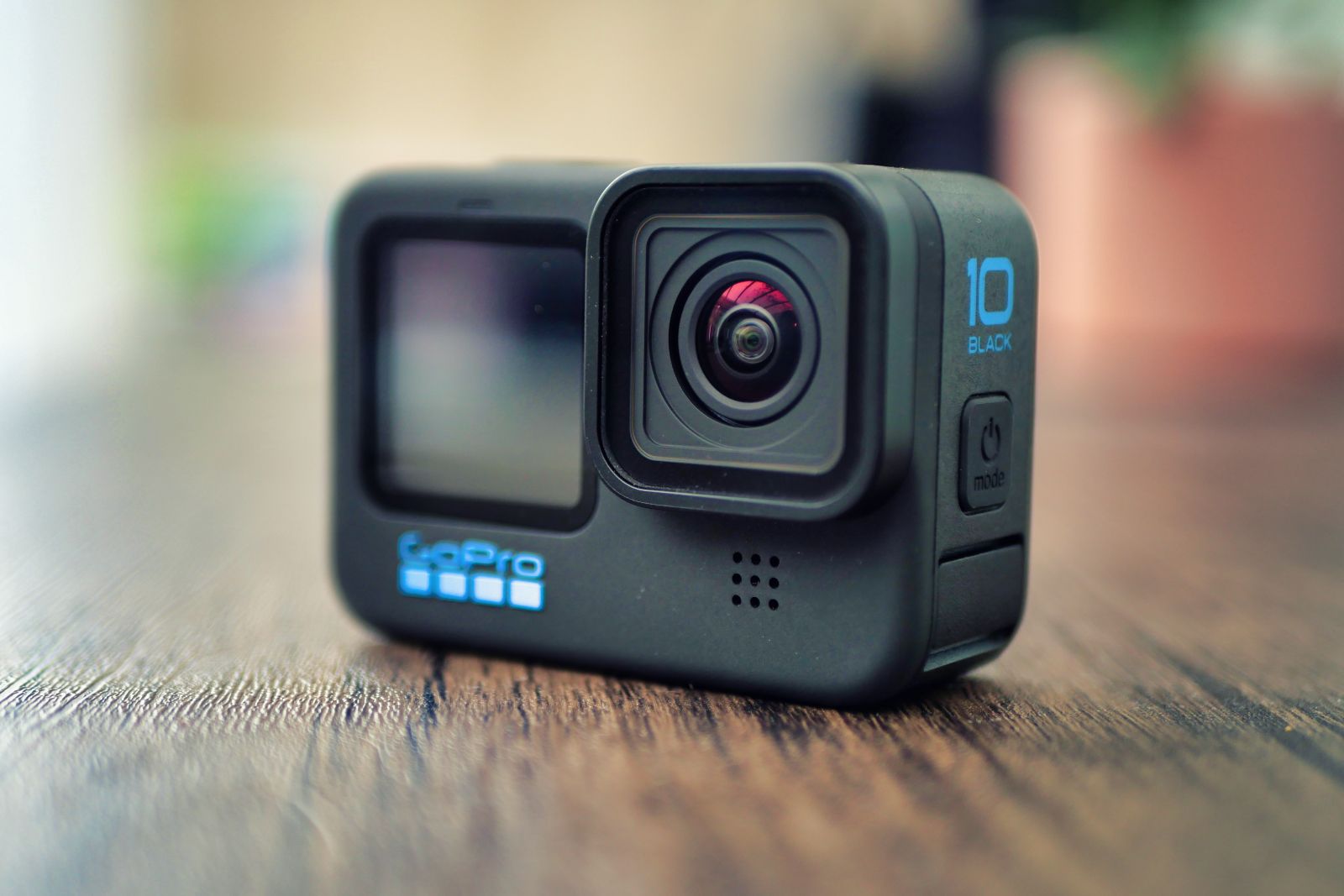 GoPro Hero 10 Black
6. Best budget GoPro
The Hero 10 Black is a bit older now, but it still packs some serious specs including 5.3K 60fps video recording.
Pros
Excellent for slow motion
Much smoother menus
Up to 5.3K 60fps
Cons
SuperView only available at up to 4K 60fps
While the GoPro Hero 10 Black has been outdone by its newer siblings, it still packs serious specifications. And now that the price has been reduced, it offers astonishing value for money.
The camera can shoot at almost identical resolutions and frame rates to the Hero 11 and 12. This includes 5.3K at up to 60fps, 4K at up to 120fps or 2.7K at up to 240fps, essentially double the frame rates of the Hero 9.
You'll still benefit from excellent HyperSmooth stabilisation and Horizon Levelling, it's just limited to 45 degrees of tilt rather than full 360. If you can do without the new lens modes, this is an incredibly capable camera for the asking price, and our top pick for budget-conscious buyers.
Which GoPro should you buy?
If you want the best of the best, the Hero 12 Black is the easiest recommendation. Its carries the same versatile 8:7 sensor as its predecessor, while a number of small upgrades add up to offer the most refined GoPro experience to date. Whether you're a beginner or professional, the Hero 12 Black is simultaneously the easiest GoPro to use, and the most production-ready cinematic tool of the bunch.
With that said, the GoPro Max also makes a solid case for itself by not only offering high-end Hero performance, but also more advanced stabilisation and horizon levelling, plus 360-degree capture. A refreshed model is confirmed to be on the way, though, so you might prefer to see what that brings to the table.
And, we can't forget about the Hero 10 Black. Which may have been out for a while, but it still offers comparable specs to the latest cameras and is available at an incredibly low price.
Then there are more specialised options, like the tiny GoPro Hero 11 Mini, which is perfect for mounting in tight spots, and the GoPro Hero 10 Black Bones, which is designed especially for lightweight FPV drone applications. If one of these fits your needs, you'll likely already know it.
Ultimately it comes down to weighing up what's important to you in an action camera. To read up more on GoPro and its products be sure to check out our GoPro Hub.
Trending Products

.