After a bit of a delay, we're now starting to get pretty close to the rearranged release date that has been assigned to Suicide Squad: Kill the Justice League.
Batman experts Rocksteady's next game will put players in control of this infamous squad of baddies as they're forced to contend with the true greats of the DC comics world, from The Flash to Superman. Find out all the key details right here.
For more on upcoming games, check out our list of the most anticipated titles coming to PS5 or to Xbox Series X/S.
Suicide Squad: Kill the Justice League release date
In April 2023 Suicide Squad: Kill the Justice League was delayed again – it'll now release on 2 February 2024, pushing it back by a pretty chunky nine months.
That may have been a disappointment to many, but with polishing apparently the chief aim of the delay we should get a more rounded game at the end of the wait.
It's also not the game's first delay – it was initially slated for 2022, then slipped to May 2023 before being pushed into 2024.
Suicide Squad: Kill the Justice League platforms
This is a new-gen (or current-gen, really) experience, so you'll only be able to play Suicide Squad: Kill the Justice League on either the PlayStation 5, Xbox Series X/S or PC.
That should mean that we get some impressive visuals, along with more immersive sound and a wide sense of scale unlocked by the newer hardware.
Suicide Squad: Kill the Justice League trailers
We've had a few glimpses of Suicide Squad: Kill the Justice League, in the form of different types of trailers.
The first teaser trailer for the game came out in August 2020.
It's a CGI trailer, so we can't pin much on it, but it did showcase the tone that Rocksteady's going for with some quirky, funny moments.
Then, in October 2021, we got a much more in-engine trailer that showcased the game's story and a bunch of the adversaries we'll be fighting during it.
In December 2021 we got an actual gameplay trailer that features quick looks at how each of the four player characters will control, as they try to fight The Flash.
We didn't get a whole lot in 2022, but right at the end of the year the game showed up at The Game Awards with a touching new trailer revealing one of the Squad's targets – Batman.
The trailer confirms that the iconic Kevin Conroy voiced Bruce Wayne before he passed away in 2022, making this one of his final performances in the role he owned.
Suicide Squad: Kill the Justice League story
From the trailers released so far, it's actually possible to build up a pretty clear idea of the story that will fuel Suicide Squad: Kill the Justice League.
As in the films and comics of the same name, it looks like our antiheroes will be recruited from prison by Amanda Waller, and forced to do her bidding if they want to avoid being killed by bugs planted in their neck at any moment.
The four members of the squad are Deadshot, Captain Boomerang, Harley Quinn and King Shark, each with their own motivations and approach. Their struggles to work together as a team will doubtless be a big part of the story arc.
This time around, it sounds like the infamous Brainiac is the big bad, and that he's somehow managed to infect or control the members of the Justice League.
In various trailers, we've had clear glimpses of The Flash, Superman, Wonder Woman, Green Lantern and Batman. The game is set in the same world as the other Arkham games, after all.
That means we'd expect the game will involve running a gauntlet as the Squad faces off against each hero in turn (or sometimes at the same time), to put them down either permanently or so that they're out of the picture.
The game is set in Metropolis, well known as the DC Universe's capital city of sorts.
Suicide Squad: Kill the Justice League gameplay
From what Rocksteady has said and shown off so far, Suicide Squad: Kill the Justice League is going to build on everything that made the Batman Arkham games so great – with four characters to play with this time around.
Each will have a move set that's wider and more complex than Batman on their own, so that means plenty of opportunities to experiment as you move around what looks like an open-world version of Metropolis completing missions and objectives.
In November 2023 Rocksteady gave us an updated and lengthy look at the game in motion, with sections covering each character and their moves, in a 20-minute showcase that you can see below.
It shows us a proper look at Metropolis as well as how each character will traverse it, plus some useful background on where we find our characters as the game opens.
Before this, in February 2023 we got another showcase which is now further out of date and a bit rougher around the edges, and is embedded below.
It shows us more of the mobility options that each character will boast, and confirms that all four will wield firearms alongside their own unique moves and abilities.
You can play on your own and swap between characters at will while bots control the other three, but the game will also be launching with full seamless four-player co-op, with drop-in and drop-out systems to let you play however you want.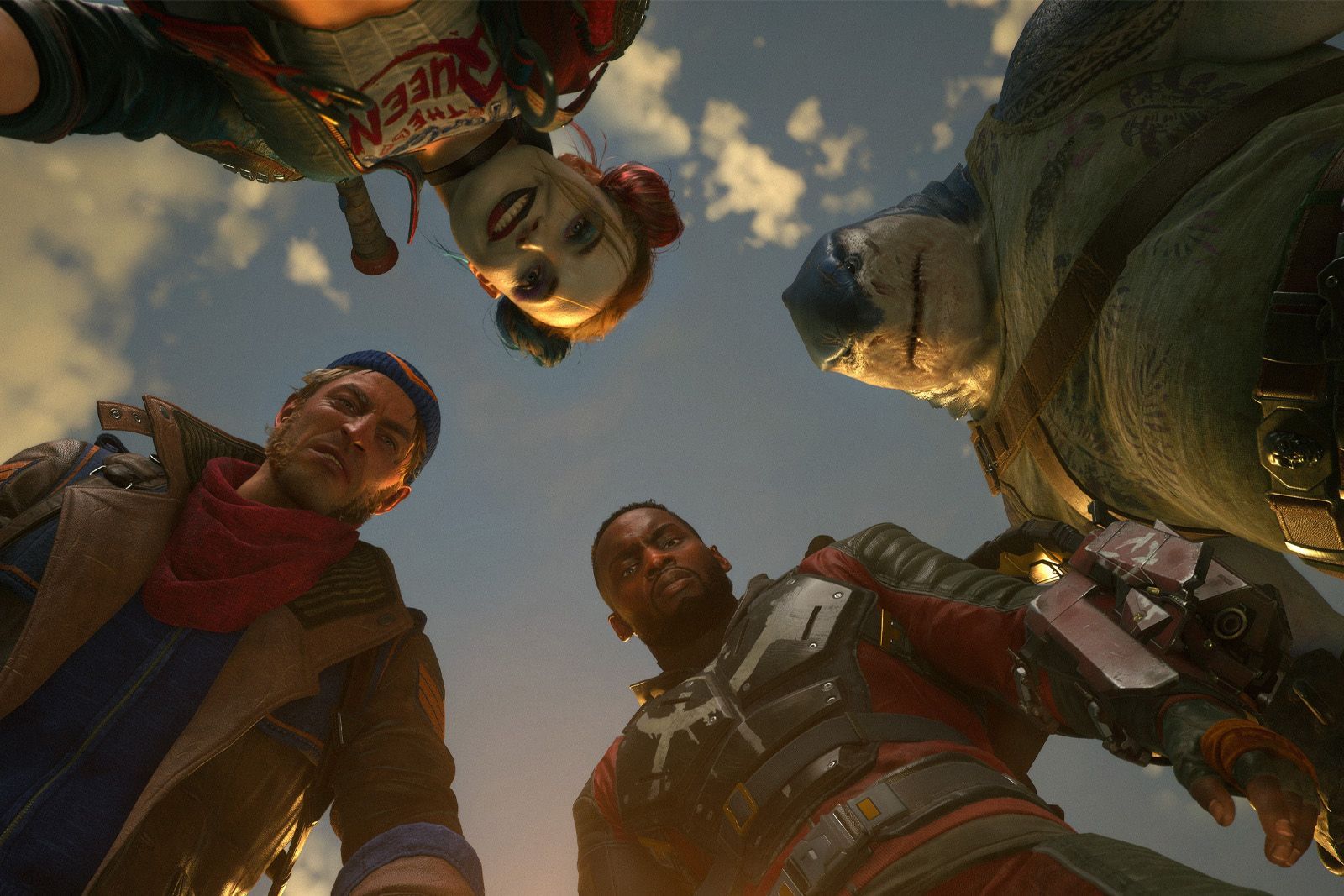 Warner Bros.
This applies to the entire game, with no sections locked to a single character or to multiplayer or singleplayer, which sounds really exciting. We don't yet know whether that multiplayer will be cross-platform, but we'll keep an ear to the ground regarding that detail.
In January 2023, a leaked image from a test build surfaced on 4chan showing a variety of menus from the upcoming game, including a Battle Pass and multiple in-game currencies.
We now know there will indeed be a Battle Pass, but that it will be purely for cosmetic items and "you don't start off debuffed and weak, you just start off great and can get ridiculous, like Arkham Knight's Batman." – maybe there's hope after all.
Trending Products

.