At the start of 2023, pretty much all the TV tech buzz was around OLED TV technologies. Whether it was the new micro lens array system LG had added to its LG G3 or the second, much-improved generation of Samsung's Quantum Dot-infused take on OLED in the S95C, the chatter was all about which OLED TV would conquer the world. LCD scarcely got a look in.
As the year has gone on though, LCD TVs have slowly but surely started to assert themselves back into the premium TV discussion. Especially models which use Mini LED lighting and local dimming. So can Sony's second-generation Mini LED TV range, as represented here by the 65-inch XR-65X95L, sustain the belated LCD charge?
Sony X95L
Editor's Choice
The X95L more than lives up to the promise shown by Sony's debut mini LED TVs last year. In fact, by combining the beautiful colours, detailing, subtlety, outstanding video processing and knack for naturalism of those predecessors with more brightness and better lighting controls, it leaves us in no doubt that OLED is far from the only TV tech in town.
Pros
Spectacular but still subtle picture quality
Excellent video processing
Powerful, detailed sound
Cons
Some tedious gaming limitations
Occasional backlight issues
Vivid mode is crazy
Design
Desktop feet can be attached in different configurations
Screen sizes: 65, 75 and 85 inches
4 x HDMI input, two with most v2.1 features
Wi-Fi, Bluetooth, Apple Airplay 2, Chromecast
The 65X95L continues the minimalist, 360-degree design theme that Sony has persisted with for years now, but throws in some welcome flexibility to help make its new flagship LCD model a good fit for as wide a range of living rooms as possible.
In its 'purest', most elegant form, the X95L's narrow black screen frame – which tastefully sits flush with the level of the screen – runs almost seamlessly down into two feet that jut forward from directly under its bottom corners. This creates a feeling that everything has been sculpted out of a single block of dark metallic loveliness – especially as the rear panel is, unusually for Sony, a relatively flat, single-tier design aside from some gentle angling in at the screen's edges.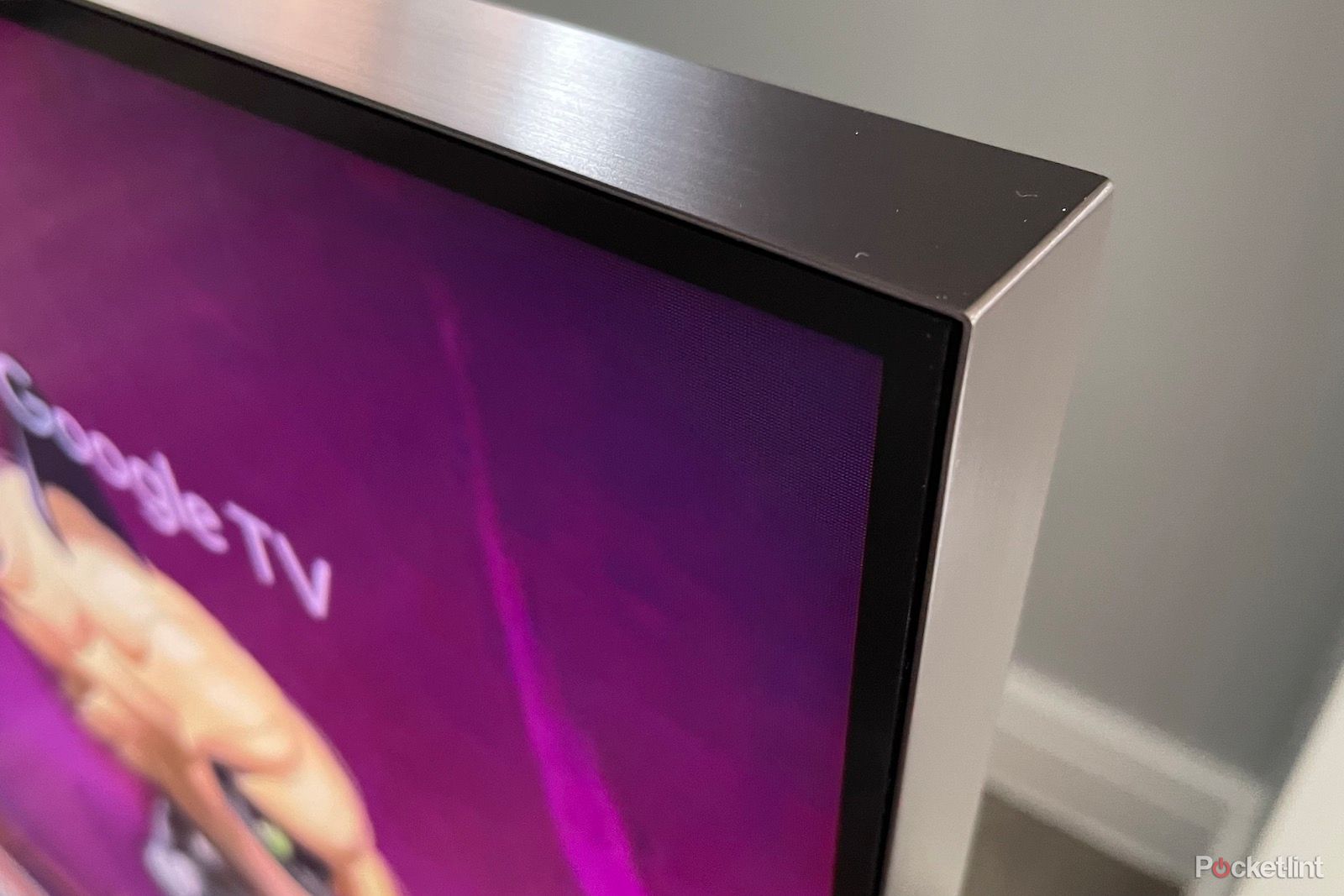 However, you can also attach the feet to the TV's corners in such a way that they raise the screen a couple of inches to make space for a soundbar under the screen. Or you can opt to attach the feet much closer together, near the centre of the screen, if you want to place the TV on a narrow piece of furniture.
The rear panel sticks out a fair bit further than I've become accustomed to seeing with high-end TVs. The grid of small squares etched into its plastic, though, somehow still manages to give it a modicum of style – especially as detachable panels ensure that the chequerboard finish doesn't have to be spoiled by ugly cables sticking out everywhere.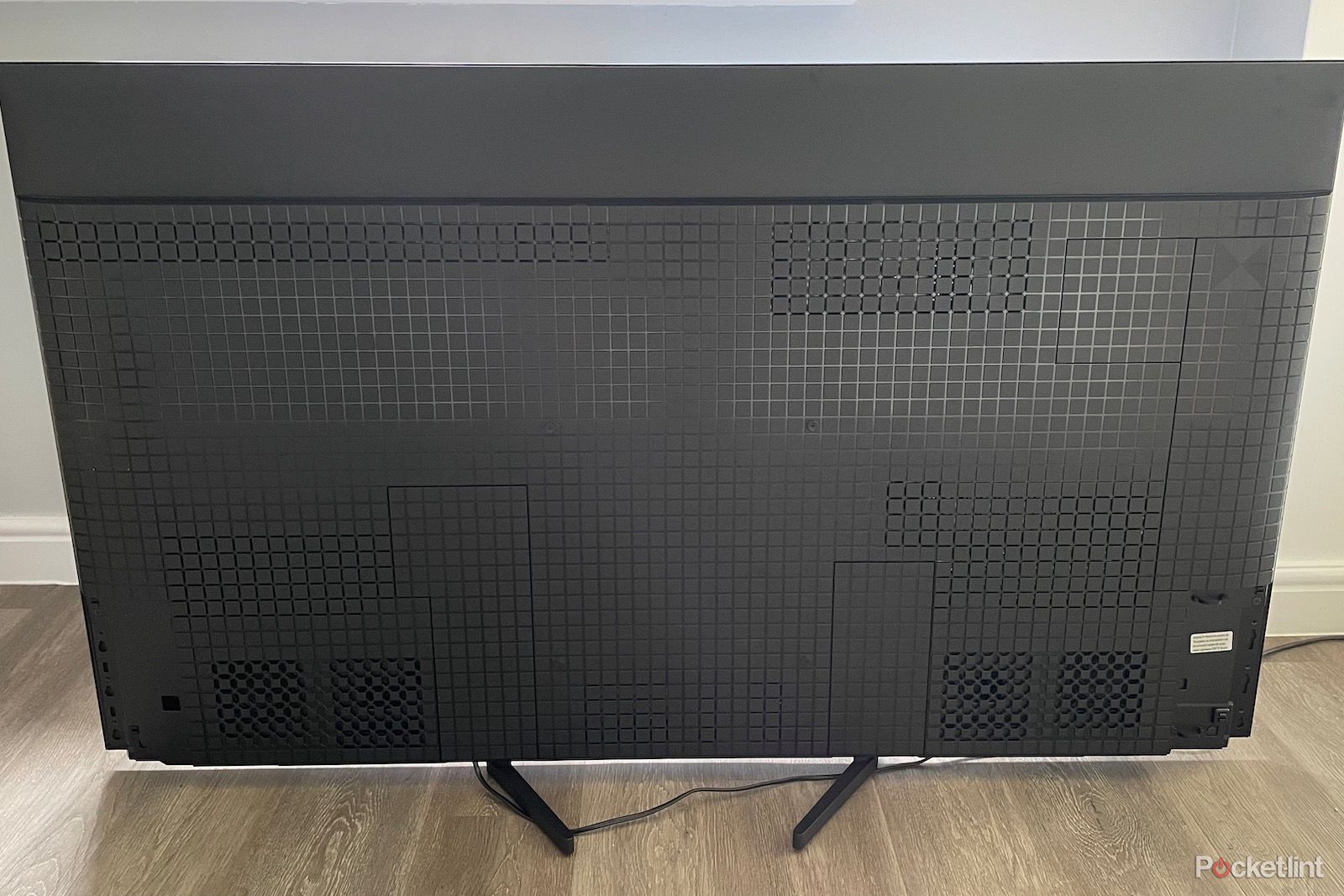 Build quality is robust and heavy duty, while connectivity initially looks very good thanks to four HDMIs and a couple of USB ports joining support for Wi-Fi, Bluetooth, and content sharing using either Chromecast or Apple Airplay 2.
There are a couple of connectivity catches, though, as it turns out that only two of the HDMIs support the latest gaming-related features of 4K/120Hz, variable refresh rates and auto low latency mode switching, and that the TV oddly forces you to choose between Dolby Vision HDR and variable refresh rates. You can't have both together.
The Sony 65X95L ships with two remote controls – one standard, rather plasticky and button-heavy one, and a second sleeker, more minimalist, more metallic-looking one. Most users will get on just fine with the more premium option for the majority of the time.
Features
4K Mini LED TV
480 local dimming zones
Google TV smart system
Extensive though not quite comprehensive gaming support
Heading up the Sony 65X95L's charms is its use of a VA (high contrast) type of LCD panel, illuminated by a Mini LED lighting system supported by local dimming. Mini LEDs are, of course, much smaller than the LEDs traditionally used in LCD TVs over recent years. This in turn means far more of them can be fitted into the screen to make it easier to send light more accurately to the right parts of the screen.
The local dimming system appears, from my own count, to provide a very decent 480 separate zones of individual brightness control – up slightly on the zone count of last year's Sony X95K. There are certainly Mini LED TVs out there that go further than that, including the recently reviewed TCL 65C845L (576 zones) and, especially, Samsung's QN95C (1920 zones). However, it's often how the light is used/manipulated between a TV's dimming zones that counts, though – as the 65X95L is about to prove, funnily enough.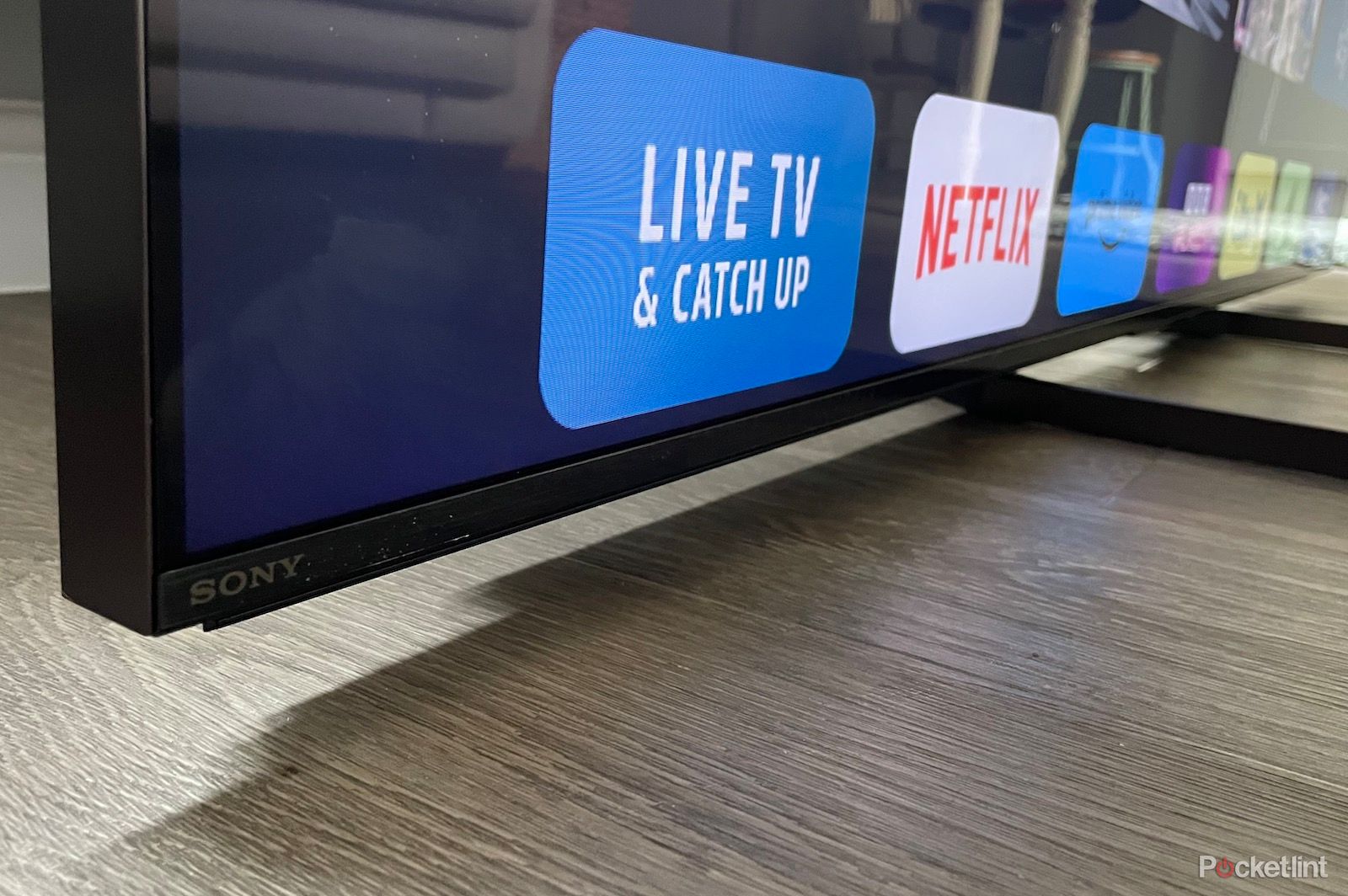 Sony's dependable Triluminos colour system is on hand to paint colours as accurately and subtly as possible, too. Though as the XR part of the TV's full XR-65X95L name reveals, its main processing component is Sony's Cognitive Processor XR – the chief purpose of which is to try and make pictures get as close to either the look of professional mastering monitors, or the way your eyes perceive the real world, depending on which preset you're using.
The 65X95L features a 100/120Hz panel. This permits it to handle 120Hz gaming feeds from Xbox Series X, PC and, of course, Playstation 5. As I said in the previous section, there's also gaming support for variable refresh rates provided you have turned off the TV's Dolby Vision support. The 65X95L can support regular HDR10 gaming with VRR engaged, though, and comes equipped with a dedicated game-themed onscreen menu that pops up when the TV is set to its Game mode, or auto detects a gaming source.
From this menu it's possible to activate helpful features such as a virtual crosshair, a mode for brightening dark areas to bring out hidden enemies, ledges and so on, as well as the option to exchange a bit of response time for gentle motion processing to help low frame rate titles look less juddery.
Talking of response times, the 65X95L's Game mode manages to produce 60Hz gaming images onscreen 18.8ms after their data has been received at the TV's inputs. This roughly halves with 120Hz titles, and counts as a very respectable if not quite world-beating effort versus the rest of the premium TV world.
Not surprisingly, the 65X95L is part of Sony's Perfect For PlayStation 5 campaign, where the console can detect exactly which model of TV it's connected to and adjust its HDR output accordingly to achieve the optimal results.
Fans of Dolby Vision gaming should note, though, that as well as the TV not permitting you to have VRR and Dolby Vision working at the same time, there's also no Dolby Vision game mode. So really Dolby Vision isn't usable at all for any game that relies even a little on response times.
The 65X95L's Dolby Vision support works fine for video sources, though, alongside the more basic HDR10 and HLG HDR formats – but there's no support for the Dolby Vision rival HDR10+ system.
Sony has bagged the endorsement of two third-party organisations in the shape of its IMAX Enhanced and Netflix Calibrated certifications. With this in mind it's a bit surprising, perhaps, that Sony continues not to pursue the endorsement of the UHD Alliance and its Filmmaker Mode. Sony has repeatedly said, though, that it believes it can get better results using its own processing than the Filmmaker Mode can provide.
As with all Sony's current TVs, the 65X95L is compatible with Sony's Bravia Core streaming service, the headline feature of which is its ability to stream films at bit rates of up to 80Mbps. That's far higher than you get with regular streaming platforms – assuming you have the internet bandwidth to deliver it – the idea being, of course, to deliver pictures that looks less compressed and more detailed and refined. In fact, by purchasing a 65X95L you entitle yourself to 10 free 'premium' (as in, relatively new release) movies and a two-year subscription to Bravia Core's catalogue content.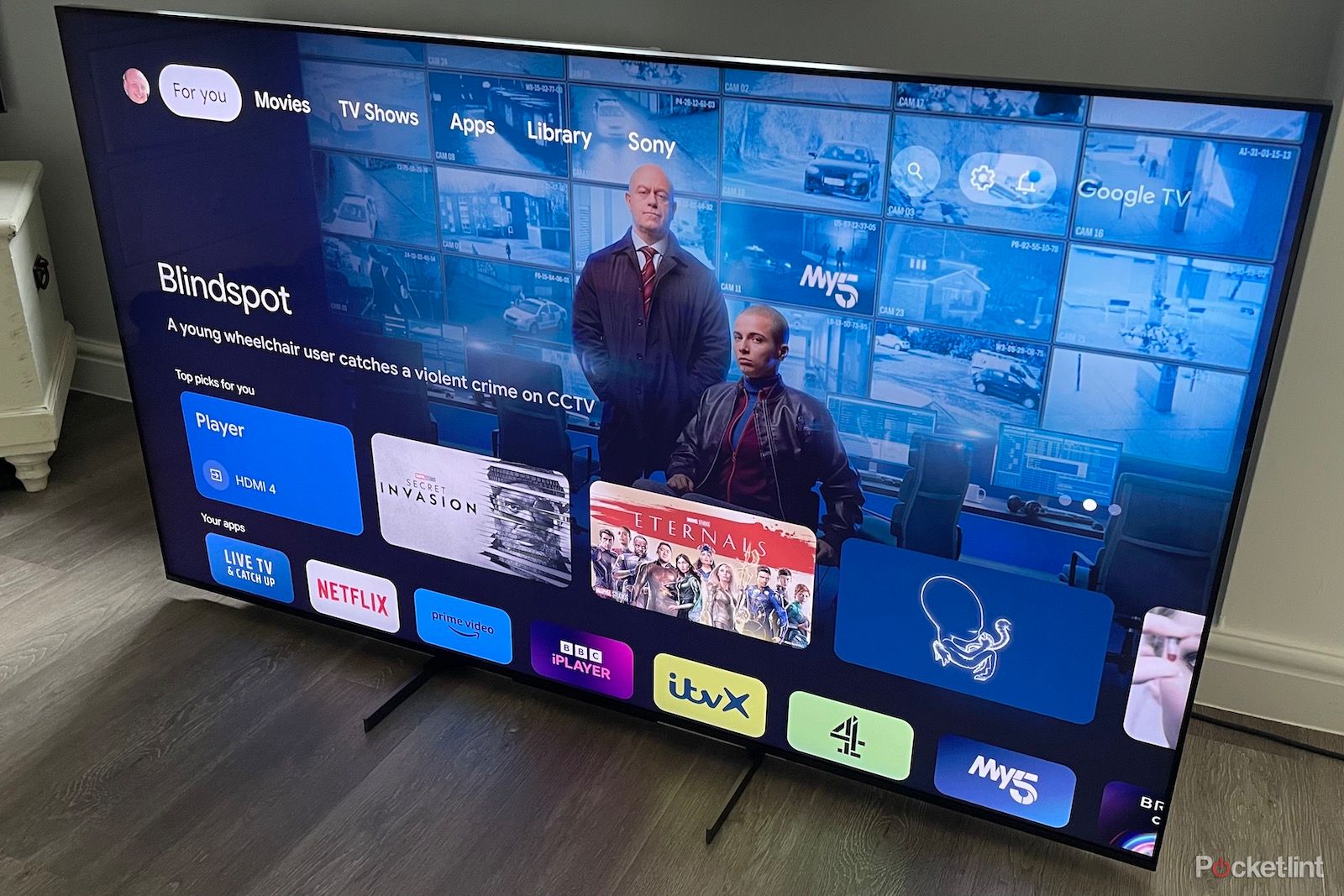 The rest of the 65X95L's smart features are provided by the Google TV platform, supported in the UK by the YouView platform to provide the British broadcaster catch-up services not currently covered by Google TV.
The 65X95L's smart features can be expanded – a bit – by adding Sony's optional Bravia Cam accessory. As well as the inevitable video chat options, this camera adds the ability for the TV adjust its settings to compensate for where you're sat in relation to the screen – but I'm not convinced it's worth paying the extra for.
Last but not least on an appropriately long list of features for a 2023 premium TV, is the 65X95L's Acoustic Multi-Audio+ sound set up. This combines 60W of total power with a roster of two mid-range drivers, two 'frame tweeters' (placed separately high up on the TV's rear sides) and two subwoofers to deliver a large soundstage into which effects are positioned so that they seem to be coming from exactly the right part of the screen.
Performance
Excellent backlight control
Good combination of brightness and contrast
Rich but also nuanced colours
While I mostly adored the picture quality of the X95K's Mini LED predecessor, there were a few tell-tale signs that it was Sony's first stab at working with the technology. In particular, there were often times where you could clearly see circles of extraneous light appearing around bright HDR objects if they appeared against a dark backdrop. The 65X95L, though, largely fixes this issue – and the results are spectacular.
Presumably thanks to a combination of more local dimming zones, more refined management of those zones, better image analysis and a new practice of very slightly dimming down the intensity of stand-out bright objects, the 65X95L now produces black levels of remarkable depth and consistency. In fact, dark scenes reveal black tones on the X95L that look almost OLED-like at times – even though the Sony screen is also, despite its new habit of slightly dimming stand-out bright objects, pumping out levels of peak and, especially, full-screen brightness that even the latest premium OLED technologies can't reach.
If you want some numbers on this, I measured the X95L hitting 1,560 nits on a 10 per cent white HDR window, and more than 600 nits on a full-screen white HDR signal. These figures also show a decent level of improvement over Sony's 2022 Mini LED debutante. In essence, then, Sony has made the black levels of its sophomore Mini LED effort more consistently deep and uniform while simultaneously boosting the brightness of both peak and full screen HDR content.
The impact of this twin brightness and black level uniformity improvement can't be overstated. Pictures look more dramatic in HDR but also, crucially, more immersive and balanced. Just occasionally you notice the slight dimming of the most stridently stand-out bright objects, but this is far less distracting than the blooming that bothered the X95L's predecessor. It's also far less pronounced than the same anti-blooming tech on Samsung's (even brighter) Mini LED TVs.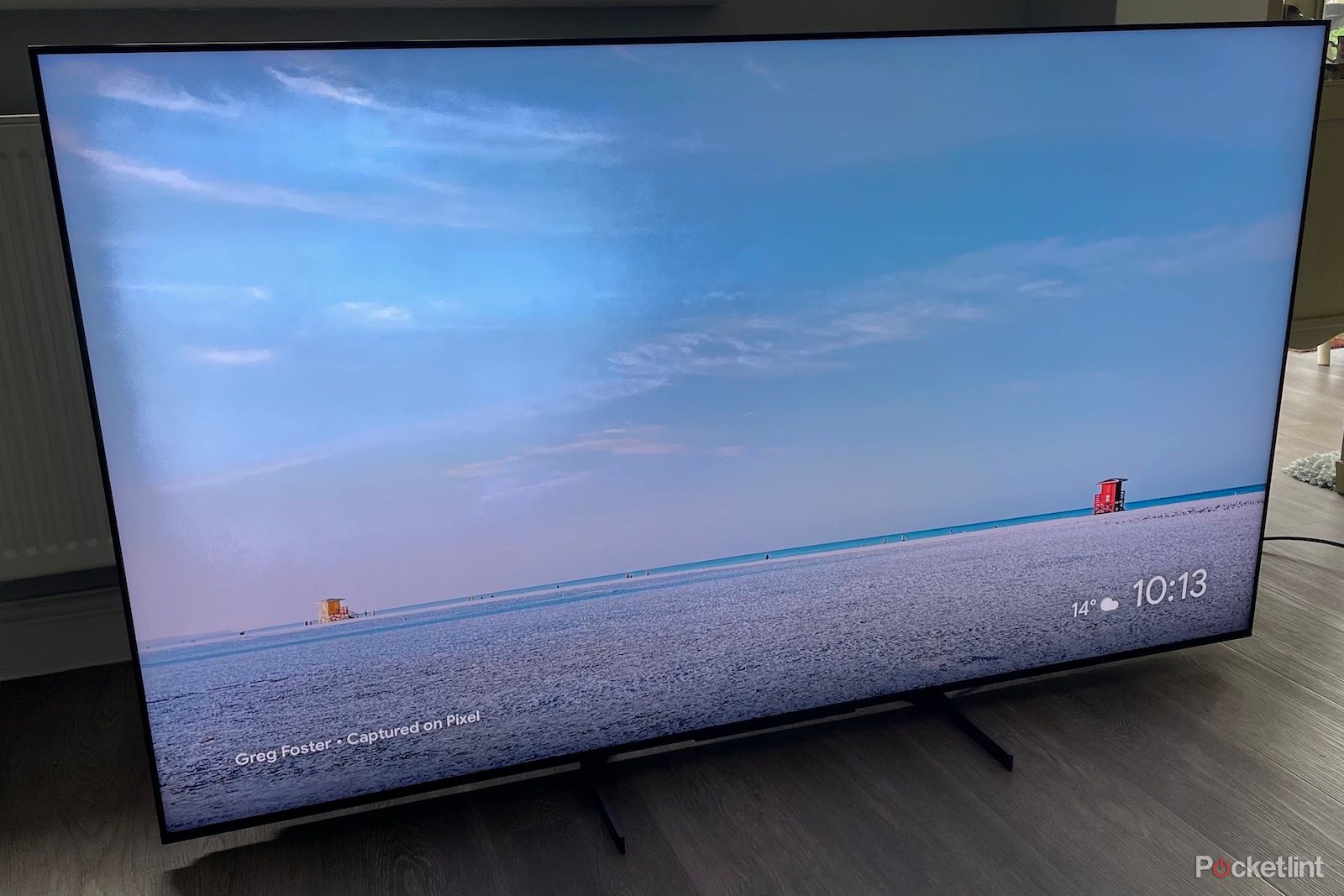 The outstanding mix of more brightness and less backlight unevenness feeds into the 65X95L's gorgeous colour performance, too. There's now better tonal consistency across the screen, and the actual range or, more accurately, volume of colour the 65X95L can reach has been expanded.
Crucially, though, so long as you avoid the almost bizarrely un-Sony-like Vivid picture preset, expanding the colour range has had seemingly no negative impact on the 65X95L's ability to combine its vibrancy and lustre with impeccable subtlety and nuance. In fact, this traditional strength of Sony TVs has never looked more effective on any Sony TV bar, perhaps, its much more expensive A95L QD-OLED TV.
The colour and light refinement feeds in turn into exceptional amounts of fine detail with both native 4K and, thanks to some exemplary upscaling processing, HD sources. Objects in the picture look remarkably solid and three-dimensional, and the picture takes on an almost 3D feel at times thanks to the precision with which the Cognitive XR processor understands and responds to every single frame of picture it receives.
You probably won't be surprised to learn that all of this helps the X95L deliver riotously dynamic, sharp and involving pictures with game sources. Especially the PS5, as that Auto HDR setting feature really does seem to help it produce a more refined, natural look with HDR games without any significant manual intervention.
Sony has long been ahead of the curve when it comes to motion processing, so it's no surprise to find the X95L holding on to its resolution and clarity when there's motion in the frame – all without generating the sort of unwanted processing side effects so many other brands suffer with when trying to make motion look natural in real time.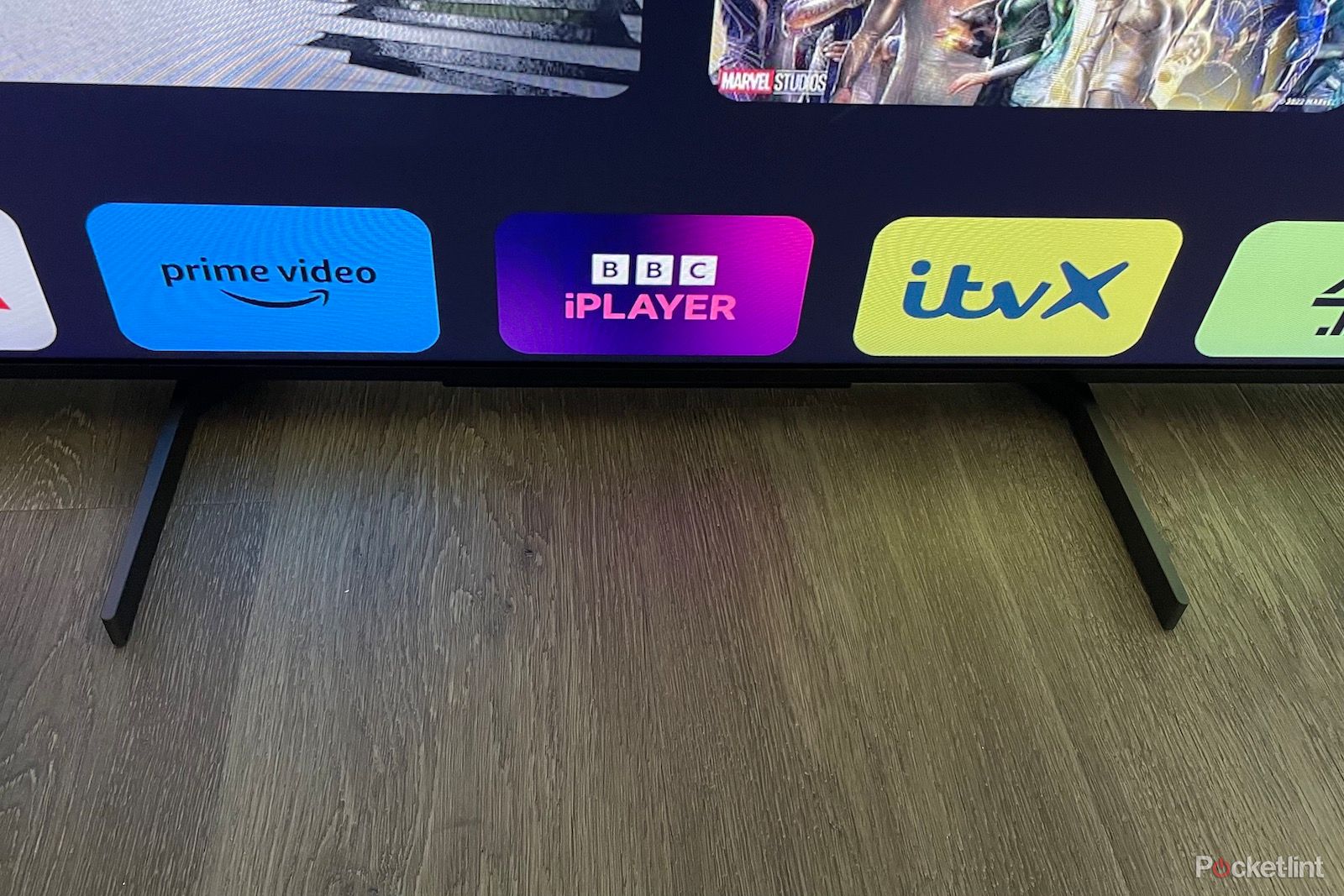 The True Cinema option of Sony's Motionflow processing is particularly good for 24p films, while the Clear mode is usually your best bet for anything with a higher frame rate.
As for picture mode, while the Standard preset does a stellar job of delivering on the Cognitive XR processor's promise of images that feel more like your eyes perceive the real world, Sony's Custom mode tilts things more towards accuracy. It replaces a little of the 'drama' of the Standard preset with a milder but slightly more nuanced and painterly presentation. In other words, the X95L provides great out-of-the-box picture preset options for all sorts of different tastes and room environments.
As hinted before, the Vivid preset is the exception to this rule. It pushes colours so aggressively that they can start to look forced, unbalanced, unnatural and devoid of the sort of Sony's trademark subtlety. So just don't use it, basically.
There are a couple of other picture niggles to report. First, while the backlight management is generally brilliant and avoids very defined areas of backlight blooming and clouding, some quite specific shot types – essentially very dark images that contain multiple bright highlights dotted around the screen – can cause the usually excellent black levels to suddenly take on a slightly grey, smoky look.
Second, while brighter than those of its predecessor, the 65X95L's pictures aren't as extremely bright as those of Samsung's latest premium Mini LED TVs (particularly the QN95C 4K flagship and QN900C 8K flagship) or the recently reviewed TCL 65C845K Mini LED TV.
On the other hand, though, the 65X95L doesn't dim stand-out bright objects as aggressively as the backlight bloom-hating Samsung TVs can do, and controls blooming and colour better than the (exceptional value) TCL.
With precious little standing between the 65X95L and picture-quality heaven, it's nice to discover, too, that it also sounds way better than your average TV.
It's got enough power, for instance, to generate a soundstage that's substantially bigger than the 65-inch screen, reaching comfortably beyond the screen's extremities both horizontally and vertically. This gives sound effects in even very dense movie soundtracks space and room to breathe – as does the set's unexpectedly expansive dynamic range.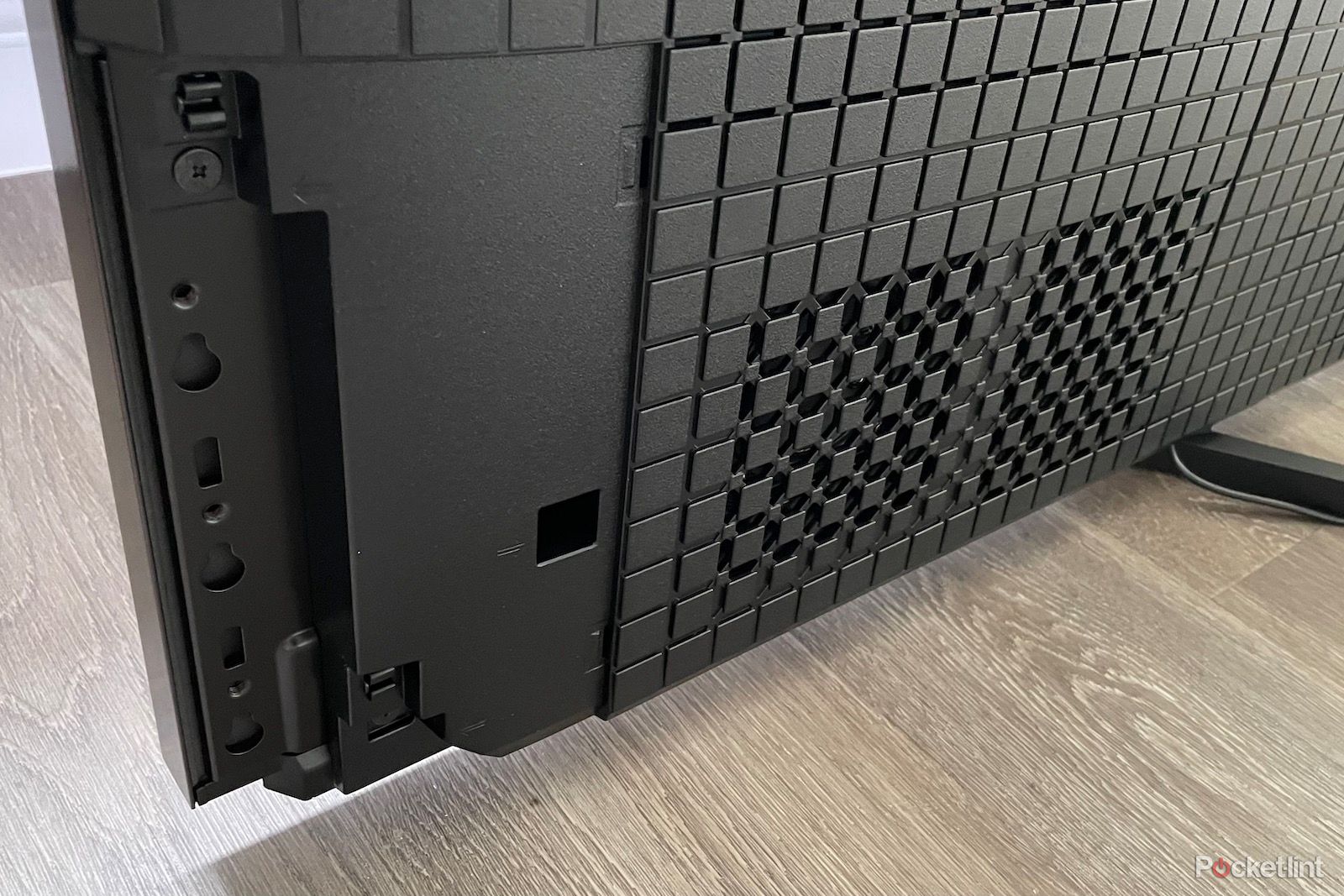 This means it can muster reasonably deep and clean rumbles alongside crisp, sharp but seldom harsh peak trebles without either treading on the toes of the other.
The good sound stage dispersion plays particularly nicely with Dolby Atmos soundtracks, as does arguably the 65X95L's biggest audio strength: the accuracy with which it places specific effects – including dialogue – around the screen, making a good movie mix sound more immersive and 'busy'.
The 65X95L's Multi Acoustic Audio+ system is not quite as precise at the sound placement trick as Sony's OLED TVs, which use their actual screens to produce their sound. Nor does the 65X95L's sound project forward with as much intensity as it does with those OLED TVs. It still sounds much better, though, than the vast majority of its peers – including the latest LG OLEDs and Samsung models.
Verdict
Sony's 65X95L had a tough job on its hands arriving as it did so close to TCL's insanely cheap Mini LED hero, the 65C845K. While it doesn't go as flat-out aggressive, though, as that remarkably bright TCL disruptor (or Samsung's latest premium Mini LED models), the 65X95L combines a still-punchy and vibrant picture with a degree of refinement and sophistication that easily justifies its higher price for any serious AV fan.
In fact, for all the OLED talk this year, the gorgeous 65X95L leaves me in no doubt that as well as being hot today, Mini LED remains very much one to watch for the future.
Trending Products

.