Samsung Galaxy Tab S8

Best for portability

The Samsung Galaxy S8 is the smallest of the three options in Samsung's 2022 tablet lineup, offering an 11-inch LCD display, a side-mounted fingerprint sensor and the powerful Qualcomm Snapdragon 8 Gen 1 chipset inside. There's an S Pen Stylus included in the box too.

Pros

Smaller and lightweight
Snapdragon 8 Gen 1 processor
S Pen included

Samsung / Pocket-lint

Samsung Galaxy Tab S8 Ultra

Best display

$998 $1100 Save $102

The Samsung Galaxy Tab S8 Ultra sits at the top of the company's flagship tablets, and it not only offers the largest and most impressive display of the three models, but the best specs too. It's got a huge battery inside, the same powerful chipset, dual front-facing cameras and an included S Pen stylus.

Pros

Massive display
AMOLED panel
Dual front cameras
Key Takeaways
Samsung's Tab S8 series of tablets, including the Tab S8, S8+, and S8 Ultra, are now more affordable due to the release of the Tab S9 series in 2023.
The main difference between each tablet is the screen size, with the S8 being the smallest at 11 inches, the S8+ at 12.4 inches, and the S8 Ultra at 14.6 inches. The display quality also varies, with the S8 Ultra featuring an AMOLED panel for better colors and contrast.
All three tablets offer top-tier hardware, including Qualcomm Snapdragon processors and ample RAM and storage options. They also come with an S Pen stylus and offer compatibility with various optional accessories, such as keyboard covers and protective cases.
Samsung's 2022 flagship tablets are known as the Tab S8 series, and now that the Tab S9 series has landed for 2023, these excellent tablets are starting to drop in price, making them more affordable than ever before.
Within the Tab S8 range, there are the standard Tab S8, S8+ and S8 Ultra models, so how does each of the trio's feature set differ – and is it more than just screen size differences?
Specs, price and availability
The Samsung Galaxy Tab S8 lineup was announced at Galaxy Unpacked in February 2022 and has been available at retail since 25 February 2022.
The Galaxy Tab S8 currently starts at $699 / €669 / £649 and the Tab S8 Ultra retails for $1099 / €1149 / £999.
The Galaxy Tab S8+ sits in between the two models and costs $899 / €979 / £849. It has a 12.4-inch AMOLED display and a 10900 mAh battery pack.
Samsung Galaxy Tab S8

Storage

128GB / 256GB + microSD

CPU

Qualcomm Snapdragon 8 Gen 1

Memory

8GB RAM

Operating System

Android 13, Samsung One UI 5 Tab

Battery

8000mAh

Ports

USB-C only

Camera (Rear, Front)

13MP main, 6MP ultra-wide rear / 12MP front

Colors

Graphite, Pink Gold, Silver

Samsung Galaxy Tab S8 Ultra

Storage

128GB / 256GB / 512GB + microSD

CPU

Qualcomm Snapdragon 8 Gen 1

Memory

8GB / 12GB / 16GB LPDDR5

Operating System

Samsung One UI 5 Tab

Battery

11200mAh

Ports

USB-C only

Camera (Rear, Front)

13MP + 6MP rear, 12MP + 12MP front

Colors

Graphite
Screen
The principal difference between each tablet is its screen size: the S8 is the smallest, at 11 inches; the S8+ is the middle size, at 12.4 inches; the S8 Ultra tops the three with its 14.6-inch display. Resolution increases per size, as you can see in the specification above, ensuring a crisp view regardless of which option you pick.
That's not all, though, as the 'entry-level' S8 model features an LCD display, while the S8+ and S8 Ultra feature AMOLED panels – the latter ought to offer a wider colour spectrum, deeper blacks and cleaner whites – and all panels deliver a refresh rate of up to 120Hz (double that of the standard, meaning smoother visuals for scrolling, gaming, and the like).
Design
Relative to the screen size, of course, are slight design shifts between the three slates. The S8, being the smallest tablet of the bunch, is actually the thickest. As the screen size expands, so the physical thickness dwindles by some points of a millimetre. The S8 Plus is particularly slender, at just 5.5mm – far slimmer than current flagship phones.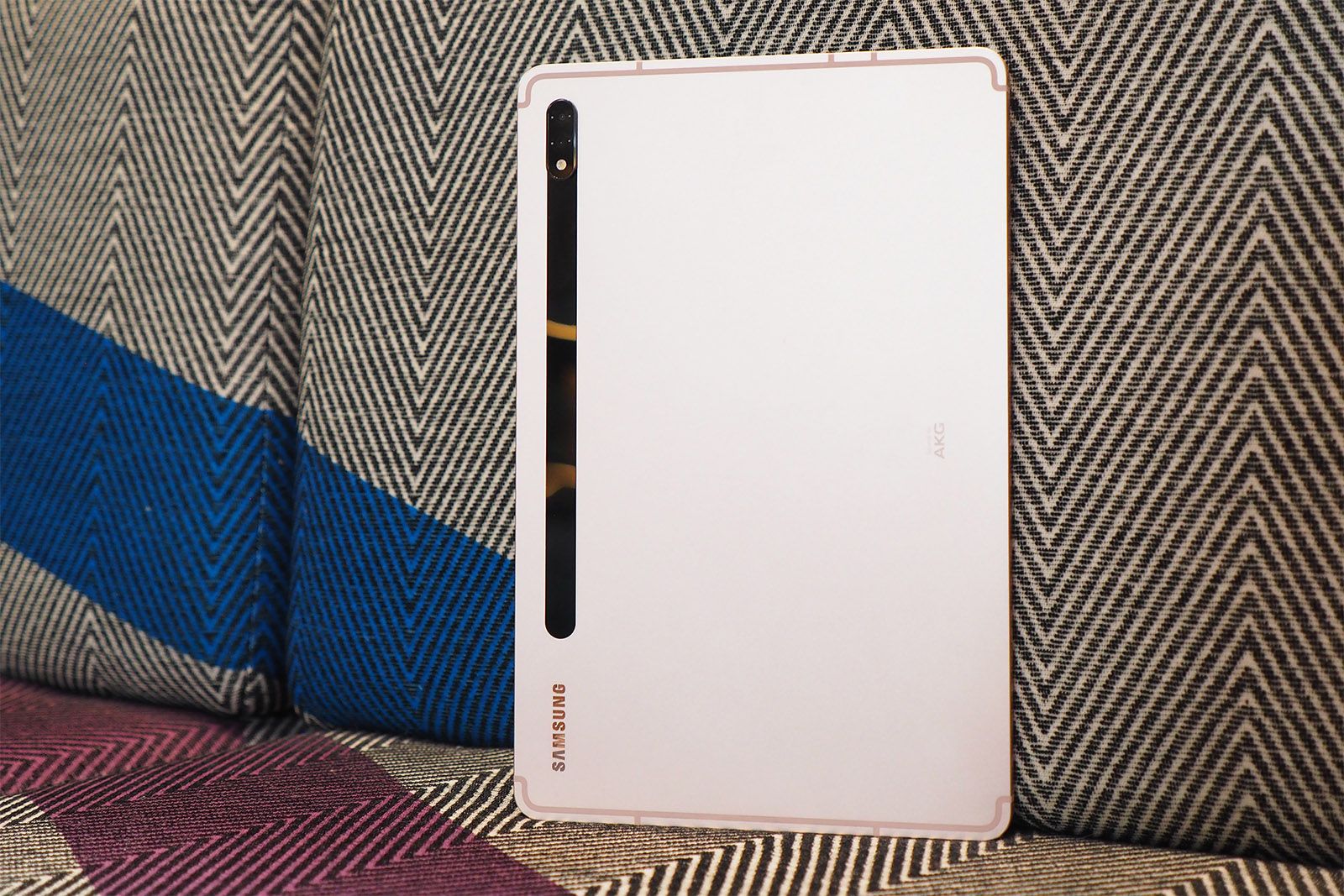 Pocket-lint
There are Wi-Fi only and 5G versions of each device, the choice being yours. The addition of mobile connectivity obviously requires more components and, therefore, the weight increase is pushed up – but only to a minor degree.
All three tablets feature fingerprint scanning for sign-in and payment options, but that's a side-mounted one for the S8 – the S8+ and Ultra both feature under-display scanners as part and parcel of the AMOLED panel deal.
Oddly enough the S8 Ultra is only available in a 'Graphite' finish (as are the other two tablets), with the silver and pink options only available on the smaller-scale slates.
Hardware
In terms of what's under the hood, there's top-tier hardware only. Unlike the S22 series of phones that arrived in the same year, all the tablets get Qualcomm hardware. The S23 series of phones are all Qualcomm too – and the latest chip – but the S8 tablet range still offers the flagship hardware that was available when they launched.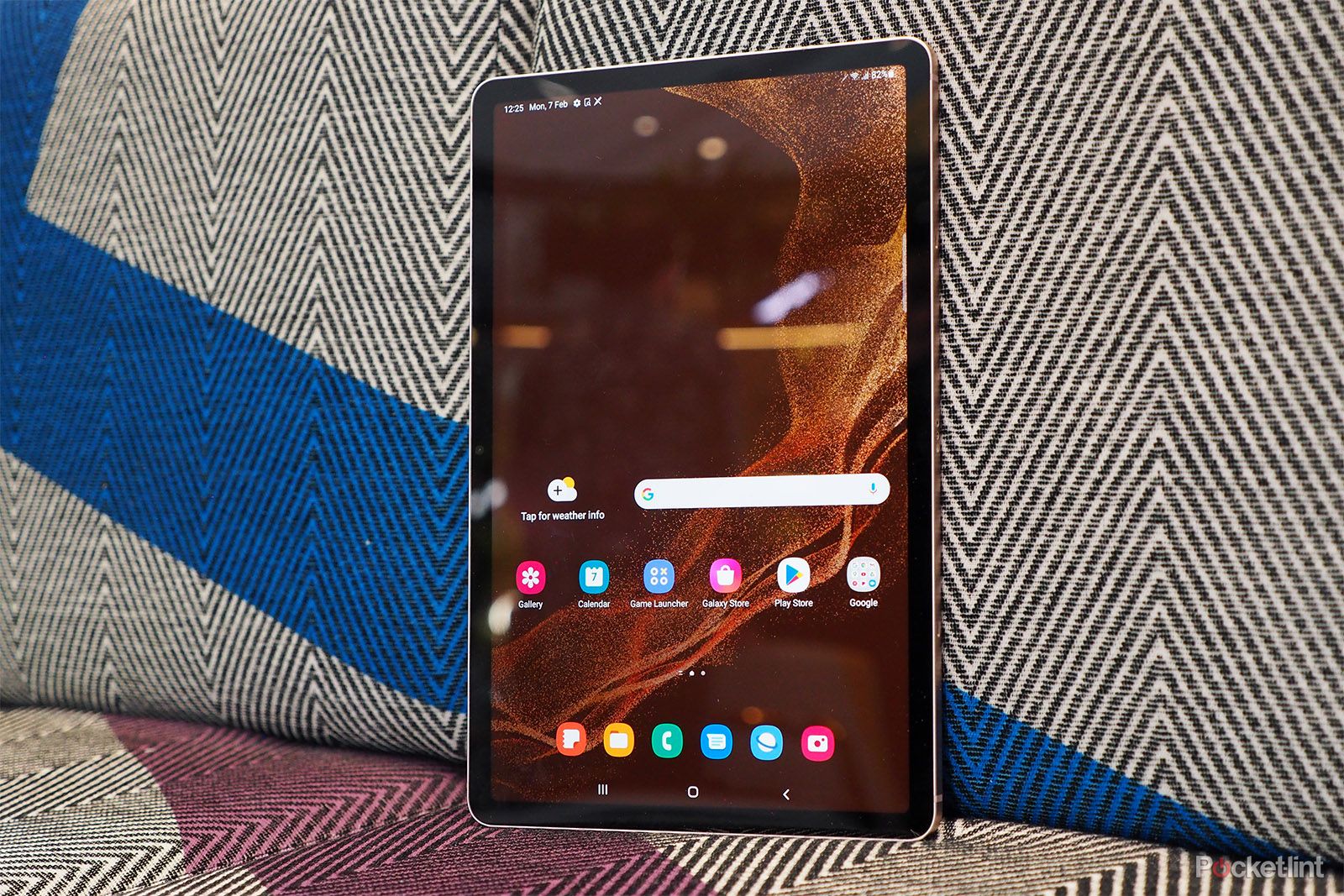 In terms of longevity, you can likely expect similar innings from a battery perspective irrelevant of which size tablet you pick. That's because as the screen sizes increase so, too, do the battery capacities of each device – as outlined in detail above – with each offering 45W fast charging. Note there's no wireless charging available in any option.
In addition to the top-end processor, the minimum RAM specification is a decent 8GB, increasing to a 12GB option for all, but only the S8+ and Ultra models get a 16GB option. The storage capacity is reflected in a similar way: 128GB or 256GB are the standard, with only the S8+ and Ultra offering 512GB. Thankfully all three products will offer microSD expansion to increase that considerably if you so wish – a feature that's good to see here.
Cameras
Tablets aren't exactly the kings of cameras, which is just fine, but all three slates have a straightforward 13-megapixel main camera and 6MP wide-angle.
The only point of difference? It's only the Ultra that delivers dual cameras to the front of the device; the S8 & S8+ only have a single selfie camera on board.
Accessories
All: S Pen stylus included in the box
All: Book Cover Keyboard, Book Cover, Protective Standing Cover – sold separately
S8 & S8+ only: Book Cover Keyboard Slim, Note View Cover, Strap Cover – sold separately
All three slates include Samsung's S Pen stylus in the box – not always the case with competitor products – meaning you can use your finger or pen to sketch, draw, illustrate or command the tablet as you need.
Another key part of the Tab S8 series falls to optional accessories. Beyond just being a window to watching content, there are keyboard accessories for each size to transform the experience into more of a laptop-replacement device.
Other accessory options add a protective cover or stand or strap, so there's a lot of versatility.
Conclusion
The right model for you, as always, depends on your personal needs. If portability is of chief concern, then you'll want to go for the standard S8, as it's the smallest and lightest of the bunch without sacrificing much in terms of performance.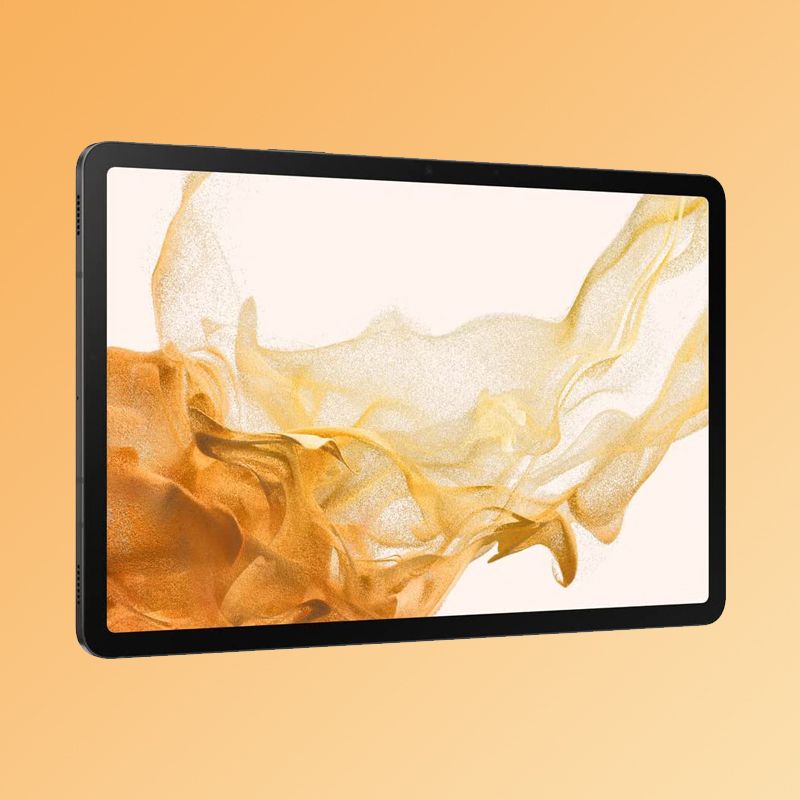 Samsung / Pocket-lint
Samsung Galaxy Tab S8
For Android fans who want a beautiful design paired with uncompromising power, the Tab S8 is an outstanding choice.
However, if visual fidelity is what you need, then you'll want to look at either the S8+ or Ultra models, as a move to these tablets gets you a vastly superior AMOLED display, rather than the humble LCD on the S8. It's a fairly significant jump in terms of price, though.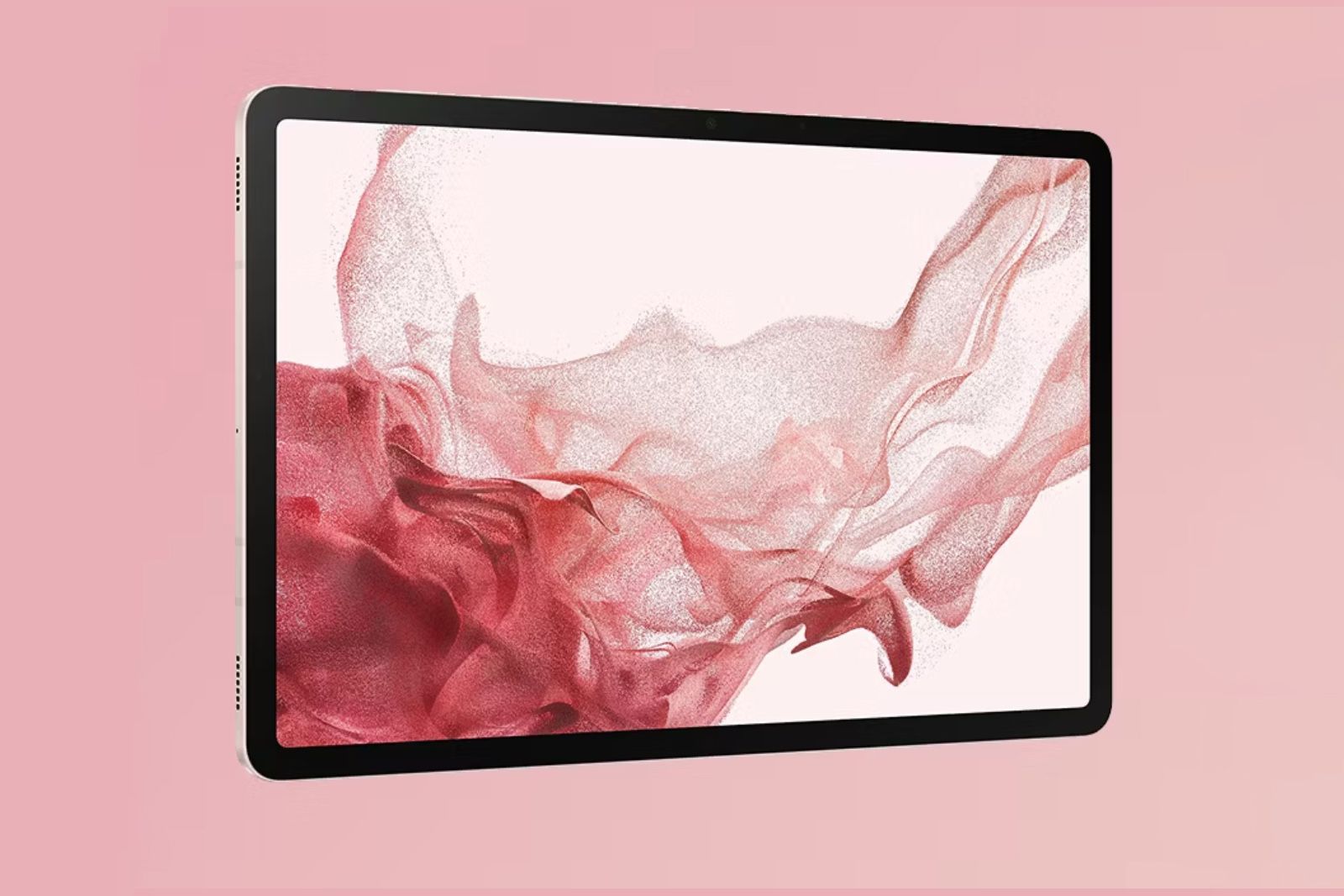 Samsung / Pocket-lint 
Samsung Galaxy Tab S8 Plus
If only the best will do, then it has to be the Ultra. This tablet offers the highest specifications in terms of memory and storage, as well as the largest battery capacity and the largest display size. You'll have to ensure that you're comfortable wielding a 14-inch tablet, though, as it's quite a sizable device.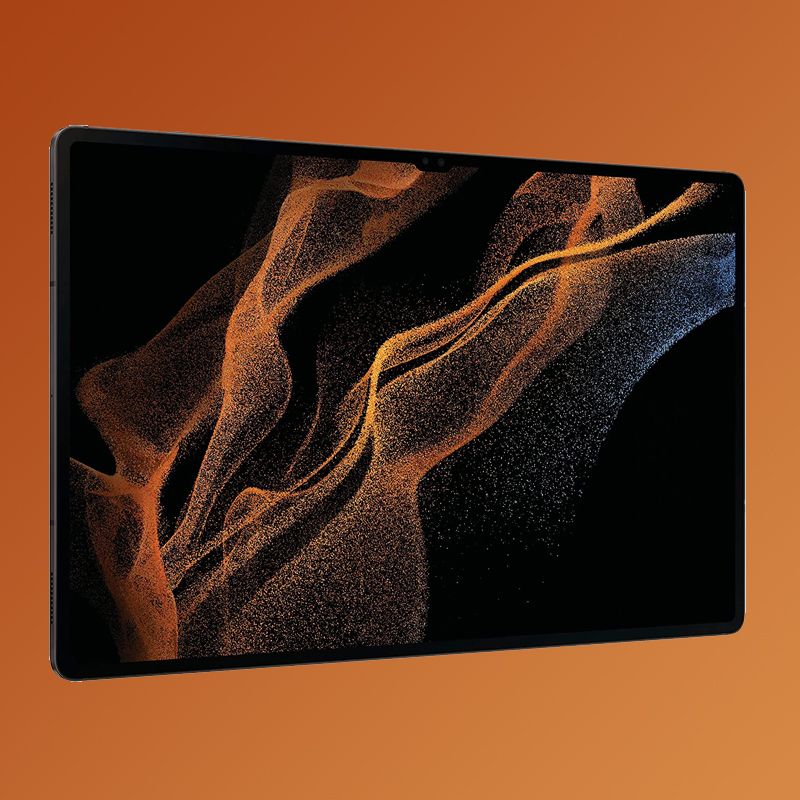 Samsung / Pocket-lint
Samsung Galaxy Tab S8 Ultra
Whichever tablet you choose, you can rest assured that you've picked one of the best Android tablets money can buy. There are few that come close to offering the performance and specifications of the Tab S8 series, and with Samsung's signature build quality and reliability, you know you're getting a good bit of kit.
Trending Products

.