Experience the magic of a perfectly made peanut butter pie. This pie is creamy, rich, and filled to the brim with peanut butter. It's sure to be a hit!
There's something undeniably alluring about a well-made peanut butter pie. Its creamy texture combined with the rich flavors of peanut butter and chocolate is a match made in dessert heaven. This pie brings together the comfort of classic ingredients and the joy of a treat that's perfect for any occasion.
Frequently Asked Questions
Is this recipe no-bake?
Yes and no. You'll have to bake your Oreo crust, but you don't have to bake again once you've added the filling.
Can I make the crust without a food processor?
Absolutely! While a food processor makes the job quicker, you can also use a rolling pin to crush the cookies inside a sealed plastic bag.
Do I need Cool Whip or cream cheese?
Some peanut butter pie recipes call for additional ingredients like Cool Whip and cream cheese for the filling. Our homemade version is made with heavy whipping cream instead. The results are a thick and creamy pie filling without any Cool Whip or added cream cheese! 
Do I have to use a microwave for the peanut butter mixture?
No, you can melt it on the stovetop using a double boiler method.
What peanut butter is best for this pie?
While we love spreading all-natural PB on our morning toast, you're going to want to choose a classic creamy or chunky PB like Jif or Skippy for this peanut butter pie recipe. The all-natural varieties don't have enough added oil in them to produce the consistency you're after for the filling. 
How long does this dessert take to set?
Patience is a virtue and you'll need it for this recipe. After you've baked your crust and added your filling, it's important to let the pie set completely before serving. Place it in your fridge for at least 6 hours.
If you can let it set overnight, even better!
Substitutions
Oreo Cookies: Use gluten-free Oreo cookies for the crust if desired.
Butter: Opt for refined coconut oil or a plant-based butter substitute.
Homemade whipped cream: Use a store-bought dairy or plant-based whipped cream instead of making it from scratch, if desired.
Whipped Cream Stabilizers
No one likes a sad, runny peanut butter pie, which is why we've included dry milk powder with the whipping cream to solidify for the perfect texture. Other options for whipped cream stabilizers:
Xantham Gum: Use 1/4 teaspoon per cup of whipping cream.
Gelatin: You must prepare your gelatin before adding to cream. Add 1 teaspoon of gelatin to 1 tablespoon of cold water. Let stand for 5 minutes to thicken before melting in the microwave for just a few seconds until it becomes liquid. 
Guar Gum: Use up to 1 teaspoon per cup of cold whipping cream
King Arthur Flour's Whipped Cream Stabilizer: Use 1-2 tablespoons per cup of whipping cream
Topping Ideas
We highly recommend chopped peanut butter cups and a drizzle of chocolate syrup over the top of your pie. You can also add:
Chocolate chips
Melted drizzled peanut butter
Peanut butter candies (like Reese's Pieces or Peanut Butter M&M's)
Peanut butter chips
Whipped cream
Troubleshooting
Crumbly Crust: Ensure you've added enough butter to bind the crumbs. Press firmly when setting the crust.
Filling Won't Set: Make sure to whip the cream to stiff peaks and allow enough refrigeration time. Using full-fat ingredients can also help achieve the right consistency.
Tips From the Chef
Ensure your whipping cream is cold; it helps achieve stiff peaks faster.
For an even crust, use the back of a spoon to press down the cookie mixture firmly.
Allow the pie to set in the fridge for a few hours before serving, ensuring a firmer texture.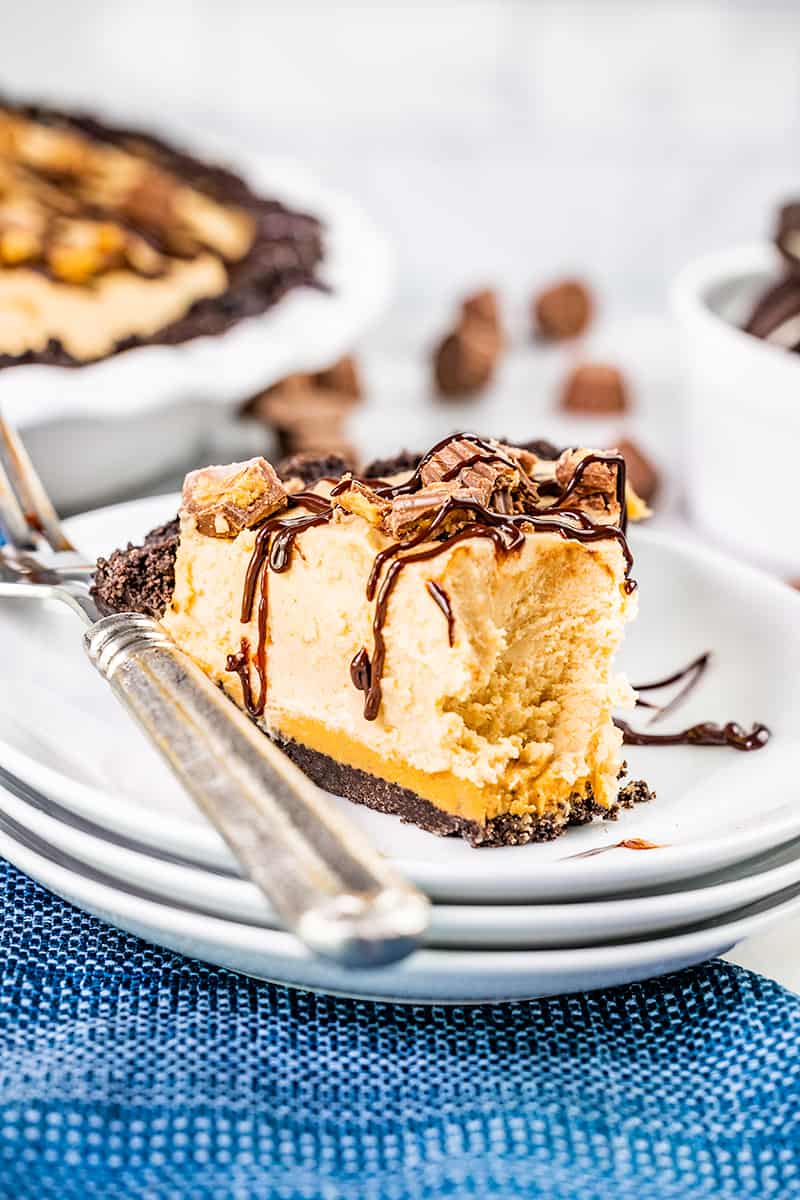 Freezing Instructions
If you decide to make your peanut butter pie ahead of time for an upcoming event, you can freeze it to keep it fresh. Make sure to wrap it very tightly with plastic wrap before placing it inside your freezer. It will keep for up to 1 month. Let it thaw in the fridge overnight before serving!
Storage Instructions
Store leftovers in the fridge in an airtight container, or simply wrap the pie dish tightly with plastic wrap. The leftovers will keep for about 3 days in the refrigerator.
More Favorite Pie Recipes
Watch the video below where Caytlin will walk you through every step of this recipe. Sometimes it helps to have a visual, and we've always got you covered with our cooking show. You can find the complete collection of recipes on YouTube, Facebook Watch, or our Facebook Page, or right here on our website with their corresponding recipes.
Trending Products

.