The JBL Authentics 500 is a massive wireless speaker with a split personality.
On one hand, it wants to take us back to classic JBL hi-fi designs like the JBL L100. You can recognise that waffle-like Quadrex JBL grille from a mile off. It's a classic.
When you get the JBL Authentics 500 to play some tunes, though, you quickly realise it's an incorrigible party animal.
If you want to turn your living room into a club and make your neighbours hate you, the JBL Authentics 500 can oblige for a cool $700/£580. That's no small investment – so should you buy it? Here's my full review.
Best JBL speakers: Expert tested and reviewed
JBL Authentics 500
Big, loud, powerful and bassy. That's the JBL Authentics 500 in a nutshell when you look beyond the charmingly retro design.The bass and volume its capable of will impress many, but the sound needs better refinement to justify its high price.
Pros
Gorgeous retro design
Powerful bass
Can get very, very loud
Cons
Muddles complex arrangements
Limited bass control
Expensive
Design
You might want to get out a tape measure before you buy a JBL Authentics 500, just to make sure the spot you're planning has enough room for the thing.
It's almost 20cm deep, and as there are great big bass exhausts on the back, you'll want to give it some additional clearance from any back wall too.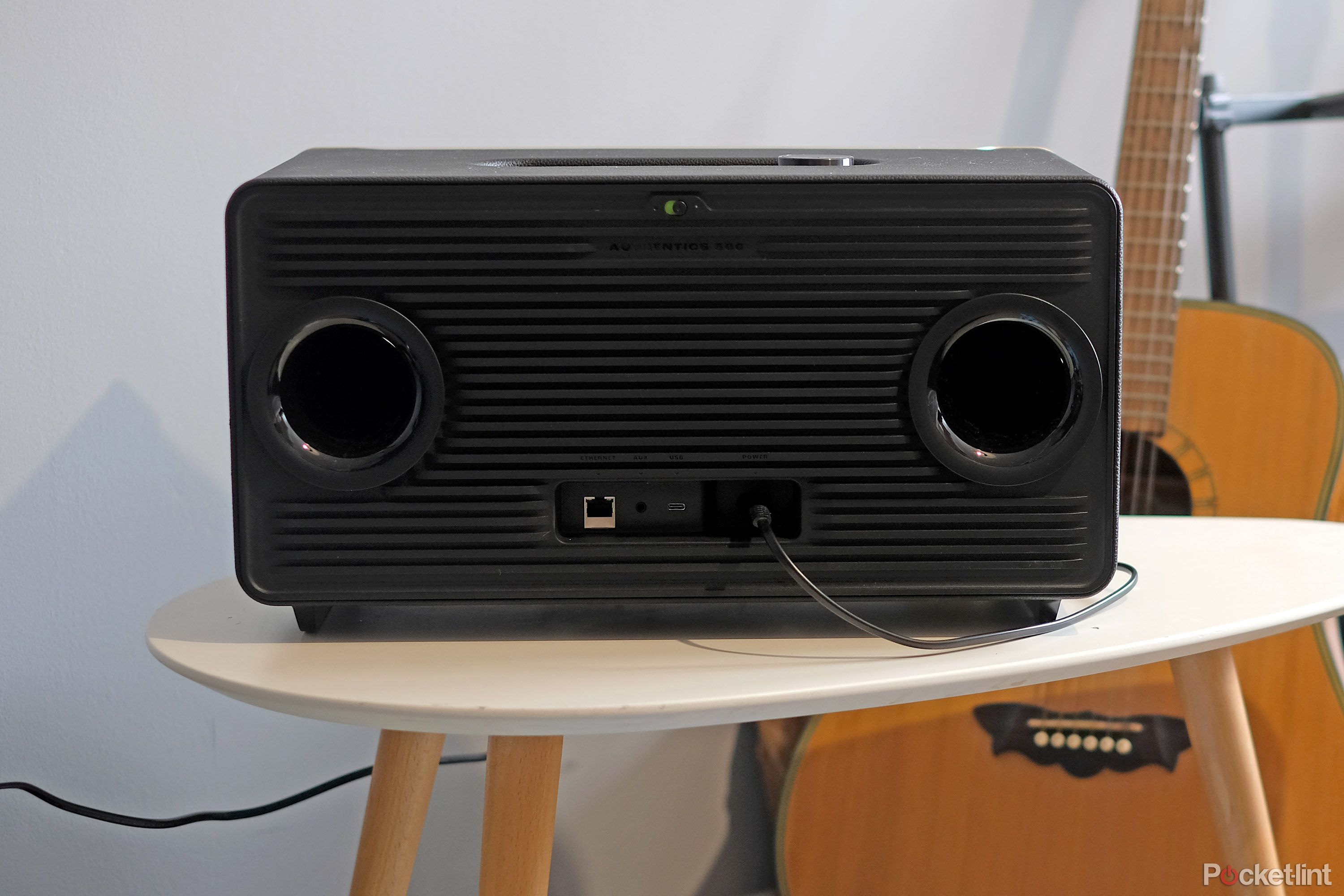 If you don't have the space, you do have other options. The JBL Authentics 500 is the largest and most powerful speaker in this range, but there's also the Authentics 300 and Authentics 200, both of which are much smaller – with the 300 also being portable.
For all its imposing bulk, though, JBL Authentics 500 isn't all that heavy at 4.9kg. That's only just over a third the weight of the classic JBL L82 hi-fi speaker that inspired its design, likely because this thing doesn't have a hefty MDF veneer enclosure.
Instead, its outer has a leather-effect plastic finish, the gold trim part is aluminium and the back is a ridged plastic. There's no mistaking that this is modern wireless speaker construction wedded to some traditional aesthetic elements.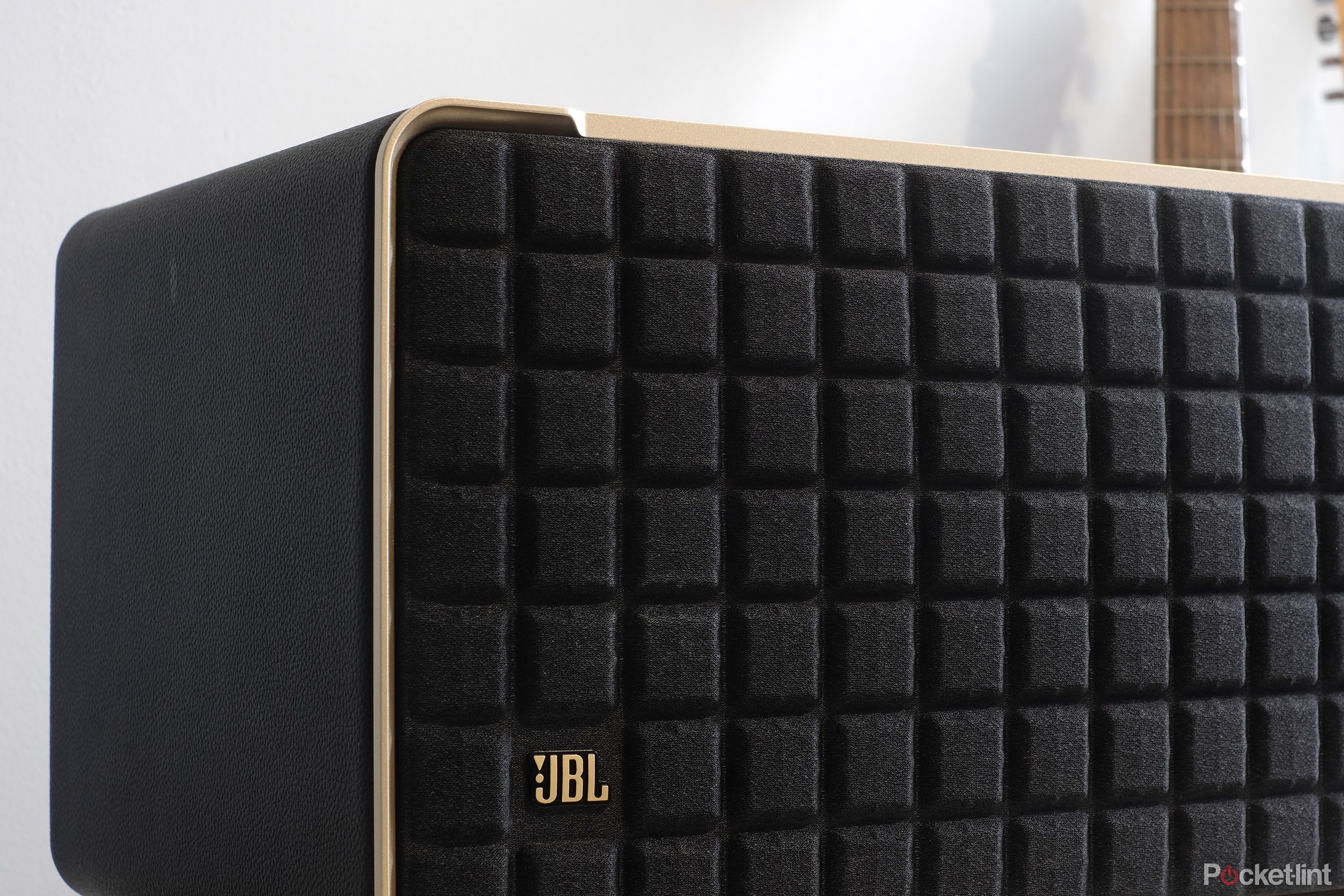 That doesn't extend to a battery, mind. The JBL Authentics 500 needs to be plugged in to work, and the PSU is integrated, meaning only a simple figure-of-eight lead needs to trail from the box.
Features
The JBL Authentics 500 is a fully-featured home Wi-Fi speaker. And yes, retro gear fans, there's also an aux input on the back for hardwiring other devices.
More than likely, though, you'll be going wireless and you can connect your phone to the box using Bluetooth or Wi-Fi. The setup for that is done using the JBL One app, which lets you treat a bunch of these Authentics speakers like a multi-room setup.
JBL's One also lets you choose music directly from streaming services within the app, but you get a much better experience by, for example, just using Spotify and selecting the Authentics 500 as the source there.
AirPlay, Chromecast, Alexa Multi-room and Spotify Connect are all on-board, so there's no real need to use JBL's app beyond the initial setup.
This is a smart speaker too. Look close at the top surface and you'll see a couple of little black holes where the microphones live. You can connect to Alexa or Google Assistant, and have them both living together, on the Authentics 500 at the same time as two warring housemates. It works pretty smoothly, even if you spend the time trying to catch it out rather than holistically using two different voice assistants.
If voice assistance isn't your bag, or you want some moments of privacy, you can also disable the microphones using a little switch on the back.
As far as connectivity goes, the JBL Authentics 500 has an Ethernet socket, handy if your Wi-Fi is a bit dodgy. A USB-C port sits on the back too but, sadly, it can't be used to play sound from, for example, your laptop. I tried with a MacBook. No dice.
It's for software updates only (if something goes very wrong), although the manual suggests the US version can play MP3s over the USB port, so American readers may be in luck.
Sound quality
There's a hidden monster living inside the JBL Authentics 500. Tip it up and you'll find a huge 6.5-inch subwoofer, which pounds bass sound waves into whatever sits below the speaker.
Behind the grille are three sets of mid-range and treble drivers – three 1-inch tweeters and three 2.75-inch mid-range drivers.
This makes it a 3.1 system, even if it will spend most of its life playing stereo sound. It also supports "3D Dolby Atmos" music. But I remain sceptical in the concept of creating 3D sound from a box where the drivers are a handful of centimetres apart.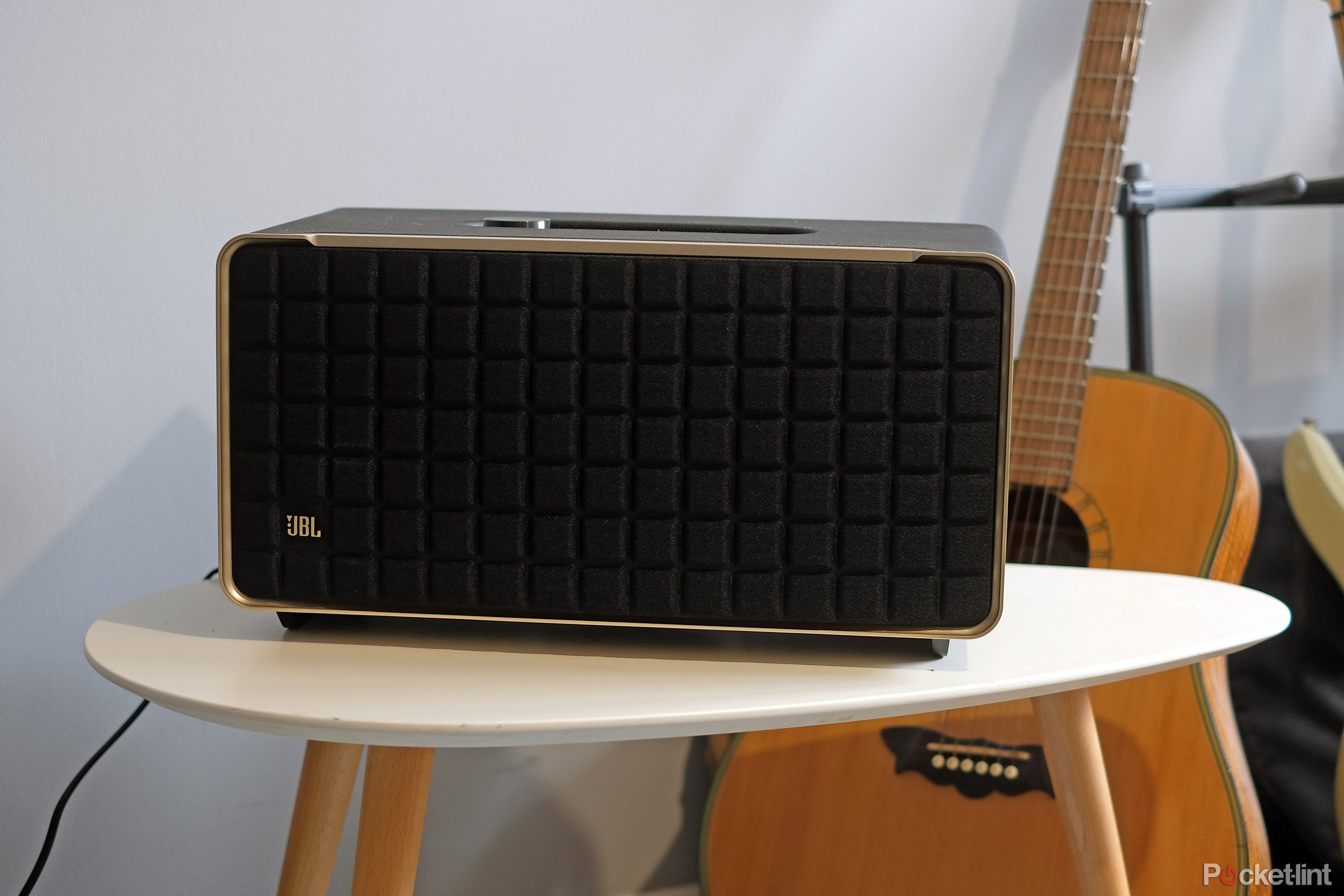 The defining factor here is bass, followed by volume. The JBL Authentics 500 is capable of incredible feats of bass at fearsome, relationship-ruining volume.
Bass depth is excellent, and when you crank this thing and play some music you might hear at a club it starts to sound, well, like you're actually at a club. It's thrilling stuff, particularly if you live in a detached house and can really let rip.
There's a real sense of expansiveness to the low-end that some people will absolutely love. However, it is also at the root of the JBL Authentics 500's biggest problem.
This bass is not particularly well-controlled, and is sloppier than the relatively taut JBL Boombox 3, even if it is significantly more powerful-sounding at higher volumes.
It ends up clogging up the sound, stepping all over the mids and vocal lines at times. Complex arrangements become muddled, so you don't get the airiness or separation you have a right to expect when spending this much cash.
You can try to tame the JBL Authentics 500, using the two dials on the top. These are treble and bass controls, which is a clear sign this is more of a "lifestyle" speaker than a serious one. Speakers should be (and are) tuned to a target. Putting controls that let you move away from that right up front is quite unusual.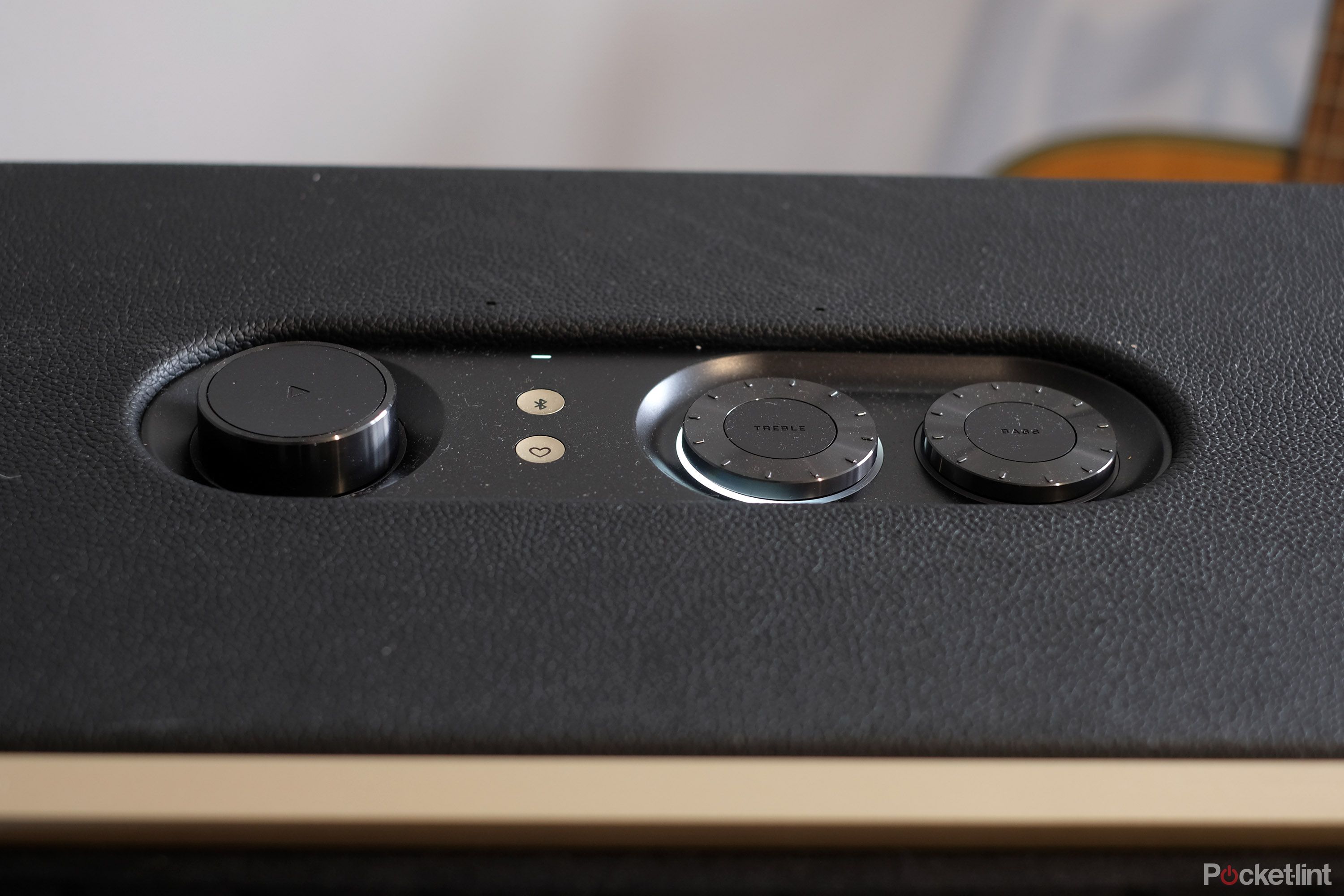 It's also too easy to alter the sound profile and not realise you have done so, as these are free-turning dials that use an LED ring around the perimeter to show the setting.
But, yes, you can bring down the bass using these controls or the JBL app, ditch the boom and free yourself up to increase the volume a bit without everyone in a 50-mile radius hearing about it. Once you take the spotlight off the bass, there's an easygoing smoothness to the mids and treble that is really pleasant, and makes the JBL Boombox 3 sound kinda coarse by comparison.
The Authentics 500 slam and dynamics are flatter, though, meaning that when you take away that propulsive bass, you also rob the speaker of a fair bit of its momentum.
All of these criticisms should be taken in the intended context. The JBL Authentics 500's only clear issue is that unless you play with the bass, it's pretty domineering, but music does sound great through this speaker. Does it sound $700/£580 good, though? I'm less persuaded that it does.
Verdict
Big, loud, powerful and bassy. That's the JBL Authentics 500 in a nutshell when you look beyond the charmingly retro Quadrex grille design.
The sheer force of its bass, and how comfortably it can get extremely loud will impress many. But it's the design than evokes the JBL greats of old rather than the sound.
There's just not enough control over the lower frequencies, or quite enough presence and dynamics in the rest to make the JBL Authentics 500 a world-class contender in this price range. Still, if you're after a one-box party, and have the budget to splash on it, you've found it.
Trending Products

.