Indulge in the delightful tang of lemon and white chocolate chip cookies; a perfect balance of citrusy zest and sweet vanilla goodness!
The aroma of freshly baked cookies is universally comforting. Combine that with the uplifting zest of lemon and the warmth of vanilla and white chocolate, and you're in for a treat! These cookies marry contrasting flavors: the sharpness of citrus and the delicate sweetness of vanilla and white chocolate. The result? A harmonious blend that's delightful with every bite.
Salted Butter vs. Unsalted Butter
Using salted butter adds a touch of savory to the cookie, contrasting beautifully with its sweet notes. If you only have unsalted butter, consider adding a pinch more salt to the recipe for balance.
The Role of Cream Cheese
Not just for cheesecake, cream cheese in cookies provides moisture and a unique texture. Plus, its mild tanginess pairs well with the lemon, enhancing the overall flavor.
Frequently Asked Questions
Can I make these cookies gluten free?
Yes! Consider using a gluten-free flour blend if you have gluten sensitivities, but be sure to check the blend for xanthan gum, which helps replicate the structure gluten provides.
Can I make these cookies vegan?
For a vegan variant, you can substitute butter with refined coconut oil or a plant-based butter substitute, cream cheese with vegan cream cheese, and use flax eggs (a mix of ground flaxseed and water) instead of regular eggs.
Can I make these into larger cookies?
Yes! Feel free to play with the size of cookie you prefer. If you opt for smaller or larger cookie dough balls, adjust your baking times accordingly. Smaller cookies might need less time, while larger ones a bit more.
Why are my cookies not more yellow?
If you want truly vibrant yellow cookies, you can use food coloring. Can also use lemon extract for a very vibrant and stronger flavor.
Troubleshooting Common Issues
Dry or Crumbly Dough: If your dough isn't coming together, a touch more lemon juice or a teaspoon of milk can help bind it.
Cookies Spreading Too Much: This can result from overly warm dough or an overly greased pan. Ensure your dough is cool (chill in the fridge for a bit if needed) and go light on the nonstick spray.
Tips From the Chef
Ensure all ingredients are at room temperature for the best consistency.
Don't over-mix the dough; it can affect the cookie's texture.
For evenly baked cookies, rotate the baking sheet halfway through cooking.
Add lemon extract for a more vibrant and stronger flavor.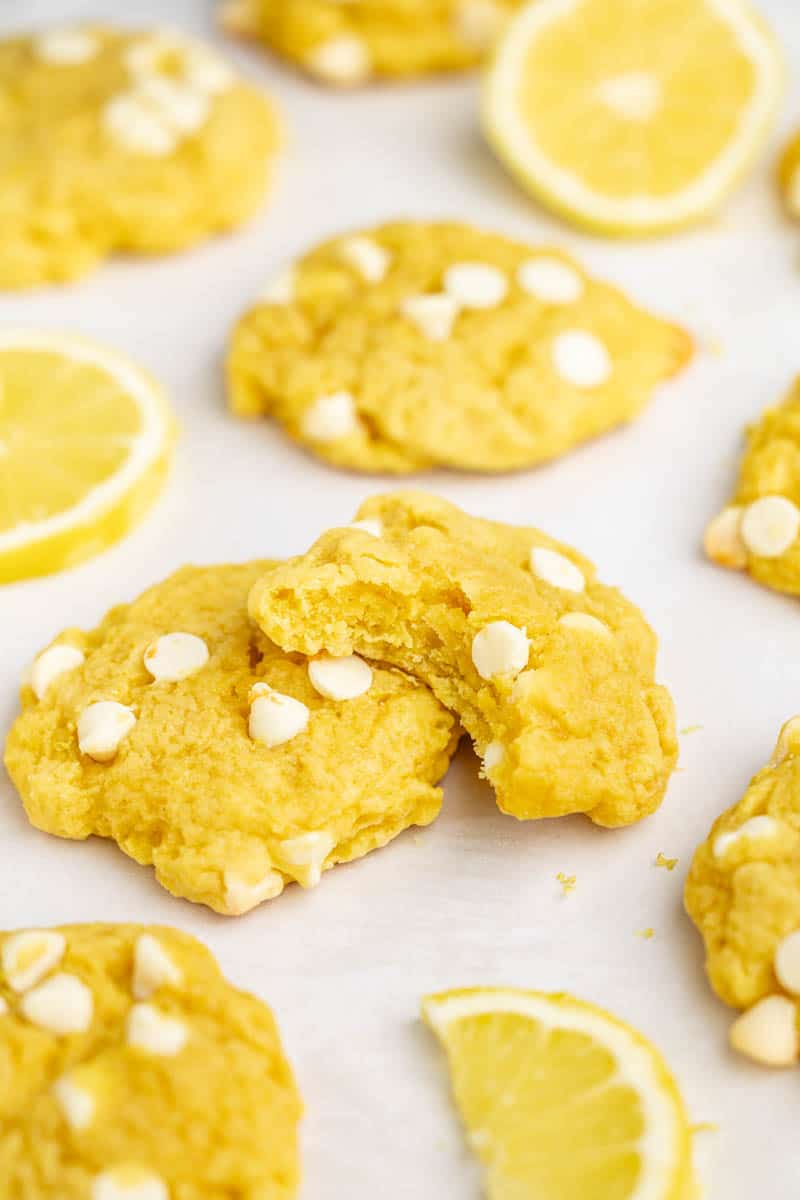 Storage Instructions
Store cookies in an airtight container at room temperature for a week. For longer storage, freeze for up to 3 months.
Trending Products

.