Well, we have our first quarter of the MCU's Fantastic Four. Yesterday, reports broke revealing that Pedro Pascal is likely to end up playing Reed Richards in the upcoming Matt Shakman-directed film, provided Pascal isn't too busy with other projects, namely Gladiator 2 and new seasons for The Mandalorian and The Last of Us.
Who Should Be the New Doctor Doom? io9 Picks
Rumors surrounding the Four's casting have been going around for the past year, with many a popular actor said to be attached. This was always going to be the case; ever since Marvel confirmed that it was going to bring the characters into the orbit of the MCU, you couldn't not have an opinion on who could (or should) play the Fantastic Four. And what makes it all the more exciting is the small number of big-screen appearances the characters have and which audiences remember. In 2015, Fant4stic had a lot of issues; because its script was thoroughly disinterested in the characters, its stars were left playing shells emptier than the alternate dimension they end up stumbling into. Whenever this new film releases, it'll be the first Fantastic Four movie in over a decade, and it'll mean something in a different way than before.
Up until about a decade ago, an experienced actor entering the superhero space had some novelty. It was an opportunity to see them show off their chops in a way you didn't expect, or help them stage a comeback. But these days, big names booking comic-book roles can feel more like an eventuality than something capital-S surprising: superheroes are popular, and if an actor in a popular show hits a big enough threshold, they'll likely suit up for something with a year. Sometimes they don't even need the show—fancasting can get a star's foot in the door just as effectively, as we learned with John Krasinksi's Reed Richards in Doctor Strange 2 last year.
How we determine who's a star has greatly changed, and you need look no further than Pascal himself as proof. A decade ago, he'd just be recognizable as "that guy from Game of Thrones who died horribly" or, arguably, Narcos. But now, he's "Pedro Pascal, Sci-Fi Dad" and "Pedro Pascal, the Internet's Daddy, and also Mario that one time." With fandom now functioning as its own currency which studios are more than happy to exploit, it can feel a little jarring to watch actors you're only aware of through social media donning costumes and doing their best to convince you the fate of the multiverse (or the planet, or whatever) is at stake. In that sense, having Pascal as Richards just can't help but feel a little bit like Marvel doing more stunt casting that promises to mean something significant several years and a hypothetical sequel later.
Not that superhero movies have ever been high art, even when they clearly aspire to be something more than a two-hour fireworks display. But there's something off about how actors just become superheroes now, in that it sometimes feel like the casting itself is the entire gimmick and the characterization will come later. A lot of this falls on Marvel, frankly: Mahershala Ali seems to have put his career on hold so he can be Blade, and both Spider-Man: No Way Home and Deadpool 3 have had their narratives dominated mostly by what previous actors are or aren't in them. Veterans come back to a role a decade or more later because it's a good paycheck, while studios know it'll make for good social media buzz and "oh, this takes me back" reminiscing. And because so many franchises have called back older actors for legacy appearances at such a consistent pace, it feels equally exhausting and reeking of desperation.
This will be an even thornier issue for whatever winds up the MCU's first X-Men project. Unlike the Fantastic Four, people have a generally good memory of those films and their casts. Historically, mutants have been meant as stand-ins for minorities, and many fans hope this will be reflected by casting Black actors for Charles Xavier and Magneto (in that context, fans tend to liken the two men to Martin Luther King and Malcolm X, respectively). With the MCU's larger diversity push since 2018, it puts this eventual sub-franchise in an interesting spot. Along with highlighting then-emerging stars like Hugh Jackman, Dafne Keen, and Jennifer Lawrence, Fox's X-Men movies had the benefit of pulling in actors from things you remembered liking. Today's entertainment landscape allows for minority actors to build up a reputation and get their name out there before signing on to a multi-picture deal. That can still happen with this new set of X-Men, but there's little doubt these particular movies won't have some measure of big-name, attention-grabbing casting that Disney can be eager to indulge in.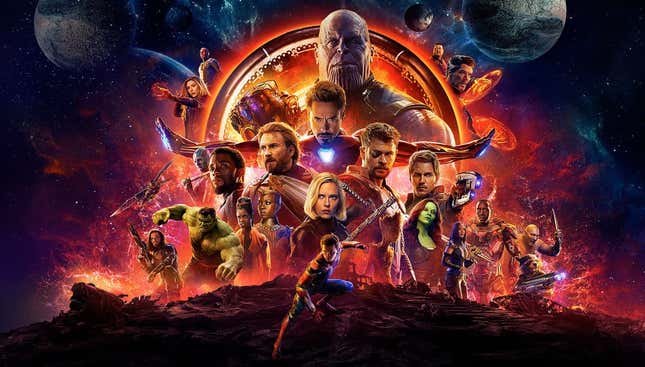 Superhero properties can't really go back to the old days where actors signing on to do them elicits real curiosity. Whether they're here for a long time or a suddenly abrupt one, seeing a star wear a silly costume and get their body shredded is just another part of showbiz. But like so much else caught up in the superhero machine, it's interesting to see how much stardom has changed, and wonder about how much its players' careers have been affected by jumping onto a bandwagon that may not have any intention of fully letting them go.
---
Want more io9 news? Check out when to expect the latest Marvel, Star Wars, and Star Trek releases, what's next for the DC Universe on film and TV, and everything you need to know about the future of Doctor Who.
Trending Products

.