This soft and buttery cookie cake is decorated with fluffy orange buttercream and filled with festive Halloween candy-coated chocolate.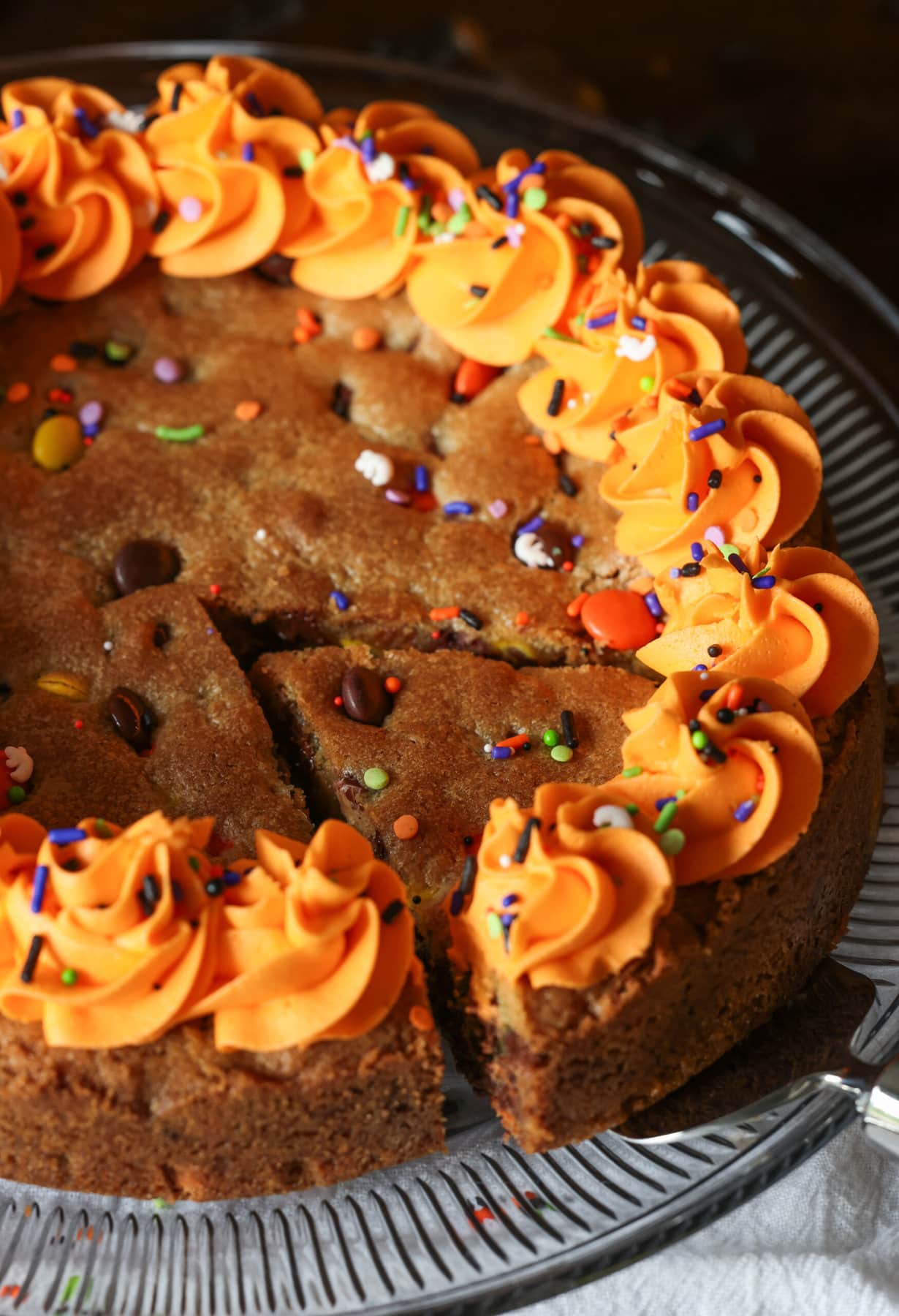 I love making cookie cake. It's such an easy dessert to make, and a guaranteed crowd-pleaser. I've taken my classic cookie cake recipe and turned it into a festive Halloween-inspired treat. This is perfect for an autumn get together, a game day tailgate, or of course a Halloween party! Add on a few Halloween sprinkles and you have a spooky cookie cake that everyone will love!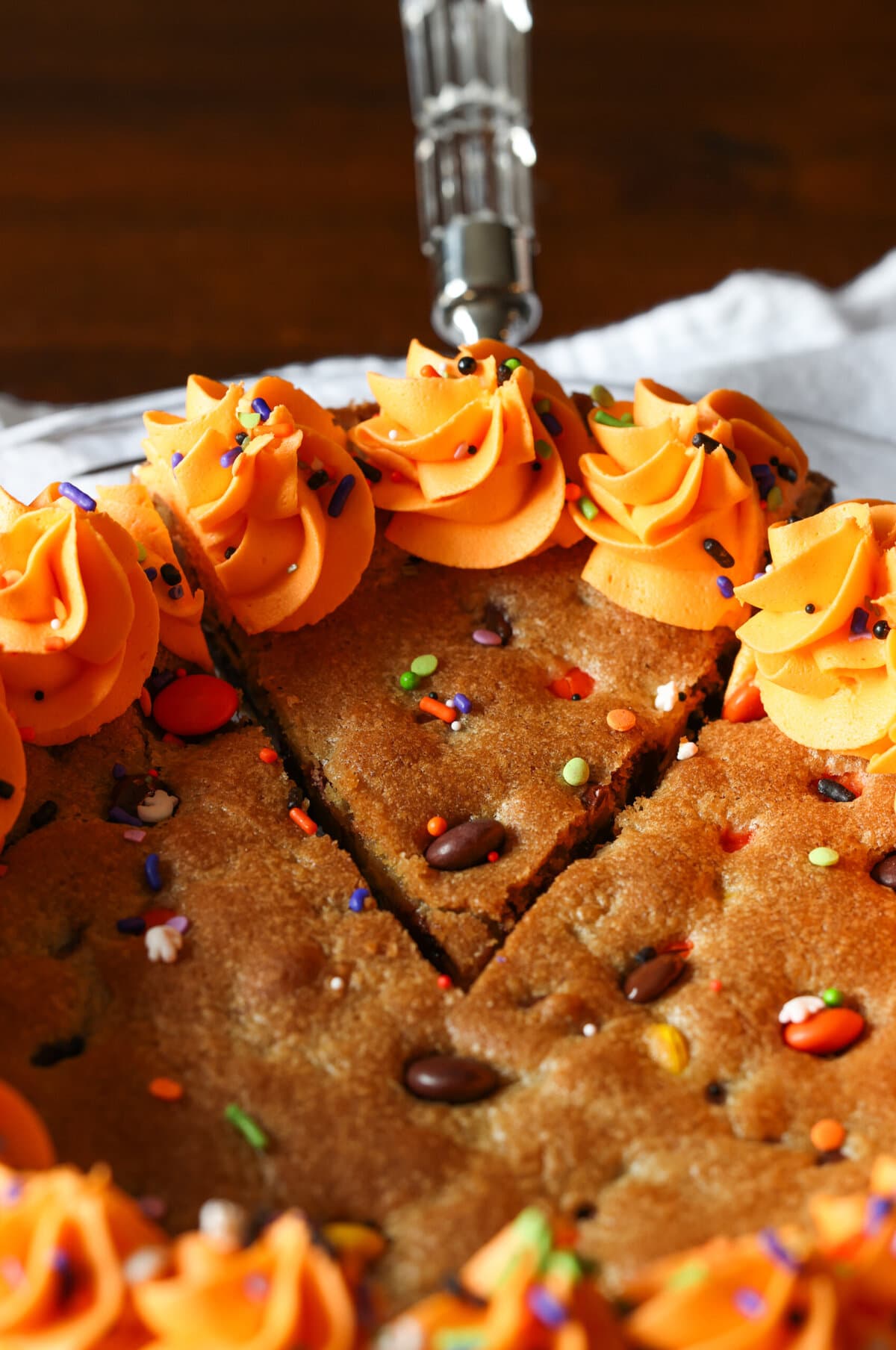 Ingredients You Will Need
The full list of ingredients and recipe can be found HERE.
Butter. I use salted butter for this recipe, but you can also use unsalted if you prefer. Make sure your butter is at room temperature, as it will cream together nicely with the sugars and also ensure even baking.
Sugar. You will use a combination of light brown sugar and granulated sugar in this recipe.
Eggs. You will use one large egg in this recipe along with one egg yolk from another large egg. Save the white for an omelette!
Vanilla extract. I always measure with my heart when adding vanilla.
Dry Ingredients: Baking soda, kosher salt, and all purpose flour. Make sure to use the spoon and sweep meathod when measuring your flour!
Halloween colored candy coated chocolates. You can use the Halloween themed M&Ms, or Reese's Pieces is a great option too if you don't mind a little peanut butter flavor!
Chocolate chips. I like to add in chocolate chips along with the M&Ms in this for a gooey chocolate filling!
Buttercream Frosting. This is purely optional, but a cookie cake without the frosting is just…well…a cookie! Use my recipe for buttercream (it's perfect!) OR you can use chocolate frosting too.
This recipe goes together very easily, much like a chocolate chip cookie recipe. You will notice that the proportions are a little different than a traditional cookie, allowing it to bake a little more evenly and stay soft! For the FULL RECIPE CLICK HERE.
Cream the butter and both sugars together in the bowl of your stand mixer for 2 minutes. Add in the egg, yolk, baking soda, and salt and mix for an additional minute, making sure to scrape the sides of the bowl carefully to ensure even mixing.
Turn the mixer to low and add in the flour and then the chocolate chips and chocolate covered candies!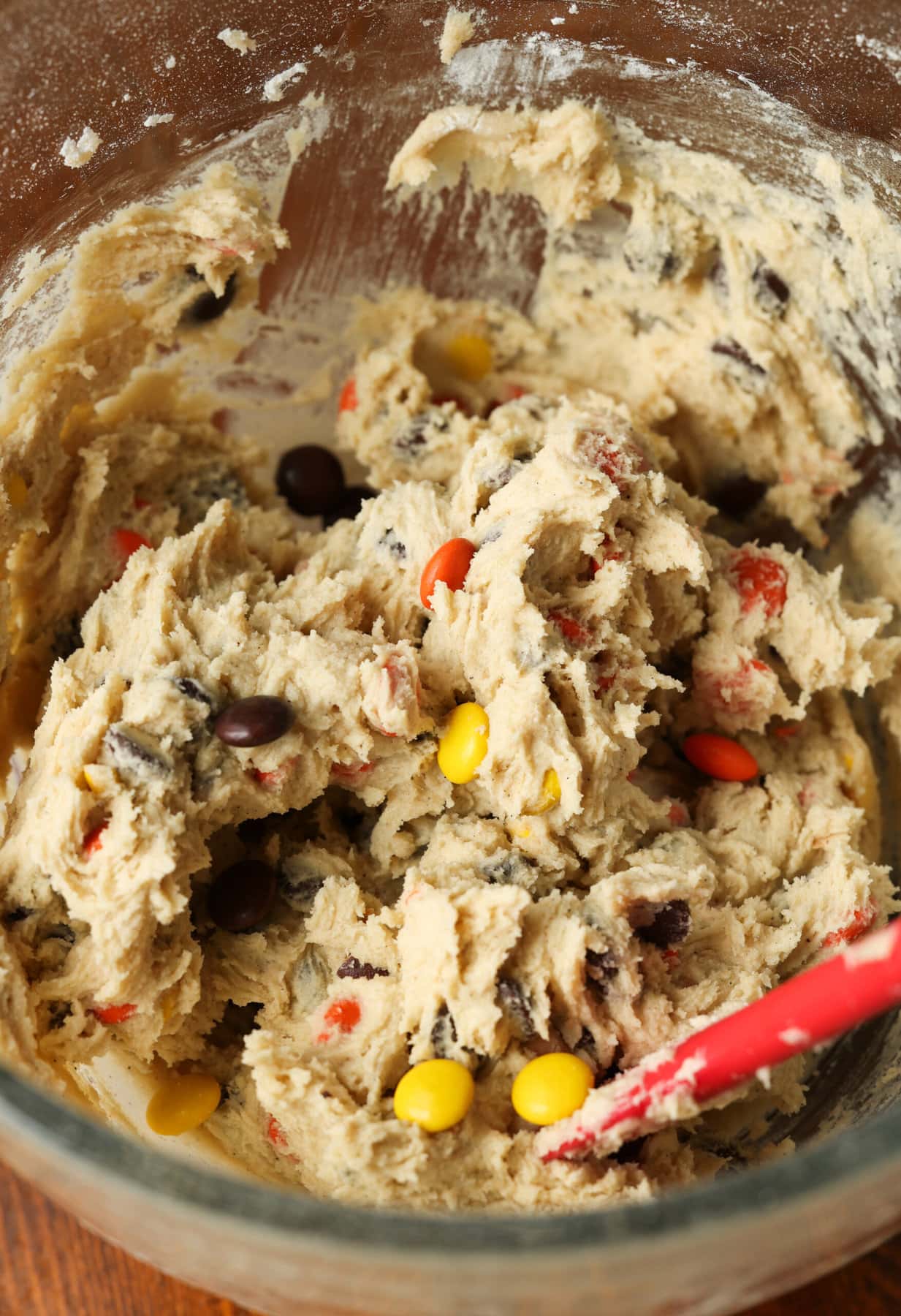 Press the cookie dough evenly into a greased and parchment lined spring form pan. Bake it for 20 – 25 minutes until the edges are lightly golden and the top is just set. Don't over-bake this!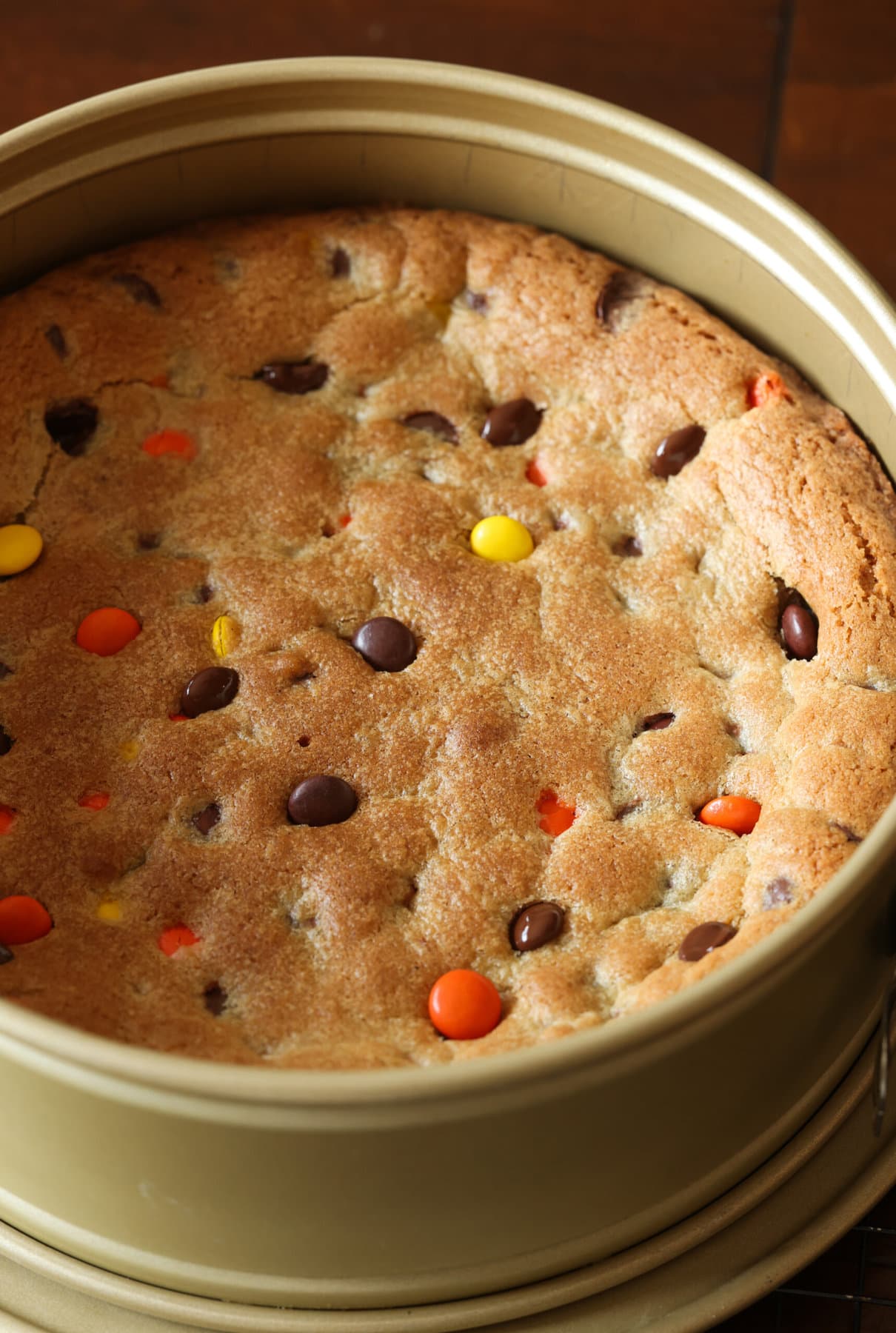 Allow the cookie to cool completely before piping on some fluffy buttercream!
Do You Have To Use A Springform Pan?
Nope! You sure don't have to, but the springform pan makes serving this super easy, and allows for easy removal from the pan. If you don't have a springform pan go ahead and use a large cake pan.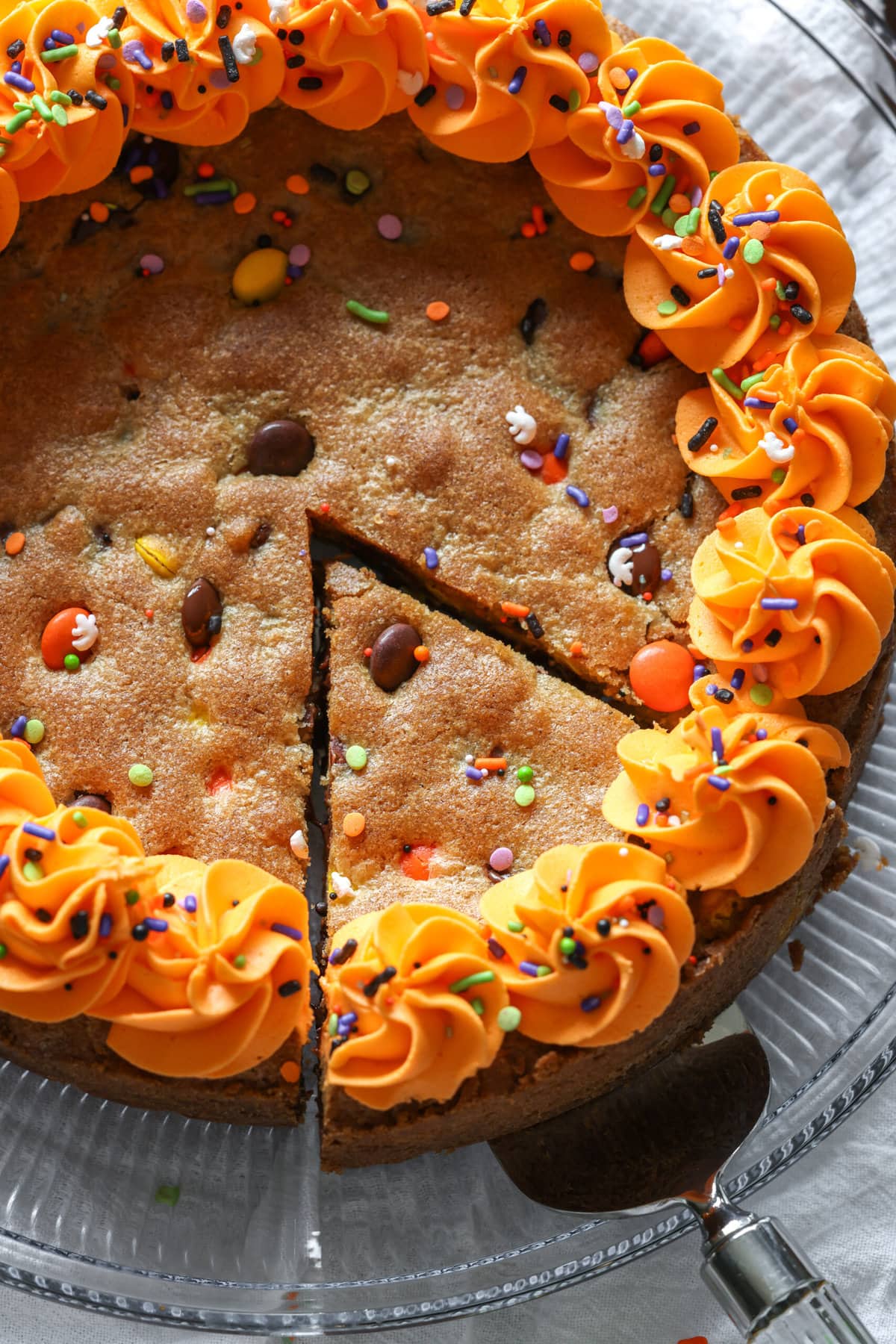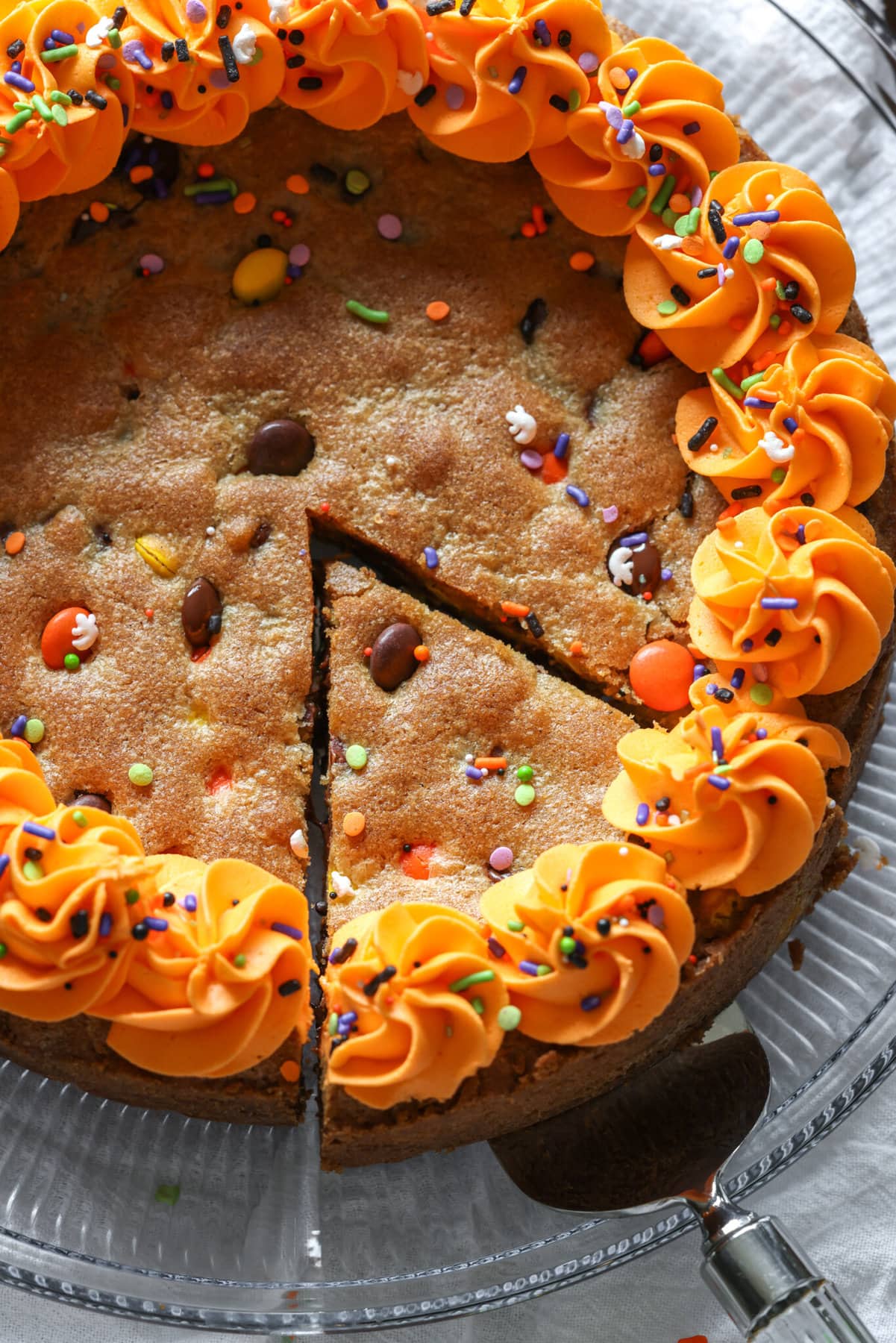 Halloween Cooke Cake Decorating Ideas
Of course you don't have to make this Halloween-themed if you don't want to. You can really adapt this cookie cake for any occasion. But here are some fun and easy ideas to make it perfectly spooky:
Use Halloween sprinkles on top of the buttercream. I get mine on Amazon, but surely you can find themed sprinkles in a lot of grocery and craft stores in the fall.
Spooky eye sprinkles are really cute on this!
Use Halloween M&Ms. They've done the leg work for you getting all the festive colors perfect!
Use Reese's Pieces instead of M&Ms. They already come in orange/yellow/brown.
Store this cake airtight at room temperature for up to 3 days for best freshness. You can freeze this cookie cake in an airtight container for up to 30 days for best freshness. Allow it to thaw at room temperature before serving.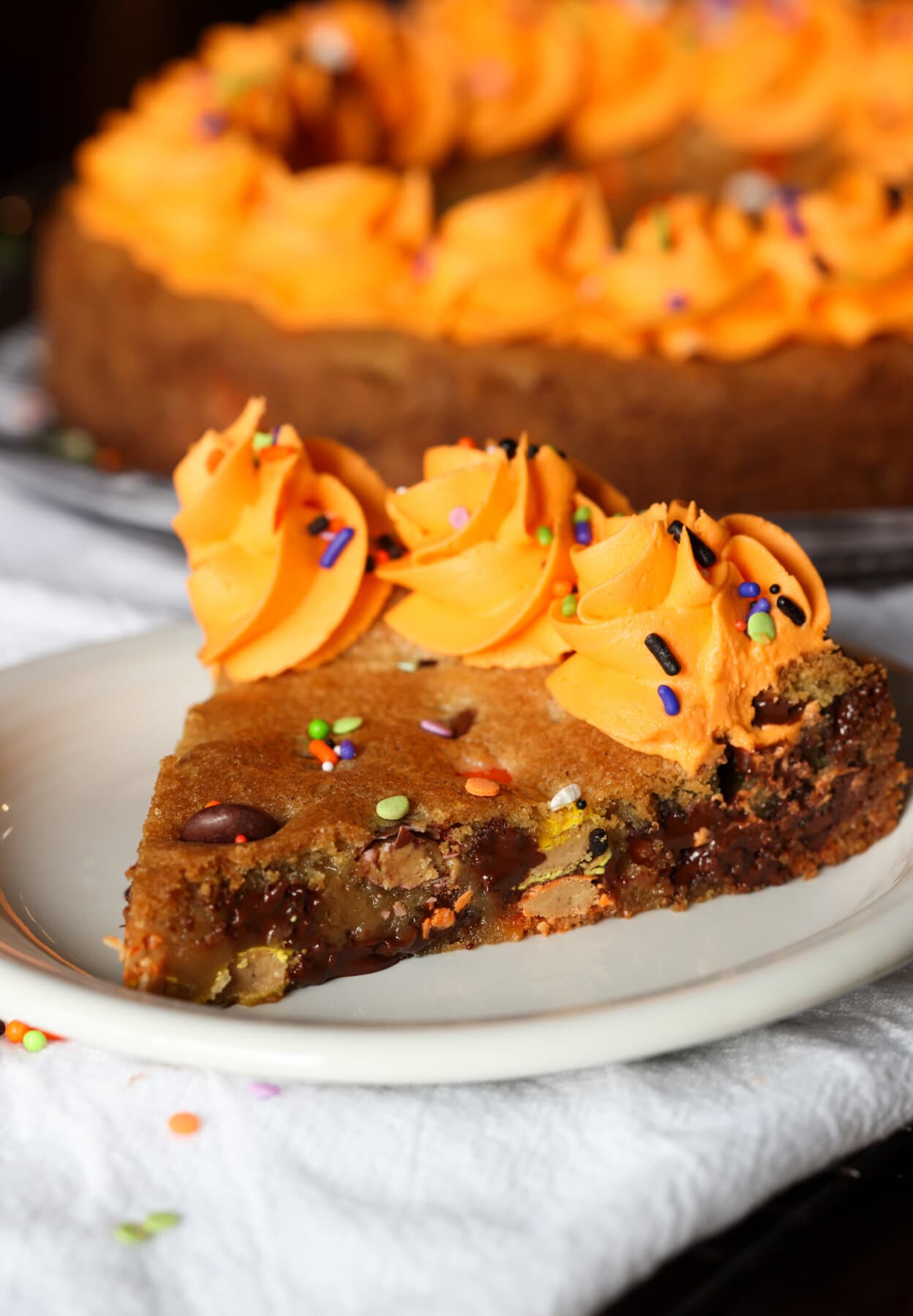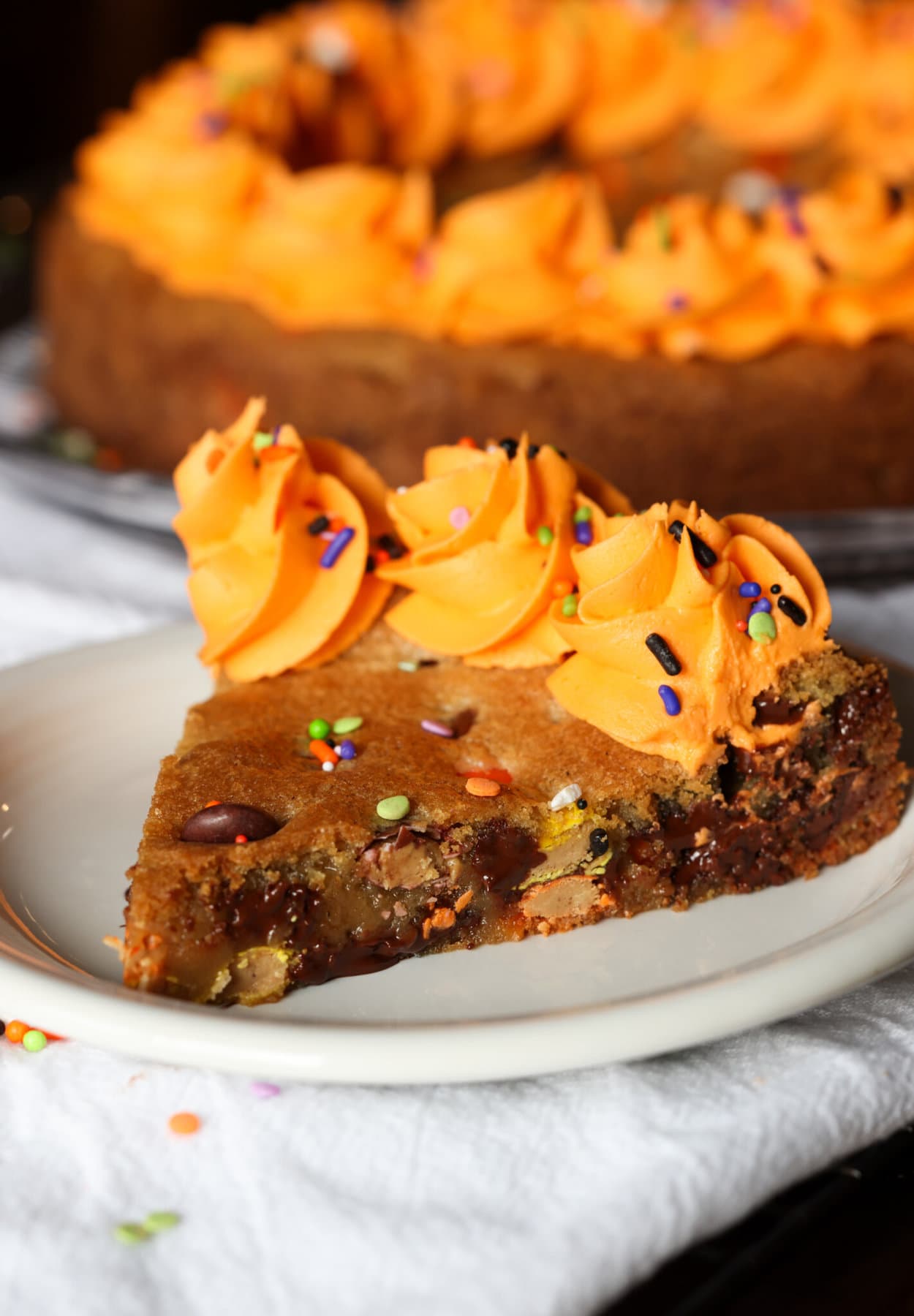 Get The Recipe
I created this recipe within my partnership with my friends at Imperial Sugar. CLICK HERE for the full recipe!
PIN for later: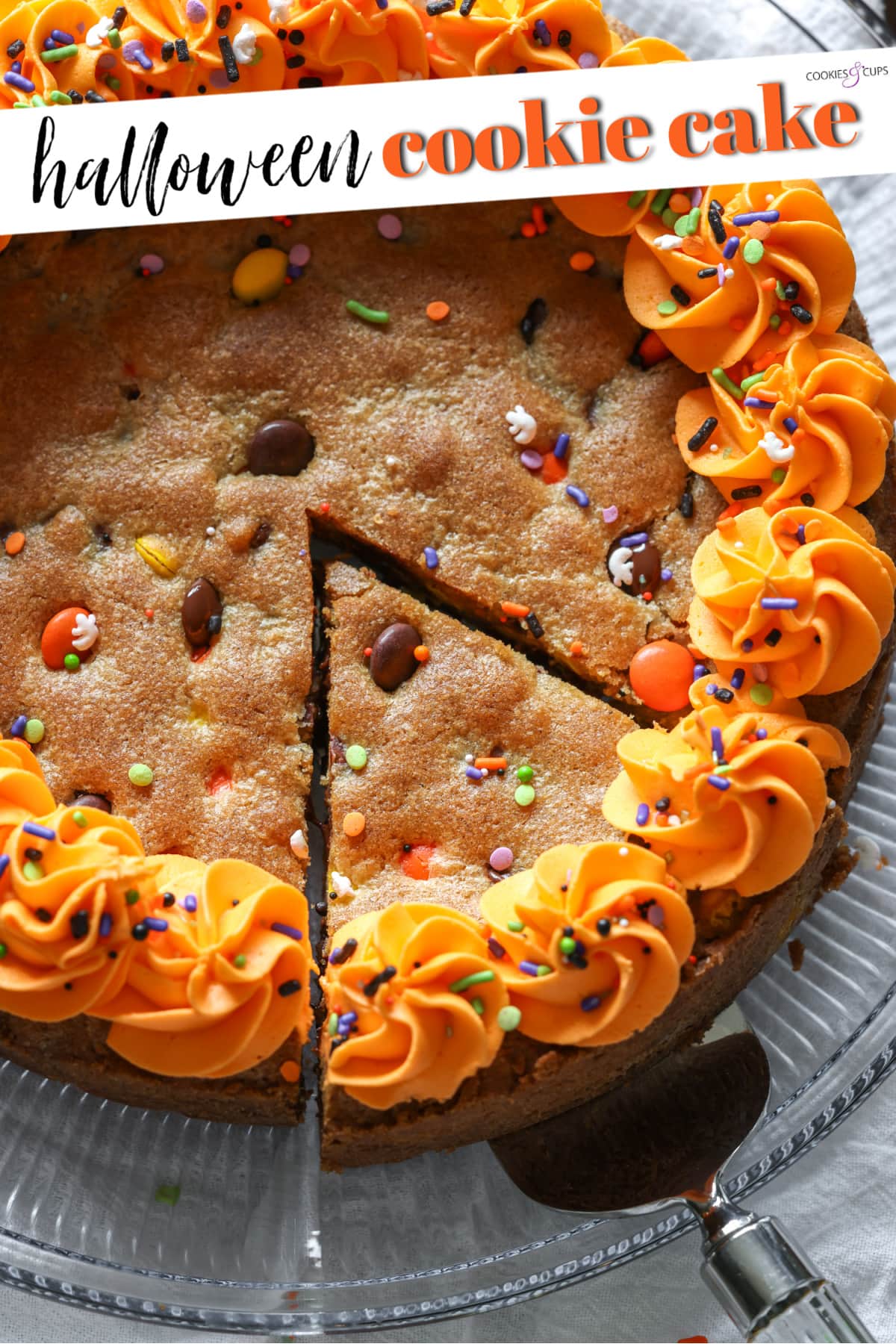 Here Are More Halloween Inspired Desserts
Trending Products

.