The Garmin Forerunner 265s is the smaller version of the Forerunner 265, Garmin's mid-range multisports watch that sits just below the Forerunner 965.
It packs in the same sports tracking features and also features a new AMOLED display – just smaller, for smaller wrists – so much of the experience will be the same with either size.
Along with giving the 265 series a boost in the screen department, Garmin is also freshening things up on the software front too, particularly in the realms of offering guidance on what to do if you're training for your first race, or you are just at the start of your fitness journey.
The jump in price from the 255 series to the 265 is a pretty hefty one though. The 255 launched at so does it warrant the big spend and is it still one of the best watches for runners? I strapped it to my wrist for a few weeks to find out.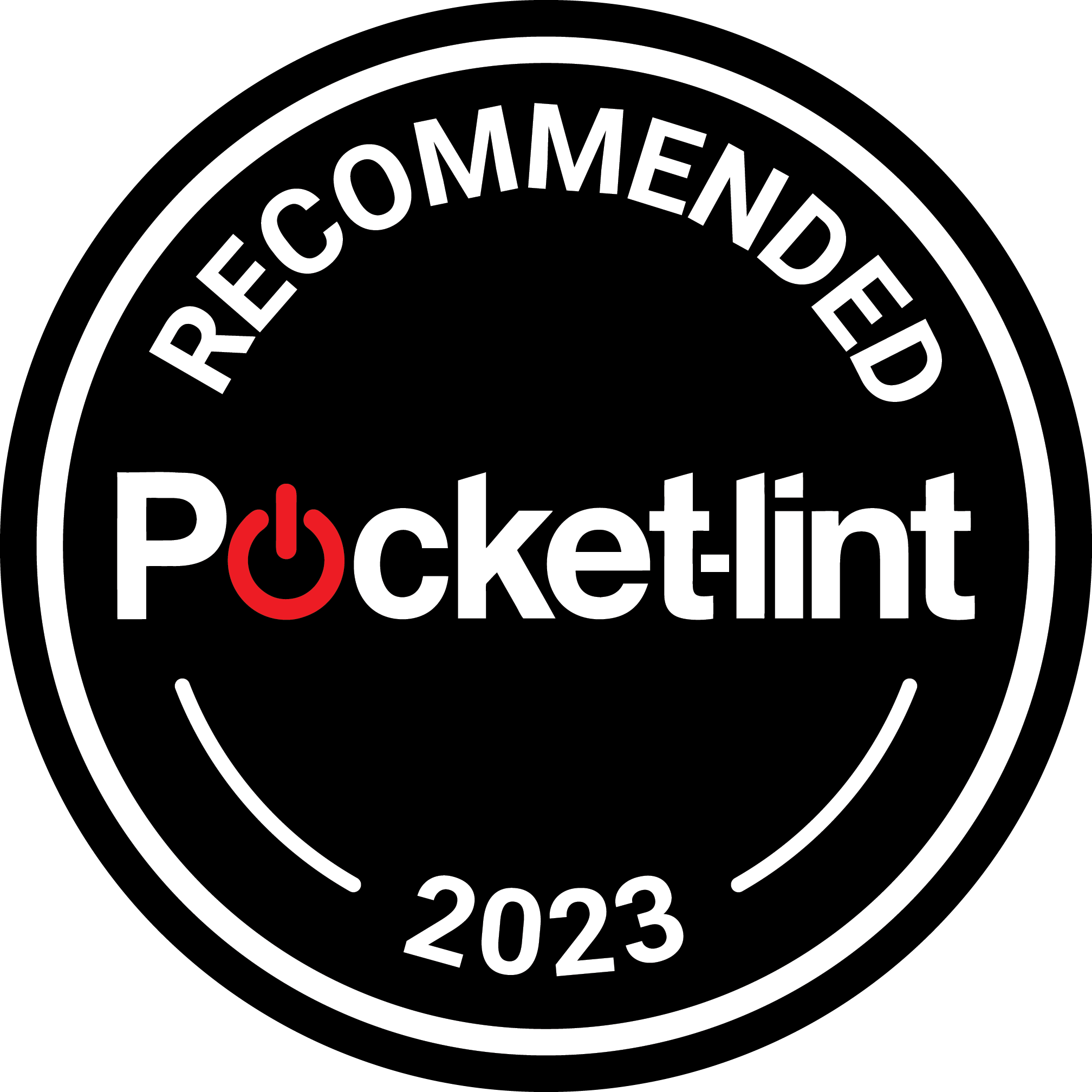 Garmin Forerunner 265s
Recommended
The Garmin Forerunner 265s is a slick sports watch with a new AMOLED screen that makes it even nicer to use when you're not tracking your workouts. For those workouts it's as good as ever too – it's just a shame its price has seen a considerable hike since its predecessor.
Pros
Good quality AMOLED screen
Strong optical heart rate performance
Multiband mode gives GPS a boost
Cons
More expensive than the Forerunner 255
Battery drop with always-on screen mode
Pricing, specs and availability
The Garmin Forerunner 265 comes in two sizes – the standard 46mm casing and the one tested here, the Forerunner 265s, which is 42mm in size. They both come in at the same price, costing $450/£430, compared with the flagship Forerunner 965, which will set you back $600/£600.
Its predecessor, the Garmin Forerunner 255 also came in two sizes – a slightly smaller 41mm or 46mm – costing $350/£300 and $400/£350 respectively – and remain available at the time of writing, often at considerable discount.
Garmin Forerunner 265s
Heart Rate Monitor

Yes

Color Screen

Yes

Battery Life

Up to 15 day

Display

AMOLED, 360 x 360

Health sensors

Heart-rate monitor, thermometer, Pulse Ox blood oxygen saturation monitor

IP rating

5 ATM

Dimensions

42 x 42 x 13mm

Mobile payments

Yes, Garmin Pay

Workout detection

Yes

Exercise modes

More than 45 to choose from
Design and display
Small but perfectly formed
The s in the 265s stands for small, so you're getting a 42mm case as opposed to the larger 46mm one on the 265. If you're the kind of person that likes their sports watches more on the dinky side, then that's what you get with the 265s.
It's a light watch, weighing in at 39g, so just a touch heavier than the Coros Pace 3 – another small, light, feature-packed sports watch. There's five physical buttons in place with the one that you'll press to start tracking workouts emblazoned with the word RUN. It's a clear indicator as to who this watch is primarily built for, but it's not exclusively just a watch for runners as I'll get into shortly.
When you're not pressing away at those buttons, you've got a 1.1-inch, 360 x 360 resolution AMOLED screen matched up with Gorilla Glass 3 to protect it against scratches and I've seen no scratches in my time with it. Packing in that amount of pixels on a smaller display gives you something that's nice and sharp, and while AMOLED screens aren't typically considered as good on the visibility front compared to the transflective screens you'll find in watches like the Garmin Instinct Crossover Solar, I've not had a terrible time trying to see this screen at any time.
To boost its non-running credentials, this is a watch that carries a 5 ATM rating. So you can take that polymer case, AMOLED screen and the removable 18mm silicone band attached to it into the water. Just make sure you don't go any deeper than 50 metres with it.
Health and fitness
A great running companion
Everything about the 265s design screams runner, but this is a watch that can track swims (pool and open water), cycling and activities like rowing – plus a triathlon mode, making it suitable for multi-discipline events. This is also a watch that can track your steps, sleep and help you relax with guided breathing exercises. Those features are well executed, but it's really about how it tracks those sporting pursuits.
The main reason to grab it is for its running credentials and pretty much everything thart was on the Forerunner 255 is present on the 265s. That includes Garmin's great multiband mode, which seeks to improve outdoor tracking when using the watch close to tall buildings or in densely wooded areas, for example. In general, that multiband – or dual-band support as the likes of Apple and Huawei call it – works really well, and feels like a step up on the performance of the same feature on the 255.
You do have the Sat IQ technology here too, which will automatically switch to the most appropriate GPS mode, to make sure you get the best accuracy at the times you actually need it. I'm not sure it works all that well and found myself just opting to stick it in the top accuracy mode.
If you care about monitoring your heart rate, Garmin includes the fourth generation of its Elevate optical heart rate sensor, which is also capable of delivering blood oxygen saturation data, if you care about that particular piece of biometric data from a wellness point of view.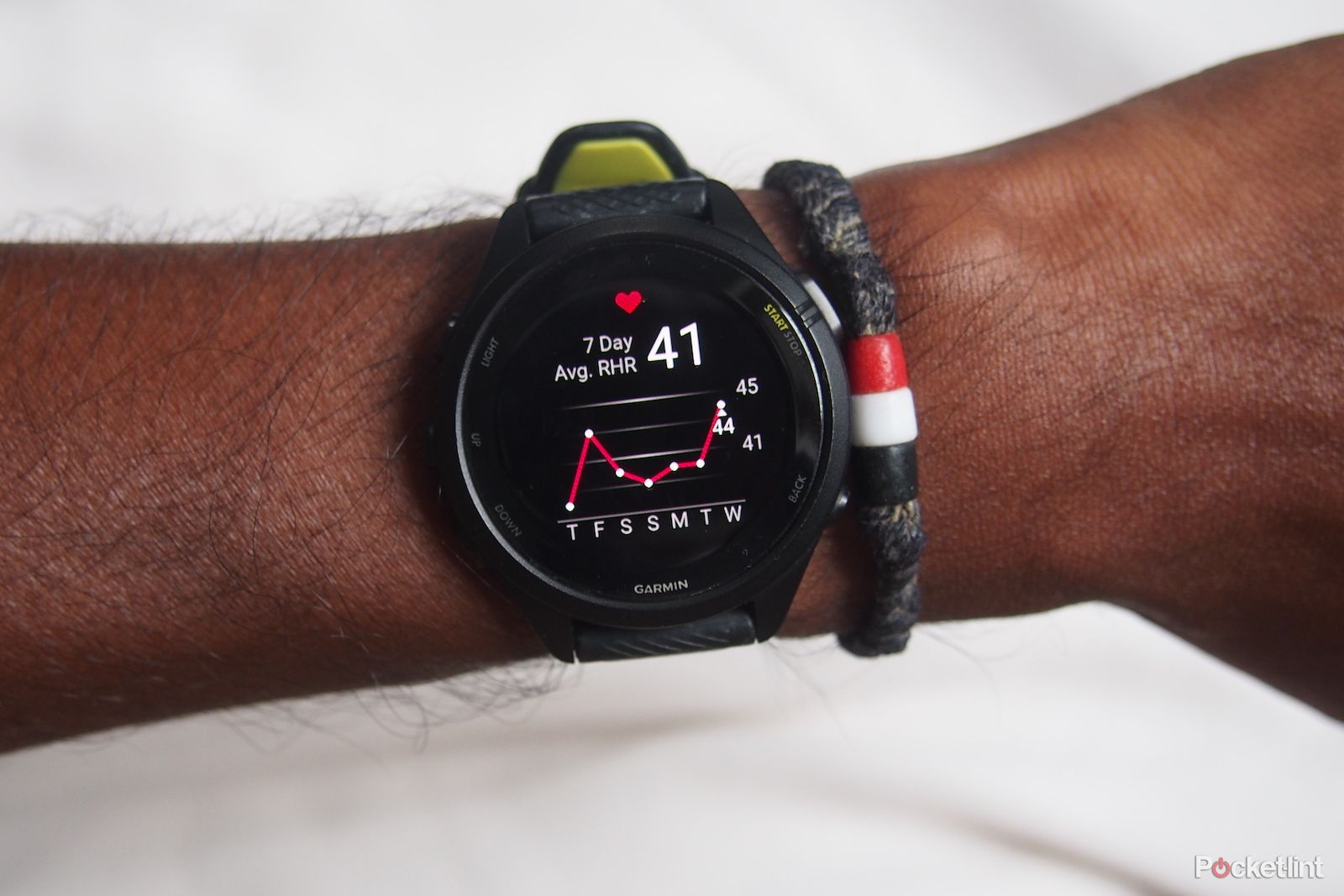 The optical heart rate sensor on the 265s actually performs really well and I found it didn't falter as badly as some other watches when I used it for more high intensity workouts up against a heart rate monitor chest strap. If you don't trust it, Garmin continues the trend from the 255 to offer the ability to pair it up with external heart rate sensors.
Outside of running, it really is more of the same as the 255, albeit with that added colour screen. You're not getting the mapping support you get on pricier Garmin watches, but you are getting the ability to access some basic breadcrumb-style navigation and have the ability to upload routes to the watch to follow on screen. If you're using it for the core tracking modes like swimming, it performs much the same and is solid on the whole. There's plenty of modes here that offer activity-specific metrics to widen the appeal of the 265s beyond runners too.
Another big aspect of the 265s is going beyond tracking and being a watch that can help you train, build plans for you and also help you make the right decisions about what to do with your day. It pulls in a lot of features have appeared other Garmin watches on that front.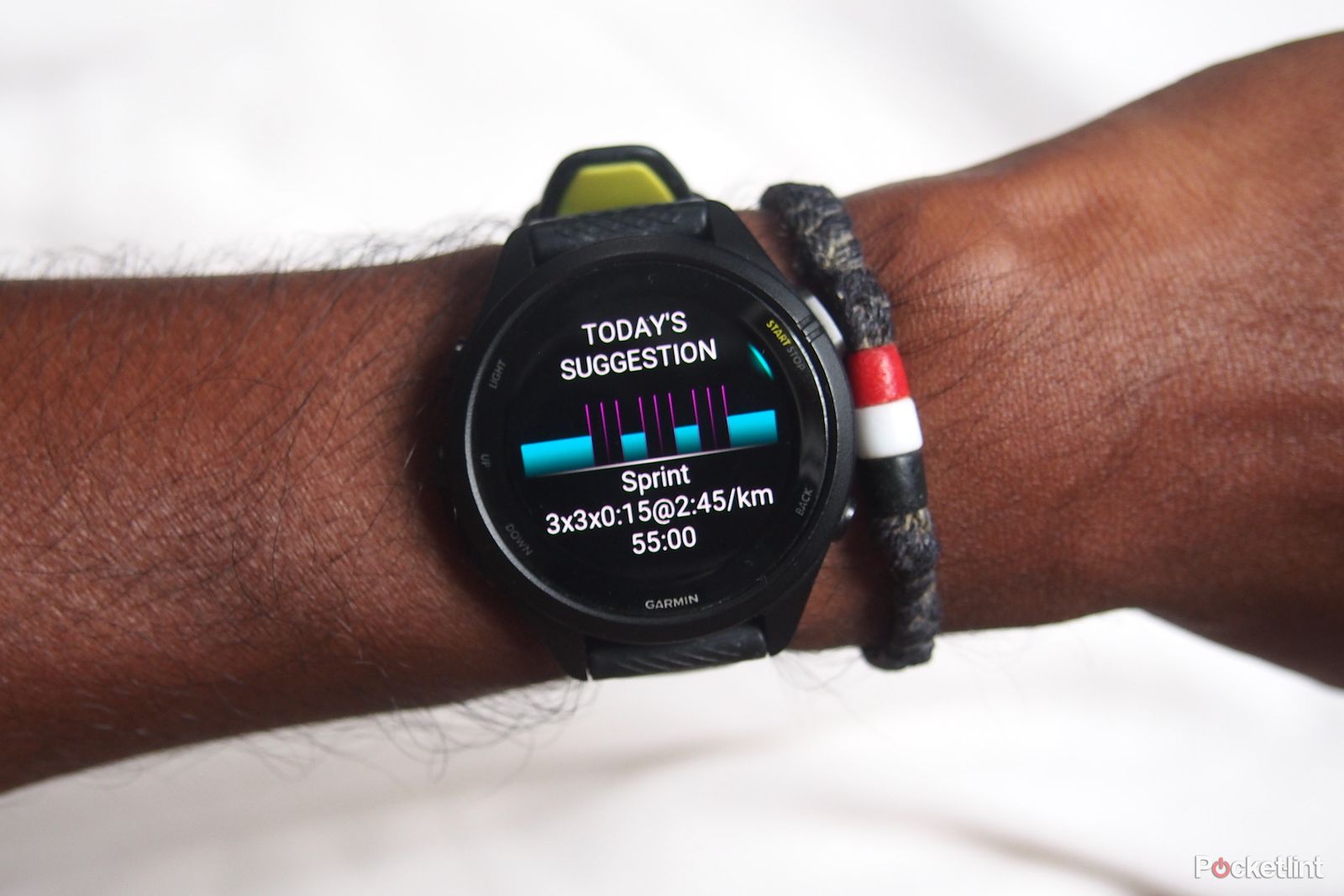 For example, it can suggest workouts each day based on workout history, sync running training plans via Garmin Coach, which adapt based on sessions you manage to complete, it'll recommend ideal recovery time between workouts and predict how quickly you're going to finish a race. As long as you don't take these insights as definitive advice and use them as guidance, particularly as a newcomer to this tracking world, Garmin's suite of insights and training features can be helpful.
To build on making this watch a more useful training companion Garmin has added its Morning Report and Training Readiness Scores. The former is essentially exactly how it sounds. It's a report you see each morning you wake up listing information like sleep data, Training Readiness scores and general things that are coming up in your day. You can customise what those reports show as well. While I found it a bit of a gimmicky feature at first, it's a very simple way to get a better handle of how you should spend your day.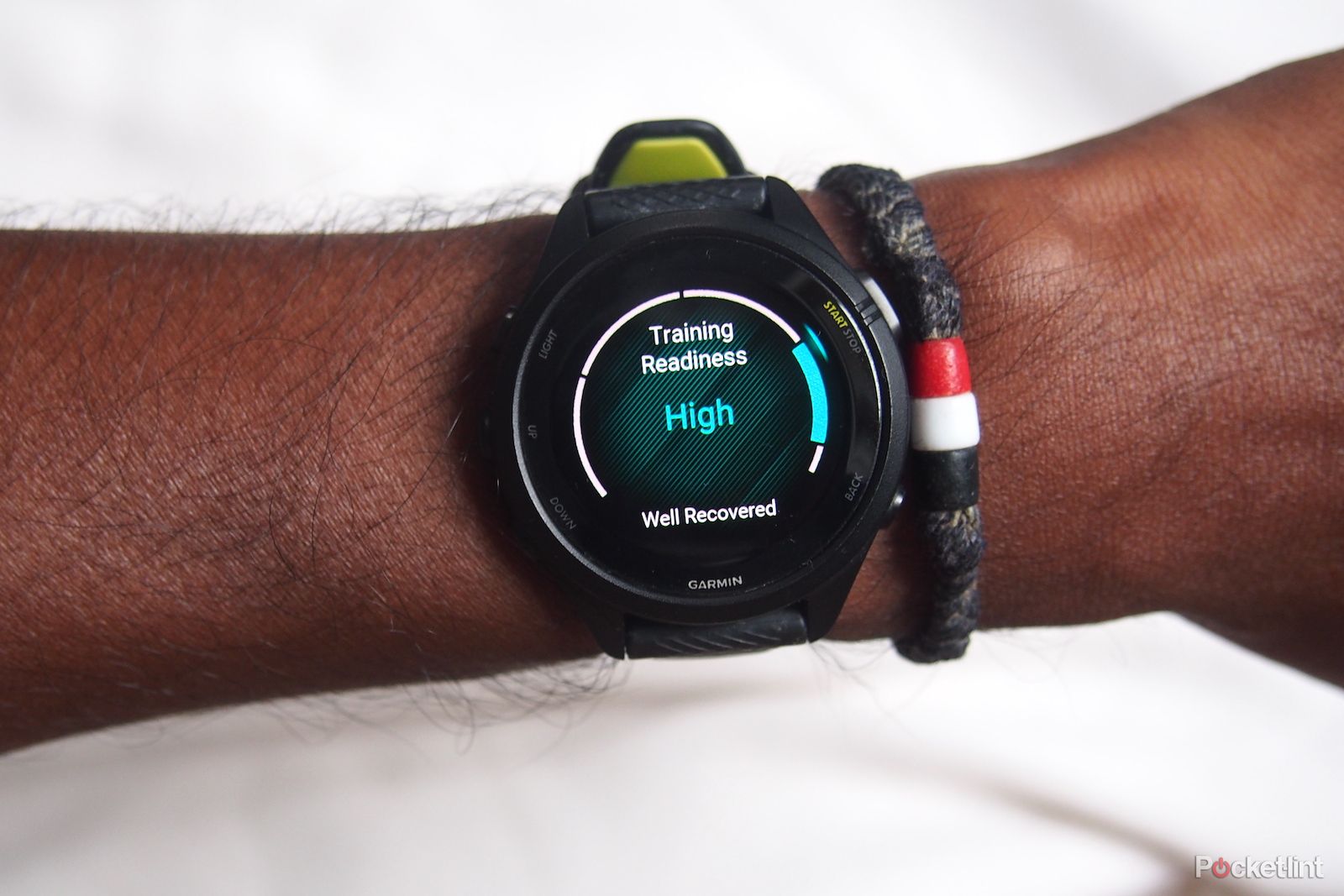 Read more: What is Garmin Body Battery, and how does it work?That also feeds into the Training Readiness scores, which like Fitbit's Daily Readiness scores, wants to tell you if you're in good shape to take on a strenuous day. Garmin looks at information like heart rate variability measurements, which can be used as an indicator of stress, recommended recovery time, sleep history and other factors to generate a Readiness score. So, for example, before I ran a race, my Training Readiness was 100. By the end of it, it was 24. So clearly that activity had a big drain on my reserves. Training Readiness relies on a lot of different pieces of information being accurate to make it wholly reliable though. I'm not sure that's necessarily the case for aspects like sleep tracking, but I do think the Training Readiness does add value to the 265s and can be useful to glance at on a daily basis.
Overall, the 265s is a solid performer on the tracking front and its software features like the Training Readiness scores and improvements on the GPS performance that really standout when you compare it to the 255.
Smartwatch features
Just enough smarts
The introduction of an AMOLED screen on the 265 alone makes it feel more like a smartwatch than its predecessor. It makes reading notifications, accessing the onboard music features and swiping through the watch software a pleasurable thing to do. The smaller screen doesn't make things feel too cramped either.
Garmin has made changes to the presentation of the watch software and brings it in line with other AMOLED-packing watches in its collection. Things just feel more polished and it thankfully doesn't feel like an overwhelming watch to interact with.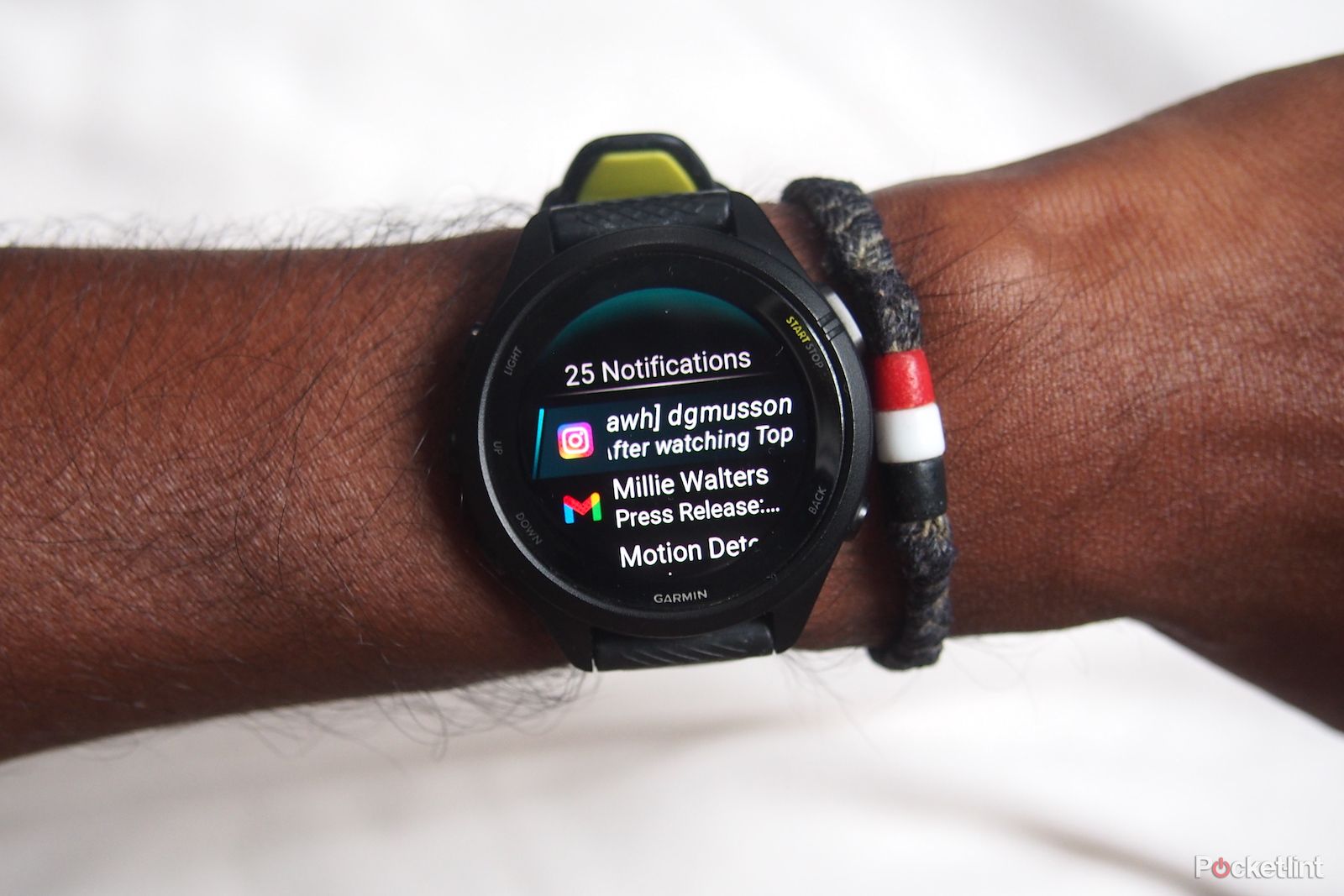 All of the features included on the 255 remain here, with the most notable change being the boost in built-in storage. It's up from 4GB to 8GB, so you have more room to store your own audio files or sync some over from third party apps like Deezer and Spotify. You can do that from the watch over Wi-Fi and while it can take a little bit of time to do, the music player controls are boosted by that touchscreen and I had no issues pairing a bunch of different Bluetooth wireless headphones to it to stream audio on the move sans smartphone.
If you care about apps, you probably won't love what Garmin has to offer. Garmin's Connect IQ Store is no Apple App Store in terms of the number of apps available. You can make contactless payments with it and Garmin does include its smartphone-reliant safety features if you're adventuring on your own to help give it a well-rounded smartwatch experience.
Battery life
A solid week with moderate usage
As with all fitness watches, what you get from the Forerunner 265s in terms of battery life really does depend on what and how you use it. It sounds like an obvious thing to say, but if you're going to keep the screen on 24/7, use the top multiband GPS mode and stream music from it on a regular basis, then you're going to get nowhere near the maximum 15 days that Garmin suggests.
A more realistic way to look at things is to say that the 265s can happily last a week, even if you're using smartwatch features like receiving notifications, using the top GPS accuracy mode for a few times a week and you can live without having the screen set to always-on.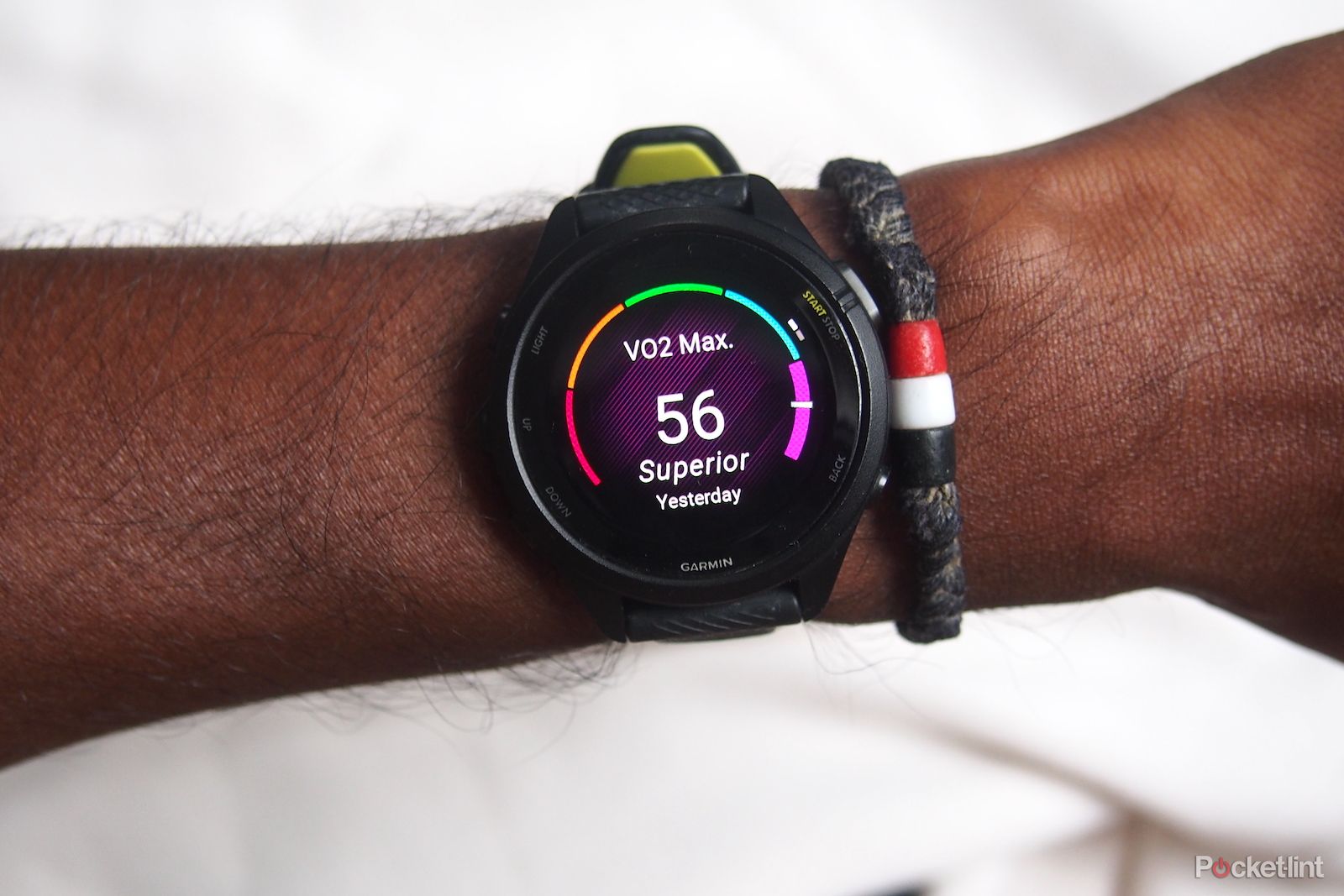 If you do choose to use the 265s with all of its features in use, then you're going to get less than the five days quoted when the screen is set to always-on. It's more like three days.
Yes, you can get 15 days from the 265s, but you'll need to think more carefully about what features you have in regular play.
When it comes to charging, Garmin sticks to the same charging cable it used on the 255, though it switched the USB end for a USB-C one, so it does seem to have a habit of charging a touch quicker than the 255. Perhaps to counteract that the battery will drop a little quicker in comparison.
Verdict
In many ways, the Garmin Forerunner 265s is just the 255 with an AMOLED screen. That might sound a little unimpressive, but it means it's still one of the best sports watches you can buy.
That screen is bright and colourful, and gives it a more smartwatch-y feel in use, along with new training insights and a solid battery life – although that will take a knock with the always-on display, so use with that in mind.
It's considerable price hike since the launch of the 255 can't be ignored, but the performance here pretty much never fails to impress. Runners who have the budget but can't stretch to the Forerunner 965, or don't need its features, won't be disappointed.
Trending Products

.