Reinvent your morning with the sweet and crispy delight of crème brûlée French toast. This dish is a guaranteed crowd-pleaser at any brunch table.
Looking to add a touch of elegance to your breakfast table? You're in the right place. Combining the rich creaminess of French crème brûlée with the comfort of an American breakfast staple, this crème brûlée French toast is an indulgent treat that is sure to delight your family or guests. With a prep time of around 15 minutes and a cooking time of approximately 10 minutes, you'll have a luxurious breakfast ready in no time. The end result should be toast that's creamy on the inside with a crisp, caramelized topping that gives way to a satisfying crunch when bitten into. The recipe yields 8 servings, perfect for a small gathering.
Bread Choices
This recipe calls for challah or brioche. These bread types are recommended for their texture and flavor. Both challah and brioche have a slightly sweet taste and a sturdy structure that holds up well when soaked in the custard. Their soft and fluffy interiors soak up the custard mix well, ensuring every bite is flavorful. If you can't find challah or brioche, Texas toast makes a decent substitute.
Frequently Asked Questions
Can I use different types of bread for this recipe?
Absolutely, while challah or brioche are recommended for their texture and flavor, you can use any type of bread you prefer.
Can I make this recipe dairy free?
Yes! Simply replace the milk with your favorite plant-based milk substitute.
Can I make this recipe without a kitchen torch?
Yes, you can. If you don't have a kitchen torch, you can still achieve the caramelized top. Use your oven's broiler, keeping a close eye on the toast to avoid burning. Alternatively, you can caramelize sugar in a non-stick pan and add the cooked French toast to it for a couple of minutes.
Troubleshooting
Here are a few tips to help you avoid common pitfalls:
If the toast is browning too quickly while cooking, reduce the heat slightly.
If the sugar isn't caramelizing properly under the broiler, try moving the toast closer to the heat source. Remember to watch it closely to avoid burning.
Tips From the Chef
Allow the bread slices to fully absorb the egg mixture to ensure the custard soaks in, but be careful not to let them become soggy.
Keep an eye on your toast when caramelizing the sugar; it can quickly go from beautifully bronzed to burned.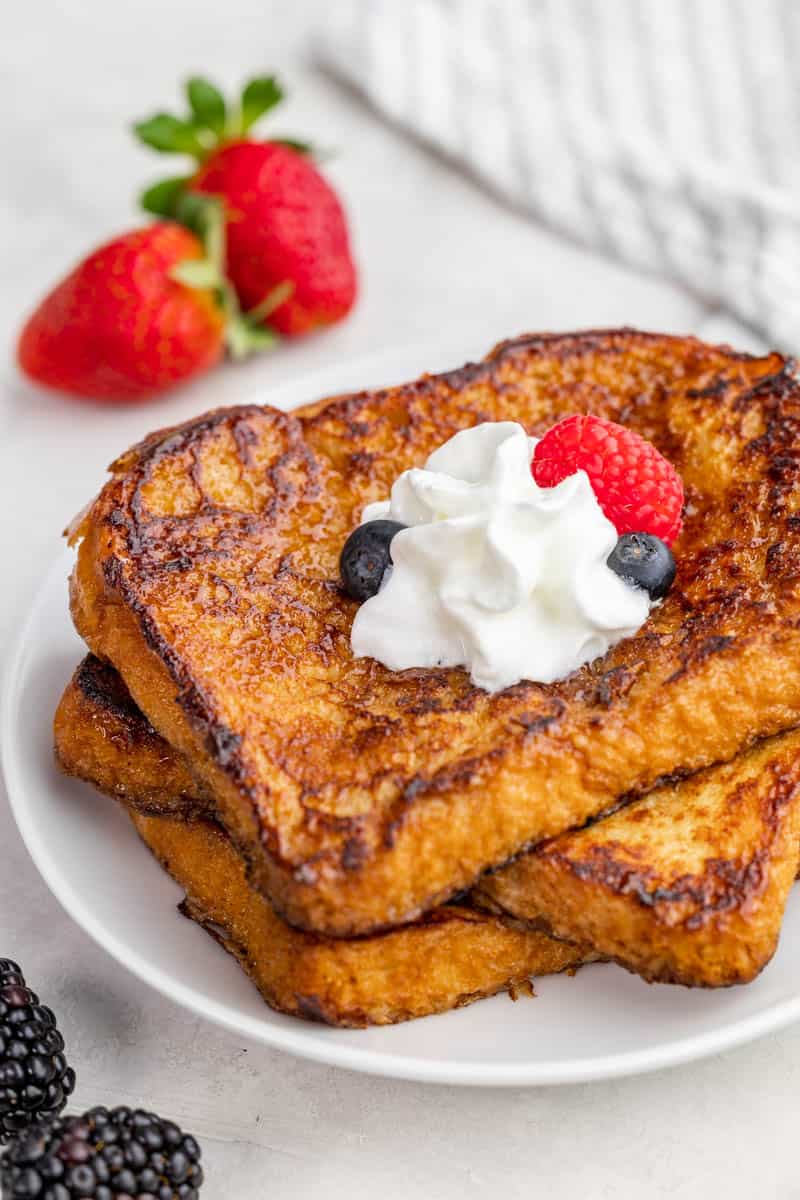 Storage, Freezing, & Reheating Instructions
French toast is best served fresh. To store any leftovers, let the toast cool completely on a wire rack before storing in an airtight container in the fridge for up to 3 days. Reheat in the microwave on high for about 1 minute per slice until warmed through or toast in a toaster for a crispy exterior.
For longer storage in the freezer, place your cooled French toast in a parchment paper-lined baking sheet. You can stack the French toast with a sheet of parchment paper in between each layer. Freeze until solid, then transfer to a resealable plastic freezer bag for long-term storage.
Remember to brûlée the top again after it's reheated to regain that delightful crunch.
More Mouthwatering French Toast
Trending Products

.