Elevate your pizza night with a delightful blend of chicken, bacon, ranch, and cheesy goodness.
Chicken bacon ranch pizza is not just any ordinary pizza; it's a culinary delight that melds together a medley of flavors. This pizza brings together the smoky undertones of bacon with tender chicken pieces, all harmonized by the creamy tang of ranch dressing. As these ingredients come together on a crisp crust, you're left with a pizza that's both comforting and uniquely flavorful. Ideal for both weekend dinners and special occasions, this pizza is a treat for all ages.
Frequently Asked Questions
Can I make a larger pizza with this recipe?
Yes, you can adjust the quantity of the ingredients accordingly, but the given recipe is designed for a 12-inch pizza.
What if I don't have both types of cheese?
No worries! You can use either mozzarella or cheddar alone. Just ensure you have a total of 2 cups of cheese.
Can I add other toppings?
Absolutely. Feel free to add veggies like red onions, bell peppers, diced tomatoes, olives, or mushrooms to customize it to your liking.
Can I make this vegetarian/vegan?
Absolutely! Substitute the chicken with plant-based chick'n strips, found in the plant-based frozen section of your grocery store. Vegan bacon is available at many stores, and dairy-free cheeses can melt just as delightfully as their dairy counterparts. And remember, many ranch dressings are already vegetarian-friendly, but vegan versions are also available.
What if I don't have a pizza stone?
Don't worry about that pizza stone if you don't have one. Go ahead and use a large baking sheet if needed.
The Art of the Crust
The foundation of any great pizza is its crust. Whether you prefer a thick, doughy base or a thin, crispy layer, the choice of crust can significantly influence the pizza's final taste and texture. For those new to pizza-making, rolling out dough can be a bit challenging. The key is to let the dough come to room temperature first. It will become more pliable, making it easier to stretch without tearing. If you're keen on exploring different crusts, consider whole wheat for a nuttier flavor or a gluten-free version if dietary restrictions apply.
Want to make your own pizza dough? We have a few recipes to consider!
Sauce Variations
While ranch dressing is the star of this pizza recipe, don't be afraid to get creative. A mild garlic white sauce or a creamy pesto can also enhance the flavors of the chicken and bacon. Experimenting with various sauces can lead to delightful flavor discoveries!
Substitutions
Ranch Dressing: If you're out of ranch, consider using a garlic aioli or Caesar dressing.
Bacon Crumbles: Turkey bacon or even prosciutto can be a healthier alternative.
Tips From the Chef
Allow the pizza dough to come to room temperature before rolling. It'll be easier to handle.
Use a pizza stone if available, as it helps in even cooking of the crust.
If adding veggies, lightly sauté them beforehand to release excess moisture, ensuring a crisp crust.
Layer ingredients evenly to ensure every bite is flavorful.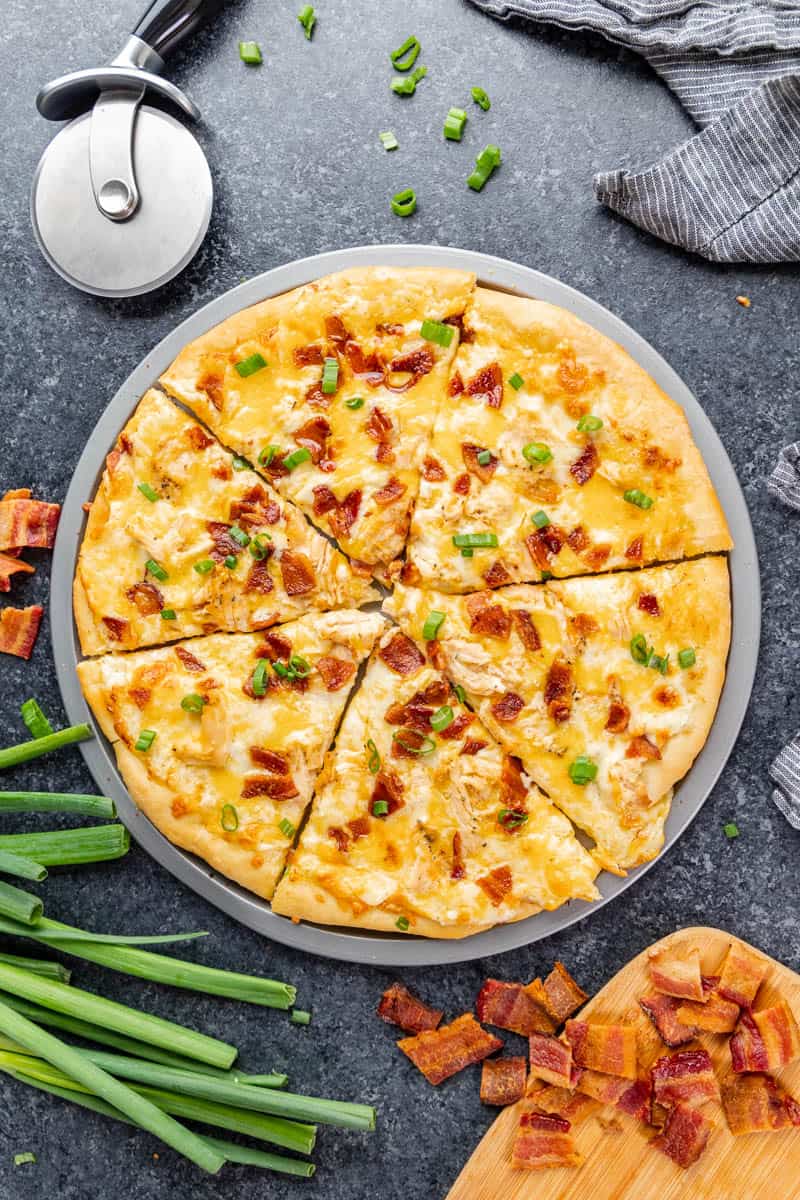 Storage & Reheating Instructions
Store any leftover pizza slices in an airtight container or zip-top bag in the refrigerator for up to 3 days. When you're ready to reheat, preheat your oven to 375°F and bake for 7-10 minutes or until heated through. For longer storage, you can freeze individual slices wrapped in plastic wrap and foil for up to a month. To reheat from frozen, bake at 375°F for 12-15 minutes.
Trending Products

.