Nocturne, the new successor series to Netflix's excellent animated Castlevania adaptations, plays with its legacy in some truly smart ways—both as a successor show metatextually, and narratively as its heroes navigate being part of a generational supernatural conflict. But one of its greatest moments is a fascinating mirror to one in the original series, and both stem out of a love for the games' legendary soundtracks.
Favorite Vampires in Media | Jacob Anderson & Sam Reid
The sixth episode of Nocturne, "Guilty Men to Be Judged," sees new protagonist Richter Belmont (Edward Bluemel) literally and figuratively confront his place in the lineage of the Belmont family when he is brought face to face with his long-presumed-dead grandfather, Juste Belmont (Game of Thrones' Iain Glen). Having just fled from a confrontation that brought him up against the vampire who killed his mother, Olrox (Westworld's Zahn McClarnon), Richter and Juste have similar parallels in this moment, at their lowest and both alike haunted by the loss of Julia Belmont. Richter watched his mother murdered right in front of him as a child, and Juste witnessed his daughter growing more distant until she left Europe for the Americas, never to see him again.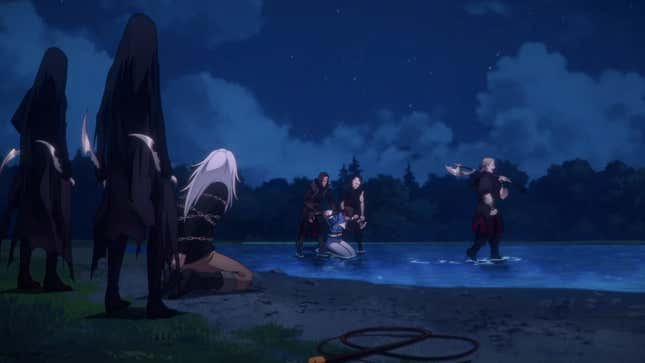 As both men, one young and too brash for his own good and the other old and tired of the legacy he left behind, awkwardly begin to grapple with their connection to both each other and their larger place in the Belmont clan—and, through Castlevania's Sypha Belnades, their inheritance of magical abilities both now struggle to tap into—they find their moment of burgeoning peace disrupted when a group of vampires catches them unawares. Richter, already wracked with self-doubt having run from Olrox, is quickly subdued, and Juste, well beyond his days as a vampire hunter, is brought in front of him in chains just to amplify that doubt even further. But when one of the vampire hunters mocks that the allies and loved ones—Maria, her mother Tera, his new comrade Annette—Richter left behind when he ran away are going to be slaughtered, something in the young man snaps, and in a scream of anguish and anger, he is wreathed in divine blue flames. The magical side of his lineage that he had long struggled to embrace since his mother's death has reawakened.
It's Richter's big heroic moment of the whole season—it's where he dons his iconic bandana from the games for the first time, it's the first time we truly get to see him unleashed with the flair and power of his far-flung descendants Trevor and Sypha for the first time. He becomes an unstoppable force of martial and magical prowess, incinerating his foes in a blue inferno, blocking blows and staking vampires with ice magic summoned around his fists—Belmont and Belnades in one, a vampire hunting powerhouse coursing with magical mastery. It's arguably the most sumptuously animated moment of action in all of Nocturne, and it is of course the moment where, for the first time in the show, Trevor Morris and Trey Toy's soundtrack embraces a triumphant leitmotif from Castlevania's gaming history: "Divine Bloodlines."
Castlevania Rondo of Blood Music – Bloodlines
First appearing as the soundtrack for the opening stage of Castlevania: Rondo of Blood—first released as Castlevania: Dracula X in the West on the SNES in 1995—and composed by Akira Sōji, "Divine Bloodlines" became Richter's de facto theme in the Castlevania franchise, and one of the series' most famous melodies alongside the likes of "Vampire Killer" and "Bloody Tears." It's the latter that "Bloodlines" shares the honor of being leveraged in Powerhouse's animated adaptations with, after it was used at the climax of the show's second season to track Trevor, Sypha, and Alucard's assault on Dracula's castle. But the parallel goes well beyond the fact they're both two of the most kickass sequences in their respective series that just so happen to use Castlevania video game music. They are both vital moments in their respective heroes' journeys that see them embrace their connections, to their families and loved ones, to their histories and their places in it, to overcome overwhelming odds and be forged into the legends they were destined to be.
It's fitting, perhaps, that "Bloodlines" is invoked as Richter finally taps into the magical side of his family history through Sypha's mighty abilities as a Seeker, paralleling his descendant's moment of coming into her own during Castlevania season 2's "Bloody Tears" sequence, the first time we really saw just how masterful she could be with her spellslinging. It's a connection on multiple levels—not just to Sypha, but to Juste, who both in Nocturne and in the games was noted as a particularly magical savant among Belmonts, inspired by the Belnades bloodline—to that generational legacy Nocturne makes key to its characters. But it's also a parallel to the moments in their journeys that Richter, and Trevor and Sypha before him, found themselves on at the time this musical lineage was called upon.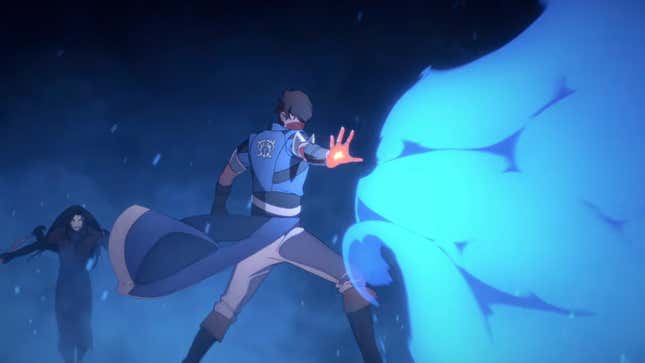 Up to this point in Nocturne, Richter's understanding of the Belmonts' history was treated with the brash dismissal of a young, headstrong man: he knew he could fight vampires, he knew he was good at it, and that's all that mattered. Largely unaware of the extent of the supernatural threat his family had fought for hundreds of years, Richter was content to isolate himself and his feelings, compartmentalize the traumatic death of his mother, and largely remain uncaring about his status as the supposed last descendant of the Belmont Clan. Similarly, Trevor, Sypha, and Alucard had all spent much of Castlevania's second season wracked with their own doubts and isolation in regards to their legacies—Trevor's with the disgraced Belmonts, Sypha having left her fellow Seekers behind, and Alucard with having to work with the inheritor of a family that exterminated his kind to slay his grief-stricken father.
It's only truly in these moments of cathartic climax—both scored by a connection to Castlevania's wider metatextual history—that Nocturne and Castlevania's heroes realize that their strength is their bonds with the people closest to them, an embrace of the connection to these grand bloodlines, divine or otherwise, that can make them into the best versions of themselves. Just as "Bloody Tears" orchestrated a moment of Trevor, Sypha, and Alucard coming into their own as a unit, carving their way through Dracula's hordes after a season of disunity, "Divine Bloodlines" becomes the anthem that sees Richter realise his own power, not just from his ancestors, but in the love he has for the people in his life.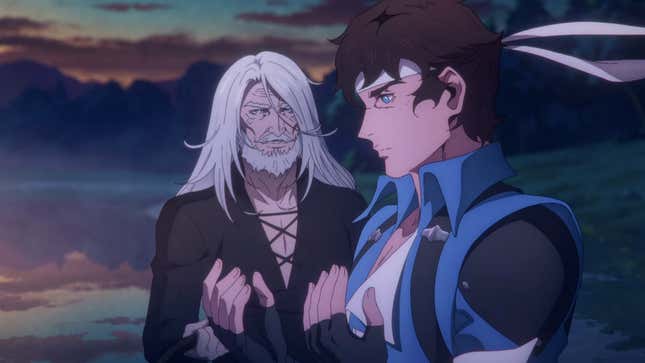 As the dust settles and the divine blue flames flicker out in the last moments of "Guilty Men to Be Judged", the shredding guitars of Toy and Morris' take on "Divine Bloodlines" give way to a mournful, choral rendition of the motif, and Richter and Juste contemplate what just unfolded. "I don't know," Richter tells his grandfather of how he suddenly found himself wielding the magical might of the Belmont and Belnades bloodline so adeptly. "Because it had to? I have to live… there are people I love," he realizes, re-affirming that the strength he found in recognizing this anew. Just as Trevor, Sypha, Alucard had done so before him, Richter finally understands that sharing his life with others, both through his clan's legacy and through the people around him, is just as powerful a strength as any martial tool or the braggadocio of youth can be. That they all do so in a paralleled connection to, and love of, Castlevania's musical history is one of Nocturne's smartest, and most rewarding, explorations of its place in the series' own animated bloodline
---
Want more io9 news? Check out when to expect the latest Marvel, Star Wars, and Star Trek releases, what's next for the DC Universe on film and TV, and everything you need to know about the future of Doctor Who.
Trending Products

.