Straying from the typical slab smartphone form factor, the folding phone market is brimming with competition in 2023. Taking it back to the classic clamshell design of the 2000s, Samsung has yet again developed a folding phone worth attention – and possibly your investment-Galaxy Z Flip 5. In our review, we found the Flip 5 an impressive and adorable "delight" to use with its larger exterior display, even despite the otherwise irrative design.
Related: Best Black Friday phone deals
And if you do decide to buy a Z Flip 5 – especially now that Black Friday discounts are starting to roll in – investing in a case is also a good idea. A case can go a long, long way towards achieving any of several goals you might have, including catching some eyes, giving you some dexterous versatility, or mitigating the worst possibilities of a fall. We've got a few recommendations on what you'll want to get.
Best Galaxy Flip 5 cases: Our recommendations
Caseology 

Caseology Parallax for Galaxy Z Flip 5

Best case overall

For that extra bit of tactility and visual intrigue, we recommend Caseology's Parallax case for your Flip 5. The diamond texturing pattern will make anything pop, even if the three color options are muted. Raised bezels are meant to keep your hardware from hitting the floor.

Torro 

Torro Leather Case for Galaxy Z Flip 5

Best leather-like case

Torro's got cowhide if you want it. American-sourced leather with a microfiber inner lining gives your Galaxy Z Flip 5 a refined accent that people will notice. Beyond the look, there's the feel that will change as time goes on.

Samsung 

Samsung Silicone Case (Flip 5)

Best stylish case

Samsung has a variety of cases for the Flip 5, and the one we love most is the simple silicone case with a ring attachment. It comes in five colors. If you're more about improving handling around the phone, this is your choice.

Casetify 

Casetify Multiverse Sticker Case for Galaxy Z Flip 5

Best case for Rick and Morty fans

Aside from protection, cases are a great opportunity to add some personality to your phone. This case from Casetify is a great option if you're a Rick and Morty fan with fun stickers of your favorite characters on its protective shell.

i-Blason 

i-Blason Armorbox case for Galaxy Z Flip 5

Promoted pick

In partnership with i-Blason

Rugged, multi-functional, and sleek, the i-Blason case is made of durable material to protect raised bezels, comes with a built-in screen protector, and a folded kickstand. While on the pricier side, it promises multi and long use.

UAG

UAG Plyo Pro Case (Flip 5)

Most durable case

The Plyo Pro for the Galaxy Z Flip 5 has drop protection with durable shock-absorbing material and raised bezels – good enough for the coveted MIL-STD-810G rating. If you don't always take care of your phones, this is the case to get. There's even support for magnet-attaching accessories built in.

Supcase 

Supcase Unicorn Beetle Pro Rugged Case for Galaxy Z Flip 5

Promoted pick

In partnership with Supcase

Made of shock-absorbing TPU, Supcase's rugged shell protects the Z Flip 5's external and internal screens. Additionally, the case is wireless charging compatible and comes with a built-in belt clip.

Caredoctor 

CAREDOCTOR for Samsung Galaxy Z Flip 5 Case

Best budget case

Simple, no-nonsense protection. Caredoctor's case is a thin case at just 1.5mm thick and subtle in its design with a matte finish. Sleek and simple, it also boasts a protective build, and at under $20, it's a great budget-option to help protect your pricey handset.
Our picks for the best Galaxy Z Flip 5 cases: the bottom line
When it comes to getting the best of all worlds, we think it's got to be Torro's leather case for the Galaxy Z Flip 5. Not only won't it break the bank at $25, but the ever-evolving feel of leather will elevate your experience using the phone over time. It also has an inner microfiber lining that should keep crumbs and dust out of any potential ingress points. If leather isn't your thing, we've got other options all along the spectrum.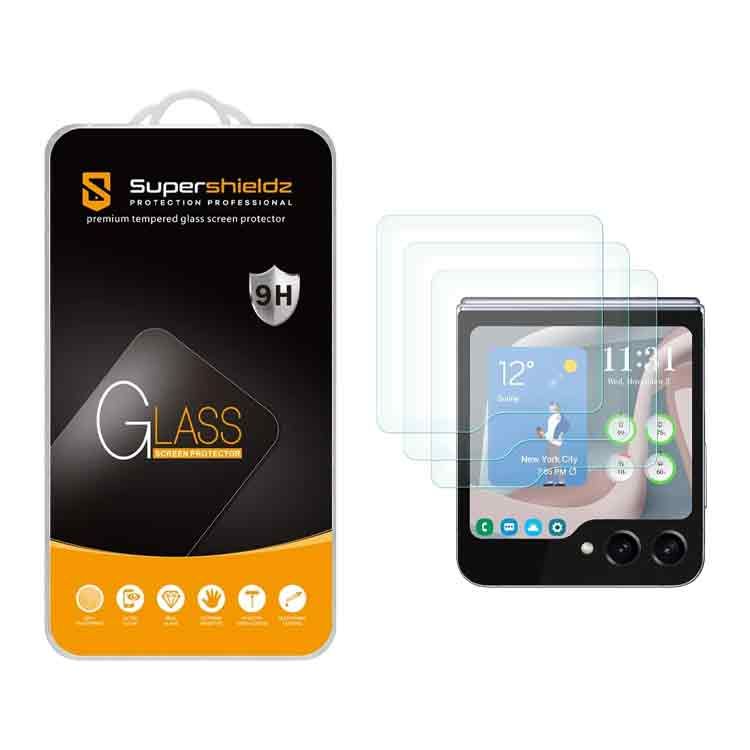 Supershieldz Screen Protector for Samsung Galaxy Z Flip 5
$8.99 $29.99 Save $21
We're slipping in a suggestion that you get a screen protector for your Flip 5 – specifically for your cover display – and these ones from Supershieldz will do just fine. With a lot of exposed surface in such a small area, the damage risk is greater when it comes to drops. 
Whatever you choose, we strongly recommend getting a screen protector for the Galaxy Z Flip 5 too – or at the very least, for its cover display. That surface gets the most exposure out of any, so you'll want to make sure it can survive the ups and downs of your life, day in and day out.
Will my older Galaxy Z Flip case fit my Galaxy Z Flip 5?
No. The Flip 5 features a new, larger cover display design that greatly expands its real estate from a 1.2-inch diagonal span to 3.6 inches. It also has some unique geometry that would make it difficult to "hack" your old case if you're clever enough to try it.
And if that wasn't enough, there's a new hinge design that lets the foldable display clap completely shut as opposed to previous generations. Accessory manufacturers will usually incorporate tight tolerances into their cases – especially if it's meant to be a protective case – so you probably won't get too far with that Flip 4 or Flip 3 case.