RTX 4090 laptops deliver exceptional performance, especially for gaming or resource-intensive tasks like 3D rendering. While the laptop version of the RTXk 4090 may not quite match the performance of its desktop counterpart due to the limitations of heat and power, it still reigns supreme in the realm of mobile power.
Related: Tips to get the most out of your new Nvidia RTX GPU
We've selected the best Nvidia RTX 4090 Laptop GPU from 2023 for both gaming and high-end creative use, keeping in mind the machine's power, upgrade options, refresh rate, and overall performance. The Asus ROG Strix Scar 18 wins our pick for the best overall as it especially excels in these areas while delivering powerful cooling so that even though you're on fire during a game, your laptop isn't.
Best RTX 4090 laptops: Our top choices
ASUS ROG Strix Scar 18
1. Best RTX 4090 laptop overall
An 18-inch laptop with great cooling and plenty of upgrade options
Asus ROG Strix Scar offers the highest TGP version available in a gaming laptop.
Pros
Lots of RAM & SSD upgrade options
Immersive 18 240Hz 1600p display
Good cooling
The Asus ROG Strix Scar 18 is the pinnacle of the Asus gaming laptop collection. With the option to equip the powerful RTX 4090 laptop GPU, this model offers the highest TGP version available on a gaming laptop. When paired with the mighty Intel Core i9-13980HX CPU from the esteemed Intel 13th gen laptop range, the laptop delivers unrivaled single-core and multi-core performance.
Related: Best rugged laptops: Tough machines for extreme conditions
While its 18-inch screen size may not make it the most portable option, it guarantees an unmatched level of game immersion and maximum screen real estate when working. The 240Hz 1600p screen perfectly balances high resolution and speed, catering to both slower-paced, immersive games and competitive twitch shooters.
Additionally, the 5.5ms average gray-to-gray response time minimizes ghosting for a seamless visual experience. Although the Asus ROG Strix Scar 18 has a higher price tag, it is undeniably the ultimate powerhouse you can find.
MSI Raider GE78 HX 17.3′ Gaming Laptop
2. Best 17-inch RTX 4090 laptop
Highly upgradable RAM and SSD for customization
MSI Raider GE78 HX 17.3 has an incredible performance and lightning-fast refresh rate.
Pros
Good port coverage and build quality
Mighty GPU & CPU
Dynamic color replication
Cons
Heavy
Poor battery life
Expensive
The MSI Raider GE78 HX 17 is the ultimate gaming laptop with a powerful RTX 4090 graphics card and a cutting-edge Intel Core i9-13980HX processor. MSI Raider GE78 HX 17 sports a stunning 17.3-inch display with a high 240Hz refresh rate and 1440p resolution for a truly immersive gaming experience.
Related: Best RTX 4070 laptops: PC expert tested and reviewed
With its incredible performance and lightning-fast refresh rate, you'll have the advantage of any online competitive shooter. Though larger and weighing 6.83lbs (3.1kg), the MSI Raider GE78 HX 17.3 prioritizes power and performance over portability.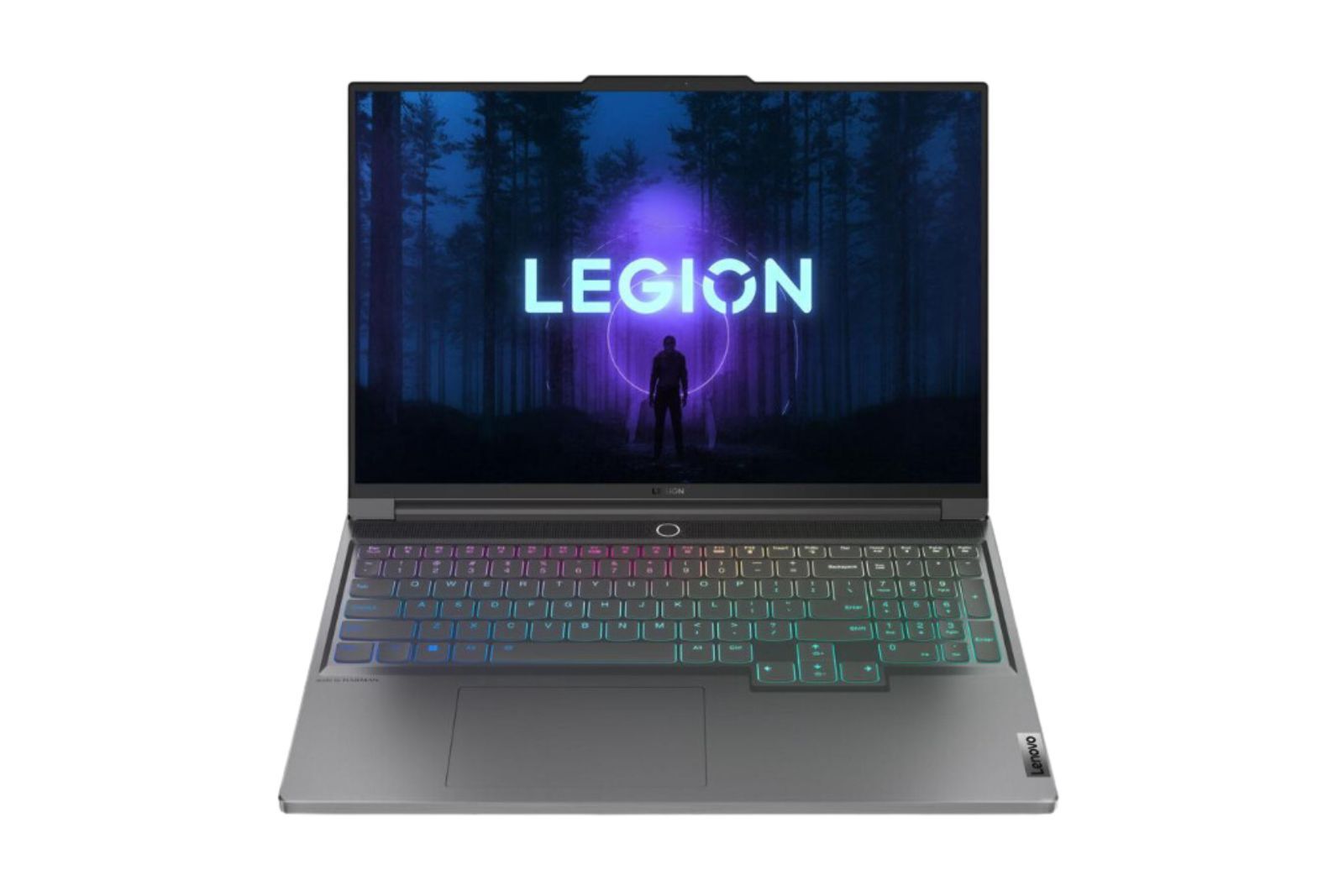 Lenovo
Lenovo Legion Pro 7i Gen 8
3. Best budget RTX 4090 laptop
Subtle design, which strays from the typical 'rugged' gaming laptop look
$1900 $2300 Save $400
Lenovo Legion Pro 7i has a full HD webcam, and it's an affordable PC in its category.
Pros
Full HD webcam with extra features
Relatively affordable in its category
Bright and colorful 240Hz display
Comfortable keyboard with RGB extras
Generous port selection
Cons
Lacks good battery life
Noisy fans under heavy load
The Lenovo Legion Pro 7i (Gen 8) is our top choice for the best price for specs RTX 4090 laptop. While it may not possess a perfect battery life or the option for a 4K display, it's outstanding build quality and functional design more than make up for these minor drawbacks. It does have some rough edges, including the screen brightness and underwhelming sound system, but it excels in it's smooth refresh rate and strong performance.
Related: Best gaming mice: Expert-tested and reviewed
This laptop offers a complete package with a plethora of ports for convenient cable management, a high-definition 1080p camera, exceptional sound from the speakers, and customizable RGB lighting.
Lenovo Legion Pro 7i's 13th Gen Intel Core i9-13900HX processor rivals a desktop setup in terms of performance.
Additionally, it boasts up to 32GB of DDR5 RAM and 2TB of M.2PCIe 4.0 NVMe SSD storage, split between two drives. Here at Pocket-lint we reviewed the RTX 4070 version, Lenovo Legion Slim 7i, and found it to be a solid machine, with impressive hardware fit into a portable package. Given the Pro version didn't need to prioritize slim size and travel first and foremost, we're excited to see the great specs on this machine.
Our thorough inspection of this PC revealed good build quality, incredible speed, and a tall display that enhances productivity beyond gaming. Unless a built-in 4K display is necessary, the Lenovo Legion Pro 7i offers the perfect balance of performance, features, and affordability.
Razer Blade 18 Gaming Laptop (RTX 4090)
4. Best premium RTX 4090 laptop
Beautiful display stands out
High-end gaming laptop with premium features and desktop-class performance, ideal for gaming enthusiasts and professionals.
Pros
Connectivity options are decent
Great build quality
Large and gorgeous QHD+ display
Cons
The keyboard layout is very conservative
It's a little too large and cumbersome
CPU and GPU power is slightly wanting in configuration compared to competitors
The Razer Blade 18 is our premium pick RTX 4090 laptop. This powerful device takes gaming and workflows to the next level with its desktop-class performance, ensuring an exceptional experience for modern gamers and professionals. Despite its sleek dimensions, measuring just 0.86 inches (21.9mm), the Razer Blade 18 allows the RTX 4090 to operate up to a 175W TGP. This delivers maximum mobile performance.
You can choose from two impressive processing power options, the 13th-gen Intel Core i9-13950HX or i9-13980HX CPU, based on your specific requirements. Additionally, you'll find numerous RAM and SSD options to choose from. This provides ample storage and memory for all your needs.
The 18-inch QHD+ display is housed in a chassis resembling a 16-inch laptop. Its 240Hz refresh rate seamlessly accommodates the power of the RTX 4090 to ensure smooth gameplay and exceptional visuals.
Related: Best external PS5 storage: How to pick up an SSD or HDD for your console
You can immerse yourself in high-quality sound with the six speakers and three smart amps, even when not using a gaming headset. The 5MP camera serves dual purposes, allowing for streaming content and providing added security with its IR capabilities. With Razer Blade 18, you can experience the pinnacle of performance and versatility, the ultimate laptop for gaming enthusiasts and professionals seeking a powerhouse device.
ASUS ROG Strix Scar 16 Gaming Laptop
5. Best Mini-LED display RTX 4090 laptop
Smaller model of our overall pick
The Asus ROG Strix Scar 16 is made for high-end gamers with its 13th-gen Intel Core i9-13980HX CPU and an Nvidia RTX 4090 laptop GPU running at 175W.
Pros
Superb Mini-LED 240Hz display
Cool semi-transparent design
Competitive graphics performance
Cons
Unimpressive 720p webcam
Plastic construction isn't worth the price
The Asus ROG Strix Scar 16 is designed for high-end PC gaming with the 16-inch Nebula HDR Mini-LED display. Its 2560 x 1600 (QHD+) resolution, 16:10 aspect ratio, and impressive 100 per cent DCI-P3 color coverage deliver stunning visuals. The display also features a blazing 240Hz refresh rate, a speedy 3ms response time, and built-in G-Sync technology. With 512 local dimming zones, the Mini-LED tech provides outstanding color and contrast, a peak brightness of 1,100 nits, and compatibility with VESA DisplayHDR 1000/Dolby Vision HDR.
Related: What is Thunderbolt 3 and Thunderbolt 4? Features, speeds and future of USB-C port technology
The Asus ROG Strix Scar 16 is powered by a 13th-gen Intel Core i9-13980HX CPU and a Nvidia RTX 4090 laptop GPU running at 175W. This makes the laptop deliver unbeatable speed and power. With 32GB of DDR5 RAM and a spacious 2TB M.2 PCIe NVMe SSD storage, you'll have all the space and memory you need for your gaming adventures.
Regarding connectivity, the Asus ROG Strix Scar 16 offers Thunderbolt 4 and HDMI 2.1 ports. This ensures compatibility with modern devices and accessories. The keyboard has per-key RGB lighting, allowing you to customize and personalize your gaming experience. Although the laptop features a 720p camera, it makes up for its impressive quad-speaker setup and Dolby Atmos technology, which delivers immersive and high-quality audio.
GIGABYTE AORUS 17H
6. Best value for price RTX 4090 laptop
Wallet-friendly for fabulous speed and battery
$1749 $2500 Save $751
The Aorus 17.3 has the Windforce Infinity Cooling System, which keeps the laptop excellent during intensive tasks.
Pros
Powerful GPU & CPU
Excellent battery life
Unbeatable price for an RTX 4090 laptop
Cons
Plastic build
Only 720p webcam
The Gigabyte Aorus 17.3-inch with Intel Core i9-13950HX CPU is one of the most affordable gaming laptops. Aorus 17.3-inch comes with NVIDIA GeForce RTX 40 Series Laptop GPUs. These GPUs are powered by NVIDIA DLSS 3, which enhances the visual quality of games. This laptop has the latest Windows 11 Home operating system and provides a smooth and user-friendly experience.
Aorus 17.3's ultra-efficient Ada Lovelace architecture and Max-Q technologies ensure optimal performance and power efficiency. The laptop has up to a 13th Gen Intel Core i7 Processor H-Series, which delivers processing power for multitasking, gaming, and content creation. The large 17.3-inch 16:9 QHD has a high 240Hz refresh rate and a 2560 x 1440 resolution, which provides smooth and immersive visuals.
The Aorus 17.3 features the Windforce Infinity Cooling System, which keeps the laptop excellent during intensive tasks. This advanced cooling system ensures efficient heat dissipation, allowing prolonged and uninterrupted use even during demanding tasks. The MUX Switch Technology is another notable feature within this PC that allows you to switch between integrated and discrete graphics modes. This will enable you to prioritize performance or power efficiency based on your needs.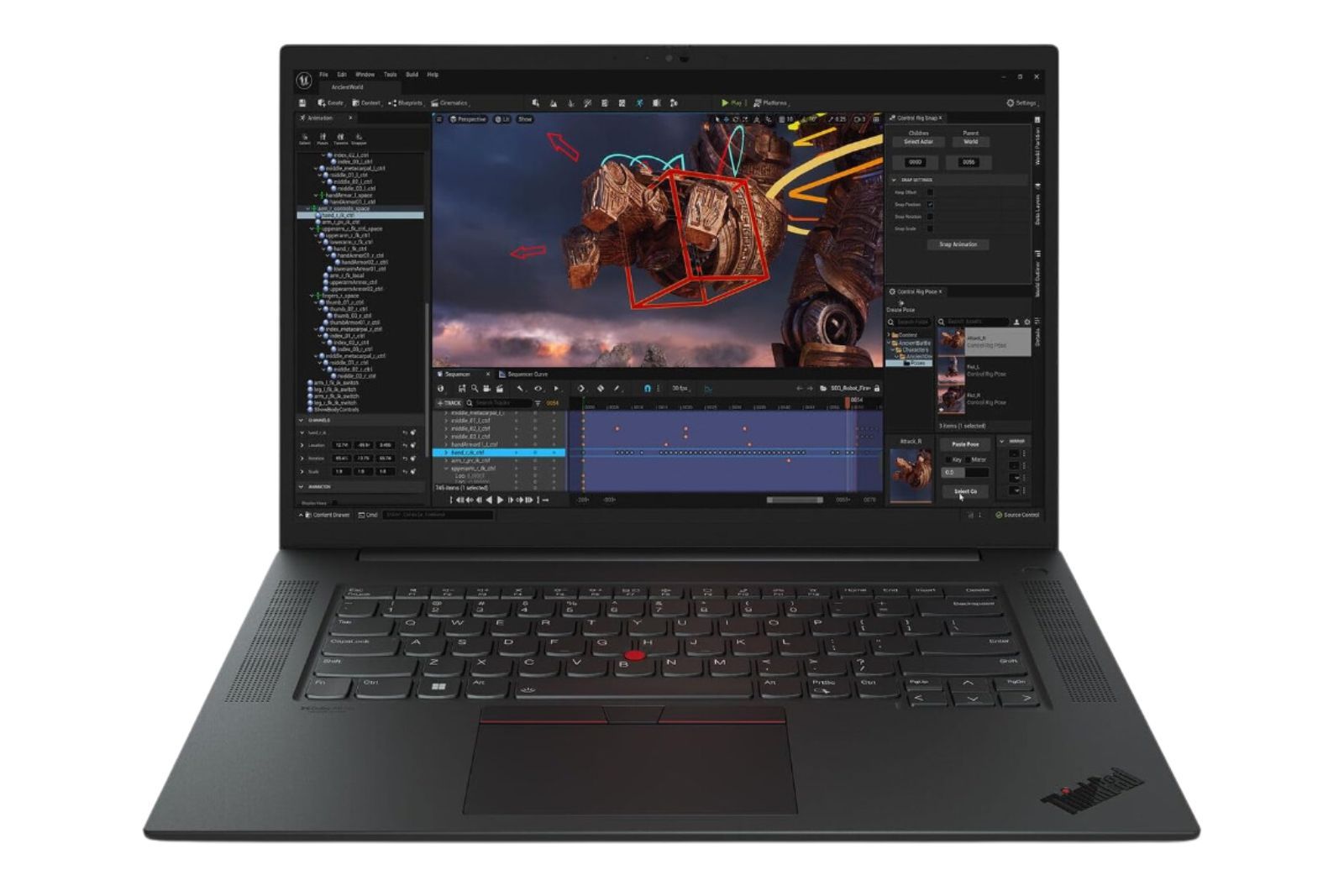 Lenovo
Lenovo ThinkPad P1 Gen 6 Laptop
7. Best RTX 4090 laptop for business
Specialized performance for working professionals
The 2023 edition of Lenovo's ThinkPad P1 (Gen 6) is a workstation laptop designed with a focus on enhanced mobility over maximizing performance.
Pros
Up to a gorgeous 4K OLED display
Tons of available performance overhead
Up to a 5MP webcam, human presence detection
Cons
The touchpad has a rattle
Battery life is understandably limited
Cross performance is a fantastic quality if you are looking to purchase a machine that does more than just gaming. The 2023 edition of Lenovo's ThinkPad P1 (Gen 6) focuses on providing exceptional mobility without compromising performance. Its sleek and thin design, optional 4G LTE connectivity, and stunning 4K OLED display cater to professionals who prioritize a portable device.
Equipped with the powerful RTX 4090 Laptop GPU, you can enjoy up to 5TB of storage, 96GB of RAM, and a Core i9-13900H vPro CPU for impressive performance. The ThinkPad P1 (Gen 6) surpasses our expectations with its UHD+ OLED touch display, offering impeccable color accuracy with 100 per cent sRGB, 98 per cent AdobeRGB, and 100 per cent DCI-P3 color reproduction. Additionally, there's an option to select either a FHD+ or QHD+ display if you are shopping on a tighter budget.
During our performance testing with the RTX 4080 GPU and Intel Core i7-13800H, the ThinkPad P1 (Gen 6) exhibited minimal throttling despite its slim and durable construction. Its ability to maintain cool temperatures further solidifies it as one of the top mobile workstations. Whether you're a busy professional on the go or a creative person who values power and portability, the Lenovo ThinkPad P1 (Gen 6) is the ideal choice.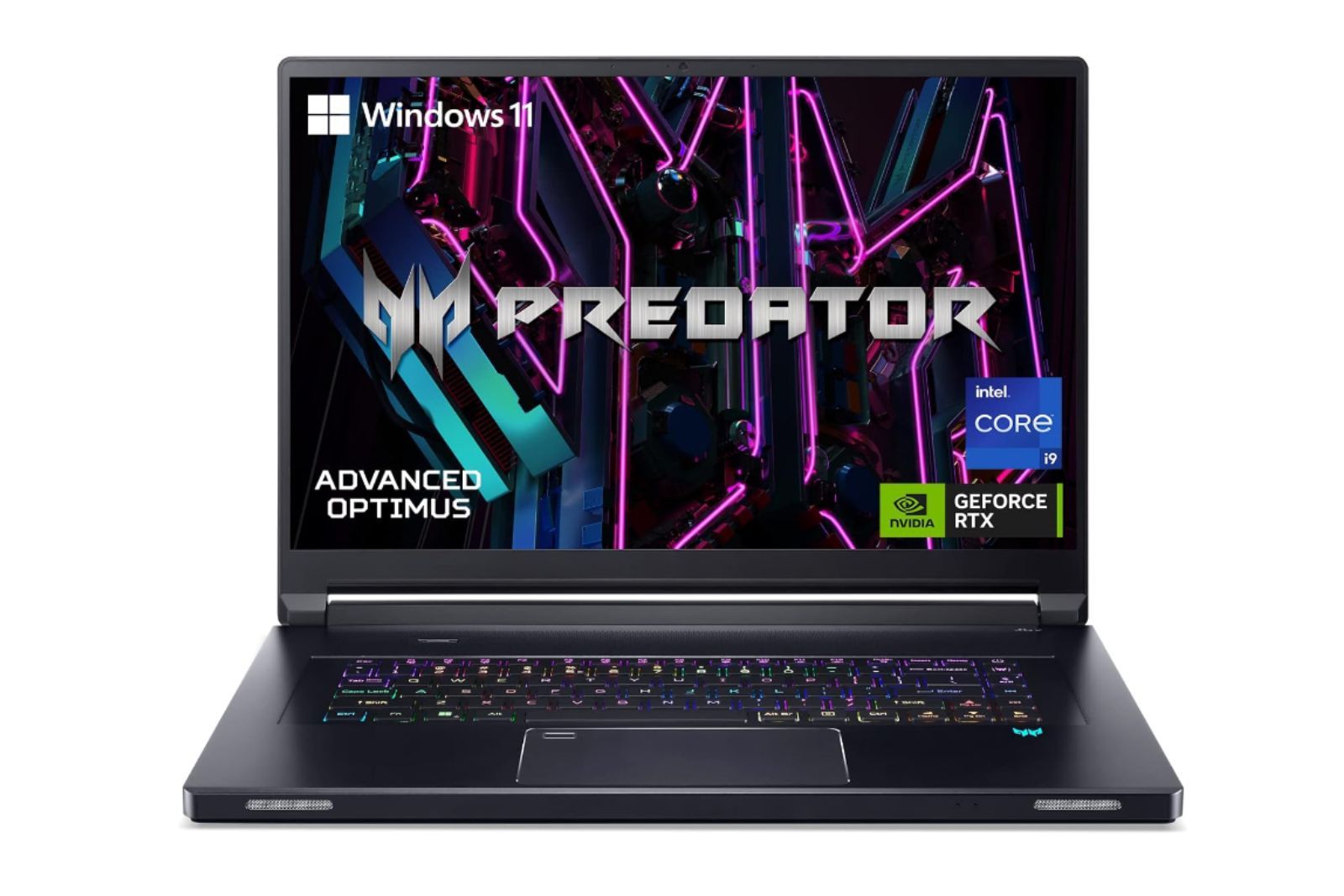 Acer
Acer Predator Triton 700 PT715-51-71W9
8. Best RTX 4090 laptop for creatives
Great contrast, gamma and color accuracy
The Acer Predator Triton 17X has a Mini-LED screen with exceptional brightness, superb color accuracy, and extensive gamut coverage.
Pros
Good quality membrane keyboard & trackpad
Quiet fans on balanced and wuiet profiles
Lots of RAM and storage
Superbly bright Mini-LED screen
250Hz refresh rate
Cons
Poor battery life
Expensive, given the underwhelming FPS performance
The Acer Predator Triton 17X is the latest addition to Acer's gaming and creative laptop lineup. Our team had the privilege of conducting a comprehensive review, thoroughly benchmarking, and testing this powerful device. Standout features of the Triton 17X include its impressive display, setting a new standard for laptop screens. However, it's worth noting that the RTX 4090 on this laptop falls short in terms of in-game FPS performance compared to its competitors.
While the Triton 17X delivers seamless performance in handling the latest AAA titles at maximum settings and native 1600p resolution, its relatively low effective TGP means it performs more like a high-end RTX 4080 laptop despite being paired with the Intel i9-13900HX CPU. If you overlook this drawback, it excels in other aspects, positioning itself as a top-tier machine.
The Mini-LED screen boasts exceptional brightness, superb color accuracy, extensive gamut coverage, impressive contrast, and gamma scores. With a maximum refresh rate of 250Hz, it offers a blazing-fast visual experience. The membrane keyboard and trackpad provide a delightful user interface, and the overall build quality is superb. While the battery life may not be exceptional, it is a trade-off for the laptop's stunning Mini-LED display and high-end core components.
The bottom line: What is the best RTX 4090 laptop?
Our editor's top choice is the Asus ROG Strix SCAR 18 for its unmatched single-core and multi-core performance. However, the Lenovo Legion Pro 7i offers excellent value, outstanding build quality, and a productivity-enhancing display. If you want a premium pick, the Razer Blade 18 delivers a remarkable gaming experience with a high-quality display. Consider your priorities and requirements to select the ideal laptop that suits your needs.
ASUS ROG Strix Scar 18
Editor's Choice
How did we pick the best RTX 4090 laptop?
To determine the best RTX 4090 laptops in this review, our Pocket-lint team inspected the laptops for their hardware, specs, and build quality. We also tested the machines to see their pros and cons. Lastly, as with all consumer tech, we keep in mind the price for value and make sure to include pricing levels for as many budgets as possible.
Inspection: Our team thoroughly examined the laptops for their build quality, design, and overall aesthetics. During our review we assessed the building materials and finishes and how those factors contribute to the laptop's overall durability.
Testing: We also tested the performance and capabilities of the laptops. We ran various benchmarks, gaming tests, and multitasking scenarios to evaluate their processing power, graphics performance, thermals, and overall user experience.
Pricing: Our team took the pricing of the laptops into account to evaluate their value for money in which we considered the laptops' specifications and performance levels before comparing them competing laptop prices.
Is RTX 4090 enough for 4K?
The RTX 4090 boasts such exceptional frame rates that using anything other than a 4K monitor would be a waste, especially one with a refresh rate lower than 144Hz. Our testing consistently demonstrated that the RTX 4090 achieved over 100 fps at 4K resolution and with the highest graphics preset (excluding DLSS and ray tracing) in most games we examined.
Trending Products

.