Tablets make surprisingly good gaming devices. You can use your hands and tap the controls or, usually, attach a Bluetooth controller and use them like a little TV. They generally cost a bit more than a dedicated video game console, but less than a dedicated gaming laptop. Additionally, while mobile gaming catches a lot of flak from the gaming community, it is the most popular gaming platform on the planet right now, so obviously people like it.
Related: Best 14 Black Friday iPad deals: Get the 10th-gen iPad for under $350
So, what kind of gaming tablet should you choose? We have a list below to give you some ideas about the best gaming tablets money can buy right now, and they span across iOS, Android, and even Windows. Just about anyone should be able to find a tablet that works on the platform they prefer from our selection below.
Best tablets for gaming: Our top picks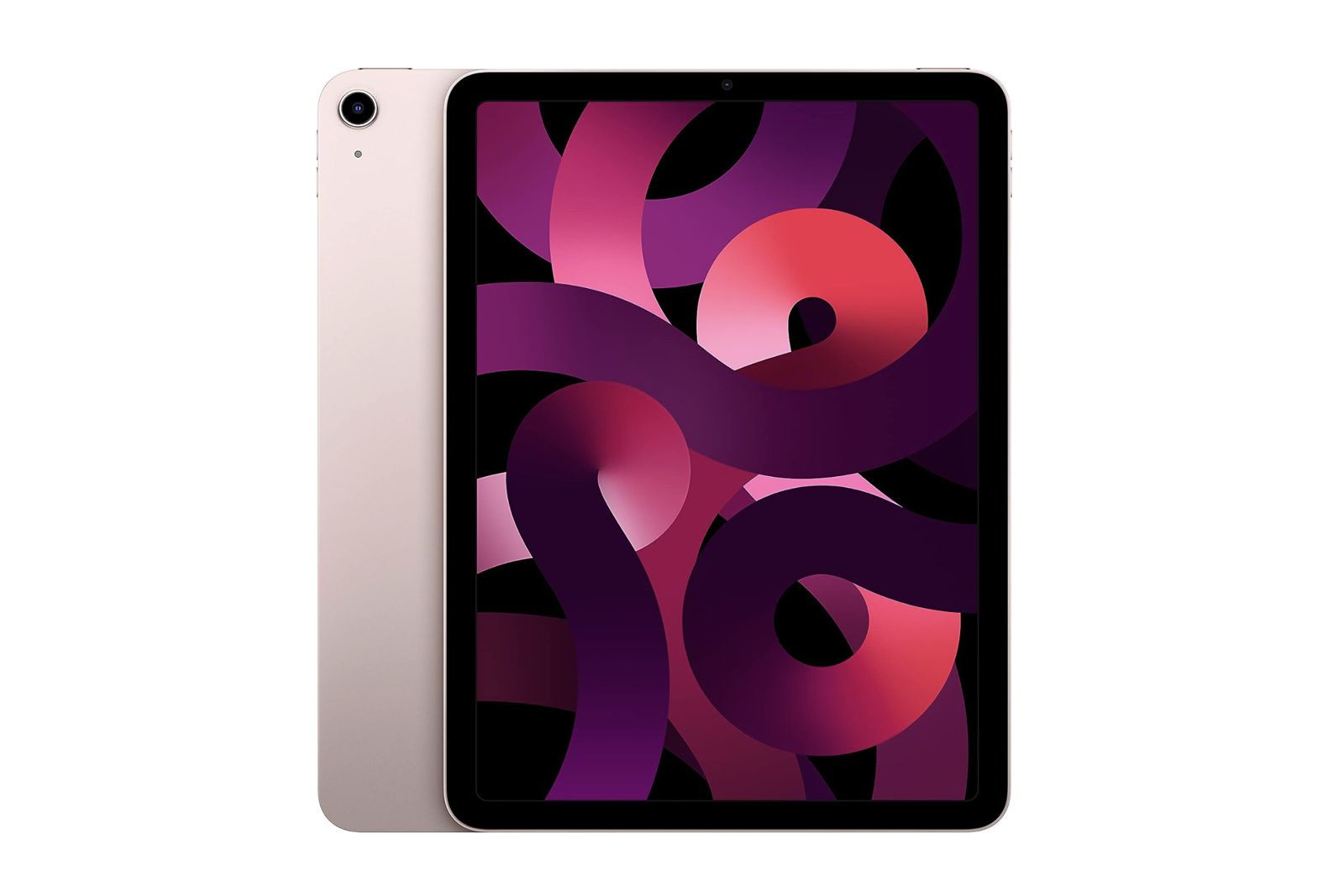 Apple
Apple iPad Air (2022)
1. Best gaming tablet overall
A good mix of performance, quality, size, and price
$500 $599 Save $99
The 5th generation iPad Air is an excellent place to start. There are a number of great games on iOS, and the iPad Air can play all of them without being obnoxiously expensive.
Pros
Powerful enough to play any iOS game.
Big, gorgeous screen is great for immersion
Not as expensive as the iPad Pro
Cons
We wish Apple would bump up the base storage to 128 GB
The regular iPad is cheaper than the Air
The 5th generation iPad Air is a great place to start for gaming tablets. It has powerful enough hardware to play the latest iOS games along with a great screen, good support from Apple, and Apple Pencil stylus support, which is nice in games where tap accuracy matters. On top of that, it has a bunch of productivity benefits, allowing you to use it for just about anything you need.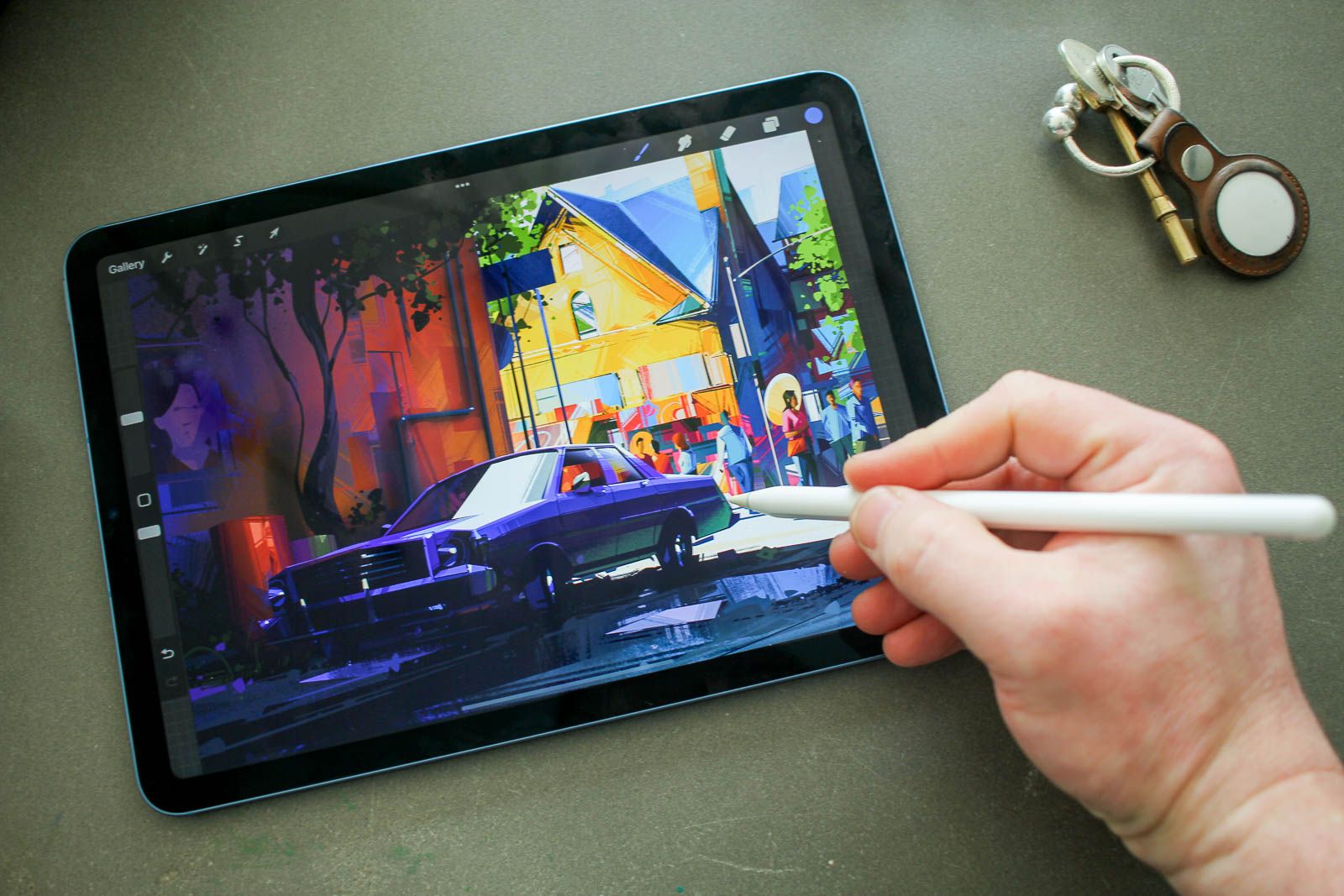 Pocket-lint
What we like about this one is that it's more powerful than the regular iPad but less expensive than the iPad Pro. That makes it a good middle ground for something that'll work well, but won't break the bank. However, the big downside is that the base model comes with 64GB of storage, which might require some management if you intend to use the tablet for gaming. You may want to consider bumping it up to the 256GB option.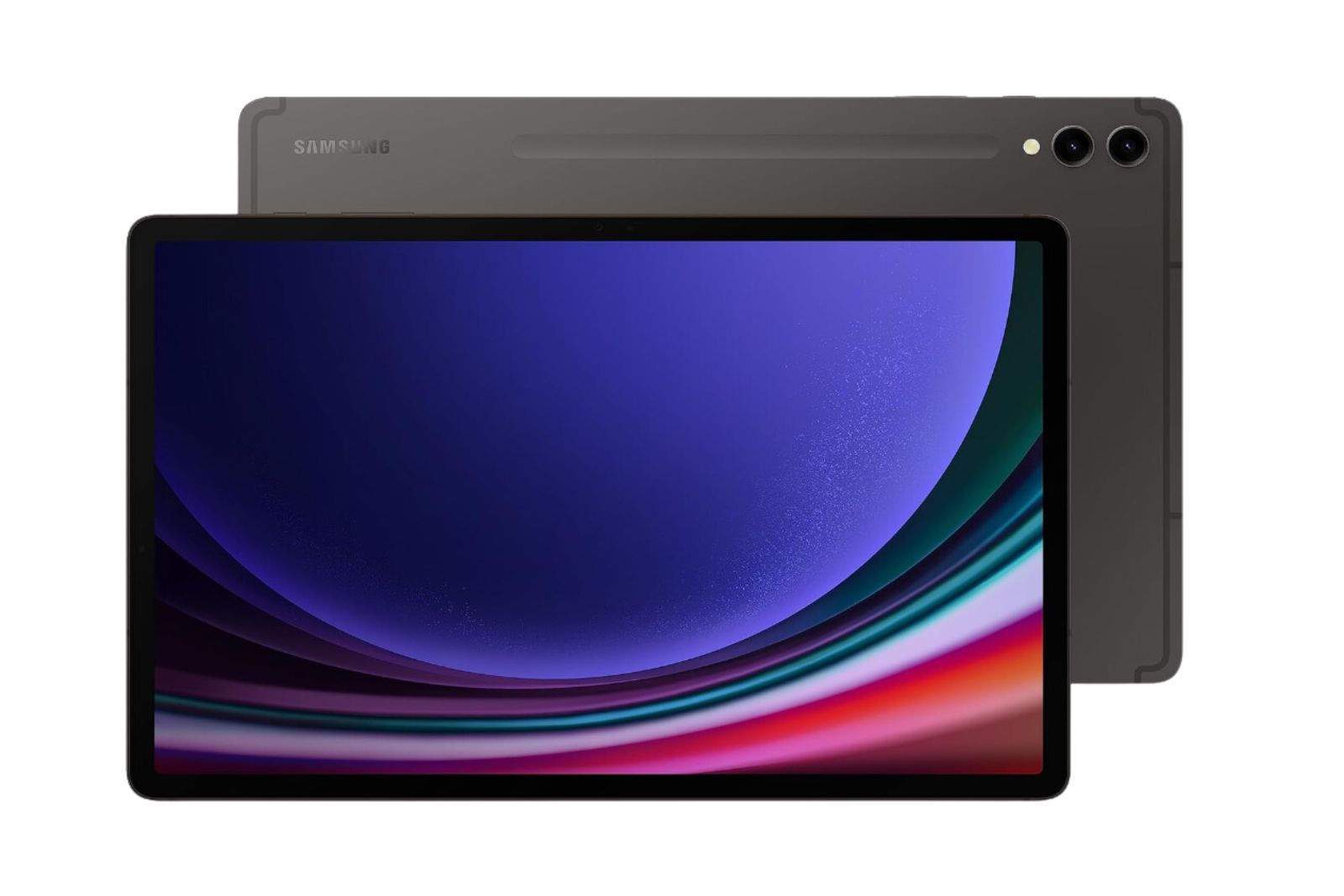 Samsung
Samsung Galaxy Tab S9+
2. Best Android gaming tablet
As good as it gets if you're repping Android
$947 $1000 Save $53
The Samsung Galaxy Tab S9+ is easily among the best Android tablets available right now, and that makes it a great solution for gaming. It also comes with an S-Pen, which is great for strategy games and similar titles.
Pros
Powerful enough to play the heaviest Android games
More than enough screen real estate to stay immersed
Great for productivity too
Cons
It's pretty expensive
It might be cumbersome if you're playing a game with tap controls
The Samsung Galaxy Tab S9+ is easily among the best Android tablets available today. It comes in three sizes; the regular Tab S9, the S9+, and the S9 Ultra. In terms of performance, it doesn't matter which one you go with. All three come with the excellent Snapdragon 8 Gen 2. The only real difference is storage, screen, and battery sizes. Otherwise, you're good to go, but we have the middle-tier Galaxy Tab S9+ linked above.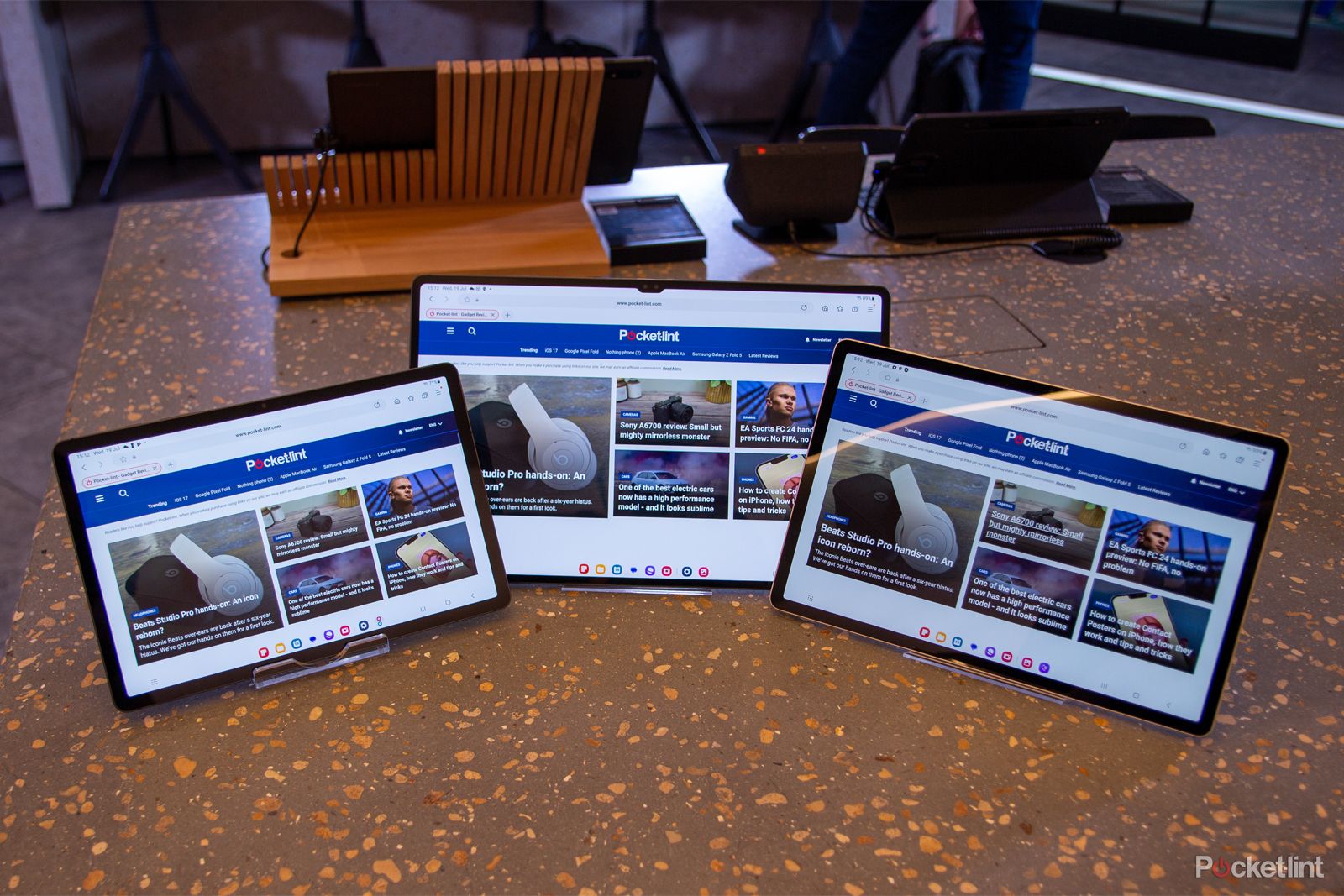 The tablets are all powerful enough to play the heaviest Android games as of this writing, and they should remain relevant for quite some time. Unlike Apple, Samsung's base storage is 128GB on these tablets, so you shouldn't need a storage upgrade if you're using them as a storage device. They're big, therefore cumbersome, but other than that, these are a home run for gaming.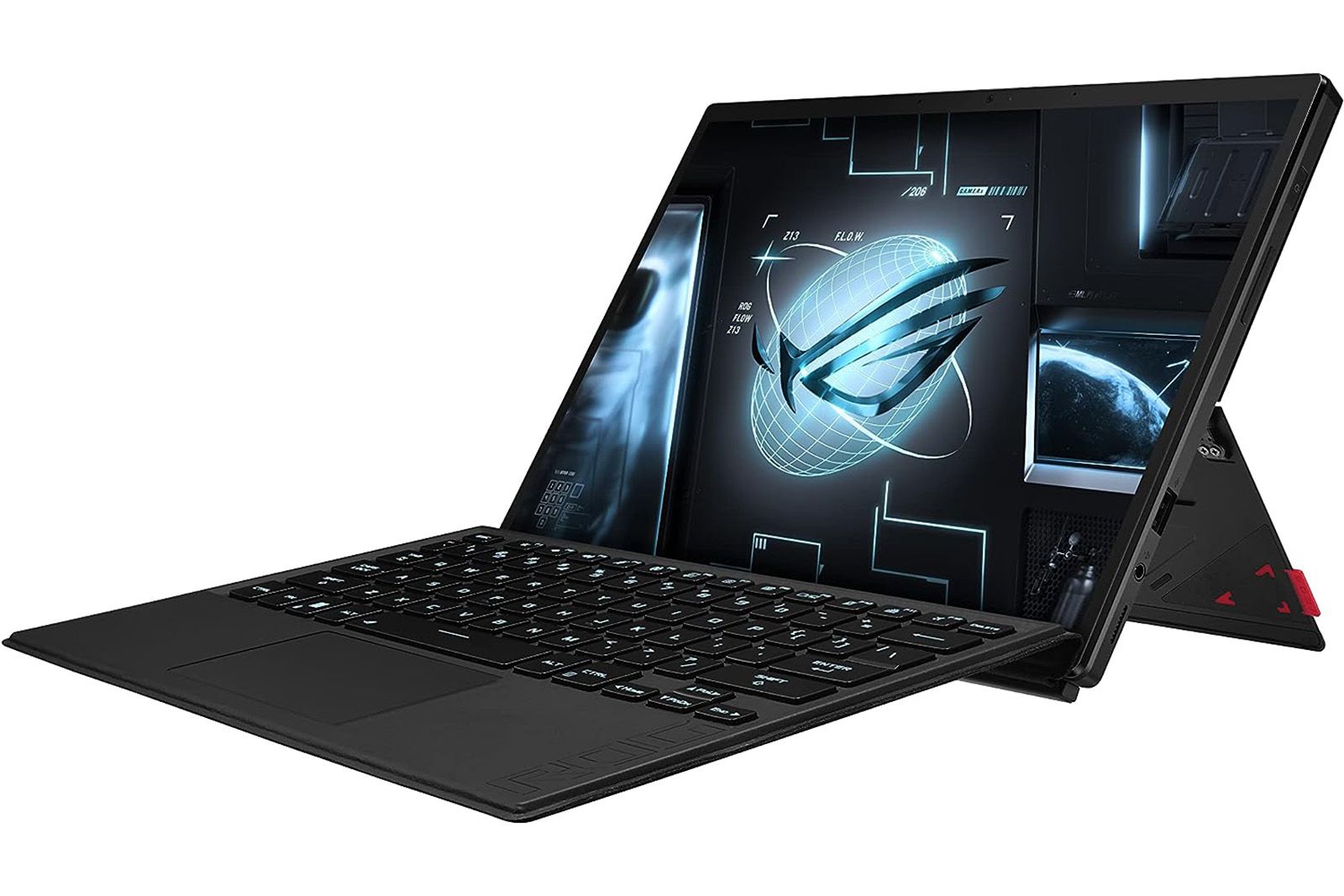 Asus / Pocket-lint
Asus ROG Flow Z13
3. Best Windows gaming tablet
A surprisingly versatile Windows tablet with an actual graphics card
$1039 $1800 Save $761
The Asus ROG Flow Z13 is easily your best choice when it comes to tablet gaming on Windows. It comes in a host of configurations, with most coming with a NVIDIA RTX 3050, which should play most games at reasonable settings.
Pros
Windows in a tablet form factor is neat
The Nvidia RTX 3050 will play almost every game with some settings tweaks
Comes with a detachable keyboard that turns it into a laptop
Cons
High end configurations can get very expensive
Prices range significantly based on retailer – shop around for the best price
The ASUS ROG Flow Z13 is arguably the best Windows tablet for gaming. It comes with a detachable keyboard, so you can use it like a laptop if you prefer. However, once detached, it becomes a fully capable touchscreen tablet that runs Windows. You can, of course, connect with your own keyboard and wireless mouse as well for a gaming setup on the go.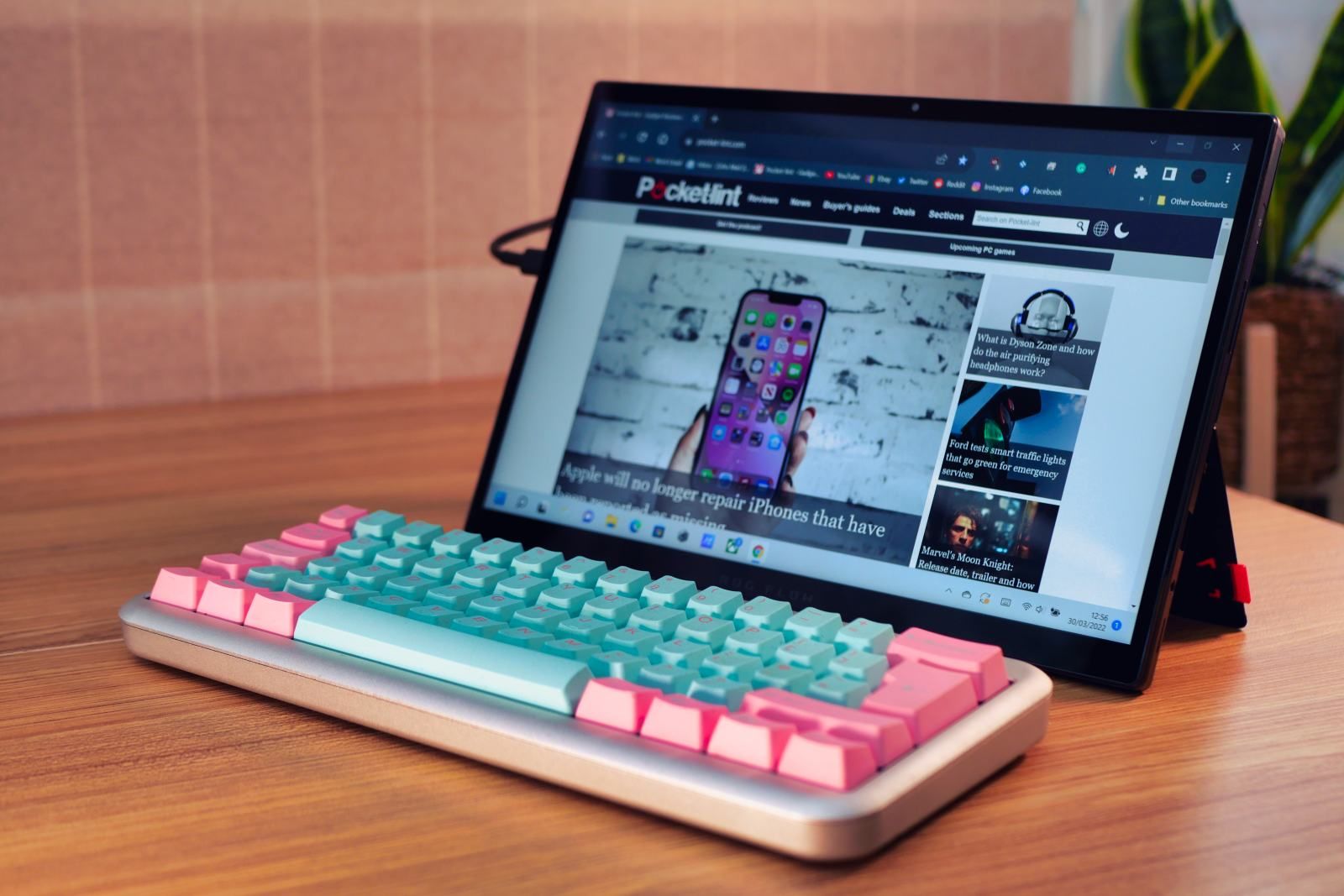 Pocket-lint
You can get the tablet with an Intel Core i7 or i9, depending on your price preferences. The only graphics card it comes with is the NVIDIA RTX 3050. It's a slightly aging card, so don't expect to play Cyberpunk at 4K with ray tracing enabled. With some settings tweaks, it'll play modern games without too much of a problem, though, so it's still a good tablet for gaming.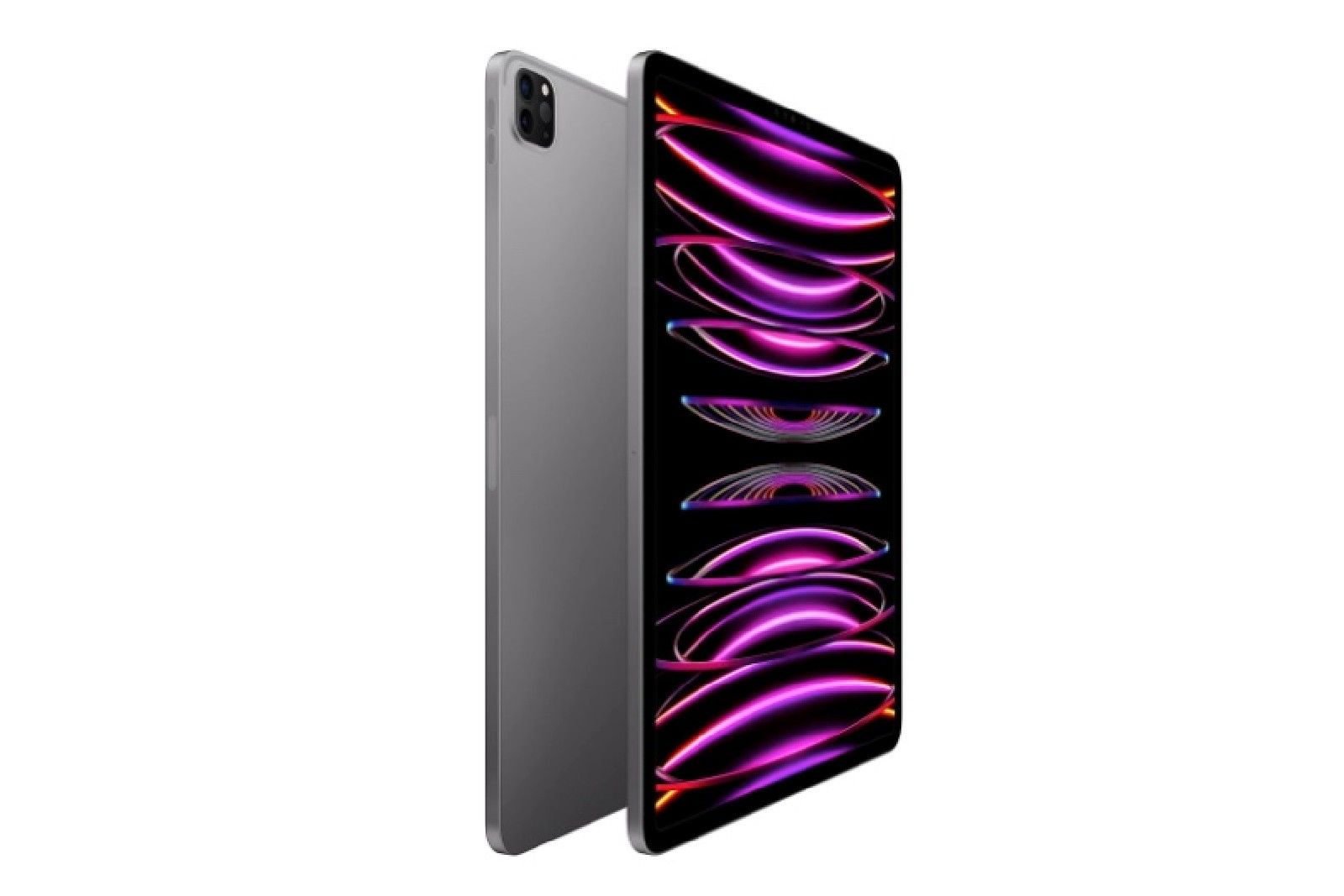 Apple / Pocket-lint 
Apple iPad Pro 12.9-inch (2022)
4. Best premium gaming tablet
Arguably the best table on the market right now
$999 $1099 Save $100
The iPad Pro is Apple's highest-end offering, and it's a gaming beast. However, with that power comes a price, and the iPad Pro is definitely expensive.
Pros
Even more powerful than the iPad Air
Base storage starts at 128GB
11-inch and 12.9-inch options
Cons
Very expensive, especially with storage upgrades
Can be difficult to find online
If you're in the market for something expensive, look no further than the 2022 iPad Pro. It costs as much as a mid-range gaming laptop, and can easily eclipse the $2,000 mark when the specs are maxed out. What you get is a tablet with Apple's excellent M2 chip, which is the same chip the company puts in its MacBooks. It's overkill for iOS gaming, but it has a host of other productivity-oriented benefits that make it a seriously powerful machine.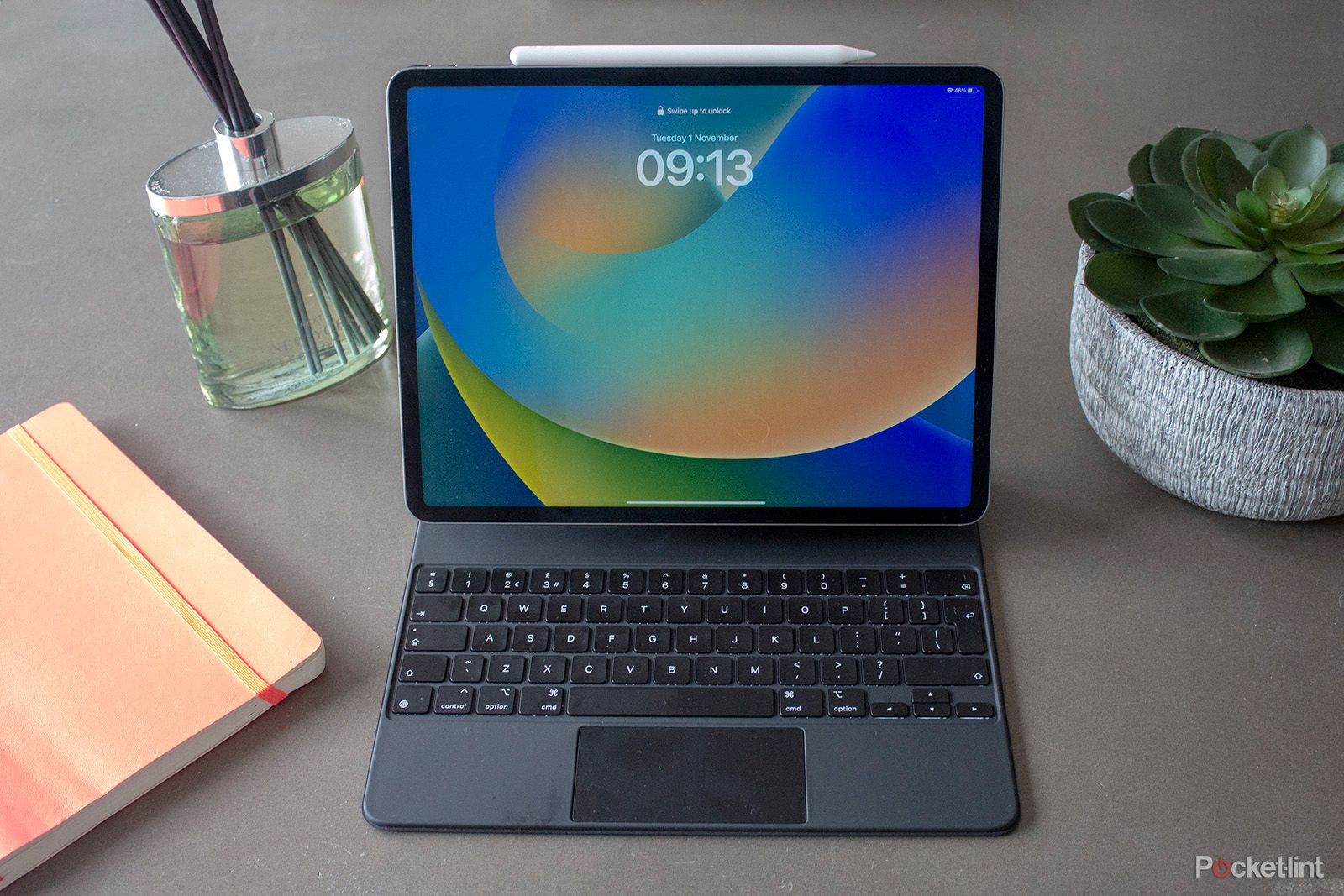 There are two variants, the 11-inch and the 12.9-inch model. You can also get a keyboard that essentially turns this thing into a full-fledged laptop. With the M2 chip, it's just as powerful as one. The downside is that all of that power is packaged with a 12.9-inch iPad battery, so if you push it hard, it'll drain pretty quickly. However, outside of that, there are few tablets with specs like this.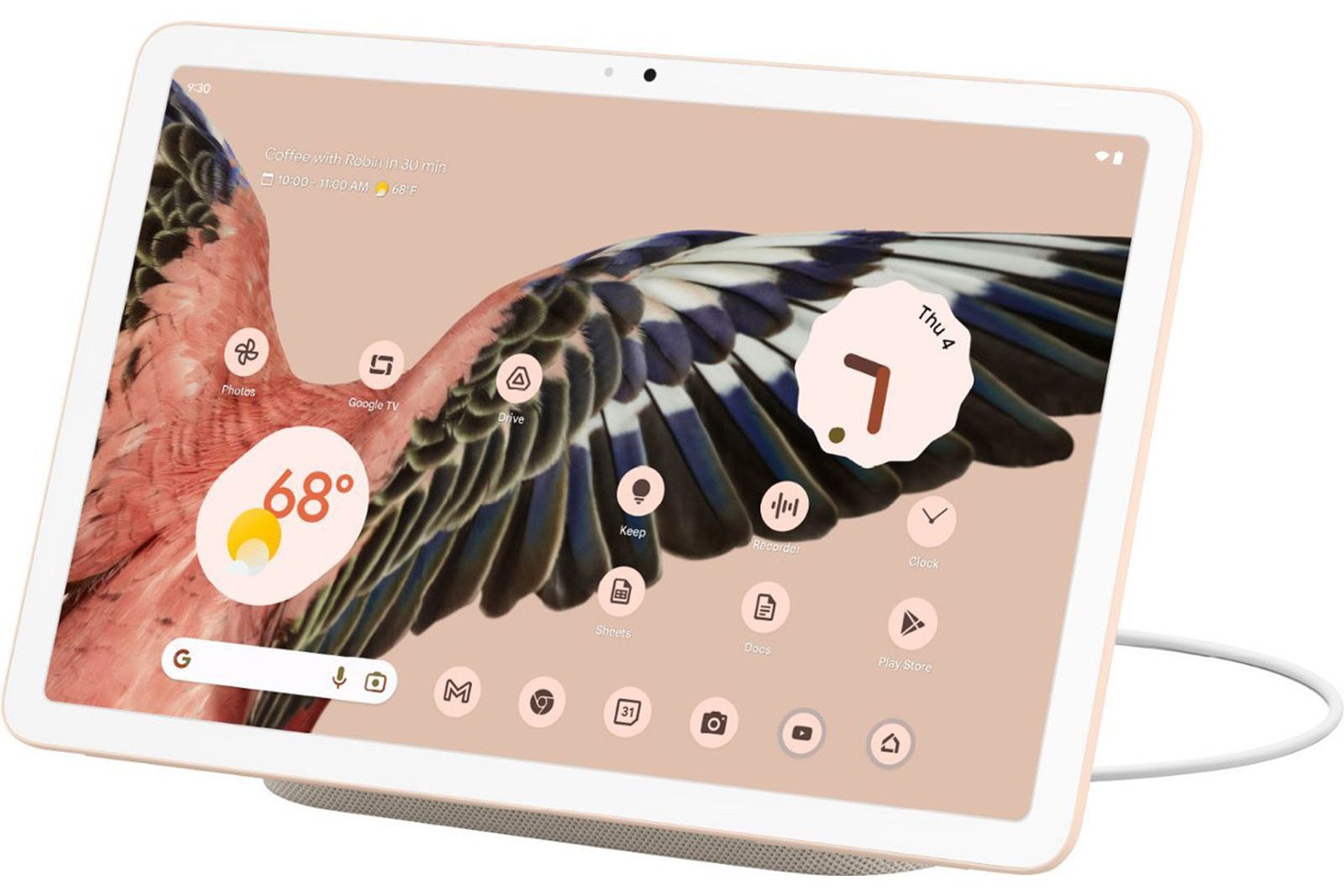 Google / Pocket-lint
Google Pixel Tablet
5. Best budget Android tablet
Not a bad price considering that it comes with its own speaker and charger
$399 $499 Save $100
The Google Pixel tablet costs half as much as the Samsung Galaxy Tab S9+ and gets you most of the way there. Google's Tensor chip is battery efficient and can take on all Android games with a few settings tweaks.
Pros
Much less expensive than the Galaxy Tab S9 series
Decent performance and good battery
Comes with its own charging dock that doubles as a speaker
Cons
Heavier games may require you to turn the settings down a bit
Gets hot when gaming on the charger
The Google Pixel Tablet is a nice choice for folks who don't want to spend four digits on a gaming tablet. It looks more expensive than it is and feels nice to hold. It also has a smaller screen than a lot of competitors, which can make it easier to hold. To top it off, it comes with a wireless charger that also doubles as a speaker, turning the tablet into a Google Home Hub when you're not using it.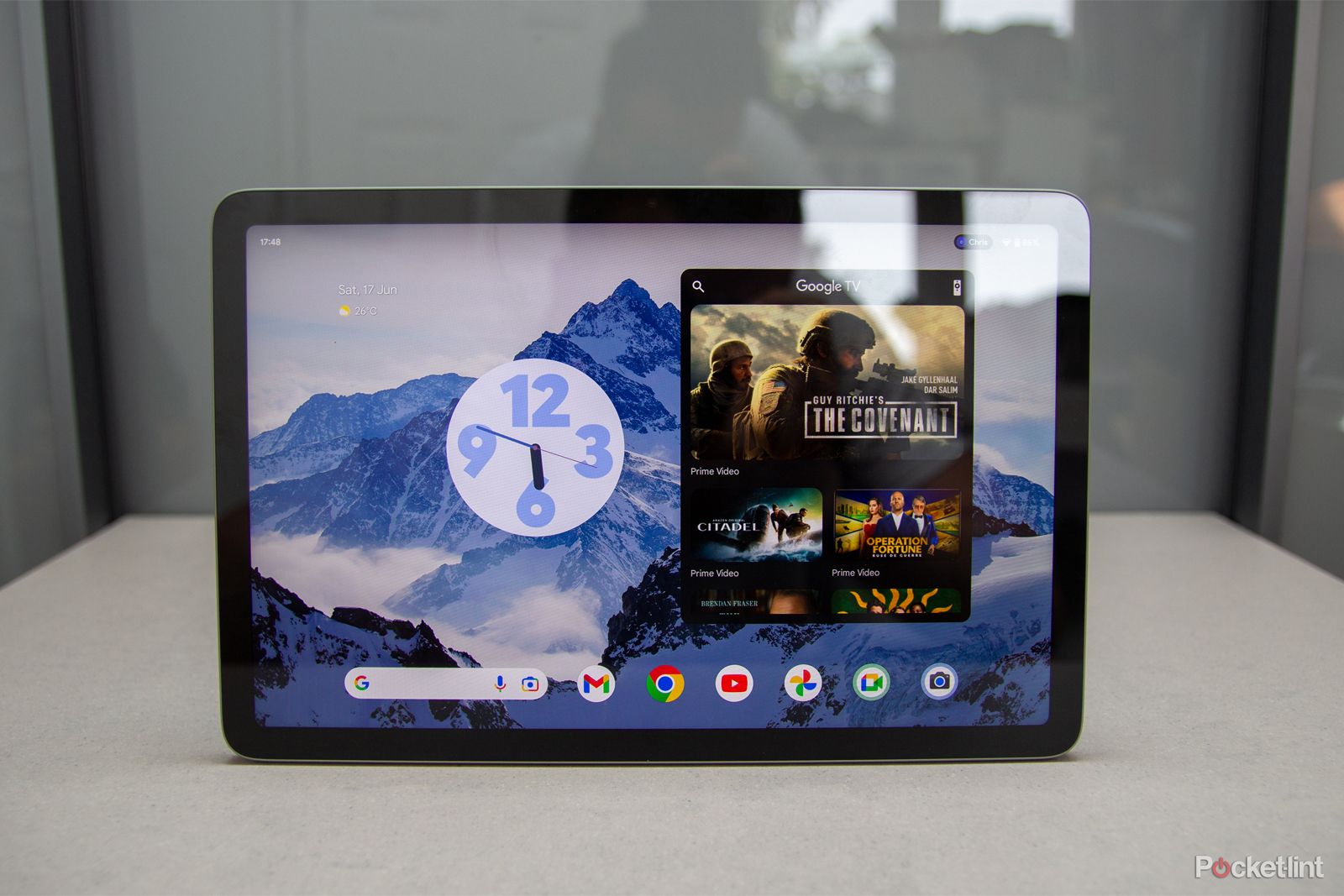 It doesn't sport the most powerful hardware, but luckily, Google's Tensor G2 is still strong enough to play most games without any adjustments and all games if you turn the graphics down a bit. That, combined with the multi-functional wireless charger, and you have a device that is useful all the time and not just when you want to game.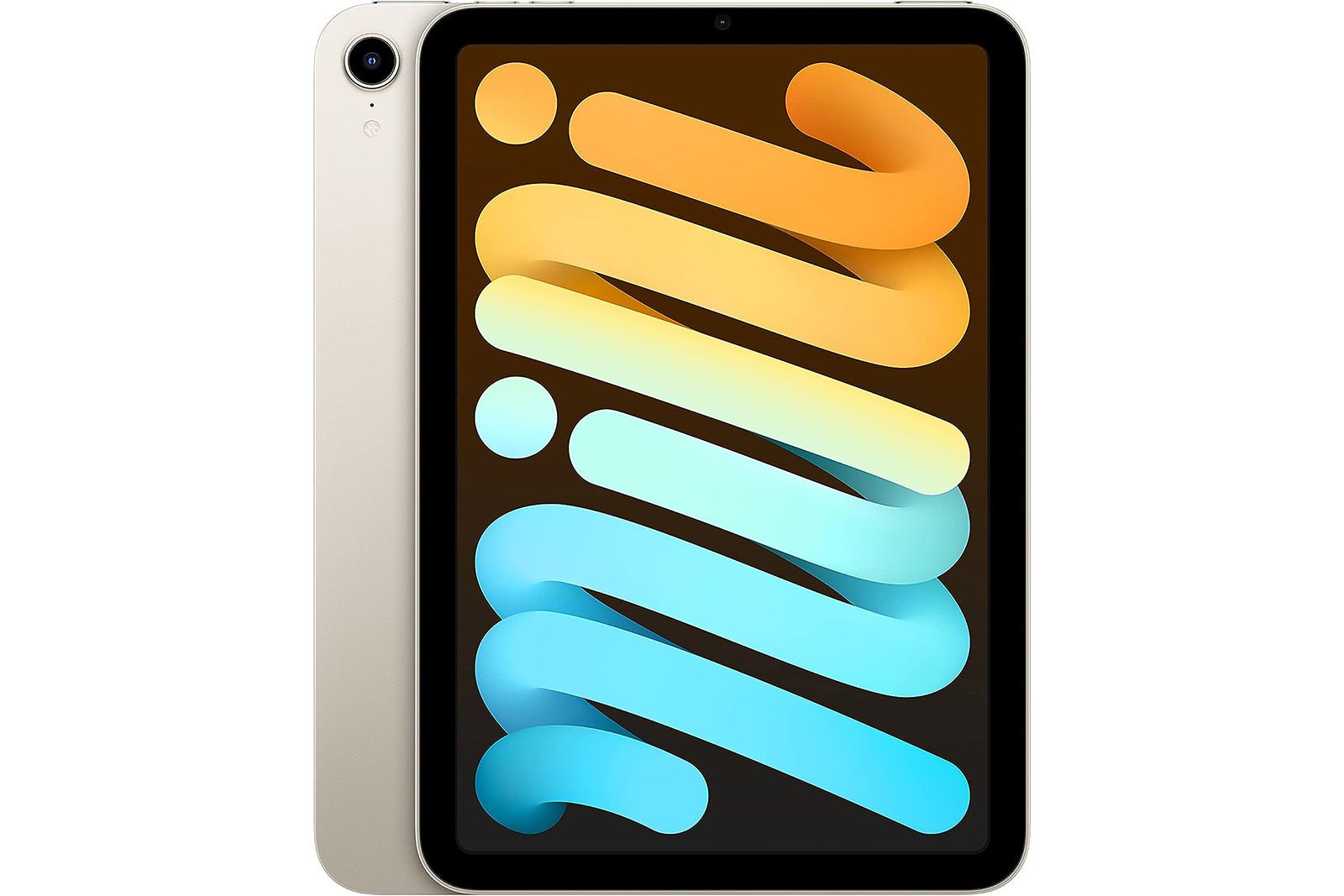 Apple / Pocket-lint
Apple iPad Mini (2021)
6. Best budget iPad for gaming
Still packs a punch despite being under $500
$400 $499 Save $99
The 6th generation iPad Mini is a perfectly serviceable iPad. It'll play all the games on iOS, although you may need to adjust some settings here and there. Its smaller stature also makes it easier to hold for touchscreen gaming.
Pros
Powerful enough despite its age and size
Less than $500 and goes on sale fairly frequently
Smaller screen size makes it easier to hold
Cons
64GB of storage is not great in 2023
It's Apple's oldest current generation iPad
The iPad Mini 6th generation is another great choice if you don't want to spend a mortgage payment on a gaming tablet. It uses Apple's A15 Bionic processor, which is actually a generation newer than the regular 2022 iPad. So, while you do sacrifice some screen size for the Mini, you're actually getting better performance from it. As is the case with most of Apple's modern products, it'll handle iOS games without worry. You do have to deal with only 64GB of base storage and upgrading costs a cool $100.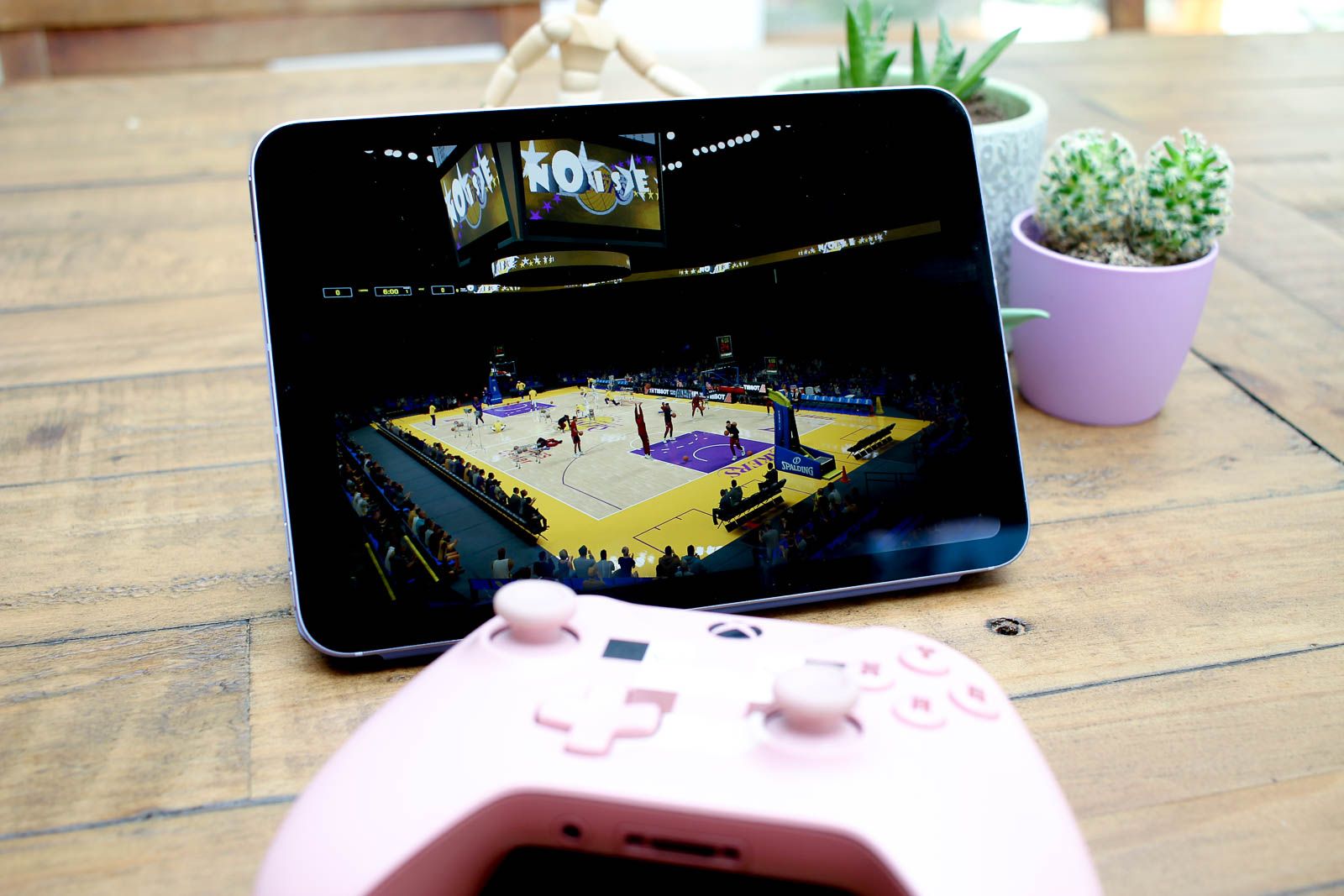 Pocket-lint
Other than that, this little thing is excellent. Its 8.3-inch screen keeps the device smaller and easier to hold. It doesn't have MagSafe charging or FaceID, which is a bit of a bummer, but some sacrifices had to be made to keep the costs down. It has also been known to go on sale, so it's possible to get this thing even cheaper with a little patience.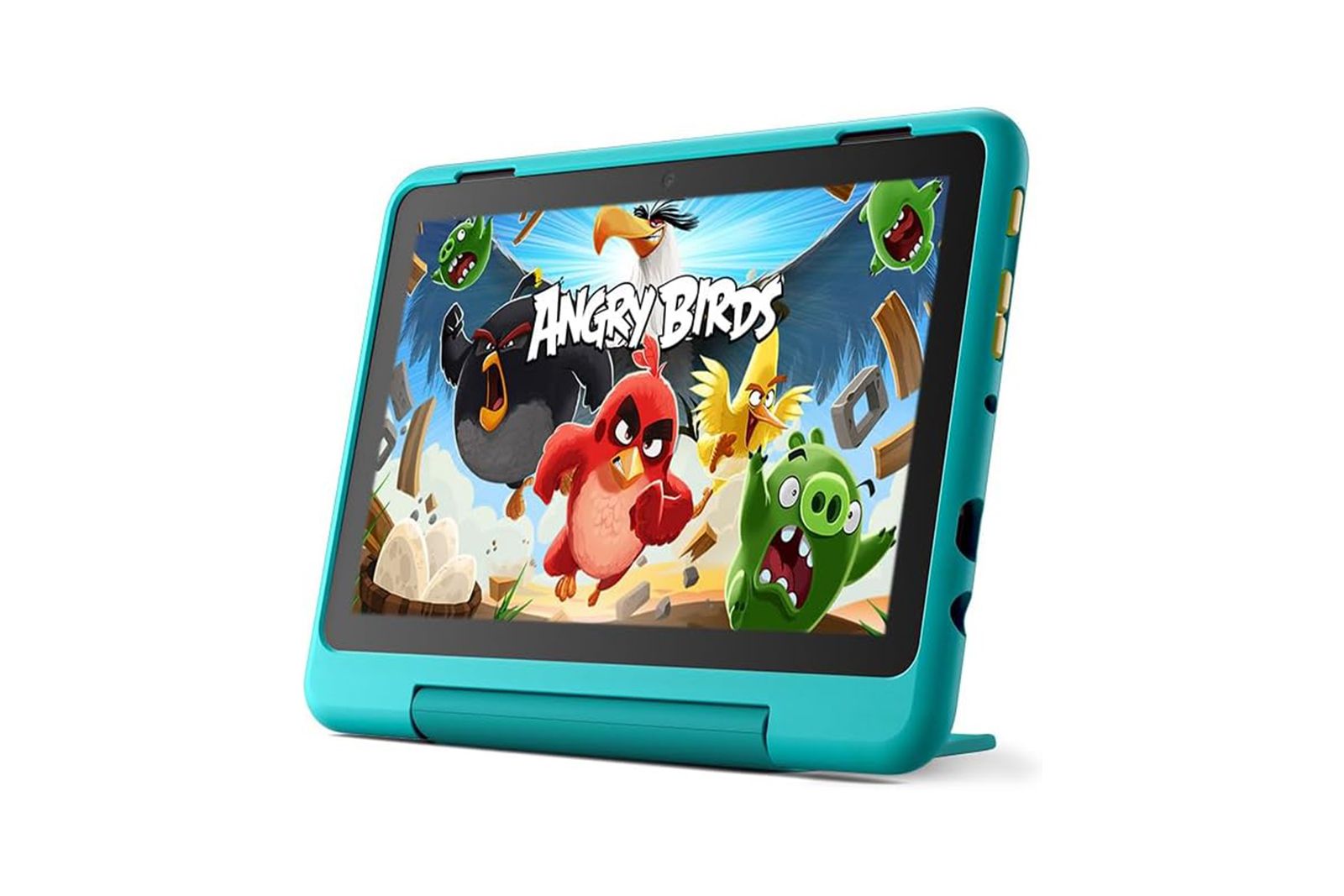 Amazon / Pocket-lint
Amazon Fire HD 8 Kids Pro
7. Best gaming tablet for kids
Built-in child resistance is always a plus
$75 $150 Save $75
The Amazon Fire HD 8 Kids Pro is likely your best bet for a gaming tablet for your kids. It comes ensconced in a massive case that makes it nearly immune to drops while being powerful enough to play most age-appropriate games.
Pros
Thick included case helps prevent breaks
Can play many age-approprate games
Less than $200 makes it a good budget gift
Cons
Only 32GB of storage, which isn't ideal
May not have or play some the more popular mobile games
The Amazon Fire HD 8 Kids Pro is a kid-friendly version of the Amazon Fire HD 8. It's a great gaming tablet for kids for a couple of reasons. There should be plenty of age-appropriate games available on the platform to keep your little ones busy. However, and arguably more importantly, the kids' version of the Fire HD 8 comes with a beefy case that can stand up to quite a bit of abuse, allowing the tablet to live longer than an unsheathed competitor.
Related: Best kids tablet: Parent approved and reviewed
In addition, the tablet costs $150 – but often on sale – which isn't as pricey compared to most other tablets, gaming or otherwise. That makes it a good investment, especially for younger kids, where buying a $1,000 iPad doesn't make the most sense. Amazon's Android app platform isn't as plentiful as Google's, but when it comes to buying a tablet for a five-year-old, they probably won't care.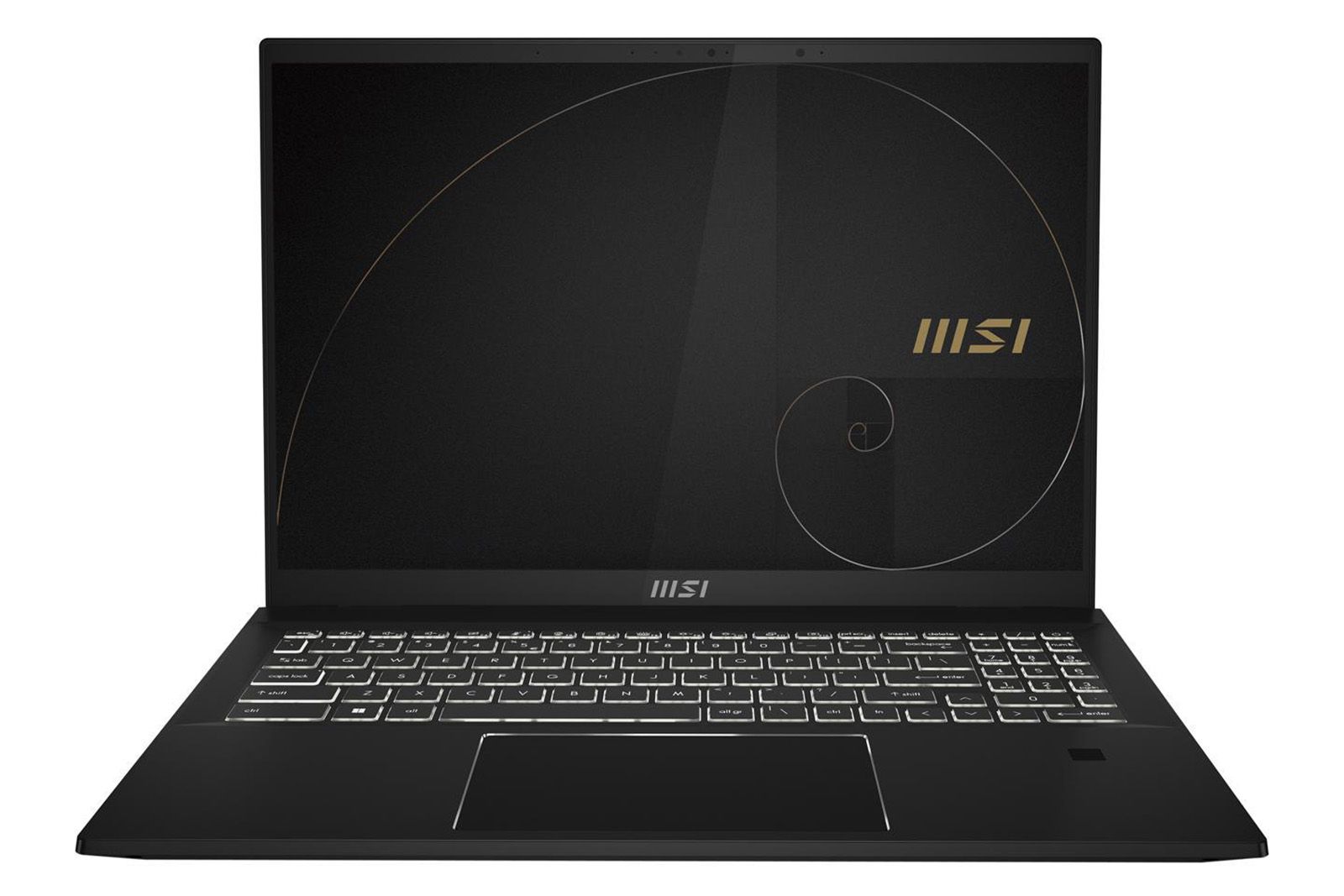 MSI / Pocket-lint
MSI Summit E16Flip
8. Best 2-in-1 gaming tablet
About the only competitor to the ASUS ROG Swift
The MSI Summit E16Flip is technically a 2-in-1 laptop, but it comes with gaming specs, including a dedicated graphics card, and the keyboard can flip out of the way, so you can use the device like a tablet.
Pros
A laptop that lets you flip the keyboard around to make it a tablet
Comes with decent specs
There aren't many products like this out there
Cons
Very expensive
Keyboard doesn't detach so it's not technically a tablet
The MSI Summit E16Flip is a unique device. It's a 2-in-1 convertible laptop where the keyboard flips around, and you can use it as a tablet. However, unlike most convertible laptops, this one comes with a dedicated graphics card that is actually capable of playing PC games. Thus, you get the benefits of a laptop, and you can flip the keyboard around and turn it into a tablet.
Related: Best tablets for graphic design: The pen is mightier than the mouse
However, you'll pay for the privilege because this thing is expensive, and it's also not available at a lot of retailers. MSI likely made this as a proof of concept product rather than any serious competitor, but it's such a neat little device that it's worth mentioning. Plus, it turns into a tablet, and it has games, so it's still a good competitor to the Asus ROG Swift if you have the scratch for it.
The bottom line: What's the best gaming laptop?
Overall, you'll likely get the best mobile gaming experience out of an iPad Air and the best PC gaming experience out of the Asus ROG Swift. The two are just the best when it comes to size, performance, price, and availability. However, if you can squeeze out a few more, the iPad Pro is a great option and Android fans can always pick up the Samsung Galaxy Tab S9+ if they want to go in that direction.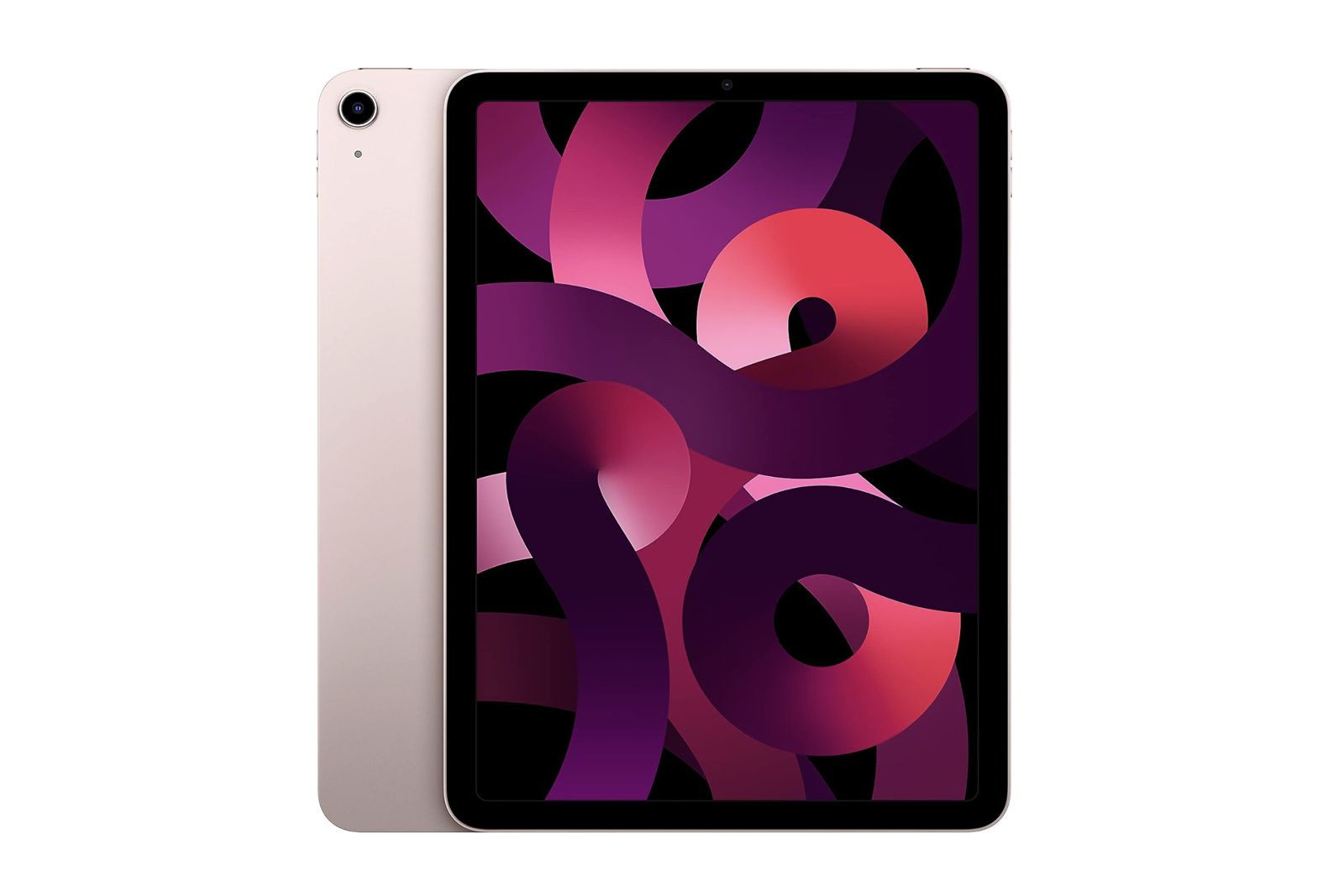 Apple
Apple iPad Air (2022)
Editor's Choice
$500 $599 Save $99
The perfect Apple tablet for those who need a bit more power and smart features from their device.
There are some other fun picks out there if you want something else. The Google Pixel Tablet and iPad Mini are more budget-friendly alternatives that'll give you most of the benefits for half the price, while the MSI Summit E16Flip is a unique option for people who like to cut against the grain. You can pick any of these tablets, and they'll give you a good overall experience.
How did we choose these items?
The Pocket-lint team has reviewed most of these tablets, so we're familiar with how they work along with their standout features. Plus, every item on this list has mostly up-to-date specs, which is important for gaming, especially on mobile platforms. The A15 Bionic, M2, and Snapdragon 8 Gen 2 are going to be great for mobile gaming, while Intel and NVIDIA make great gaming hardware. From there, the list kind of came together on its own.
Can tablets be used for gaming?
Yes, in a variety of ways. For tap games like Bloons TD 6 or similar titles, you don't necessarily need a ton of dexterity, so the bigger screen just adds to the immersion. Alternatively, setting up the tablet on a stand and using a Bluetooth controller essentially turns tablets into mini TVs. The only two times gaming on a tablet isn't great is for portrait mode games where phones are better and in games with twitch mechanics, like shooters, and the controls are spread out all over the place.
Are tablets good for gaming?
In general, yes. On mobile, at least, tablets will play games as well as flagship smartphones, so there is no difference in quality there. On PC, you'll definitely get more performance from a DIY PC build or a dedicated gaming laptop, but neither of those are quite as portable as a tablet. It depends on the platform, but in general, tablets can be very good for gaming.
Trending Products

.