Today's electric vehicles are basically smart connected devices on four wheels. There are tons of neat things you can control or interact with via your EV's proprietary app straight from the manufacturer. However like many other key facets of our lives, there are plenty of companion apps you can use to enhance the day-to-day experience with your vehicle.
There's often confusion or misinformation swirling around about these vehicles and how to use them effectively – and efficiently. We've put together a list of the best charging apps to have installed if you own or are renting an EV, to alleviate some of that confusion. These will help you find a charge when you need it, map out the best routes with charging in mind, or even find free charging to use at local hotspots.
PlugShare
1. Best overall EV charging app
Easily discover a huge network of EV chargers
PlugShare puts almost every single EV charger on a map in the palm of your hand. Read reviews for the charging stops, and make sure they are compatible with your car, all in one convenient app.
Pros
Easy to use UI
Shows chargers across all brands and charging speeds
Cons
Navigation is subpar compared to other apps
In 2021 the EV fast charging station company EVgo acquired the developers of PlugShare, an app that leverages crowd-sourcing to put together a comprehensive list of publicly available EV chargers along with reviews, images, and detailed information for drivers to use. Today PlugShare boasts over 3.5 million active users and has cataloged over 250,000 charging stations across its categories. With the PlugShare app users can easily find EV charging stations near them in a pinch. Once users add their vehicle to their app profile, PlugShare will show them charging stations compatible with their make and model of EV. PlugShares offers a slew of extremely useful filters when searching for charging stations, among them are sorting by charger type, charging speed, cost of charging, and "PlugScore," to see only charging stations that received high marks by previous users.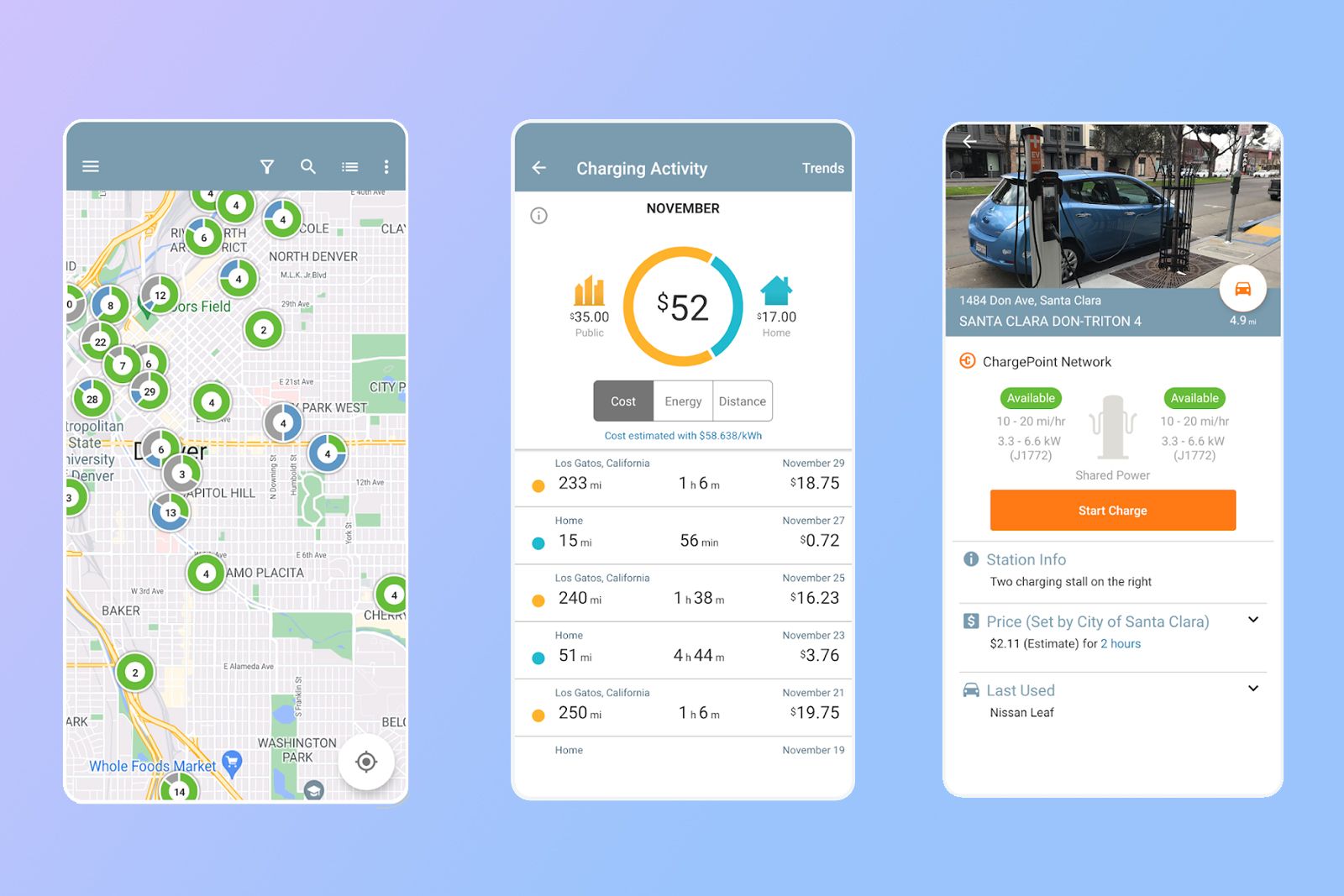 ChargePoint / Pocket-lint
ChargePoint
2. Best EV charging app for Level 2 find and pay
Find and pay for ChargePoint EV stations with ease
ChargePoint is one of the largest charging networks in the U.S. Locate teir chargers, see availability, and pay for your charging all from the ChargePoint app.
Pros
Easy to pay for charging right from the app
Integration with Apple CarPlay and Android Auto
Offers integration with ChargePoint home charger
Cons
App will sometimes fail to reflect stations under maintenance
ChargePoint oversees the largest network of independently owned EV charging stations in the world with over 225,000 charging "spots" globally. ChargePoint has over 30,000 publicly available charging spots across the United States all of which can be accessed through its ChargePoint app. The network includes Level 2 chargers as well as Level 3 fast chargers. EV drivers can find a ChargePoint station just about anywhere you could want one, from workplace parking lots and garages, to convenient retail locations like the parking lots of movie theaters, restaurants, and shopping centers.
Drivers can use the app to find the closest or most convenient ChargePoint station and then start the charging as well as pay for it right through the app. The app offers user-friendly integrations for both Apple CarPlay and Android Auto to make finding its stations even easier. The ChargePoint app will track your charging and let users know when their car has completed a charge, how much they've spent on charging, and even what time of day is best for charging at home if using one of their Level 2 home chargers. The ChargePoint app is also great if you use their home charger, as you can control and track that as well straight from the app.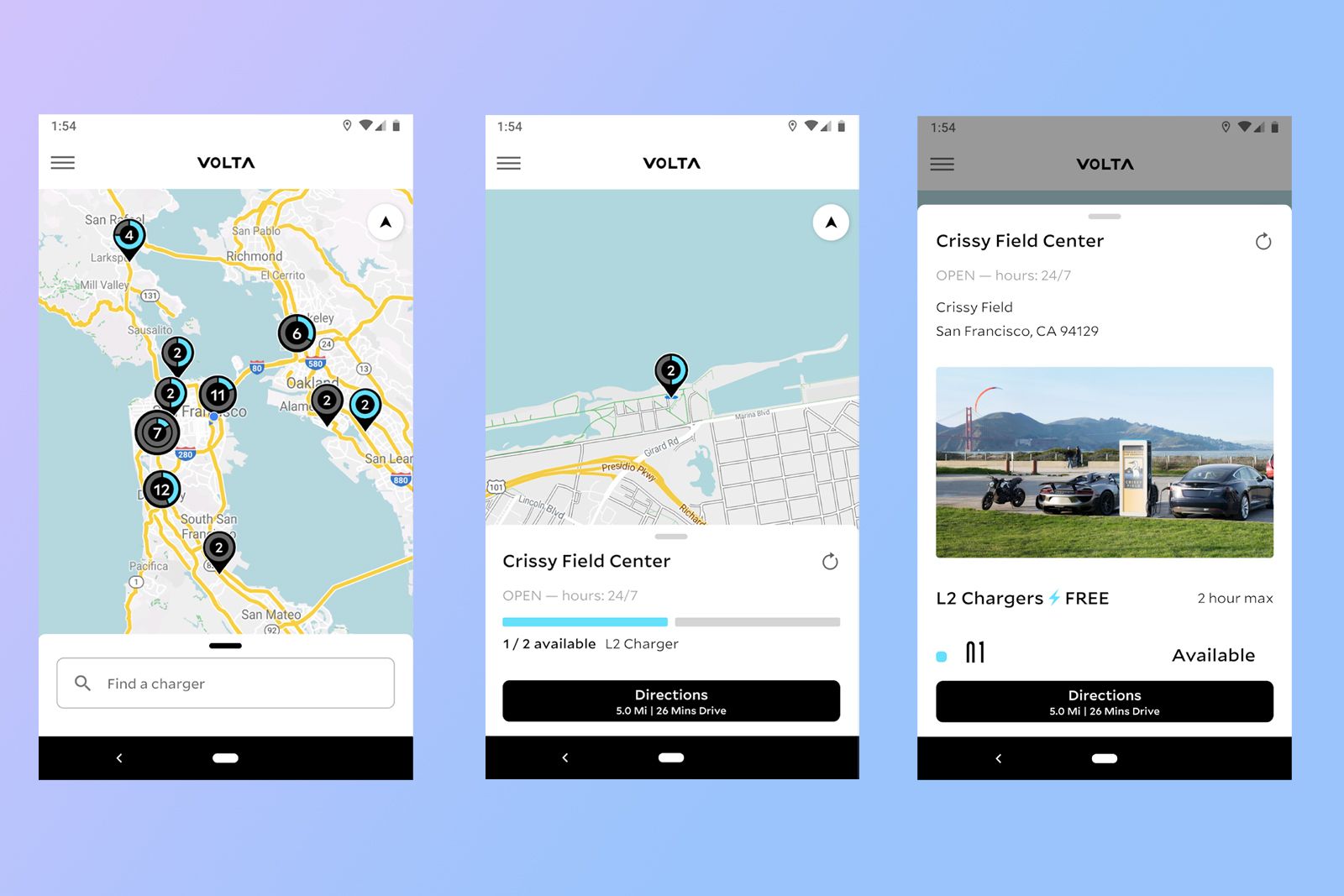 Volta / Pocket-lint
Volta Charging
3. Best EV charging app for free Level 2 charging
It doesn't get better than finding free charging
For an EV owner it really doesn't get any better than finding free charging. The Volta app helps you find just that at convenient retail locations around the U.S. When was the last time a restaurant gave you a free tank of gas?
Pros
App shows you which chargers are in use or available
The Level 2 charging is free
Cons
Heavy focus on only Level 2 chargers
Dozens of services that we use in our daily lives are free to use because they are ad-supported. From search engines, to social media sites, to mobile games and more, selling ads to show users keeps these services free. Volta figured they could bring the same approach to EV charging stations. Founded in Hawaii in 2010, Volta set out to provide free EV charging at stations across America by prominently displaying advertisements through large screens built into the charging stations. Volta's business model starts with statistically backed conclusion that today's EV owners are on average higher income and high spending consumers.
They then strategically place the chargers in retail locations with hyper-local and relevant ads. The model worked and today there are more than 3,000 Volta charging stations spread across the U.S., with a primary presence in major cities. These can be found using the Volta app on your Android or iOS device. Volta won't be going anywhere anytime soon as the company was acquired by Shell Oil in March 2023.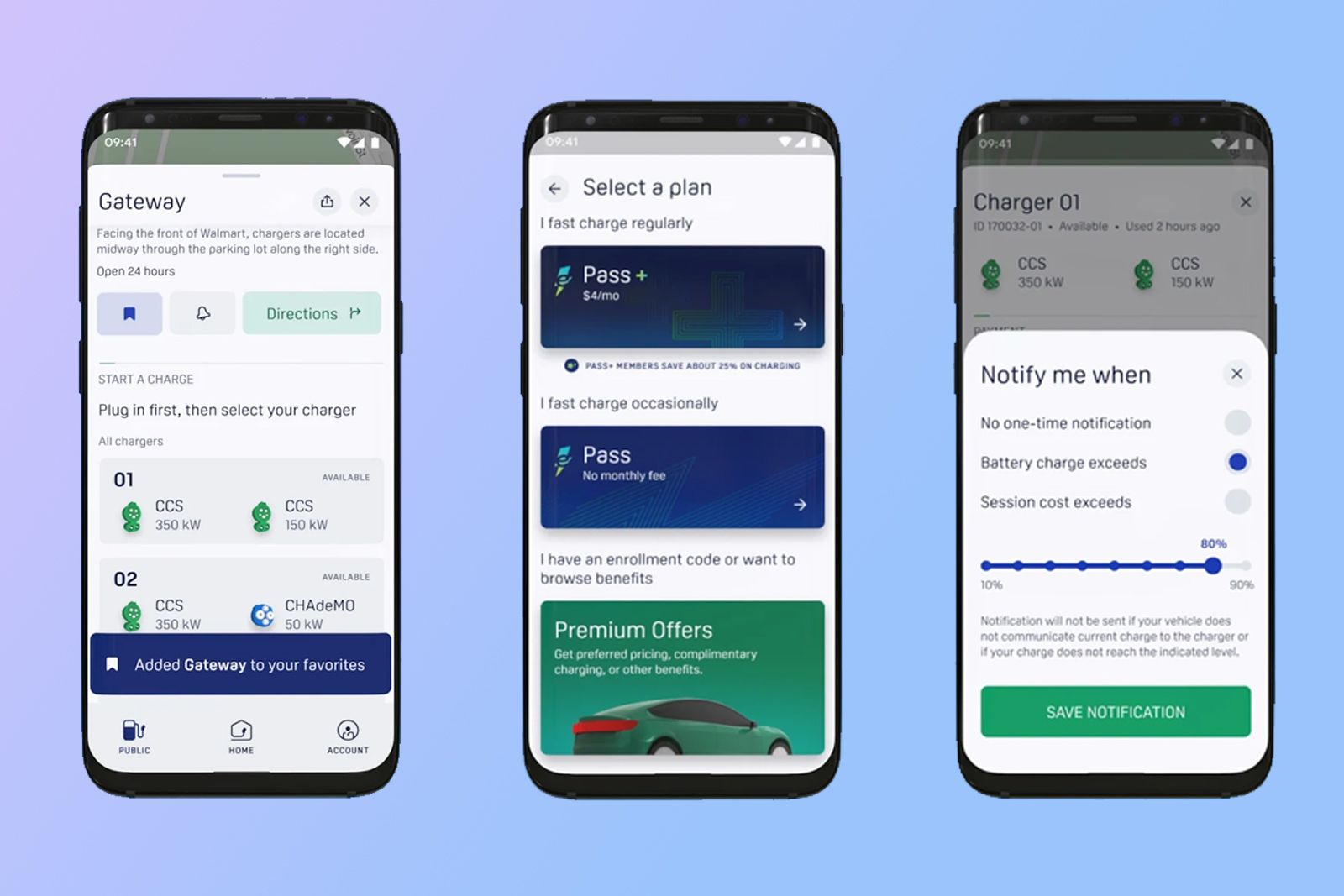 Electrify America / Pocketd-lint
Electrify America
4. Best EV charging app for non-Tesla fast charging
Access the largest public Level 3 charging network in the U.S.
From the ashes of the Volkswagen emissions scandal, rose Electrify America. Use the app to locate and use Level 3 fast chargers in the largest public fast charging network in the U.S.
Pros
Contactless pay makes paying for charging easy
Provides detailed information on the different charging types at each station
Cons
Electrify America isn't always the best at showing chargers under maintenance
Electrify America is an EV charging network founded by Volkswagen in the wake of its infamous emissions scandal of 2015. The Electrify America network was born out of the consent decree that Volkswagen reached with the United States government. Part of the agreement was to spend two billion dollars over ten years promoting EV adoption and use, including but not limited to establishing a publicly available EV charging network. Today they operate the largest publicly available fast charging network in the U.S.
Their network has just over 3,700 fast chargers spread across over 800 charging locations. These fast chargers are open to any electric vehicle brand and are fitted with a number of different fast charging standards to maximize compatibility. While they have received some criticism for having a higher number of non-working stations, they remain the sole non-Tesla charger available on some routes throughout the U.S. – so for now they are still a crucial network to facilitate road trips in many EVs. Users can find their stations with the Electrify America app and use the app to begin charging, track their charge, and pay with contactless payment.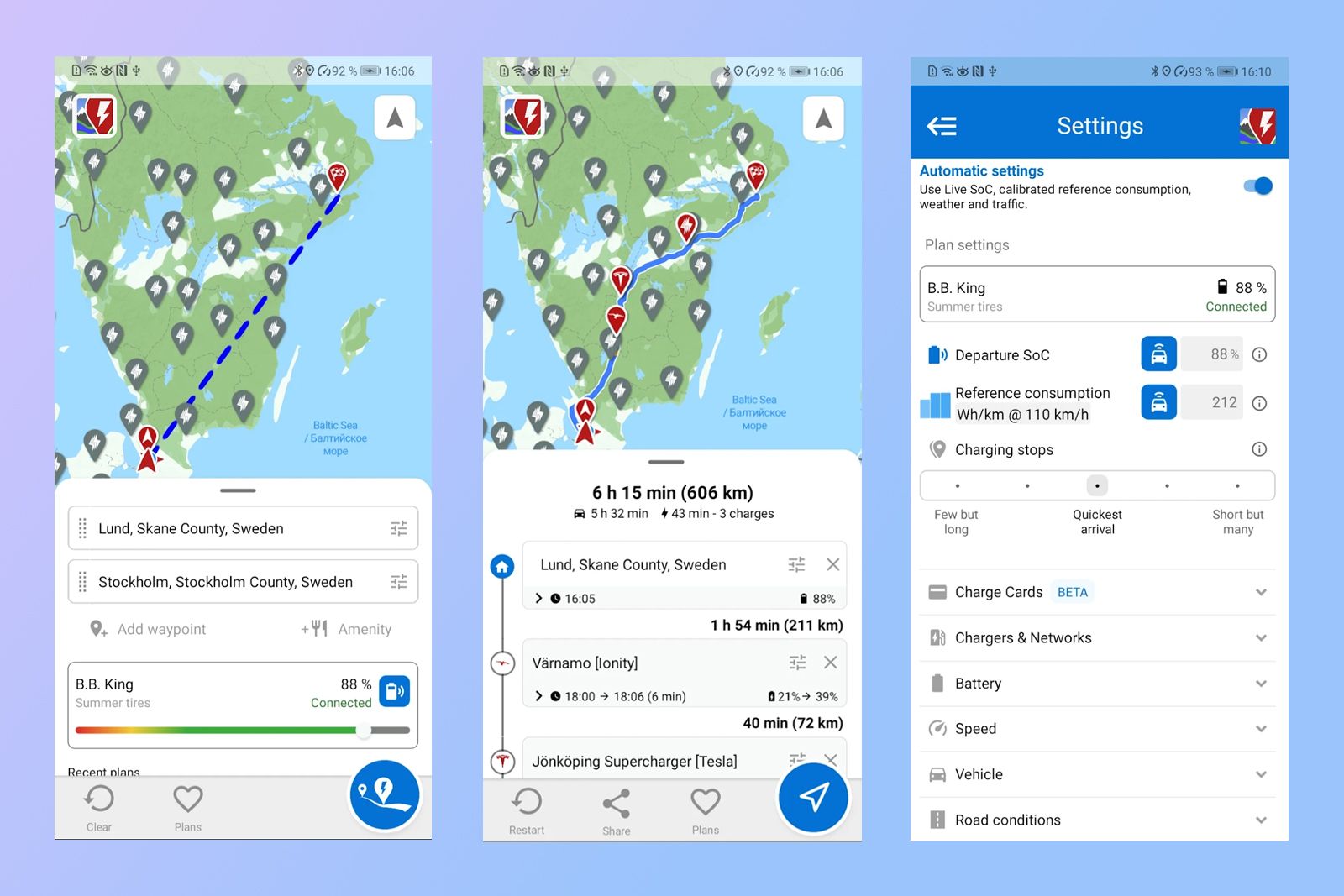 ABRP / Pocket-lint
A Better Routeplanner (ABRP)
5. Best EV charging app for road trips
Charging information, route optimization, and time management
Currently the absolute best way to plan out a route with an EV. Once you use it once, you'll never plan a road trip without it again.
Pros
Routes can be customized by a myriad of different factors
Shows you exactly how long you'll need to stop
Cons
Full integration with your vehicle requires paid Pro version
All EV's come with a navigation built into the infotainment in the vehicle. While some EV software certainly works better than others, they all leave something to be desired. After mapping out a destination they will all tell you how much battery you'll have when you arrive, if you'll need to stop for a charge, and where you can stop for a charge. A Better Route Planner (ABRP) takes things to another level with extremely detailed filters.
With ABRP you can input information related to energy consumption, charging type preferences, how fast you'll be driving, and so much more. ABRP will show you the best route for your drive, charging included, and determines the best route based entirely off your preferences. Whether you prefer more frequent shorter stops, or less frequent longer stops, ABRP has an adjustable sliding scale to help you find the perfect route.
The app can also be synced with a number of EV's to receive real time battery and energy efficiency data directly from your vehicle. You can tell the app exactly what level of charge you'll be starting your drive at, and crucially what level of charge you'd like to end your trip. It will do all these calculations and then tell you exactly where to stop and for exactly how long. This app is absolute must for any road trip with an electric vehicle.
The bottom line: Why are these apps an essential part of EV ownership, and what is the best one?
While the electric vehicle charging infrastructure in developed nations has certainly come a long way in the last few years, it still has a long way to go in order to match the sheer volume of gas stations in both density and total availability. While charging these days is by no means hard to find within major metro areas, it's still beneficial to be as efficient as possible, and to know that you likely don't have to go drastically out of your way to find a charge. An app like PlugShare makes it easy for EV owners to check out what the charging situation looks like in a city or area they may be driving to. With a glance they can understand how much of a charging desert they may be heading into.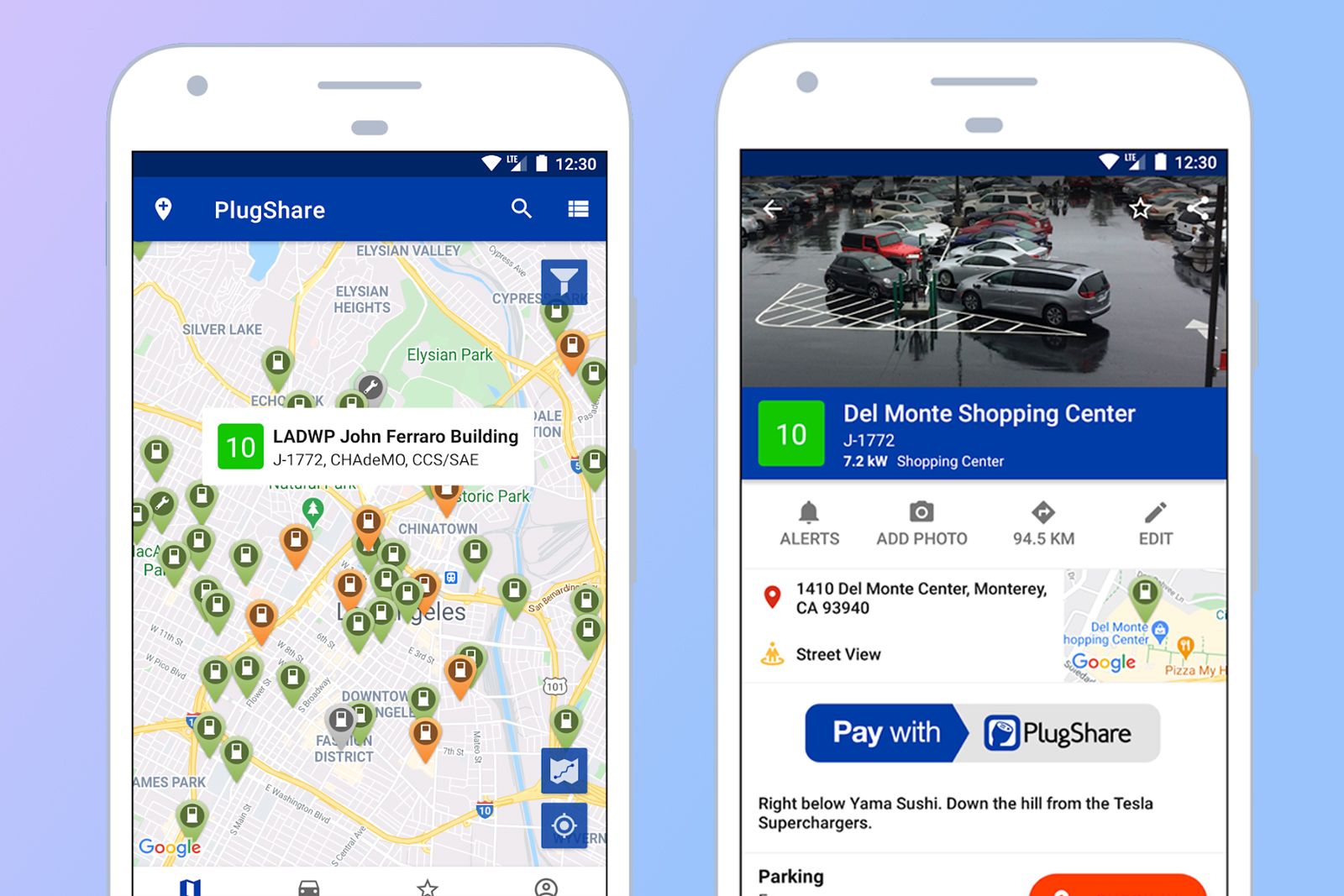 Plugshare / Pocket-lint
PlugShare
Editor's Choice
Product subtitle, as short as possible (no more than a sentence length), with clear descriptive words to indicate the target buyer.
If they are in a city with EV charging abundance, then they can use the Volta app to find free charging. After all, how cool is sitting down to pay for a meal while getting a few bucks of free charging while you eat? If drivers won't be able to rely on fast chargers and are in need of reliable Level 2 charging, then they can use the ChargePoint app to find the most convenient paid Level 2 charging stations around their location. Before you hit the road for that days long road trip, use ABRP to map it all out and know ahead of time exactly what to expect in terms of charging availability, and how long it will take. New EV owners will quite quickly get to know their cars and how range is actually worth worrying about, but these apps will be there when you need them most, so it's highly worth familiarizing yourself with each one.
How did we select these apps?
Well quite simply, I use all of these apps on a regular basis. When driving my Tesla Model Y across multiple states on 500+ mile trips, I'll always use ABRP to make sure I'm taking the most time efficient, and charge efficient route possible. When I'm venturing out of my home city on vacation or for business I use PlugShare and ChargePoint to make sure I'll have access to the charging I need when selecting a hotel. When I'm picking a spot for dinner I love to use the Volta app to pick a place that has free charging in the parking lot. Anytime I'm driving our households non-Tesla EV, I use Electrify America to make sure there are fast chargers on my route.
With the range on today's EV's you can certainly get by just fine with your vehicles built-in navigation, but these apps allow for a greater degree of planning and the peace of mind that you have a backup plan in the case of an out of service charger, power outages at your usual spots, or venturing into less densely populated areas. Each of these apps is simply a great tool to keep in your pocket for the day you'll need them.
Trending Products

.