For many, Amazon Alexa was the inaugural voice assistant home device, and over the years, it's poised to be even more useful as Amazon introduces its own ChatGPT-esque LLM (large language model) into Alexa's bag of tricks. An Echo smart speaker isn't all cutting edge ambient computing, though. As a simple tool for playing audio, answering questions, or setting alarms, an Echo or Echo Show is also a great option for kids.
Perhaps unsurprisingly, Amazon has multiple versions of its popular smart home devices specifically made with kids in mind. They're colourful, durable, and let parent's easily set controls, while giving children easy access to the content they'll enjoy and respecting their growing autonomy (why shouldn't a kid be able to set their own alarm or control the lights in their room?). Below, we've put together a list of the best Amazon Echo devices for kids. Whether you're looking for an affordable smart speaker or something more video-friendly, we've got you covered.
The best Amazon Echo devices: Our top picks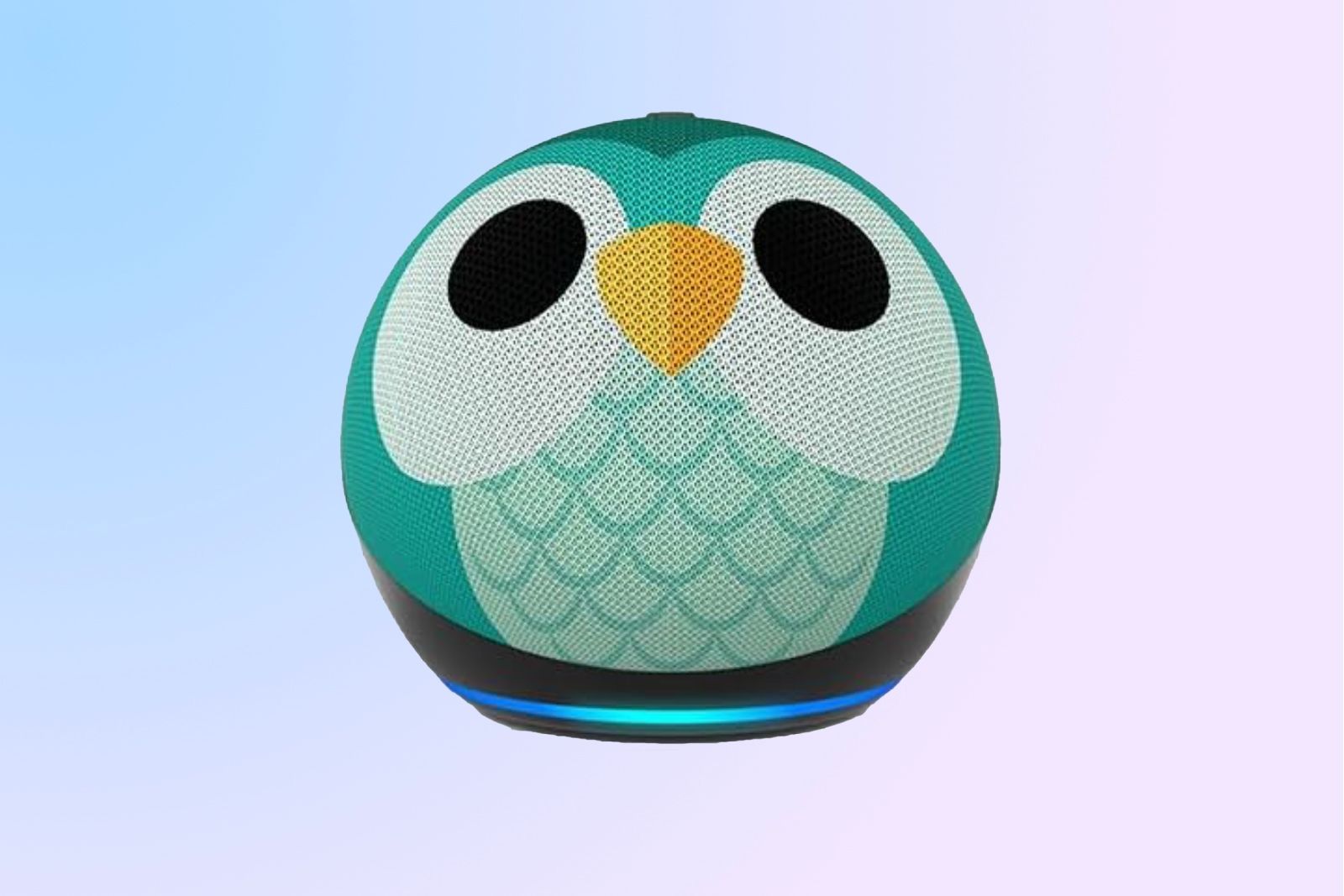 Amazon / Pocket-lint
Amazon Echo Dot Kids (5th Gen)
1. Best overall Echo smart speaker for kids
A great middle-of-the-road smart speaker
The Echo Dot 5th Gen Kids is an affordable smart speaker with fun, kid-friendly patterns, access to Alexa's suite of skills, and a physical mute switch when you don't want the speaker to listen for commands.
Pros
Better bass
Kid-friendly owl and dragon designs
A year of Amazon Kids+
The Echo Dot is no longer Amazon's smallest or cheapest smart speaker, but it's absolutely the best overall entry point for kids into the world of voice assistants in terms of both price and features. The Echo Dot 5th Gen Kids comes in either a dragon or owl print and has the same updated internals suite as the normal Echo Dot, which provides faster processing and better bass. Additionally, kids can even customise Alexa to sound "like a pretend owl or dragon voice."
Amazon's "Kids" branded devices all ship with access to a year of Amazon's Kids+ subscription service, which gives you and your child access to kids audiobooks, music from iHeart Radio Family, homework help, and kid-friendly movies and TV shows. That's a lot of content for basically a single $60 purchase, and it only costs $4.99 per month after that first year. Basically, the Echo Dot Kids will start out interesting and entertaining for younger children and only become more useful as they grow older and better able to use Alexa.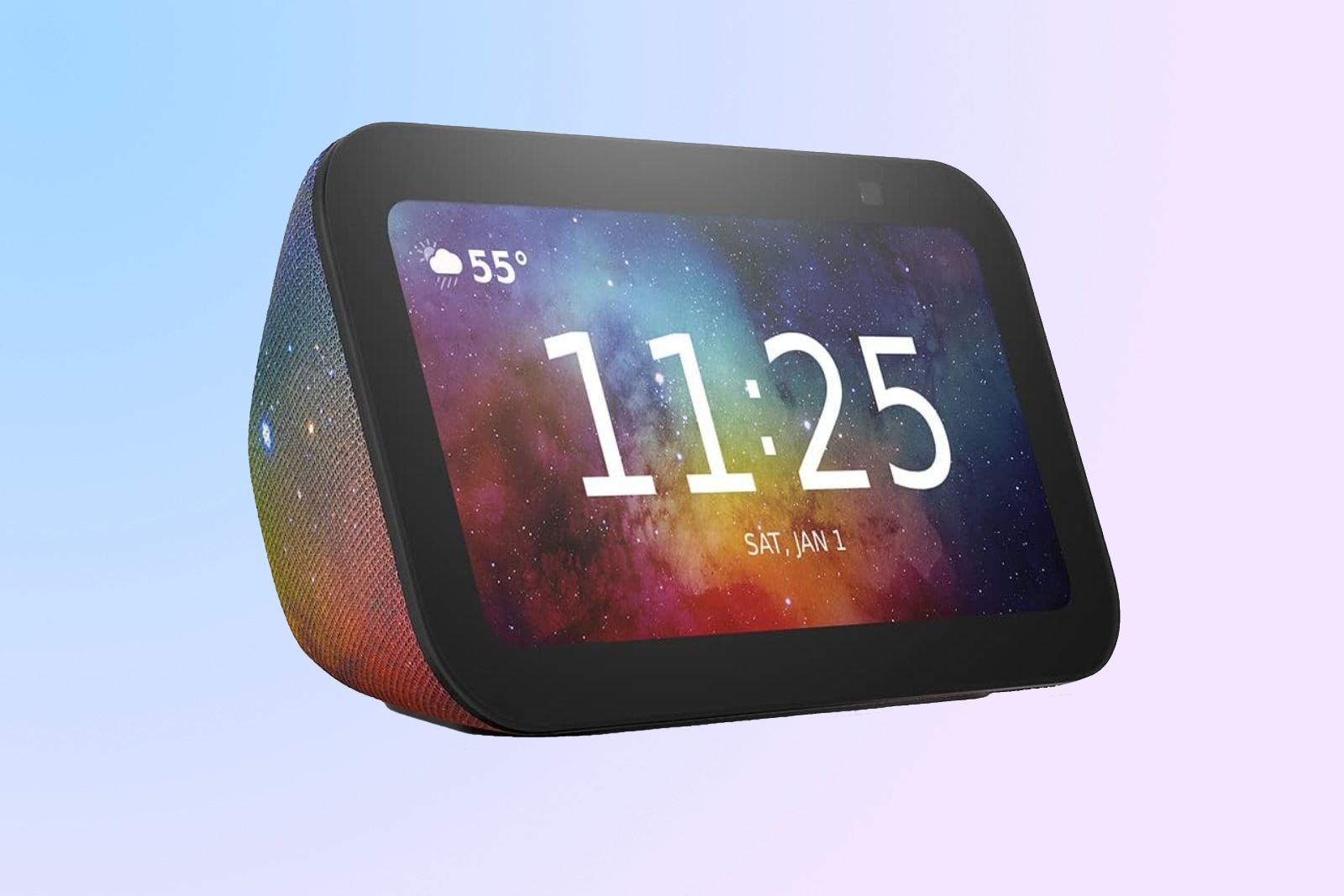 Amazon / Pocket-lint
Amazon Echo Show 5 Kids
2. Best premium Echo smart display for kids
Video calling with grandma made easy
The Echo Show 5 3rd Gen Kids smart display comes with a cool outer space print finish on the outside, and improved audio and processing abilities for Alexa on the inside. It's great for video calls and still supports Amazon Kids+ for even more content.
Pros
Faster processor
Alexa visual answers
Amazon Kids+ video content
Cons
Camera introduces new privacy complexities
Amazon's Echo Show 5 3rd Gen Kids is the smallest of its smart displays, designed to fill a similar role to the Echo Dot but with a display and camera for visual responses from Alexa, video calls, and watching videos. The Kid's version comes with an outer space print on the inside and the same revamped internals as the Dot for faster processing, better bass, and more vocal clarity.
The key difference with the Show is its 5-inch screen and camera, which could be even more distracting for some kids and uncomfortable for parents with an eye towards privacy. Like the mics, Amazon lets you disable the camera when you're not using it, but the extra cost of the Echo Show and its more mature set of features makes it probably best suited for older kids.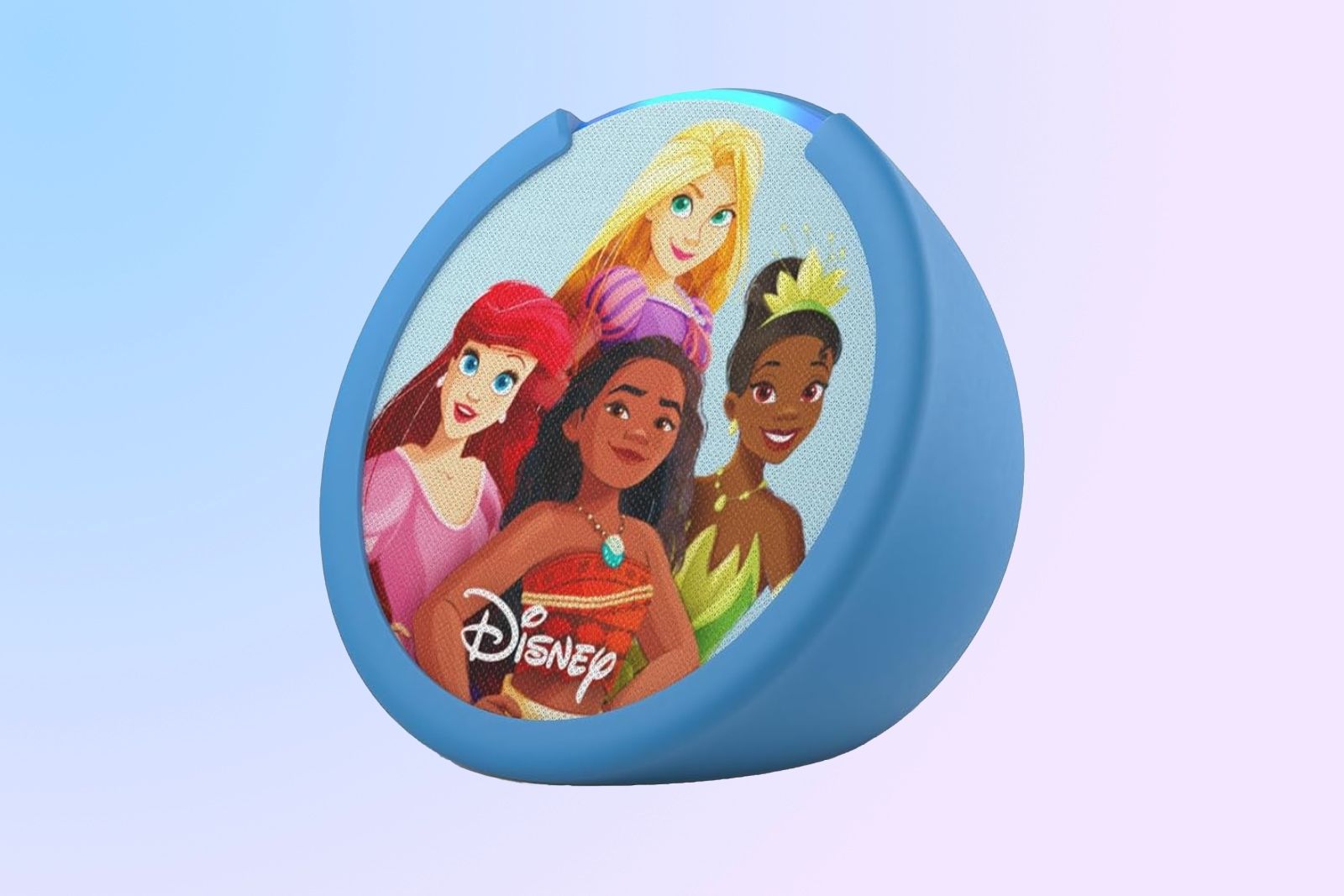 Amazon / Pocket-lint
Amazon Echo Pop Kids
3. Best value Echo smart speaker for kids
Budget-friendly with Disney designs
The Echo Pop Kids comes in either Marvel or Disney Princess versions, with a silicone sleeve to protect from spills, the usual access to Alexa for voice assistant tasks and playing kid-friendly media from Amazon Kids+ and Hey Disney!
Pros
Marvel or Disney designs
All that Alexa and Amazon Kids+ can offer
Silicone cover for protection
Cons
Just okay audio performance
The Echo Pop is Amazon's newest smart speaker and the replacement for the original Echo Dot. It's meant to be affordable at all costs, and the newly announced Echo Pop Kids isn't changing that. With the Kids' version you can get either a Marvel's Avengers or Disney Princess design, with a silicone wrap around the outside of the speaker to protect it from scratches or spills.
Besides the expected access to Amazon Kids+ it's otherwise the same Echo Pop that Amazon released earlier this year. Its audio performance isn't as strong as other Echo devices, and it's missing some of the internal sensors of other Amazon products. But it has Alexa and some of the most recognizable, kid-friendly characters you could possibly slap on a smart home product, so it likely won't make a remarkable difference.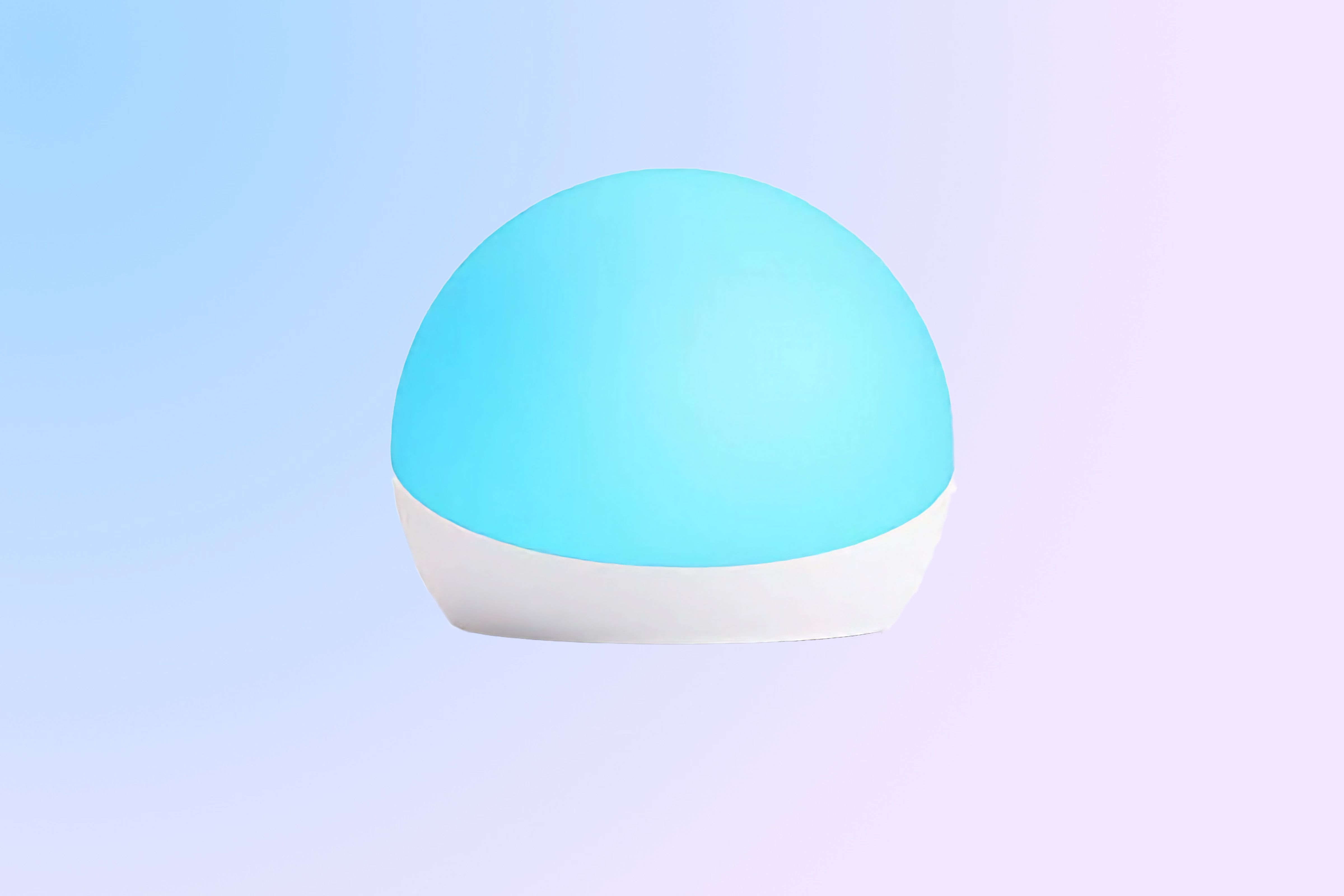 Amazon / Pocket-lint
Echo Glow
4. Best smart lamp for kid's Echo devices
Control lights with your voice
The Echo Glow is a smart lamp for kids that pairs with Echo devices for voice controlled adjustments to brightness and colour, and tying light effects to other Alexa routines, alarms, and timers.
Pros
Easy to setup
Controllable with Alexa
Cons
Doesn't fully work without other Alexa devices
Best used as a companion to an existing Echo or Echo Show, te Echo Glow is simpler than other Echo devices. The smart lamp can change its brightness or colour with a simple voice command to Alexa, but is even more interesting work into existing Alexa skills or routines.
Your child could set up the Echo Glow to wake them up with light when their alarm goes off, strobe during a dance party, act as a night light around bedtime, or change colour as a timer winds down. Not the most useful on its own but a good illustration of Alexa's ability to control other smart home products.
The bottom line: What is the best Amazon Echo device for kids?
When it works, getting a request answered by Alexa can feel like magic. It's easy to see why kids would be fascinated by it, and why Amazon would make its own kid-focused, affordable electronics. It shouldn't be a surprise then that the best overall Amazon Echo for kids is the Echo Dot 5th Gen Kids. Its fun designs are welcoming, Amazon Kids+ offers a wealth of educational and entertaining content to dig through, and separate from all of that, it's just a great smart speaker that's noticeably better than its previous generation.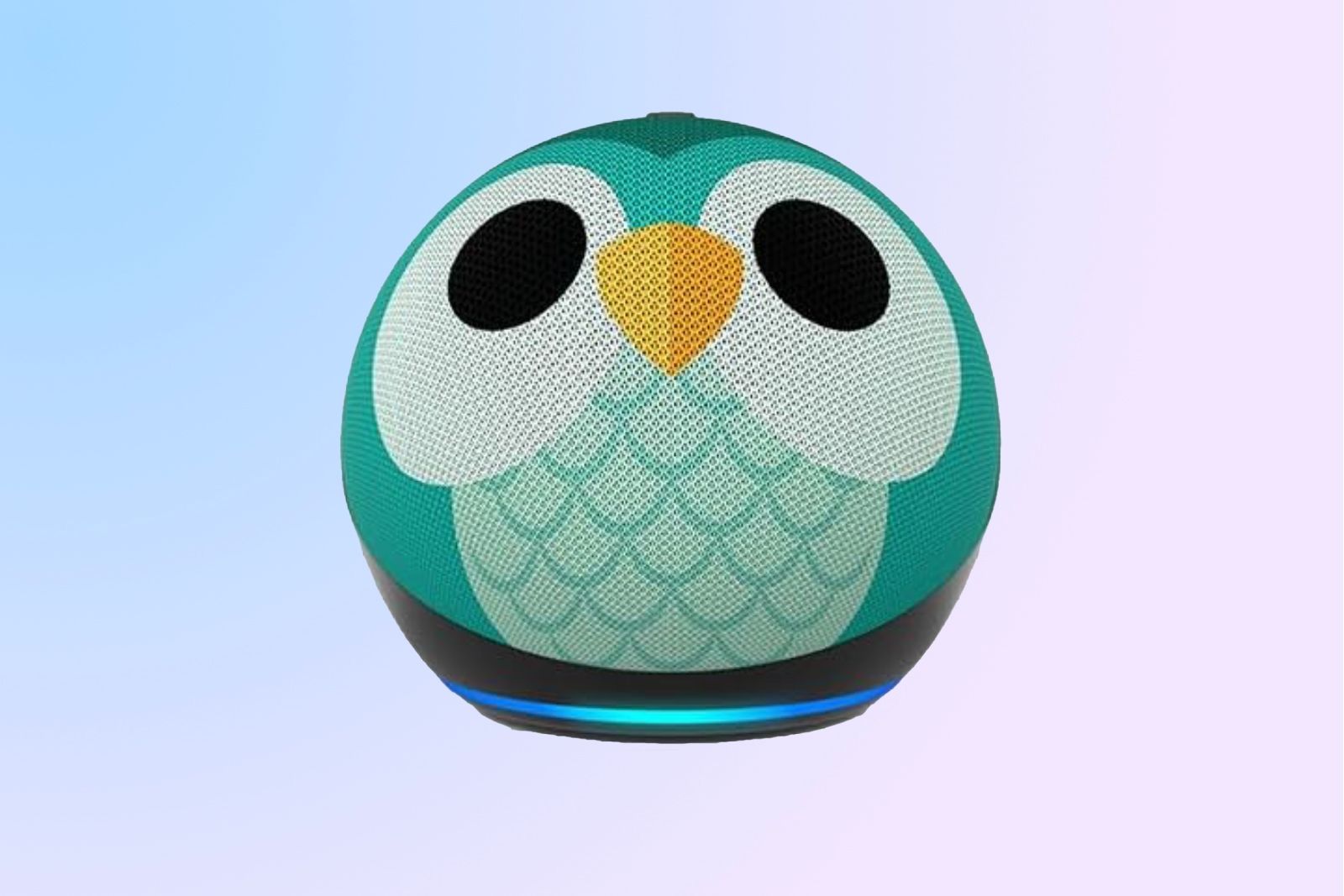 Amazon / Pocket-lint
Amazon Echo Dot Kids (5th Gen)
Editor's Choice
A great middle-of-the-road smart speaker
The Echo Dot 5th Gen Kids is an affordable smart speaker with fun, kid-friendly patterns, access to Alexa's suite of skills, and a physical mute switch when you don't want the speaker to listen for commands.
The Echo Show 5 Kids pushes things in a slightly more premium direction (it's all relative with Amazon's products) with a screen and camera that turn the Echo Show into an all-around entertainment and communication machine. That means access to kids TV shows and movies, and more Alexa features.
Or, for even less than the Echo Dot, you can buy an Echo Pop Kids and get access to Alexa and Amazon Kids+ in a silicone wrapped speaker with Disney princesses or Marvel superheroes on the front.
How we picked the best Amazon Echo devices for kids
We've used all of Amazon's devices, be they speakers, displays, tablets, or e-readers, and have a good sense of the audio and video quality, and general usefulness of Alexa, Fire OS, and other Amazon-developed software on each device.
Pocket-lint also has a not insignificant number of staff who also happen to be parents fording the wilderness of children's electronics every day, with distinct opinions on what Amazon has to offer in the hardware, software, and content departments.
We made our picks with price, features, and kid-friendly use cases in mind, and selected Amazon Echo devices that spanned the gamut of reliable favourites, upcoming new editions of former top picks, and unique accessories.
Do I have to subscribe to Amazon Kids+?
An Amazon Kids+ subscription is not required to use any Echo smart device or Fire tablet and parental controls are available without any additional fees. On top of that, any Alexa skills you've already purchased for existing Echo devices can be shared with your children's device. However, if you're interested in Amazon's more advanced kid-focused Alexa features, like the ability to read a bedtime story or offer math homework help, you'll need to pay for a subscription which starts at $4.99 per month.
Trending Products

.