It can be hard to keep up with Asus' Zenbook range of laptops, with a variety of models that offer different screen sizes and features. The Zenbook S 13, however, puts all its emphasis on that 'S' – which stands for 'slim'. Or, as Asus' website puts it, "the world's slimmest OLED ultraportable". It's hard to argue with that claim too, as the 13.3-inch laptop weighs just 1kg, while its slimline profile measures a maximum of 11.8mm thick.
It doesn't make too many compromises to achieve that streamlined design either. There's a bright and attractive 13.3-inch OLED display with a '2.8K' resolution (2880 x 1800) and HDR, along with a 13th generation Intel i7 processor that can handle routine tasks such as web browsing or running Microsoft Office with ease. And while the Zenbook S 13 can't match the outstanding battery life of Apple's MacBook Air, it does manage to provide all-day battery life at a much lower price than its Apple rival. Is this the best ultraportable laptop you can buy? Here's my full review.
Asus Zenbook S 13 OLED (2023)
Battery life is good, rather than outstanding, but the lightweight, slim design of the Zenbook S 13 makes it a great option for people who need to carry a laptop around with them all day long. It's sturdily built too, while the bright, colourful OLED display is ideal for web browsing, entertainment or business presentations.
Pros
Stylish, slimline design
Weighs just 1kg
Bright, colourful OLED display
All-day battery
Cons
Limited upgrade or customisation options
Modest graphics performance
Glossy, reflective screen
Price and options
Display: 13.3-inch OLED, 2880×1800 resolution, 550nits, 100% DCI-P3
Processor: Intel Core i7-1355U (3.7GHz/5.0GHz)
Graphics: Intel Iris Xe (integrated)
Memory: 16GB LPDDR5
Storage: 1TB SSD
Asus' website lists a number of different options for the Zenbook S 13, including 'up to i7' processor and 'up to 32GB' memory. In fact, there currently just seems to be a single model on available, which costs a competitive $1399.99 in the US with an i7-1355U processor, 32GB memory and 1TB solid-state drive.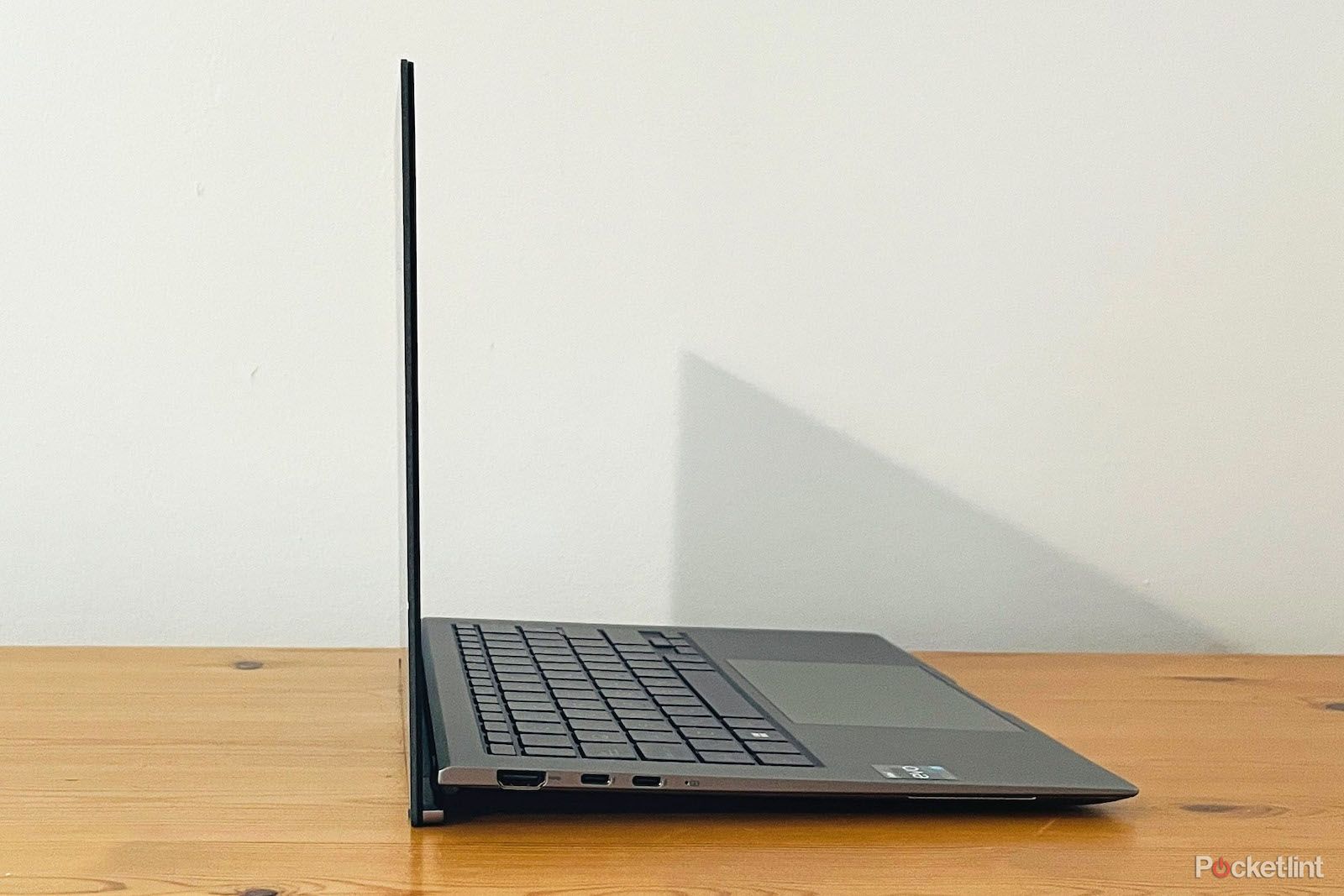 Customers outside the US don't get quite such a good deal, as the UK and other regions only get 16GB memory at the moment, and the UK price is also slightly higher at £1499.99. That's still a good price though – Apple's current 13-inch MacBook Air starts at $1099.00/£1149, but only provides 8GB of memory and 256GB solid-state drive. Upgrading the MacBook to match the 16GB memory and 1TB drive of the Zenbook S 13 that we review here bumps the price right up to $1699.00/£1749.00, making the S 13 look like very good value indeed.
Design
Dimensions: 11.8 x 296 x 216mm
Weight: 1.0kg
Ports: 1x HDMI 2.1, 2x Thunderbolt 4, 1x USB-A (3.2), 3.5mm audio In/Out
Wireless: Wi-Fi 6E, Bluetooth 5.3
The slimline design of the Zenbook S 13 catches the eye straight away, as does the smart, tiled-mosaic finish on the screen panel of our 'Basalt' stone-grey review unit (Asus' website says there's a Ponder Blue option as well, but that doesn't seem to be available at the moment). The 1kg weight is also noticeable as soon as you pick it up, feeling very light and well-balanced as I hold it easily in one hand.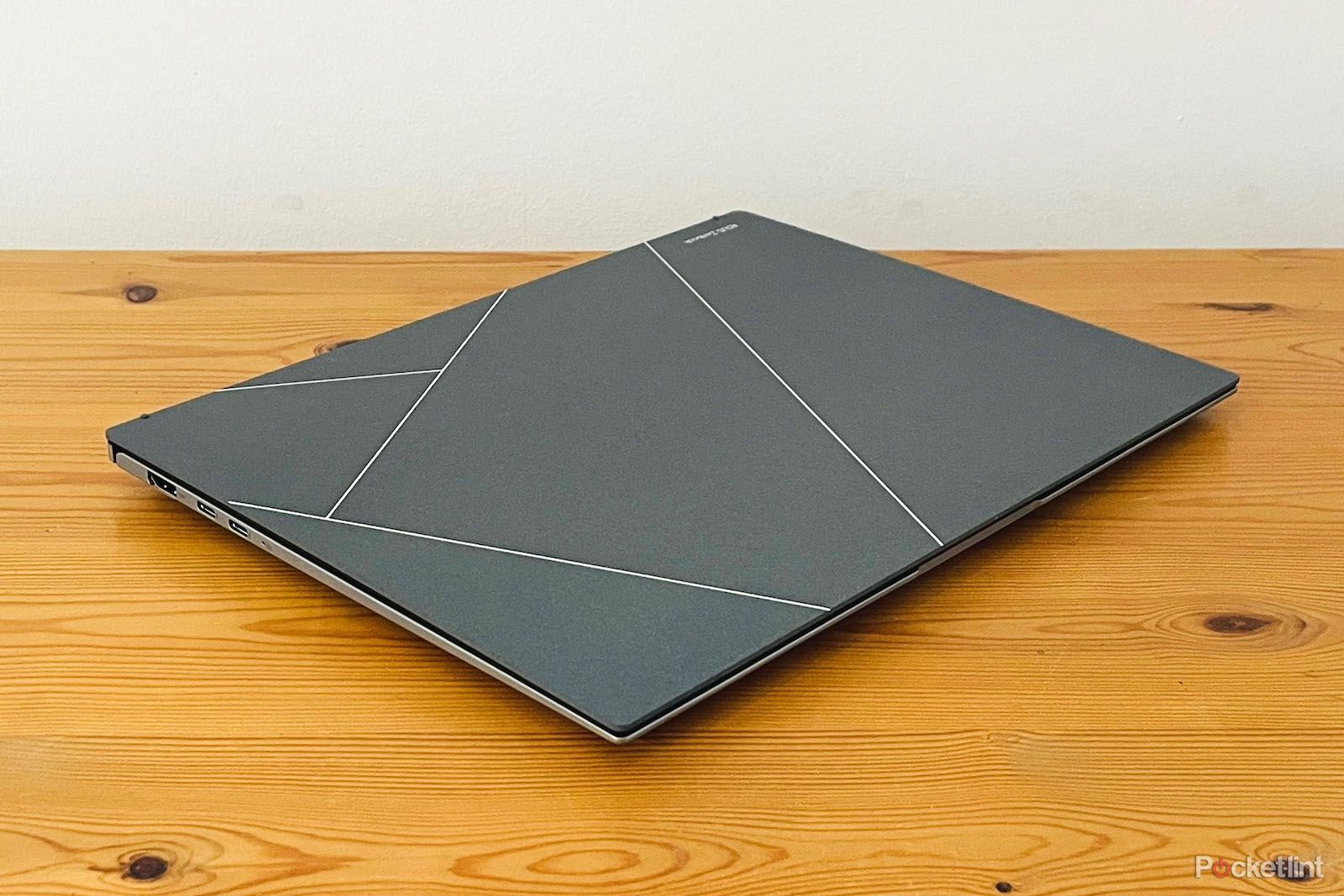 This Basalt model is very sturdy too, as Asus claims to have developed a new process – not used on previous Zenbook models – to mould the screen panel out of 'plasma ceramic aluminum' (not available with the ponder blue option, apparently). This material is both light and strong, and Asus even boasts that the Zenbook meets the US military standard MIL-STD 810H to ensure that it can cope with the sort of treatment it might get from Tom Cruise in the Mission: Impossible films.
It's hard not to admire the classy design, but Asus does get a bit carried away at times. At one point it describes the Zenbook S 13 as being 1cm (10mm) thick. In fact, it measures 10.9mm along its front edge, growing to 11.8mm on the back, where the keyboard and screen meet. However, the L-shaped hinge is relatively large as it allows the screen to fold right back through 180 degrees so that you can lay it completely flat. I'm not entirely convinced that this is especially useful, but it might come in handy if you need to give an impromptu presentation, or just share some photos with friends.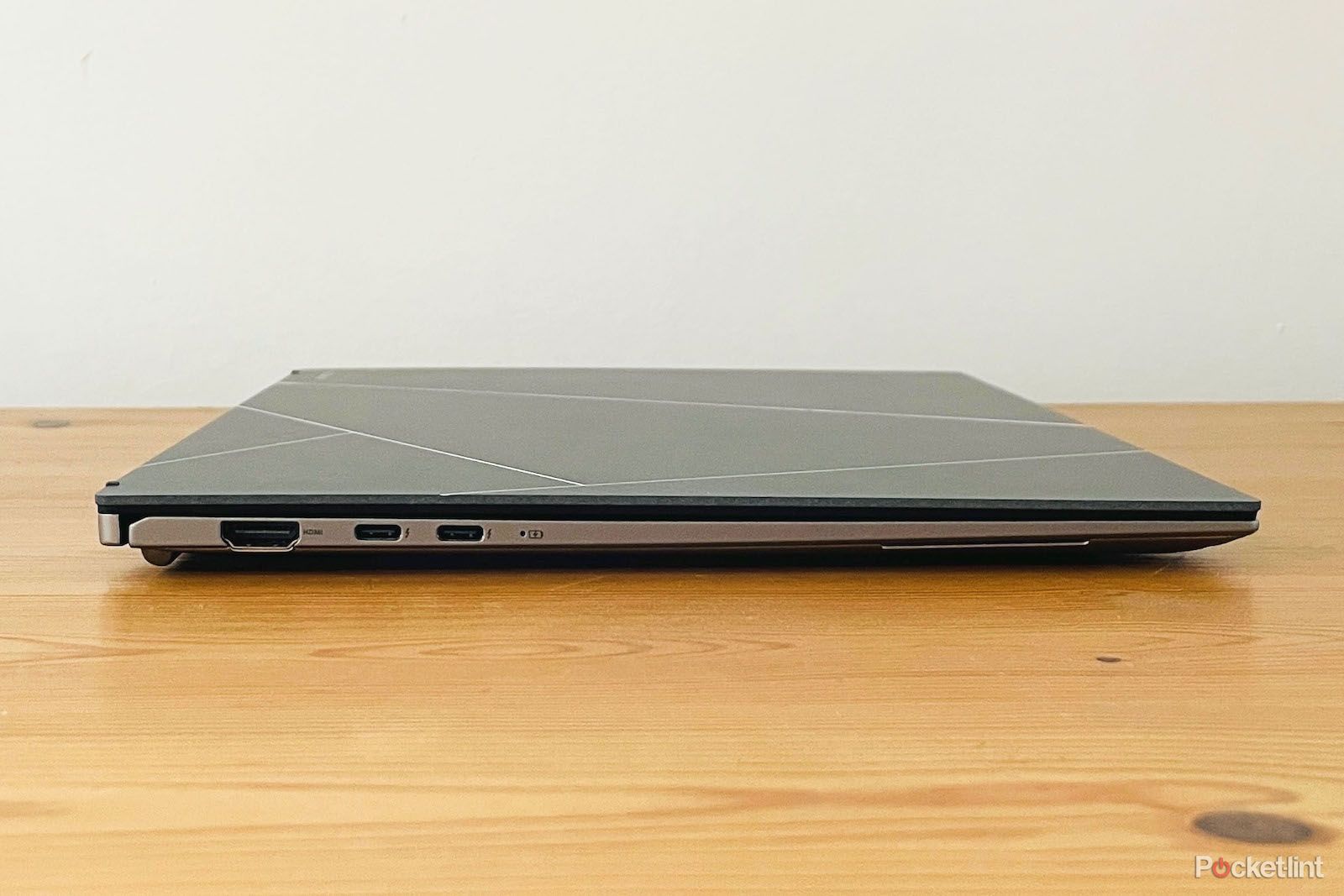 Asus hasn't had to cut too many corners to achieve this slimline design either. The Zenbook is well connected, with an HDMI port for connecting an external display, along with two Thunderbolt 4 ports that also provide video output. There's a USB-A (3.2) port for older peripherals, and a 3.5mm audio connector, while Bluetooth 5.3 and Wi-Fi 6E are on board to handle the wireless side of things.
Display: 13.3-inch OLED, 2880×1800 resolution, 550nits, 100% DCI-P3
Webcam: 1080p
Audio: stereo speakers with Dolby Atmos
The OLED display of the Zenbook S 13 is a real treat for the eye, with 550 nits brightness level that produces a bright, boldly coloured image that works well for watching films and video.
The display also supports the DCI-P3 colour standard used for professional video editing, so while it's not intended as a laptop for content creation, it will still be able to handle presentations and some simple photo or video-editing for school or work projects. My only complaint is that the screen has a very glossy, reflective finish, which can be a bit irritating at times.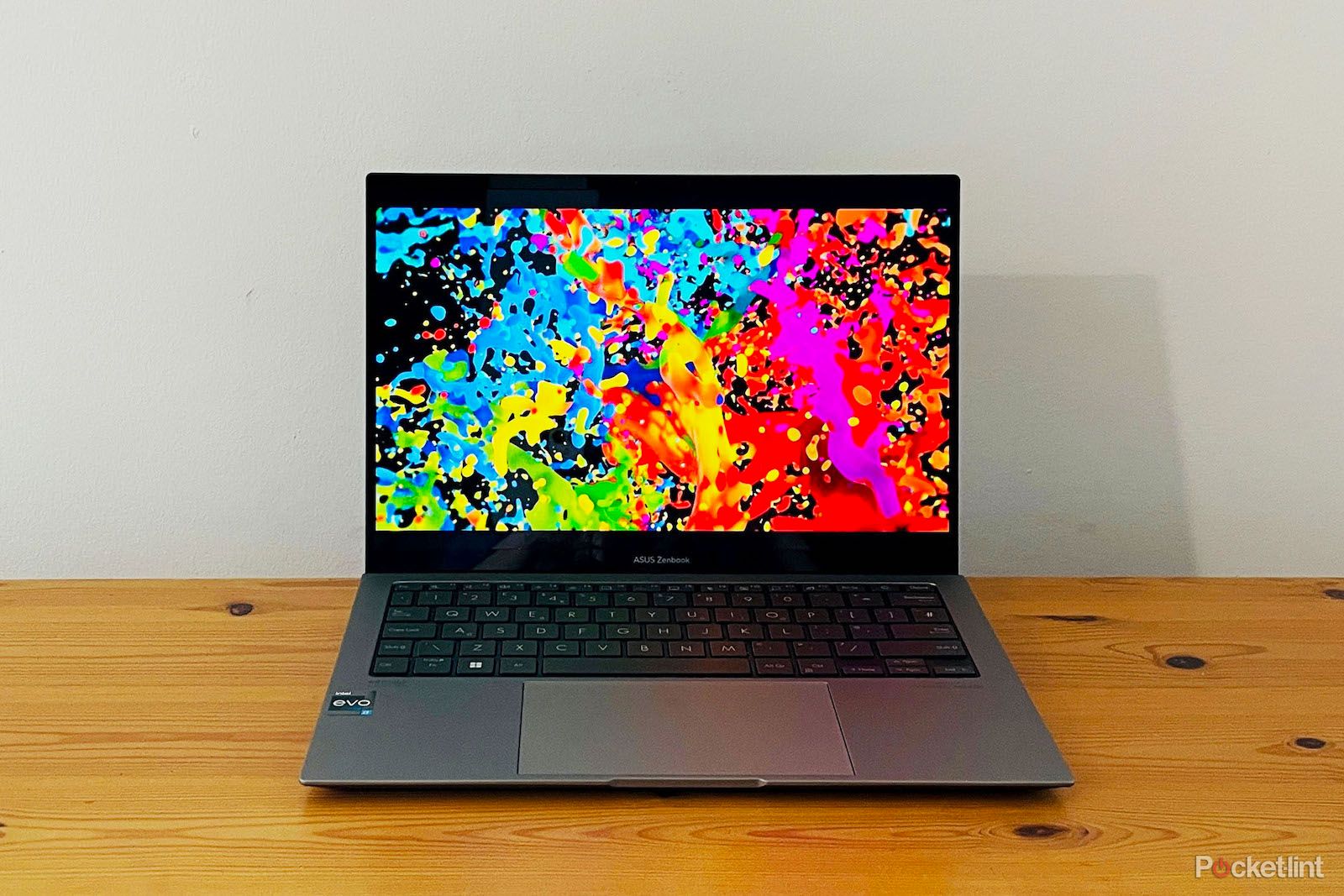 The display is accompanied by a 1080p webcam that coped well and produced a clear, sharp image, despite the gloomy September conditions during my tests. Even the built-in speakers work well – the slimline design means that the bass is rather underpowered, but the speakers are louder than I expected and manage to avoid the harsh, thin sound that afflicts many slimline laptops.
Performance and battery
Processor: 10-core Intel i7-1355U (max Turboboost 3.7GHz/5.0GHz)
Graphics: Integrated Intel Iris Xe graphics
Power: 65W adaptor, with 63Whr, 4-cell Li-Ion battery
The Zenbook S 13 focuses on portability above all else, but it still manages to provide very respectable mid-range performance for general day-to-day use. Its 13th generation i7 provides 10 processor cores – two performance cores and eight efficiency cores – with a base clock speed of 1.7GHz. However, the efficiency cores can benefit from Intel's Turboboost tech to run at up to 3.7GHz, while the performance cores go up to 5.0GHz.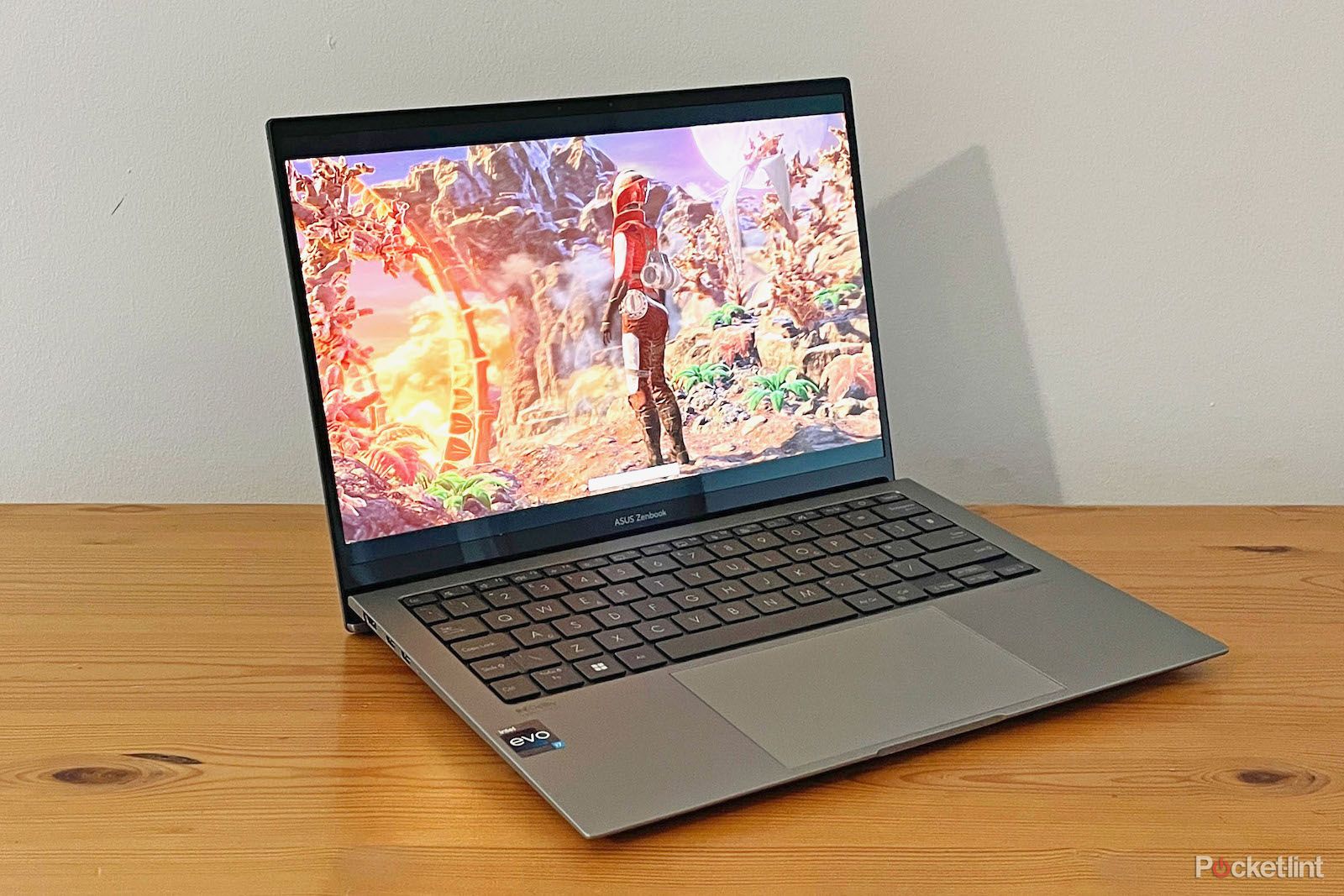 This gives the Zenbook a good level of raw processor power, with the GeekBench 6 test suite recording a single-core score of 2,410, and 8,475 for multi-core performance. That puts it clearly ahead of slimline rivals, such as Dell's XPS 13, which has a 12th generation i7 processor that scores just 6,700 for multi-core performance. The Zenbook certainly feels smooth and responsive in use, and should be able to cope with web browsing, video streaming, or running apps such as Microsoft Office with no trouble at all.
The slimline design does mean, though, that the Zenbook relies on Intel's integrated Iris Xe to handle graphics work, rather than a more powerful discrete graphics card. This only manages a modest 17fps when running the demanding Unigine Valley test for 3D graphics performance – although that's still stronger than the 13.5fps provided by the Dells XPS. But, if you don't mind setting the resolution to 1920 x 1080, then the Zenbook can still manage a playable 25fps when running Rise Of The Tomb Raider on its medium graphics settings, so it can still handle some casual gaming every now and then.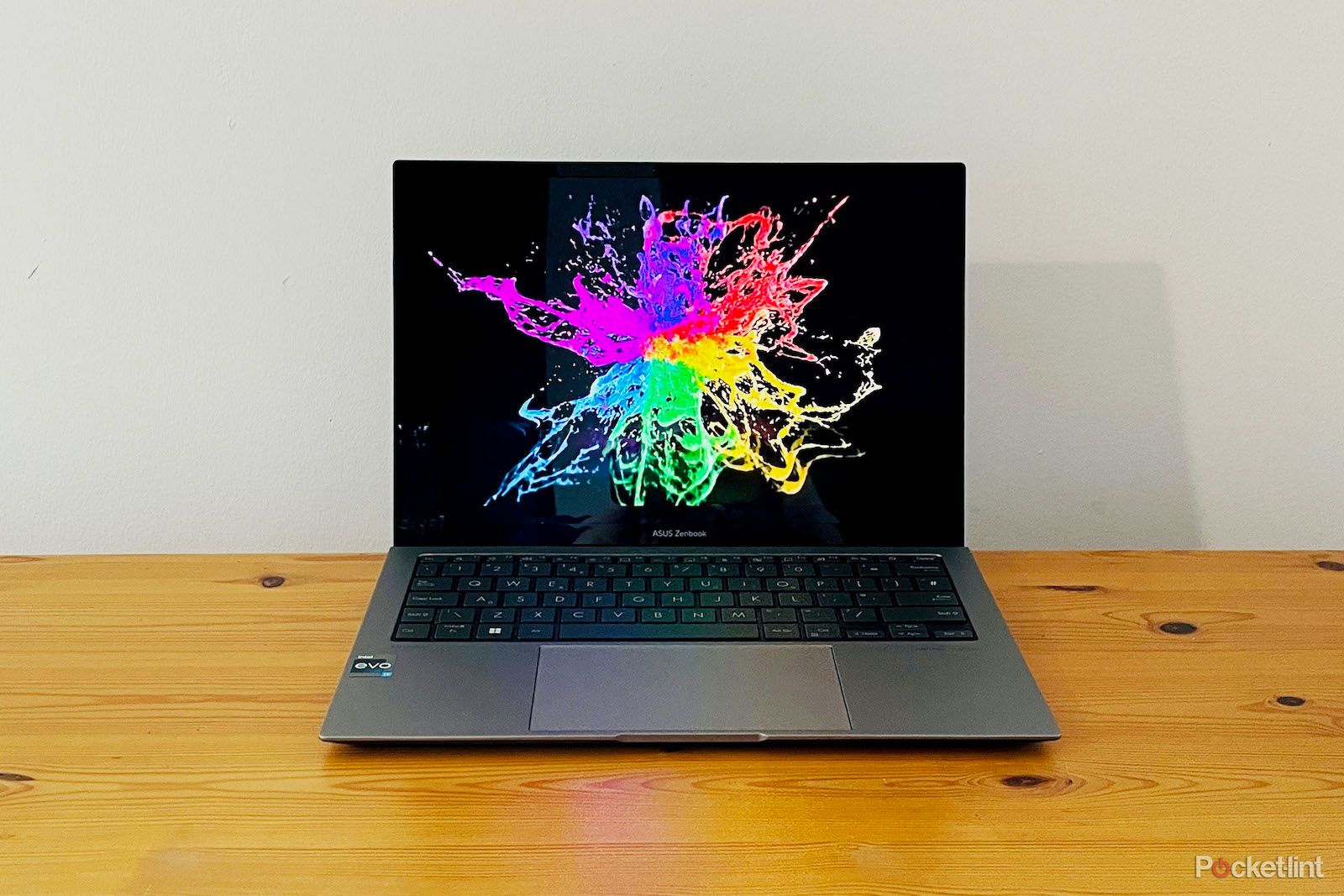 And, of course, the use of integrated graphics means that the Zenbook can provide pretty good battery life. Admittedly, it can't match the outstanding 10-12 hours of the MacBook Air, but I did get 8.5 hours of streaming video in my battery tests, so the Zenbook will easily be able to see you through the working day when you're on the road. And, as mentioned, it's considerably less expensive than the MacBook Air, making it a good option if you want an ultraportable laptop that you can carry around with you all day without breaking either your back or your budget.
Verdict
The slimline design and 1kg weight of the Zenbook S 13 make it a great option for people who need to travel a lot with their laptop. The ultraportable design provides very respectable performance too – it's no gaming rig, but it can handle presentations and entertainment on the move with no trouble at all.
There are laptops that can provide better battery life than the Zenbook S 13, yet it can still last long enough to give you a full day's work when you're on the road, and at a pretty competitive price too.
Trending Products

.