Dive into the delightful simplicity of a classic apple crumble. Discover the perfect dessert that's both easy to make and impossible to resist.
The apple crumble stands as a testament to the beauty of simplicity in the culinary world. Marrying the tartness of apples (preferably the zesty Granny Smith variety) with a golden, buttery topping, this dessert is a harmonious play of flavors and textures. When perfectly baked, the apples transform into a soft, delightful layer beneath the contrasting crunch of the crumble. Its straightforward elegance makes it a favorite in many homes, satisfying sweet cravings with every bite.
Frequently Asked Questions
What's the difference between a crumble and a crisp?
While both are fruit-based desserts with a topping, crisps typically contain oats, whereas crumbles do not.
Which apple variety works best for a crumble?
Granny Smith apples are ideal for crumbles because of their tartness, which contrasts beautifully with the sweet topping.
Can I add nuts to the topping?
Absolutely! Sprinkle in some crushed walnuts or pecans for an added crunch.
Substitutions
White Sugar: you can use coconut sugar or honey for a slightly different flavor.
Gluten Free: a cup-for-cup replacement gluten free blend can be used in place of all-purpose flour.
Salted Butter: Unsalted butter with a pinch of salt will work just fine.
Tips From the Chef
Ensure your butter is cold when mixing with the flour, and don't over-mix. This ensures a crumbly texture.
Always taste your apple mixture. Depending on the sweetness of your apples, you may need to adjust the sugar.
For a more golden-brown topping, you can lightly brush the crumble with an egg wash before baking.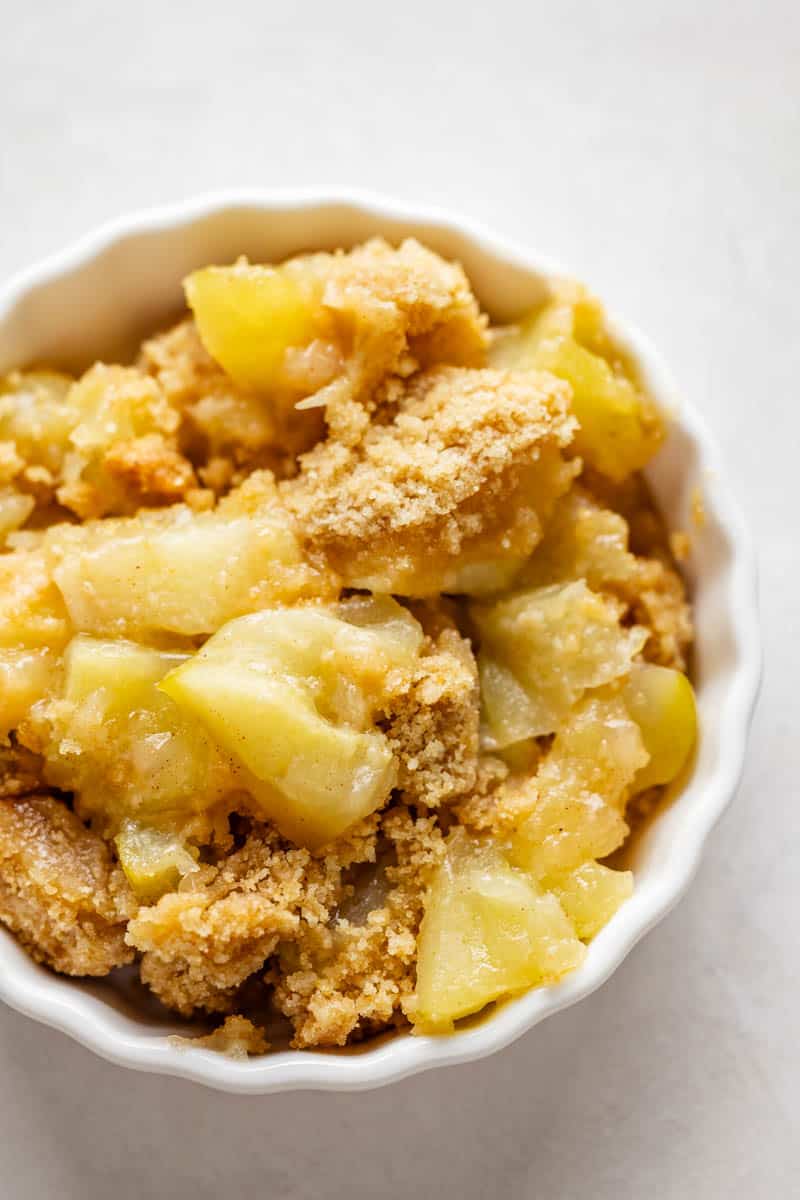 Storage & Reheating Instructions
Once the apple crumble has cooled to room temperature, you can cover it and place it in the refrigerator, where it will keep well for up to 4 days. If you're considering freezing the dessert for later enjoyment, ensure it's wrapped tightly in plastic wrap or placed in an airtight container to preserve its freshness. When you're ready to savor it again, reheat in the oven at a low temperature until warmed throughout. This method helps retain the crumble's delightful texture and rich flavors.
Crumbles, crisps, and pies. Oh my!
Trending Products

.