When it comes to small EVs – like really small EVs – there aren't many options. My pick of the bunch has been the Fiat 500e for a number of years. It offered those dinky dimensions and great affordability, both reliant on one slightly negative factor – low range.
For those driving in urban environments, low range might not be a problem and the Fiat 500e certainly has the benefit of being easy to squeeze into just about any parking space, so there's plenty of balance to this equation. The Abarth 500e is, unsurprisingly, a Fiat 500e wearing a different frock, while getting a few tweaks to turn this sweet street EV into something a little hotter. While the Fiat 500e starts at £28,195, the Abarth 500e starts at £33,364 (at the time of writing).
Abarth 500e
The Abarth 500e is a compact EV with pepped-up performance. It's fun to drive with some nice touches, but has limited range and isn't actually that fast.
Pros
Distinctive looks
Great ride and handling
Still pretty affordable
Cons
The sound generator
Range is pretty short
Lacks rear space
Let's talk about the Abarth Sound Generator
I'm going to start by talking about the Abarth Sound Generator. This is an external speaker that Abarth has fitted under the rear of the car. That's not uncommon on electric cars, as in the absence of a combustion engine, there's now the requirement for EVs to make some sort of noise when manoeuvring. That's designed to alert pedestrians to vehicles that otherwise are essentially silent.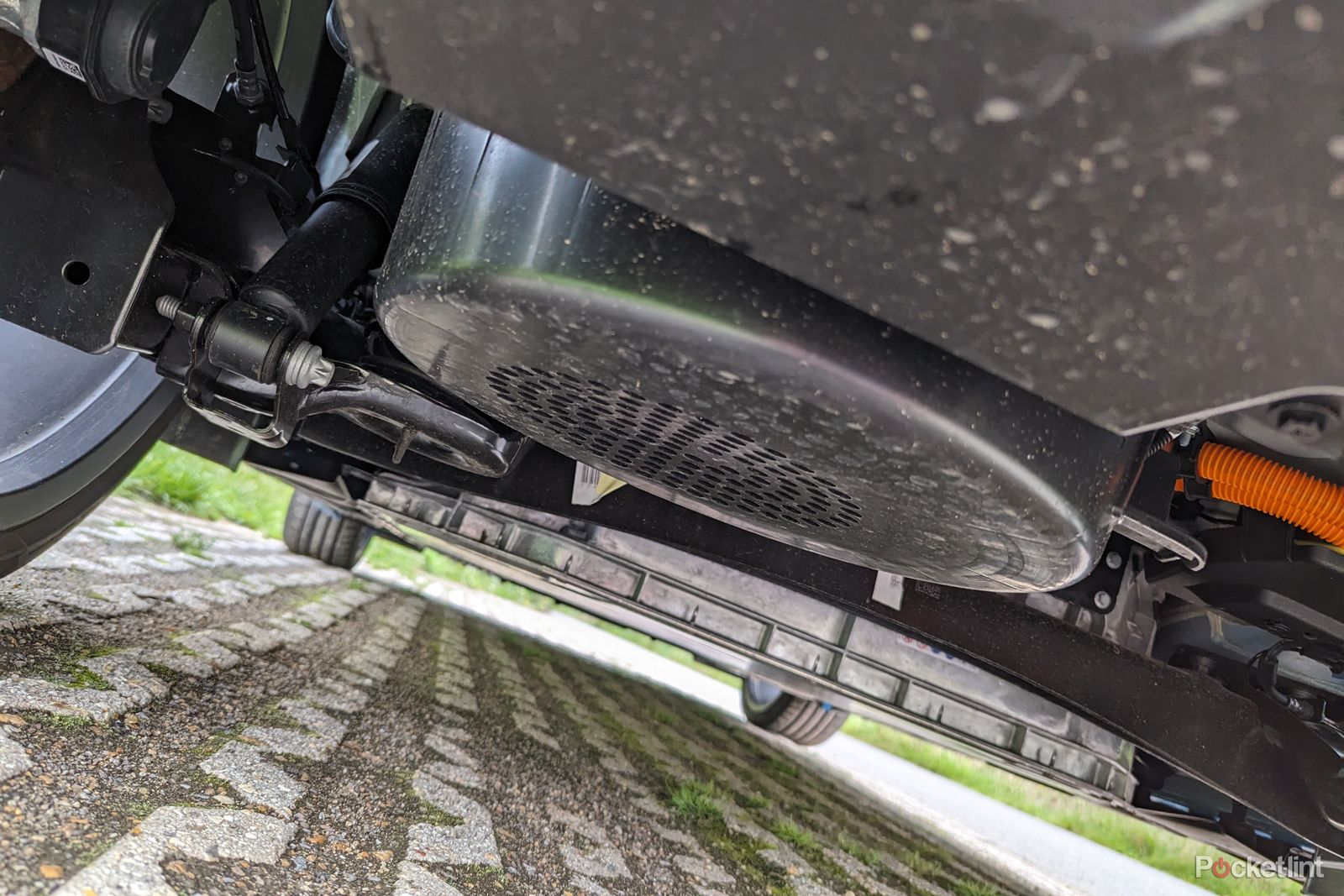 Such sound generators can also add a little je ne sais quoi to the experience of driving the car. Again, with the crackle and pop of an exhaust, companies are turning to the likes of Hans Zimmer to compose a futuristic soundtrack to make the drive more enthralling. With all that context out of the way, it might be a surprise to learn that Abarth's digital sound is that of a combustion Abarth.
Embracing the future comes with a drone from the past, it seems. When I dropped my wife outside Superdrug on the local high street, I was shocked when she opened the door to get out. "What the hell is that noise?" she said. It was a perfectly valid question. I knew about the Abarth Sound Generator, but I didn't think it would be quite so obvious.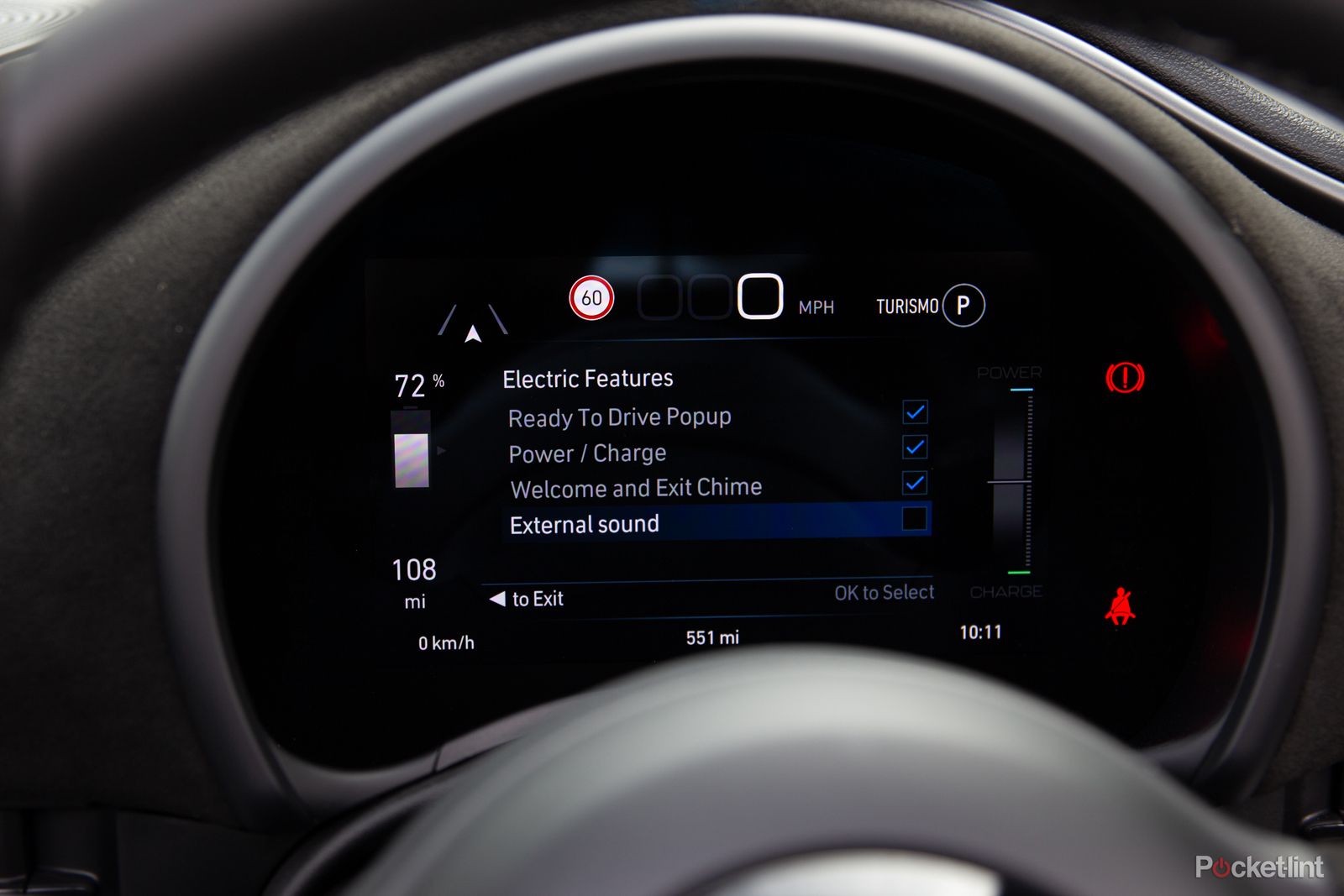 The other thing that's not obvious is turning it off. Yes, there's the sweet relief of silence, but it's not in the main menu, you can only get to the relevant settings through the menu in the driver's display.
Hot hatch design
Whether you have the sound on or off, the Abarth 500e is certainly a head turner. I think it's a great-looking car in its Fiat form, but paired with the Acid Green or Poison Blue (pictured here) paint, there's no missing this car on the road. I've driven a lot of great cars over the years and I can honestly say that the Abarth 500e got more attention than most of them.
It's been dressed up a little compared to the regular Fiat model, giving it more kerbside appeal, making it look sporty and aggressive, but still maintaining those cute dimensions. Scorpion badges and big Abarth lettering make it clear what people are looking at. There are two trims, the Standard and the Turismo (on review here), the latter benefitting from larger 18-inch wheels and interior upgrades, otherwise looking similar from the exterior.
The Abarth 500e sits close enough to the ground to look like a proper hot hatch, with front and rear bumper detail adding fun to what would otherwise be a super mini. There's another advantage that the 500e offers (both from Fiat and Abarth) and that's the option for a powered soft top. This is currently a rare feature on electric cars – there just aren't vary many EVs you can go topless in with the press of a button. Sure, it means you only have a small opening for the boot, here coming in at a comical 185 litres.
That's not the only aspect of the Abarth 500e that's a little on the small side. The rear seats are more of a suggestion rather than a practical space. If you have any sort of leg, you'll struggle to fit into the rear of this car. If you're thinking about using to regularly transport your kids or friends, it might not be the most comfortable option for anyone. Up front, however, it's perfectly comfortable with those sporty Abarth seats.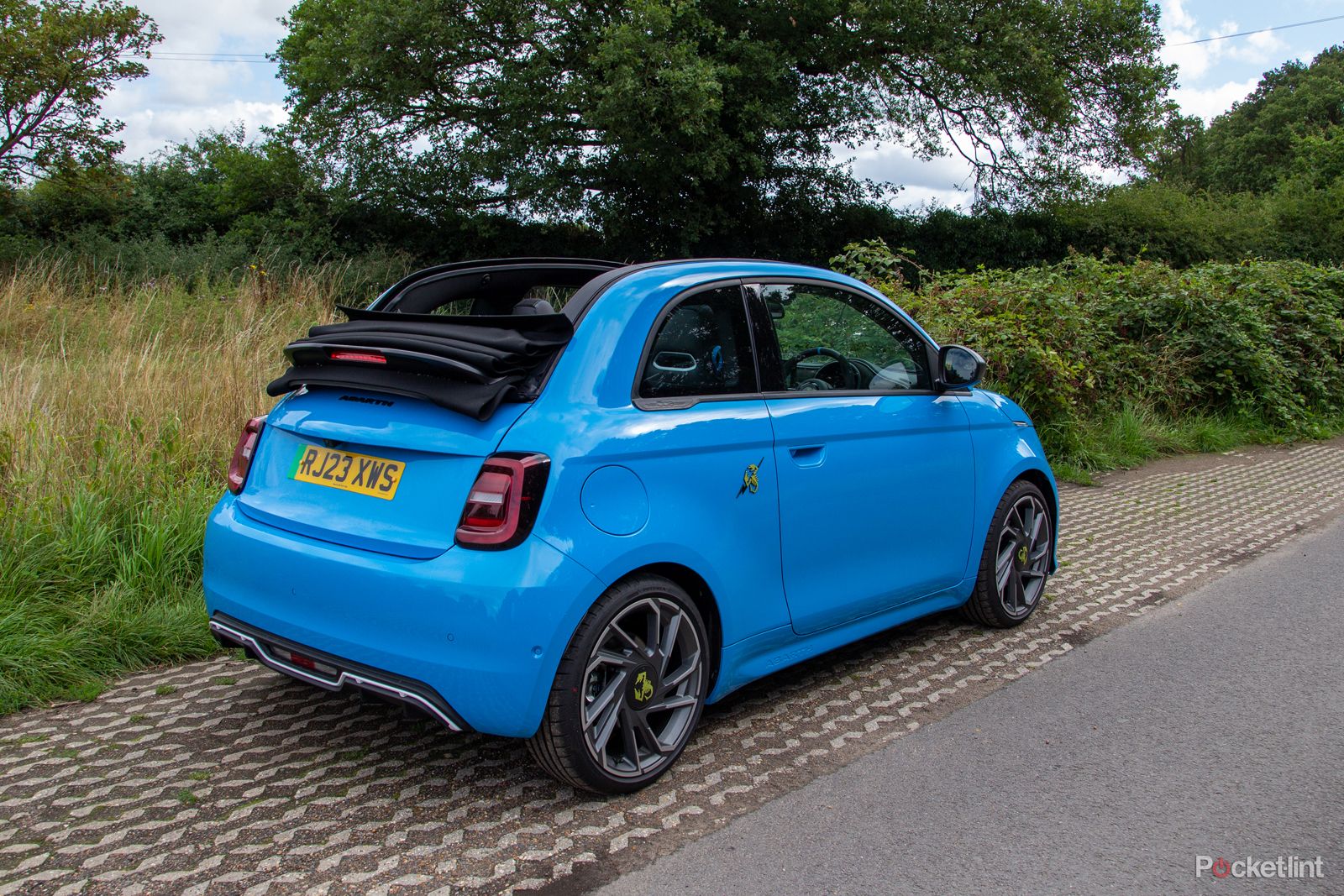 But overall there's a lot to like about the exterior looks. The phrase small but perfectly formed springs to mind, with details like recessed door handles adding a touch of modern quality to things. Due to the size of this car it's three-door only, but I love the character that comes from things like the eyebrows on the headlights.
An uplifted interior
I liked the interior of the Fiat 500e, but there's a lift in quality in the Abarth 500e to make it a little more special. That includes things like Alcantara trim on the dash, seats and steering wheel on the Turismo trim, along with those scorpion badges, but otherwise the layout of these two cars is generally the same.
That sets a 10.25-inch Uconnect screen atop the dash, with a run of climate controls beneath it. There's a small tray containing a Qi wireless charging pad for your phone and then one of the features I'm pretty keen on – buttons instead of a drive shifter. This makes good use of space, as you just press the buttons for park, drive or reverse, rather than having to use a gear shifter of some sort.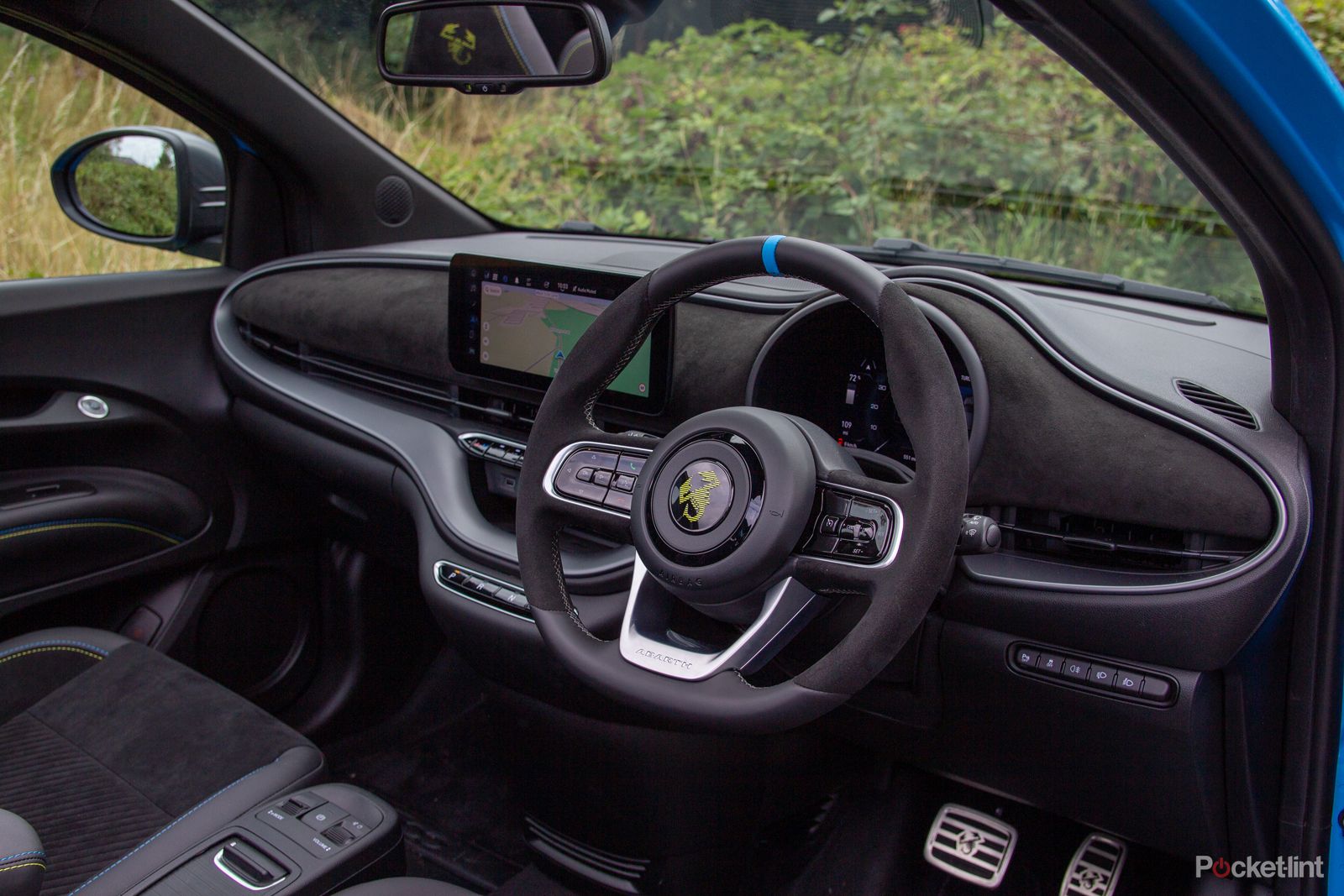 The advantage that has on the interior is that the centre console can be reduced slightly, and that gives the sense of a little more space around your feet and knees. If there's one thing I'm not so keen on, it's that closing the door gives a slightly tinny clatter, a reminder that you're in a dinky metal box – but that's long been the Fiat 500 feeling.
Another nod to modernity that you'll find are buttons to open the doors – just like a Tesla – while sitting between the seats you'll have access to a couple of cup holders, as well as the drive model selector – Turismo, Scorpion Street and Scorpion Track – and the volume control for the sound system.
The Abarth 500e is equipped with a 320W JBL sound system, comprised of seven speakers. The performance is great and with support for wireless Android Auto or Apple CarPlay, it's easy to get your tunes pumping in the Abarth.
The main Uconnect display gives quick access to important features like music, climate control and navigation and is simple enough to use. It's not a hugely exciting design overall, but I had no problem searching out the closest fast charging station, for example, and I found navigation instructions to be clear enough.
Despite being small, there are parking sensors and cameras, with a 360 view on the Turismo trim, making it really easy to slot the car into a tight space.
Battery, range and driving performance
Abarth's unit of measure for the 500e is the Abarth 595, the older petrol model. The electric model is faster than its combustion rival, with better acceleration across all increments from 0-62mph. There's an important detail here, because this is the sort of car that's great for low speed changes and although the 0-62mph time is only 0.3 seconds faster than the petrol, in the middle of that range the instant torque will mean that pulling away from the lights will feel a lot faster in the electric model.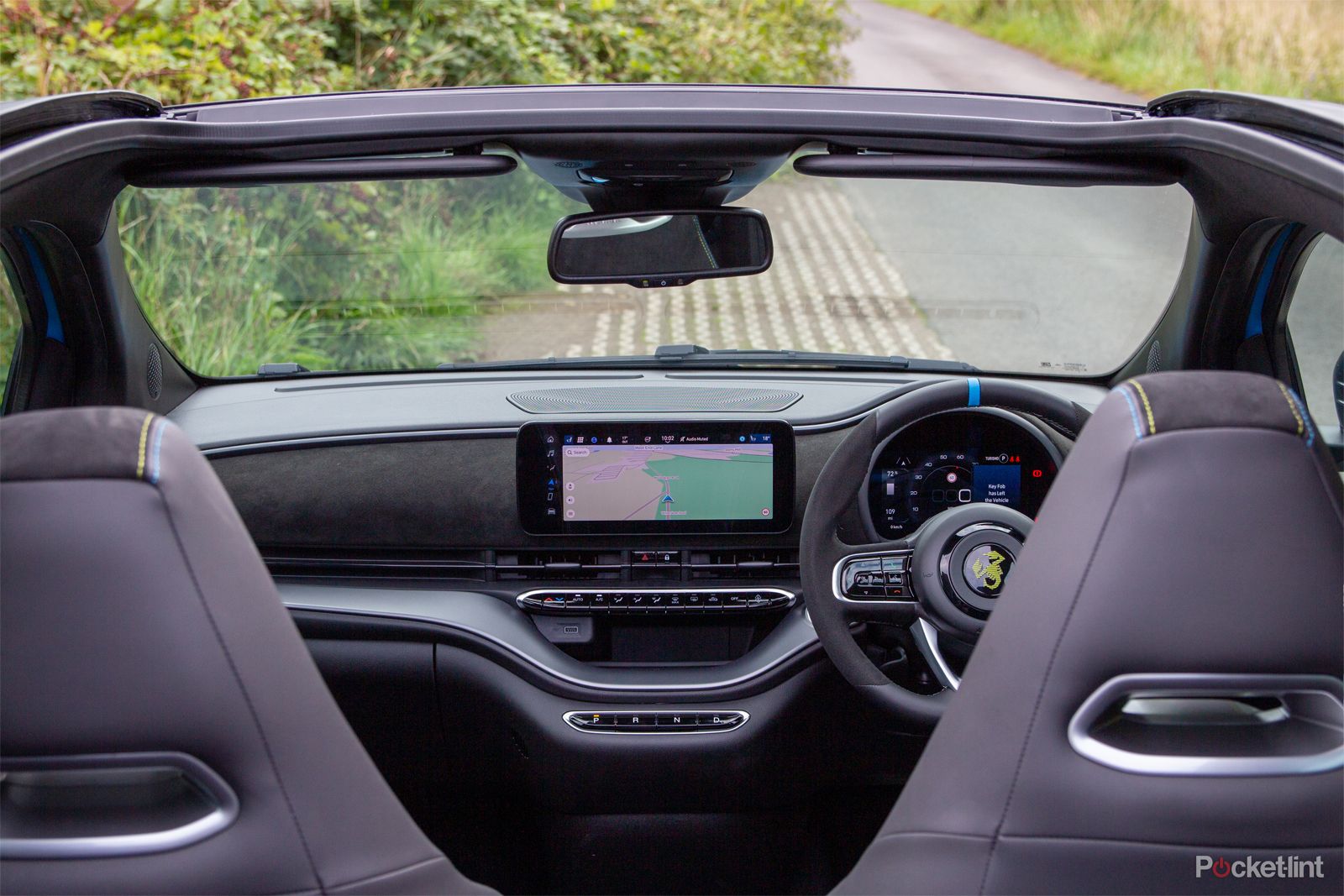 The electric motor will generate 113.7kW – 152hp – and 235Nm torque driving the front wheels, although this power is only delivered on the top two driving modes, Scorpion Street and Scorpion Track. There's a 42.2kWh battery and a maximum charging speed of 85kW, which will charge you from 0-85 per cent in 35 minutes.
The advantage of having a small battery is that it charges quickly … but of course the real limitation here is range. Abarth say you'll get up to 150 miles from a full charge, but I found that to be closer to 120 miles, especially once you get out onto the motorway for longer journeys. With a range that's slightly limited, on the longer drive I endeavoured to make, I had to stop on the way up for a fast charge, grabbed a slow charge at my destination, but also had to stop for a charge on the return journey – which is the reality of trying to go long in a car of limited battery capacity.
What's encouraging is that the Abarth 500e can be pretty efficient. The long-term average for my test model was 4.3 miles per kWh, which is good – and comes down to this car being pretty light in weight too.
The drive, however, is a lot more engaged than the Fiat 500e. While there was a sense of go-kart fun in the Fiat, everything in the Abarth feels tighter and better controlled. Where this car really comes alive is on twisty roads with plenty of changes of pace, keeping nice and flat through the corners with power ready to accelerate out of the bed. It's a great fun car to drive, even if the range is a little short.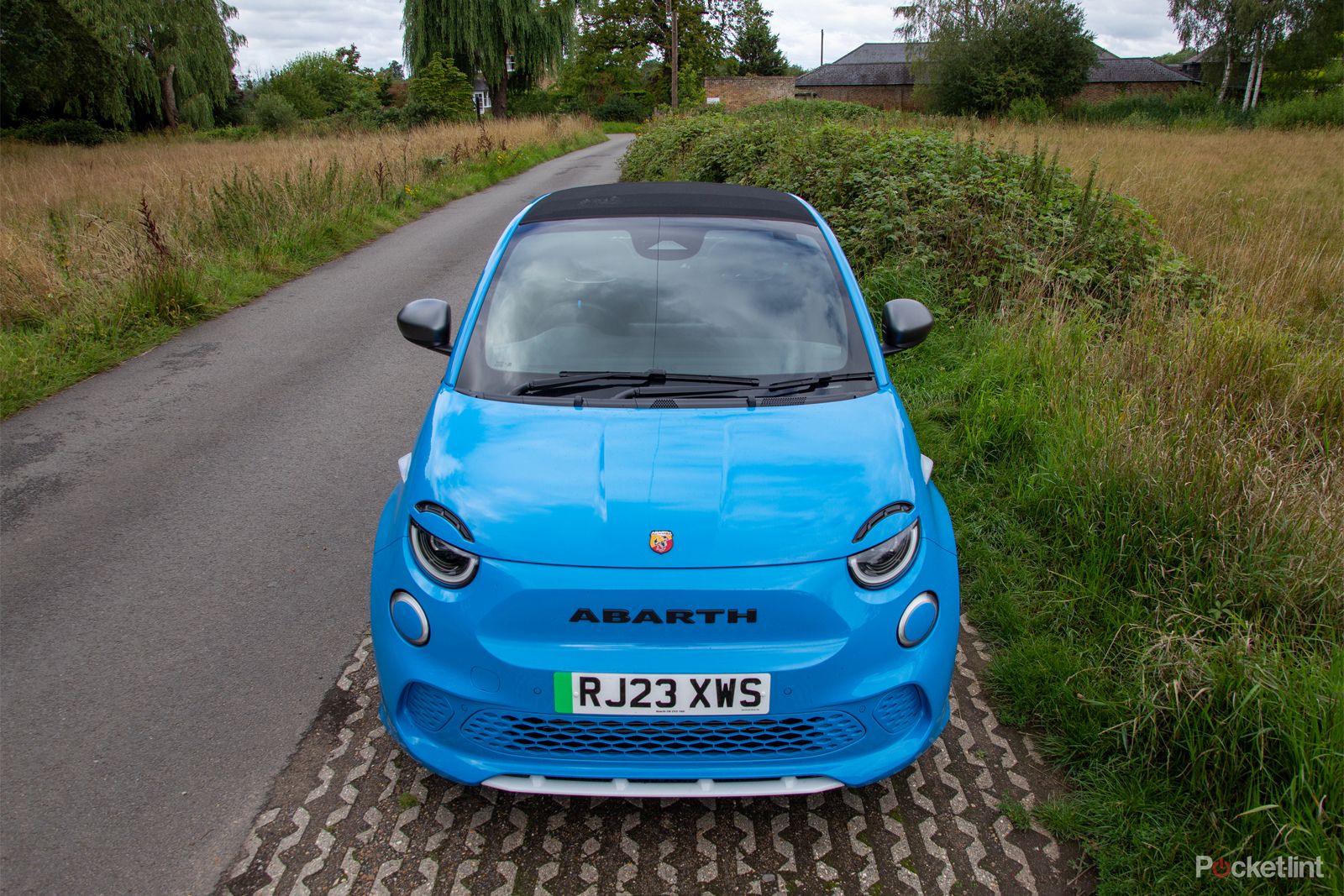 Verdict
The Abarth 500e is exactly what you expect it to be. It's a remix of the Fiat 500e with more striking looks and a more satisfying drive, only muddied by that external noise that you'll probably want to turn off as soon as you get in the car. I've enjoyed driving the Abarth, but the range remains a consideration and the decision you have to make is if you're willing to trade range for the striking looks – and some people will just say yes to that.
But it's also hard to avoid how the price builds. The convertible models are a healthy £3000 more expensive than the hard top, but that might be worth paying to get something that's more unique. On the other hand, at the top end of Abarth's price range you're looking at starting prices for a Tesla Model 3, while the Mini Cooper Electric is a natural rival, both in terms of pricing, sporty driving and overall range.
There's definitely a market for this type of car, which ultimately sets out to make a statement about fun electric driving – and delivers it.
Trending Products

.