It's been over two years since Apple released its all-in-one desktop after skipping the entire M2 generation of chips, leaving us wondering when the iMac would make its dramatic return. The iMac comes in seven fun colors, is powered by Apple's fancy new M3, and even promises to make gaming on a Mac a thing.
The New M3-Powered iMacs Are Triggering Serious Deja Vu
Seeing an Apple iMac is like going down memory lane to when these colorful machines were in every computer lab and library. So you can imagine my excitement when Apple announced a new line of M3-powered iMacs. You can also imagine my concern that Apple only spent about two minutes talking about the iMacs. And after spending some time with the new M3 Apple iMac, I get why.
Apple iMac Design and Features
The iMac we got is the base M3 model with a 10-Core GPU with 512GB of storage and 8GB of memory that retails for $1,699. You can increase the storage to 2TB and 24GB of memory, though that would jack up the price by an extra $1,000.
What is disappointing is that there are currently no models of the iMacs that offer the more powerful M3 Max or MX Pro chips. What's also frustrating is that 24 inches is the only display available. So, if you were planning to use it as a serious editing workstation, that's not happening.
Aside from the M3 chip, there's not much else that's new on the iMac. I couldn't help but feel a certain sense of deva ju when I was using the iMac. Aside from the new chip, there's not much different on this all-in-one than the one we reviewed in 2021 when it ditched its typical design for something with a bit more flair.
Don't get me wrong, I like the design; it's got a 'workspace of the future' chicness I can get behind. It comes in seven colors, but I opted for purple for my review unit, and I absolutely adore it. It's a nice way to add color to an office or living room without going overboard and taking up too much space on your desk.
Its slim 11.5mm thin chassis housing a 24-inch Retina display takes up very little space on a deck—all that for less than 10 lbs. Unfortunately, the iMac has a limited range of motion. The display doesn't swivel or rotate at all. The height's still not adjustable, but you have a bit of a tilt.
Strangely, the matching accessories, the Magic Mouse, Magic Keyboard, and Magic Trackpad, still use Lightning ports instead of USB-C, considering Apple has already moved to the iPhone 15, AirPods, and Pencil.
The star of the new iMac is the M3 chip, which is significantly faster than the M1 and Intel-powered iMacs. However, Apple never released an all-in-one with an M2 chip, so touting big gains on outdated hardware isn't a big flex.
Apple iMac M3 Performance
You can game on a Mac; who knew?
Apple has made a big noise about gaming on M3, and while you can game, this won't replace your gaming PC anytime soon. Games like Baldur's Gate 3 and Lies of P run decent enough on roughly medium settings with no issues, though you'll have to tool around with more advanced graphical settings to maximize your performance.
Baldur's Gate 3 ran consistently at 40fps on medium settings. However, if you go to any higher settings, you'll get significant performance dips. Out of curiosity, I tried seeing how things would run on ultra settings, and the game hovered around 29-32fps with a fair amount of chugging.
Lies of P faired much better on the M3 iMac at around 55fps in the opening chapters, though I did notice if you turn off V-Sync, you do get an insane of screen tearing. Besides that, it ran smoothly enough that I could take the game's first boss without major issues.
As we mentioned in our review of the MacBook Pro with M3 Max, the problem with gaming on a Mac is that few games run natively on MacOS. Not everyone on Steam runs on Mac, and what's available in the gaming section of the App Store doesn't have the most current AAA titles.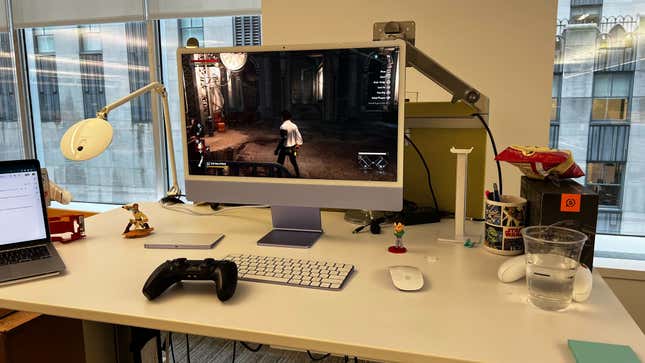 The M3 chip offers solid performance for non-gaming purposes, especially if you plan to upgrade from an older M1 or Intel iMac; it is enough of a bump to justify the upgrade. The new iMac outperformed the similar configured M1 model we reviewed by nearly 30-50% in all of our benchmarks.
While you can do some light editing on this, if you're looking to put this thing under some serious workloads, this version of the iMac isn't it. The screen is too small for any serious photo and video editing. You can connect to an external display Via USB-C, but there's nothing like working on a 32-inch souped-up iMac with an obscene amount of memory. I strictly put this all-in-one in the 'living room' computer category. It's great for school, work, and casual use but not for the editing bay.
Apple has given no indications (outside some rumors) that it's working on a Pro version of the iMac with a bigger display, but there's no reason to think Apple won't release something with at least an M3 Pro chip at 27 inches, right?
Should I Buy an Apple iMac with M3?
The M3 iMac feels more like a half-step update than a full-on refresh. But the new iMac isn't bad if you're looking for a gorgeous all-in-one for day-to-day work and some light gaming. I was hoping for a lot more from Apple. The lack of bigger display sizes and more powerful options is a letdown if you're a power user.
However, if you need something more of a workhorse for editing or creative work, I'd wait and keep my fingers crossed that Apple releases an iMac with an M3 Pro or Max chip. Hopefully, we don't have to wait two more years for that.
Trending Products

.