Threads is an app developed by the team behind Instagram that offers a very similar experience to Twitter and other microblogging apps and allows you to instantly follow accounts that you're already following on Instagram. When it first launched, it smashed records by signing up more than 100 million users in less than five days. Since those giddy heights, things have calmed down a little, and the daily user numbers are much lower. However, Threads has quietly continued to add new features that have included some big improvements. Here's our guide on getting started on Threads, plus some tips and tricks to help you out.
How to install Threads
You can download Threads from the Apple App Store or the Google Play Store. However, it's currently not as easy as you might think. Searching for 'Threads' in the Apple App Store brings up a huge number of apps, from sewing apps to a communication app that states that it definitely isn't affiliated with Instagram, but will probably get a lot of downloads nonetheless. None of those apps are the new Meta microblogging app, however.
If you want to find the app quickly, type 'Threads' in search, and then tap Threads, an Instagram app from the suggested searches beneath. This will take you directly to the right app to download. You won't be able to find the app at all if you're in the EU; it's not currently available in EU countries due to data protection concerns. Quelle surprise. You can also access Threads directly from Instagram by heading to your profile tab in the bottom right and tapping on the three lines in the top right. You'll see Threads in the list of options.
How to sign in to Threads and set up your account
Open the app, and you'll be greeted with a splash screen and the option to log in with your Instagram account. You can switch accounts if you're currently signed into your Finstagram (fake Instagram) account.
You're then greeted with a screen to set up your profile. Your name is locked to the name used on your Instagram account and can't be edited. You can add a profile photo, link, and bio, or tap Import from Instagram to copy across your details, including your profile pic, from your Instagram account.
You then get the option to set your account to Public or Private. With a Private profile, only followers that you have approved can see or interact with your posts. Your choice on Threads doesn't affect your profile on Instagram; you can have a private profile on one app and a public one on the other.
Once you've made your choice, you'll see a list of the accounts you currently follow on Instagram. You can choose to follow them all on Threads or select individual accounts to follow. Any accounts you select that aren't yet signed up to Threads will automatically be followed if they do sign up at a later date.
The final screen before you get to the app properly provides information about how Threads works, including plans for future versions of Threads to become part of the Fediverse. This isn't a world in which everyone is a Swiss tennis superstar, but rather a network of social media apps that allows people to follow and interact with accounts on different social media platforms. It's arguably a worse name than the Metaverse, but it seems Mark Zuckerberg continues to try to make fetch happen.
At the bottom of the page is a Join Threads button. By clicking this, you agree to the terms and privacy policies, so this is your last chance to back out. We'll take a closer look at privacy later on.
How to use Threads
The first thing you'll see when you finally get into Threads is your feed, and it's instantly recognisable, bearing a strong resemblance to Twitter and its alternatives. There is a mix of posts from the accounts that you follow as well as other popular accounts, with content including text, images, and videos. Most of the recognisable features are there too, such as quote tweets (quote threads?) and reposts.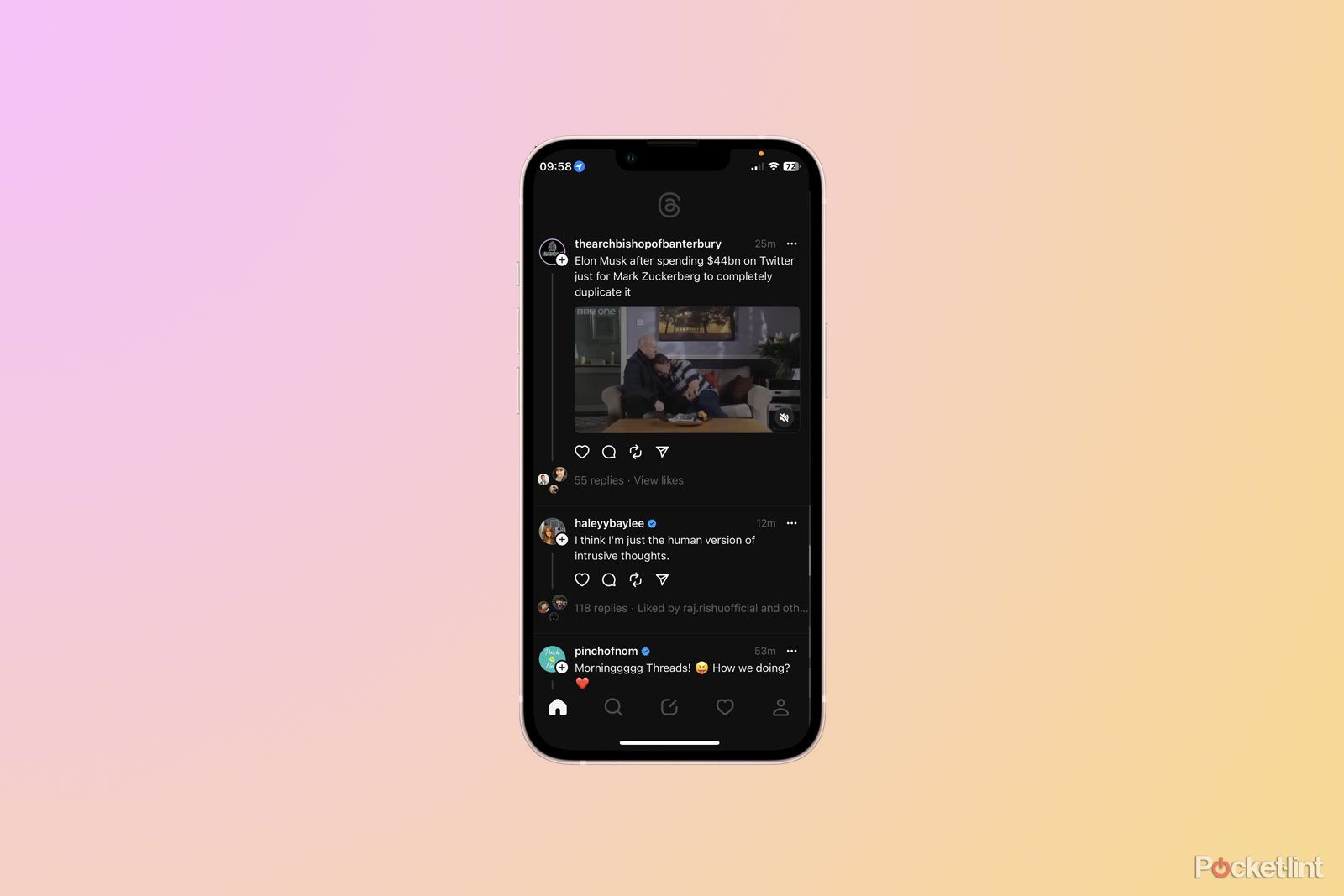 At the bottom of the screen there are five icons. The Home icon shows your feed. The Search icon lets you search for accounts to follow. The Heart icon shows activity such as follow requests, replies, and mentions, and the Profile icon shows your posts and replies, as well as having buttons to edit or share your profile.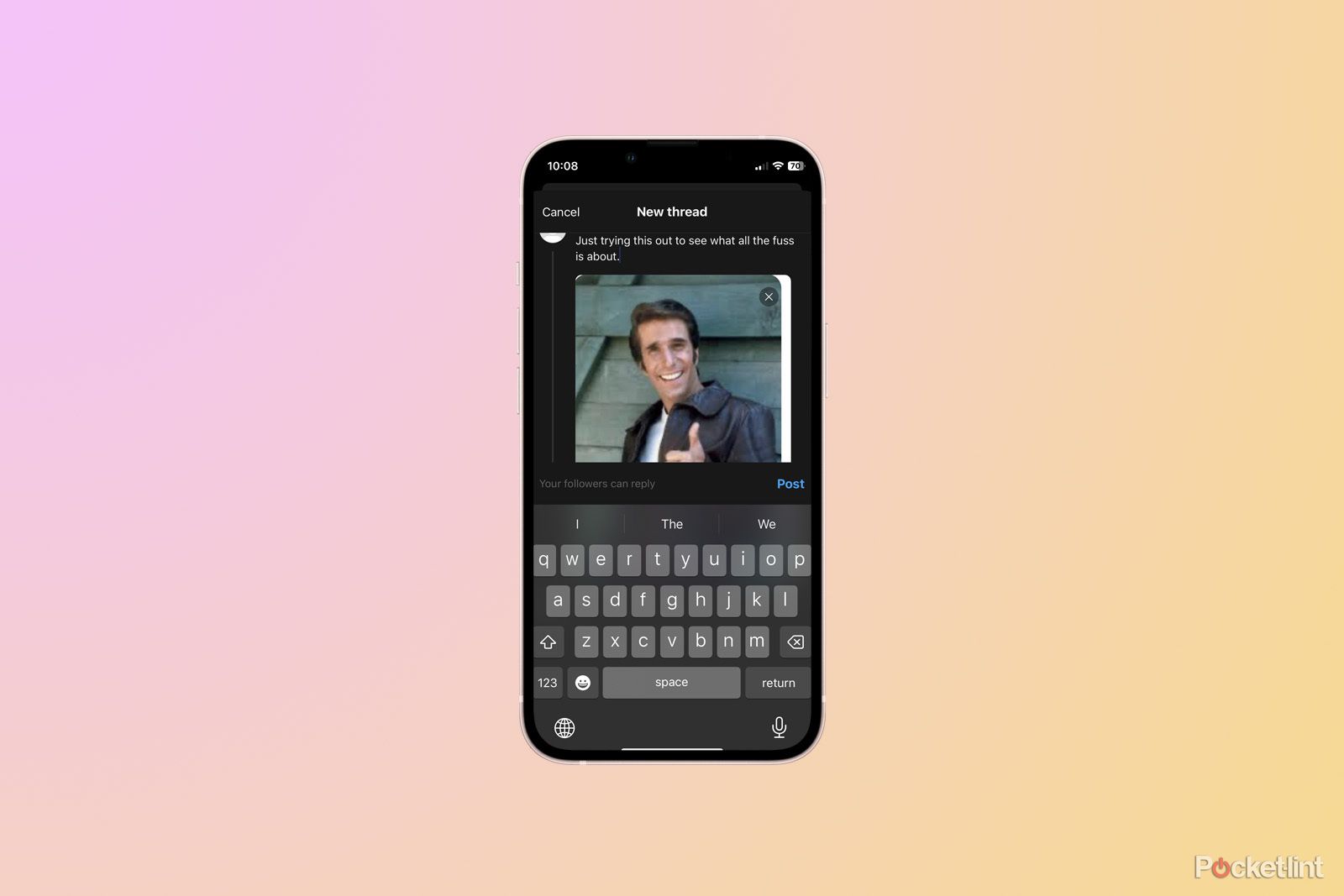 The icon in the middle is the Post icon and this is where you can create a new post. There is a 500-character limit; when you go beyond that limit, the extra text will highlight in red, and the Post button becomes inactive. Once you're back under the limit, the button becomes active again. You can click the Paper Clip icon to add photos or videos to your post.
How to interact with posts on Threads
Beneath each post there are four recognisable icons. The Heart icon allows you to like a post, and the Speech Bubble icon allows you to reply. The Double Arrow icon gives you the option to repost or quote a post, which all feels very familiar. The final icon offers something a little different, however. Tapping the Paper Plane icon gives you the option to add a post to your Instagram story or post it directly to your Instagram feed. Expect to see a lot of crossover between Instagram and Threads; Meta is clearly hoping to lure as many as possible of the one billion plus Instagram users to the new platform. You can also copy a link to a post or share a link via the sharing options on your phone.
Threads tips and tricks
The app has more features in the pipeline, but there are some tips and tricks that can be useful to know.
Customising your feed
Threads has two different feeds you can choose from. For You shows a mix of posts from accounts that you follow and content suggested by the Threads algorithms. Following shows a chronological list of posts from the accounts that you follow. To switch between the two feeds, tap the Home icon or the @ symbol at the top of the screen, and select the feed that you want to view.
Repopulating your feed
If the posts in your feed don't really float your boat, you can repopulate your feed by swiping down on the feed screen. The posts will update giving you a whole new set of posts to scroll through.
Following accounts directly from your feed
If you see a post from an account that you want to follow, you can quickly do so just by tapping on the profile icon next to the post and selecting Follow. All profile icons have a plus sign superimposed over them, just to make this abundantly clear.
Searching by keyword
Searching by keyword wasn't possible when Threads first launched, which frustrated many users as it's a popular search method on other similar platforms. Thankfully, Threads now does have keyword search, although it takes a bit of finding.
Tap the Search icon and enter your search term. Just beneath the search bar, tap Search for "[your search term]" and you'll see a list of posts related to your search. There's still no equivalent to hashtags, but it's a step in the right direction.
Privacy settings
If privacy is a concern, there are some useful settings hidden away that are worth knowing about. You can tap the Three Dots icon on a post to limit who can reply to it. The options are your followers, profiles you follow, or only people mentioned in the post. On the profile page, tapping the Menu icon allows you to access the Privacy settings. You can turn your profile to private, limit who can mention you in posts, mute profiles, or add hidden words so that any posts containing these words don't show up in your feed. It is also possible to block profiles completely, but you'll need to do this through the Instagram app, and any accounts you block will be blocked for both apps.
How private is Threads?
Although the privacy features mentioned above can help you keep your privacy among other Threads users, keeping your data private from Meta is a different ball game. The Apple App Store breaks down all the data that Meta can collect and that can be linked to your identity, and the list is long.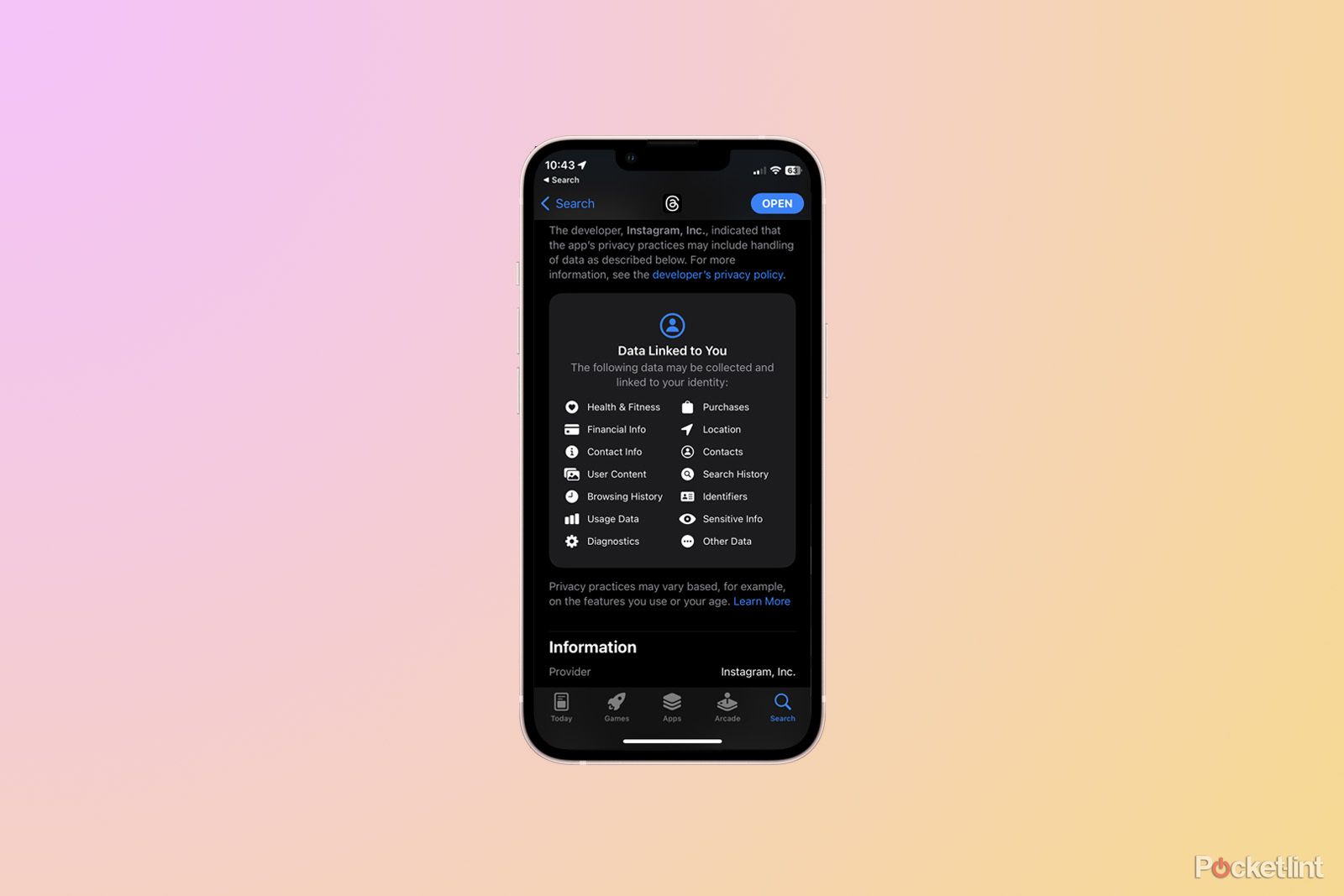 It includes worrying data such as your search history and browsing history, financial info, your location, and your contact info. Perhaps most concerning, Meta can also collect sensitive info, which can include things such as ethnicity data, sexual orientation, religious beliefs, and biometric data, all of which can be tied to your identity. As with many 'free' apps out there, you are the product. If you're going to use the app, be aware that it comes at the cost of a significant amount of your privacy.
Trending Products

.