Sky Glass first arrived in October 2021 but since it launched, it's had several over-the-air updates that have significantly improved the user experience. There are also a number of handy tips and tricks worth knowing that will help you get the most out of your Sky Glass TV and its interface.
For those with Sky Stream, it's worth mentioning that the interface of Sky Stream matches that of Sky Glass, so a number of these tips will also work on any secondary TVs Sky Glass owners have if you have the Sky Stream puck, as well as on TVs that only use the Sky Stream puck. Here are the top 13 tricks worth knowing for Sky Glass, and one extra hidden one for good measure.
Use your voice
It might feel a little ridiculous talking to your TV, but given many of us have been speaking to smart speakers like they are our best friends for years now, it shouldn't take too much to adapt. Using your voice is by far the quickest way to access anything on Sky Glass, whether that's the programme you want to watch, or the settings menu.
To use your voice, say "Hello Sky" and simply say the name of the programme or what you are looking for. You can also press and hold the microphone button on your Sky Glass remote and talk if you'd rather not use the wake words.
Quickly find your remote
We hope you've practised using that voice and saying "Hello Sky", because you're going to need it if you've lost your Sky Glass remote. Say "Hello Sky" to your TV, followed by "find my remote" and your Sky Glass remote will start beeping so there's no need to pull off all your sofa cushions, unless of course you're looking for that piece of chocolate you just dropped.
View channels by category
One of the great things about Sky is the amount of content on offer. It is binge-watching heaven, and this is even more true when you sign in to additional streaming apps like Netflix or Disney+ where you then get recommendations of great content to watch from those platforms too, all in one place. If you know what you want to watch rather than looking for inspiration, press the left button on the circular pad when you're in TV Guide to access content by category. IIf it's a Saturday night, it is always a movie night for us. Monday night meanwhile, give us that reality TV.
Jump ahead to next week
If you haven't quite got into the whole watching content whenever you want – or On Demand as Sky very accurately calls it – and you want to know what's on TV next Thursday, don't worry, there's a tip for that. When you're in TV Guide on Sky Glass, press and hold the right button on the circular pad to jump ahead up to 7 days.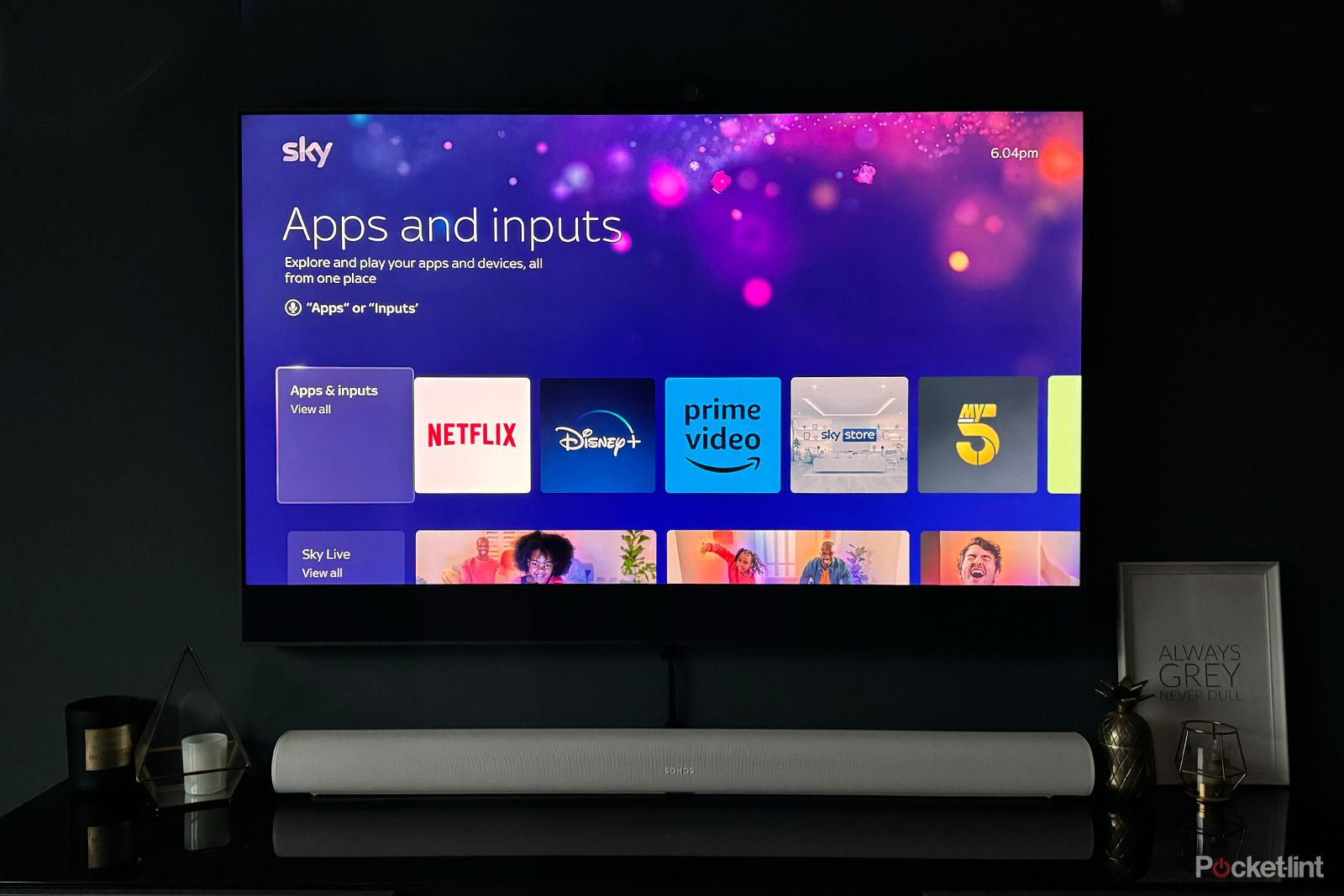 Sign into all streaming services
If like us you are a streaming services junkie, sign into every single one you have a membership to on your Sky Glass TV. All the popular apps are available, including Netflix, Disney+, Prime Video, Apple TV+, BBC iPlayer, ITVX, Paramount+, Lionsgate+, and Discovery+, among plenty more. If you sign into all of the ones you have access to, you'll get much better recommendations from Sky, and recommendations are refreshed several times daily, so even if you don't see something straight away, you can bet your bottom dollar something will catch your eye eventually.
Turn on Night mode
If you are using the built-in speaker on Sky Glass rather than an external soundbar, there is a Night mode option you can use to reduce the volume and extreme sounds. It's a feature Sonos also offers on its soundbars for example, and while you don't get the immersive experience when watching movies, it's a good option for those with little ones or easily-irritated neighbours.
Head to Settings > Picture and sound > Night mode > Turn it on or off. There is also an option below night mode for speech quality that you can turn on to make the dialect a little clearer and more pronounced over the background noise.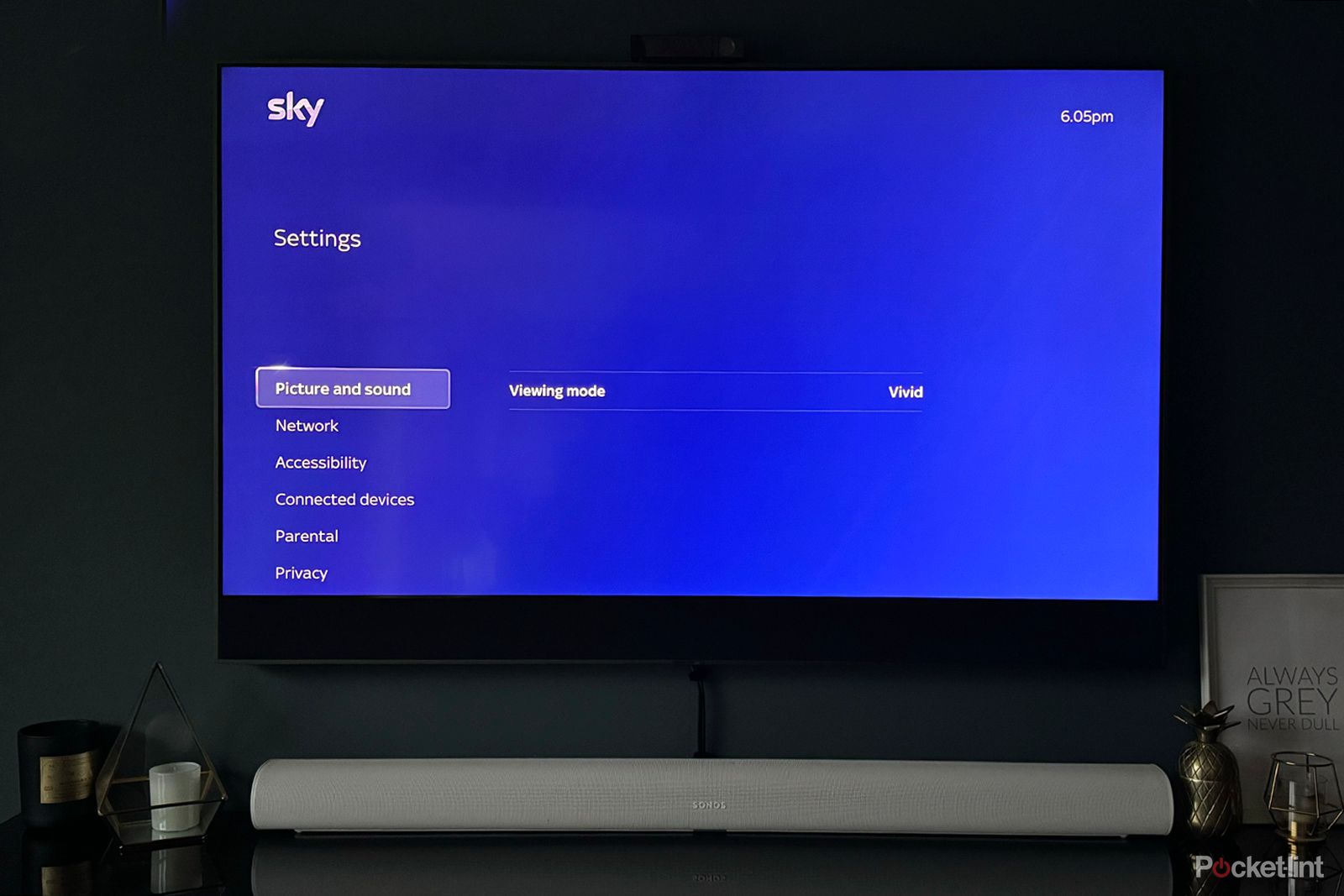 Turn wake using motion on or off
OK, this one is a little creepy, so it will come down to personal preference as to whether you go on or off here. In our experience, it's pretty useful but it won't be to everyone's taste. There's a setting in Sky Glass called "Enhanced experience". This sees a couple of settings turned on automatically, including wake by motion detection and auto standby using motion. These two can also be switched on or off separately beneath the 'Enhanced experience' setting. When on, wake by motion means your Sky Glass TV will turn on when it detects motion. It freaks us out a little when the TV randomly turns on as we walk across the living room, but we like it overall so it's an on from us.
Open Settings > Startup & standby > Enhanced experience > Toggle on (or off).
Manually adjust the backlight
Sky Glass has an auto backlight adjustment feature that automatically adapts the backlight of the screen to the surroundings. In theory, it's a great idea. In practice, you might find that the backlight is a little too bright, resulting in a dimmer picture result than you perhaps would prefer. We suggest turning the auto backlight feature off entirely and playing around with the backlight intensity using the setting below to get a picture result that suits your room and preference.
Open Settings > Picture and sound > Scroll to Picture > Auto backlight adjustment > Select to turn off.
You'll see "Backlight" below this setting. If you select that and use the pad to move the slider left or right, you will see the backlight adjust in real time.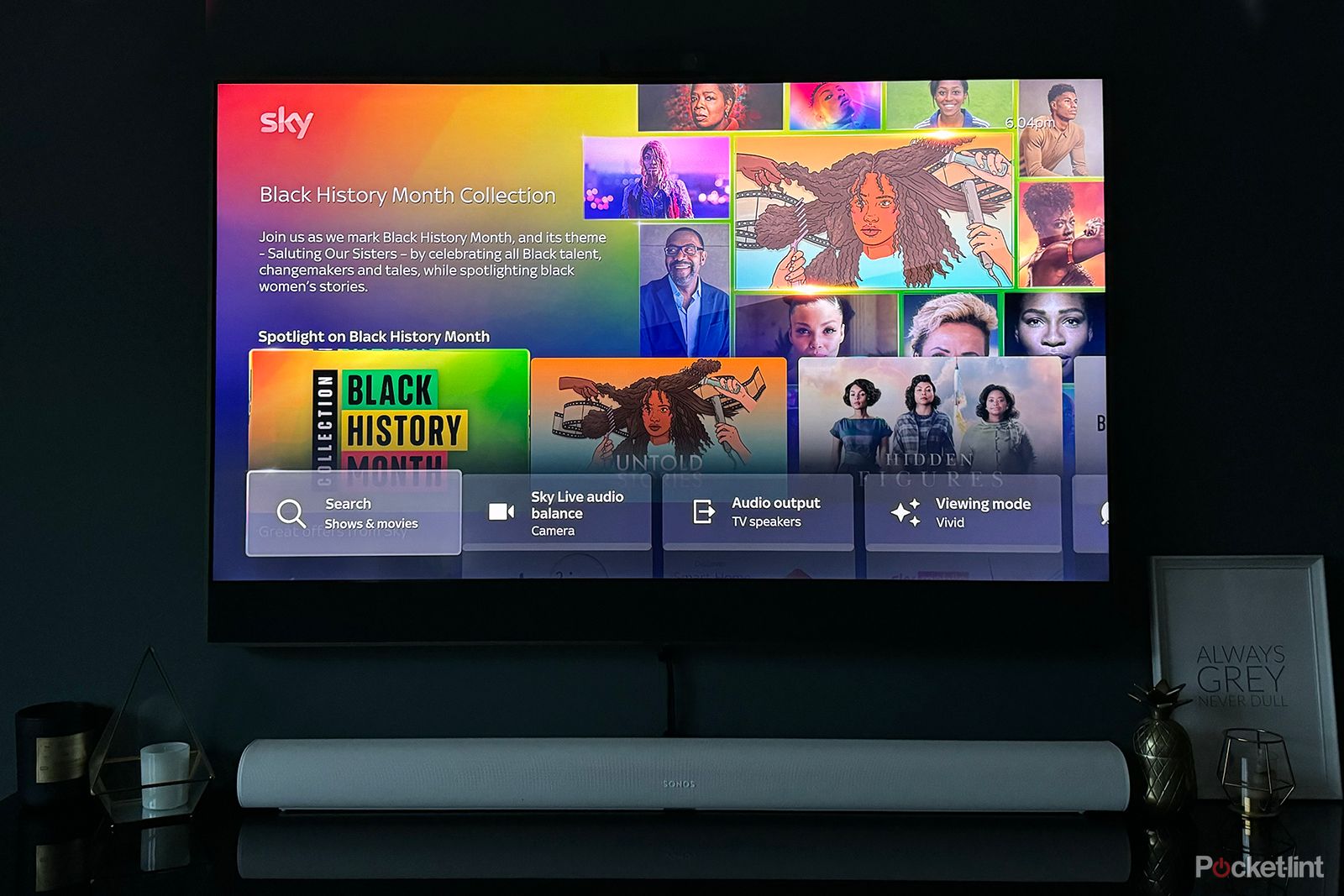 Skip the adverts
Sometimes adverts are pretty entertaining and you might even learn about something you didn't know about, other times you may not have the patience for them. If you press and hold on the right of the circular pad on your Sky Glass remote, it will fast forward quickly, though it is a skill to get it to stop in exactly the right place. You can also press and hold the microphone button and say "fast forward 3 minutes" or whatever average time the adverts in the show you are watching appear to be lasting for, and it will jump straight there. Much quicker.
Watch in better quality
Sky Glass is a 4K TV so it would make perfect sense that you might want to watch UHD content by default. It is worth noting that you do need to have a decent Wi-Fi connection for this though, so you may find that you get a better experience if you don't have a good connection by not doing this trick. You may also find not all content is UHD. If you do have a decent connection however, head to 'Settings' > Picture and sound > Default streaming format > Switch to UHD. This will mean that if 4K is available, you'll be watching it.
Change up the picture settings
Usually, we would suggest not meddling with the picture settings on TVs unless you really know what you are doing, though Sky Glass does give you a few pretty useful preset options, as well as the option to create a custom view. Our personal preference was to turn on Vivid mode as we like the contrast and punch it offered. There is an Entertainment mode too, along with a Sport mode, Movie mode, Music mode and Custom.
Head to settings > Picture and sound > Viewing mode > Select your preference.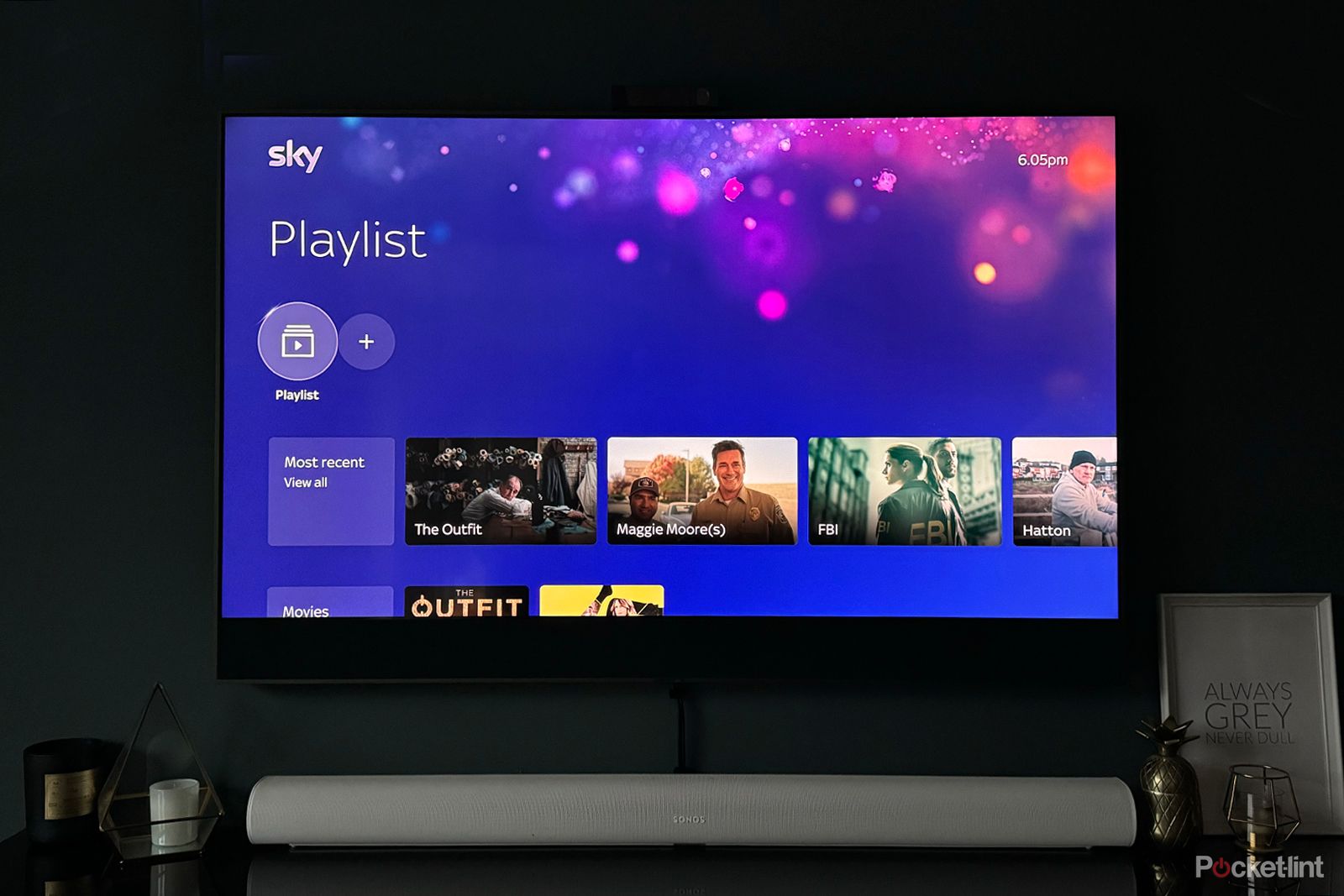 Add to Playlist (and create personal playlists)
We don't all like to watch the same things, and some days we need easy to watch and other days we need more engaging and thought-provoking content. The Playlist feature on Sky Glass is great for that. You can have up to five personal Playlists and you can add any show or programme to your Playlist so it's easy to access the shows you're interested in at a glance. Playlist can be found on the home screen in the row of tabs directly below recommended shows. It appears alongside TV Shows. To add a show to your Playlist, press select on the show itself you want to add and scroll across to "Add".
Access quick settings fast
You can use your voice to access settings quickly as we mentioned, but you can also access quick settings on Sky Glass by pressing the three dots on the remote next to the play/pause button. From here, a bar will appear at the bottom of your screen that will allow you to search for shows and movies by pulling up the keypad when selected, change the viewing mode, turn the microphone on or off, turn night mode on or off and enhance speech quality.
There's one more hidden Sky Glass tip we have for Sex and the City fans. You can say "Hello Sky" followed by a number of Carrie Bradshaw lines and you'll be taken straight to season two of Sex and the City's And Just Like That. It's worth trying, even if you have no idea who Carrie is. Here is the list of lines to try:
Hello, Lovers
Stoves aren't just for storage
They say nothing lasts forever
I'm looking for love, real love
One woman's trash is another woman's treasure
I like my money right where I can see it…hanging in my closet
I couldn't help but wonder
Trending Products

.